Hou Yifan Challenge Day 3: Leon does a rare mate with two knights
Praggnanandhaa lost his momentum as he suffered three losses and made a draw on the third day of Julius Baer Challengers Chess Tour - Hou Yifan Challenge. He started the day with two consecutive losses against Christopher Yoo and Vincent Keymer, then he drew with Abhimanyu, finally lost to Leon to finish the day at 9.5/13. Keymer soared into sole lead 10.0/13. He is followed by Yoo and Pragg at 9.5/13 each respectively. Leon is at the fifth position 7.5/13, followed by Aditya Mittal, Vaishali and Pawel Teclaf at 6.5/13 each respectively. Pragg has only three games left to play which makes it excruciatingly difficult for him to win the event. Round 14 starts today at 7:30 p.m. IST. Photo: Amruta Mokal
Pragg loses his sole lead
When someone plays a lot of games, it's not the result that stays for a long time in one's mind, it's the game, idea, combination or a finish that stays for a really long time. GM Leon Luke Mendonca had a unique finish against IM Aditya Mittal in the eleventh round as he managed to achieve a rare feat of delivering checkmate with two knights, yes Black had an extra g-pawn which played crucial role in making Black suffer a loss which otherwise would have been a draw.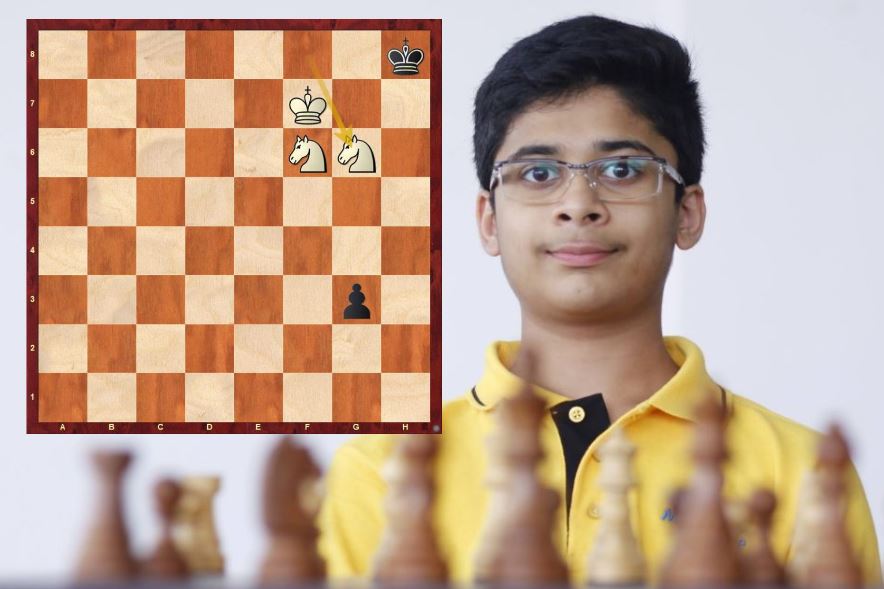 Round 10: Aditya - Abhimanyu: 1-0
IM Aditya Mittal played fine against GM Abhimanyu Mishra, the latter blundered his rook in one move and lost the game.
Praggnanandhaa - Yoo: 0-1
IM Christopher Yoo stopped GM Praggnanandhaa's unbeaten streak.
19.e4 provoked Nxh4, however Black decided to retreat 19...Nh6. White managed to recover his position, but eventually Black's queen and knight proved stronger than white's queen and bishop in the endgame.
Round 11: Keymer - Praggnanandhaa: 1-0
Keymer shut Pragg's rook at the corner of the board.
Black's rook is almost trapped as it has very limited squares it can go to. Eventually Keymer forced the rook exchange as the resultant same color bishop ending was winning for him.
Leon - Aditya: 1-0
Leon and Aditya had a grueling battle which ended in the former delivering a checkmate with two knights.
Is it a good idea to play 17.Bxa6 here? The answer is yes. Find out how.
What Black did 103...Bxg5 is a correct practical decision because it is not easy to checkmate with the two knights, however the g6-pawn is something Black could have done without. Is it winning for White after 104.Nxg5+ ? Leon delivered checkmate in another 22 moves, try to figure out how.
Round 12: Praggnanandhaa - Abhimanyu: 0.5-0.5
Praggnanandhaa avoided a hat-trick of losses by making a draw with the world's youngest GM Abhimanyu Mishra.
Vaishali - Mammadzada: 1-0
Vaishali had a very interesting battle against Mammadzada.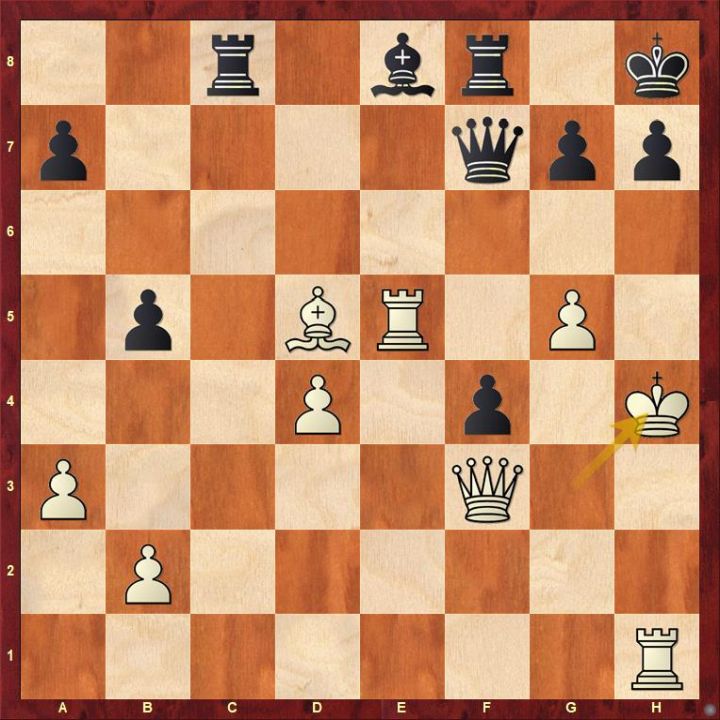 White king went to h4 at one point in the game.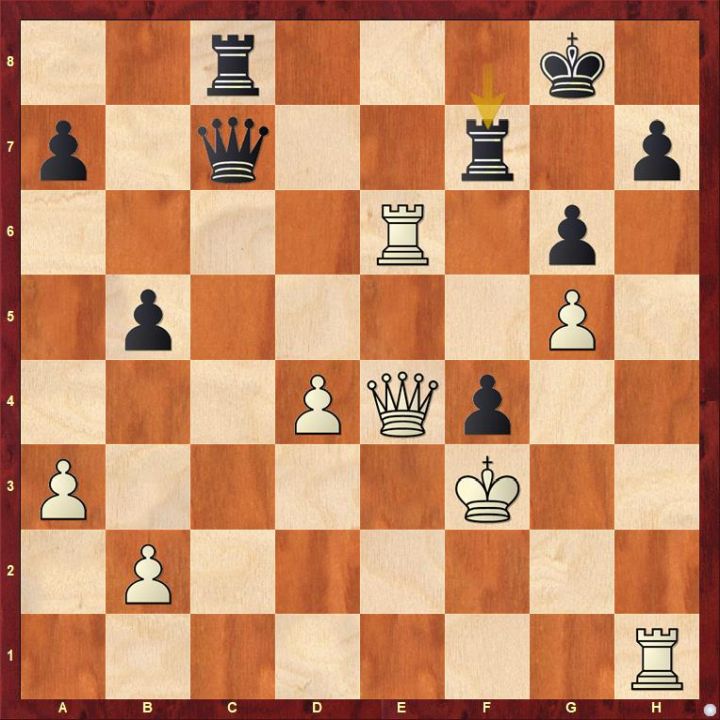 There was an opportunity for White to do a combination after 42...Rf7. What is it? White eventually won the game after the balance kept shifting between the players.
Round 13: Yoo - Vaishali: 0.5-0.5
Vaishali drew with Christopher Yoo, however in the endgame Yoo had a good opportunity.
37...a5 costs Black the game. Find out how.
Leon - Praggnanandhaa: 1-0
Pragg's woes continued as he suffered his third loss of the day, this time against compatriot Leon.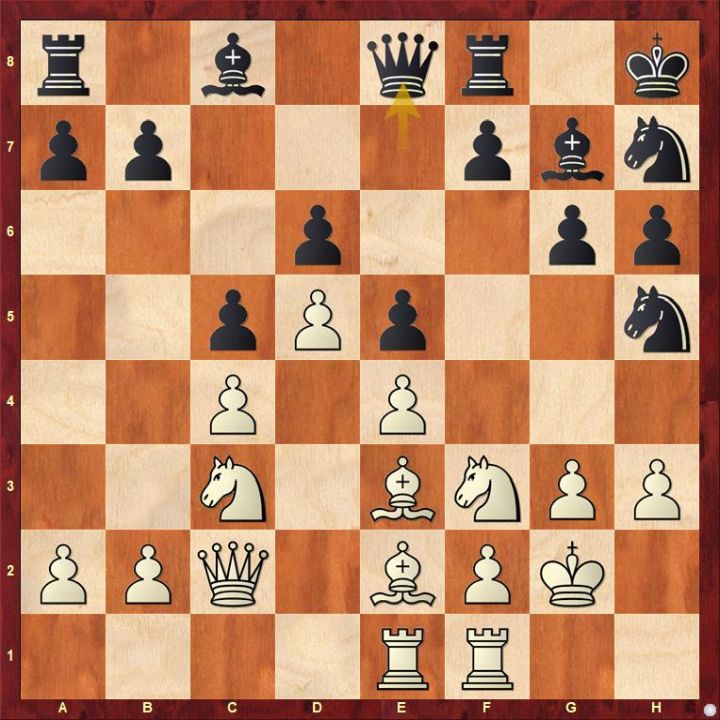 16...Qe8 drops the h6-pawn after 17.Qd2, Black has no way to save the pawn. Eventually this became a deciding factor in Leon scoring a win in the endgame.
Highlights
Some interesting finishes from Day 3
Replay the Live stream
Replay all games from Round 10-13
Standings after Round 13
Schedule
Every day between 18th and 21st September, the game starts at 7:30 p.m. IST.
Links
---