Gelfand Challenge Day 1: Awonder Liang makes a perfect start 5.0/5
Awonder Liang dominated the first day of the Julius Baer Challengers Chess Tour Gelfand Challenge. He won all five of his games and took sole lead 5.0/5. Abdusattorov is currently at sole second position 4.0/5. Praggnanandhaa, Nihal and Gukesh scored 3.0/5 and Leon made 2.5/5. Pragg had Liang on the ropes in the very first round but somehow he managed to escape his grasp. Both Pragg and Nihal lost against Abdusattorov. Gukesh suffered his sole loss against Yoo in the final round of the day. Round 6 continues today from 6:30 p.m. IST. Photo: Lennart Ootes
Team Kramnik - Team Polgar: 24-26
GM Awonder Liang started the Gelfand Challenge with a perfect score of 5.0/5. The American had a shaky start against Praggnanandhaa in the first round but somehow managed to steer away from all danger and eventually scored a victory. He went on to win the next five games.
Round 1: Gukesh beat Abdumalik
Only Gukesh won against Abdumalik among Indian kids. Nihal, Leon and Praggnanandhaa lost their respective games.
Nihal - Abdusattorov: 0-1
Nihal had a very exciting sharp game against GM Nodirbek Abudsattorov. Despite being better for the majority of the game, a mistake in the endgame cost him dearly.
White is completely better. What happens if black plays 27...Bxf5 28.gxf5 e3 ? It happened in the game and Nihal completely saw it through. Try to find it like him. It is a beautiful combination.
White can still win this but with less time on the clock, it is not going to be easy. One of the way to continue was 50.Qf8+ Kc7 51.Qg7+ Kb8 52.h5. Nihal blundered the h-pawn and the knight in a few moves, eventually lost the game.
Leon - Sara: 0-1
Leon got into a cramped position against IM Sarasadat Khademalsharieh.
White's position does not look comfortable at all after 34.Qa1
36...g6 gave white an opportunity to get back in the game. What is it? White blundered 37.g3 and Black finally gained exchange 37...Na2, eventually the game too.
Praggnanandhaa - Liang: 0-1
Praggnanandhaa got an early opportunity against GM Awonder Liang in the middlegame.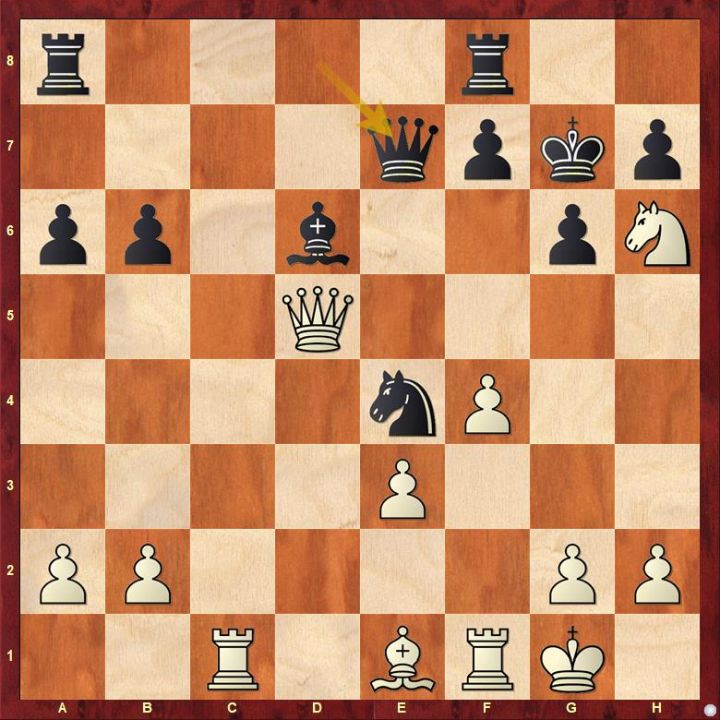 Black erred by playing 20...Qe7 which created a small window of opportunity for white. What is it? Unfortunately white opted for the meek 21.Ng4.
White got another opportunity in the above diagram and he seized it by taking the knight 23.Rxe4. However the follow through did not yield much and eventually white decided to exchange queens. Find out the better continuation after 23...Qxe4. Eventually white misplayed the Rook and few pawns ending which cost him the game.
Abdumalik - Gukesh: 0-1
Zhansaya Abudmalik recently became Kazakhstan's latest GM, a day after winning the Gibraltar GP. So naturally she is in top form and Gukesh scoring a victory against her is definitely a good one.
Position after 33.Ra3
White went wrong in a seemingly equal endgame with 33.Ra3. Try to find out why it is a big mistake. Black capitalized on the mistake and converted it into a victory.
Round 2: Gukesh, Praggnanandhaa and Leon win
Round 2 turned out to be a good one as Gukesh, Pragg and Leon scored a victory each. Only Nihal was held to a draw by IM Carissa Yip.
Gukesh - Shuvalova: 1-0
Gukesh persevered through a difficult position against IM Polina Shuvalova and when his opponent made a mistake in the endgame, he took it.
Black needed to avoid queen exchange. 53...Qd1 would have been a better continuation. White would be delighted to exchange queens in the above diagram with 54.Qe5+. The rest is academic which we are all sure Gukesh can convert without any difficulty.
Sara - Praggnanandhaa: 0-1
Praggnanandhaa scored a fine victory over Sara. However things were not always easy, Pragg could have been in deep trouble if his opponent spotted it at the right time.
18...Qb8 was a positional mistake. Find out why. White missed it and continued the game 19.Ng3.
In the above diagram, which one should white capture first and why? White made an incorrect capture and lost the game in another five moves.
Murzin - Leon: 0-1
IM Volodar Murzin decided to give up his queen for two minor pieces but he never got enough compensation for it and Leon needed only 26 moves to win the game.
Nihal Sarin completely outplayed IM Carissa Yip.
Round 3: Nihal beat Keymer
Nihal and Pragg scored victories, Leon lost and Gukesh was held to a draw.
Nihal - Keymer: 1-0
Keymer made a questionable decision to do castling at a wrong time.
21...0-0-0 at a first glance may seem like black king is safer than white's but a closer inspection reveals the truth to be the opposite. Find out why it is a mistake and what Black should have done instead.
Black's king is absolutely vulnerable in the above diagram. Find out how should white take advantage of it. It is well established that Nihal is extremely good at sharp positions and he had no trouble converting it into a victory.
Leon - Abdusattorov: 0-1
Leon had an absolutel roller-coaster of a game with Abdusattorov.
In the above diagram, it is White who is better. The question is what should White do now? After both sides making plenty of mistakes, Abdusattorov capitalized on Leon's blunder and checkmated him. However the final position was completely winning for Leon had he not blundered the checkmate.
Praggnanandhaa - Murzin: 1-0
Praggnanandhaa scored a fine victory over Murzin.
Mammadzada - Gukesh: 0.5-0.5
Mammadzada held Gukesh to a well fought draw.
Round 4: Leon and Nihal score wins
Only Leon and Nihal scored victories, Gukesh was held to a draw and Pragg lost.
Gukesh - Saduakassova: 0.5-0.5
Gukesh had another grueling draw and made a good save as he was lost for the better part of the endgame.
Abdusattorov - Praggnanandhaa: 1-0
Praggnanandhaa went wrong in the endgame against Abdusattorov.
It was certainly not an easy endgame and 44...Be6 did not help Black's chances. 44...Rg4 would have kept the fight going.
Yip - Leon: 0-1
Leon scored a nice victory over IM Carissa Yip.
Nihal - Jiner: 1-0
Nihal made a short work of WGM Zhu Jiner in 26 moves after the latter made a tactical mistake.
Round 5: Leon drew with Nihal
Round-Robin tournament means everyone plays against all other opponents. In Round 5, Leon drew with Nihal, Praggnanandhaa won and Gukesh lost.
Leon - Nihal: 0.5-0.5
Leon and Nihal had an uneventful draw.
Praggnanandhaa - Yip: 1-0
Pragg scored an exemplary victory over Yip.
It is evident that white has a huge positional advantage in the above diagram but how should white capitalize on it? Try to think like Pragg and find out the correct plan for white.
Yoo - Gukesh: 1-0
Yoo made a sacrifice which is not correct. Unfortunately for Gukesh, he could not capitalize on it.
22.Bxe4 does not work. Why? Gukesh got a few chances to equalize later but he missed them.
Replay Round 1-5 games
Replay the live stream
Round 1-5 results
Round 1 on 2021/06/10 at 15:00
Bo.
No.
Gr
Rtg
Name
Result
Name
Gr
Rtg
No.
1
1
K
2430
IM
Yip Carissa
0 - 1
GM
Keymer Vincent
P
2591
20
2
2
P
2620
GM
Nihal Sarin
0 - 1
GM
Abdusattorov Nodirbek
K
2627
19
3
3
P
2459
WGM
Zhu Jiner
0 - 1
IM
Murzin Volodar
P
2478
18
4
4
K
2549
IM
Mendonca Leon Luke
0 - 1
IM
Khademalsharieh Sarasadat
P
2494
17
5
5
K
2608
GM
Praggnanandhaa R
0 - 1
GM
Liang Awonder
P
2592
16
6
6
K
2550
GM
Bjerre Jonas Buhl
½ - ½
IM
Salimova Nurgyul
K
2397
15
7
7
K
2505
GM
Lei Tingjie
1 - 0
IM
Badelka Olga
K
2433
14
8
8
P
2472
IM
Abdumalik Zhansaya
0 - 1
GM
Gukesh D
P
2578
13
9
9
P
2476
IM
Shuvalova Polina
0 - 1
IM
Yoo Christopher Woojin
K
2455
12
10
10
P
2443
IM
Mammadzada Gunay
0 - 1
IM
Saduakassova Dinara
K
2500
11
Round 2 on 2021/06/10 at 15:45
Bo.
No.
Gr
Rtg
Name
Result
Name
Gr
Rtg
No.
1
20
P
2591
GM
Keymer Vincent
1 - 0
IM
Saduakassova Dinara
K
2500
11
2
12
K
2455
IM
Yoo Christopher Woojin
0 - 1
IM
Mammadzada Gunay
P
2443
10
3
13
P
2578
GM
Gukesh D
1 - 0
IM
Shuvalova Polina
P
2476
9
4
14
K
2433
IM
Badelka Olga
1 - 0
IM
Abdumalik Zhansaya
P
2472
8
5
15
K
2397
IM
Salimova Nurgyul
½ - ½
GM
Lei Tingjie
K
2505
7
6
16
P
2592
GM
Liang Awonder
1 - 0
GM
Bjerre Jonas Buhl
K
2550
6
7
17
P
2494
IM
Khademalsharieh Sarasadat
0 - 1
GM
Praggnanandhaa R
K
2608
5
8
18
P
2478
IM
Murzin Volodar
0 - 1
IM
Mendonca Leon Luke
K
2549
4
9
19
K
2627
GM
Abdusattorov Nodirbek
½ - ½
WGM
Zhu Jiner
P
2459
3
10
1
K
2430
IM
Yip Carissa
½ - ½
GM
Nihal Sarin
P
2620
2
Round 3 on 2021/06/10 at 16:30
Bo.
No.
Gr
Rtg
Name
Result
Name
Gr
Rtg
No.
1
2
P
2620
GM
Nihal Sarin
1 - 0
GM
Keymer Vincent
P
2591
20
2
3
P
2459
WGM
Zhu Jiner
1 - 0
IM
Yip Carissa
K
2430
1
3
4
K
2549
IM
Mendonca Leon Luke
0 - 1
GM
Abdusattorov Nodirbek
K
2627
19
4
5
K
2608
GM
Praggnanandhaa R
1 - 0
IM
Murzin Volodar
P
2478
18
5
6
K
2550
GM
Bjerre Jonas Buhl
1 - 0
IM
Khademalsharieh Sarasadat
P
2494
17
6
7
K
2505
GM
Lei Tingjie
0 - 1
GM
Liang Awonder
P
2592
16
7
8
P
2472
IM
Abdumalik Zhansaya
1 - 0
IM
Salimova Nurgyul
K
2397
15
8
9
P
2476
IM
Shuvalova Polina
1 - 0
IM
Badelka Olga
K
2433
14
9
10
P
2443
IM
Mammadzada Gunay
½ - ½
GM
Gukesh D
P
2578
13
10
11
K
2500
IM
Saduakassova Dinara
½ - ½
IM
Yoo Christopher Woojin
K
2455
12
Round 4 on 2021/06/10 at 17:15
Bo.
No.
Gr
Rtg
Name
Result
Name
Gr
Rtg
No.
1
20
P
2591
GM
Keymer Vincent
½ - ½
IM
Yoo Christopher Woojin
K
2455
12
2
13
P
2578
GM
Gukesh D
½ - ½
IM
Saduakassova Dinara
K
2500
11
3
14
K
2433
IM
Badelka Olga
0 - 1
IM
Mammadzada Gunay
P
2443
10
4
15
K
2397
IM
Salimova Nurgyul
1 - 0
IM
Shuvalova Polina
P
2476
9
5
16
P
2592
GM
Liang Awonder
1 - 0
IM
Abdumalik Zhansaya
P
2472
8
6
17
P
2494
IM
Khademalsharieh Sarasadat
½ - ½
GM
Lei Tingjie
K
2505
7
7
18
P
2478
IM
Murzin Volodar
1 - 0
GM
Bjerre Jonas Buhl
K
2550
6
8
19
K
2627
GM
Abdusattorov Nodirbek
1 - 0
GM
Praggnanandhaa R
K
2608
5
9
1
K
2430
IM
Yip Carissa
0 - 1
IM
Mendonca Leon Luke
K
2549
4
10
2
P
2620
GM
Nihal Sarin
1 - 0
WGM
Zhu Jiner
P
2459
3
Round 5 on 2021/06/10 at 18:00
Bo.
No.
Gr
Rtg
Name
Result
Name
Gr
Rtg
No.
1
3
P
2459
WGM
Zhu Jiner
0 - 1
GM
Keymer Vincent
P
2591
20
2
4
K
2549
IM
Mendonca Leon Luke
½ - ½
GM
Nihal Sarin
P
2620
2
3
5
K
2608
GM
Praggnanandhaa R
1 - 0
IM
Yip Carissa
K
2430
1
4
6
K
2550
GM
Bjerre Jonas Buhl
½ - ½
GM
Abdusattorov Nodirbek
K
2627
19
5
7
K
2505
GM
Lei Tingjie
1 - 0
IM
Murzin Volodar
P
2478
18
6
8
P
2472
IM
Abdumalik Zhansaya
½ - ½
IM
Khademalsharieh Sarasadat
P
2494
17
7
9
P
2476
IM
Shuvalova Polina
0 - 1
GM
Liang Awonder
P
2592
16
8
10
P
2443
IM
Mammadzada Gunay
1 - 0
IM
Salimova Nurgyul
K
2397
15
9
11
K
2500
IM
Saduakassova Dinara
1 - 0
IM
Badelka Olga
K
2433
14
10
12
K
2455
IM
Yoo Christopher Woojin
1 - 0
GM
Gukesh D
P
2578
13
Standings after Round 5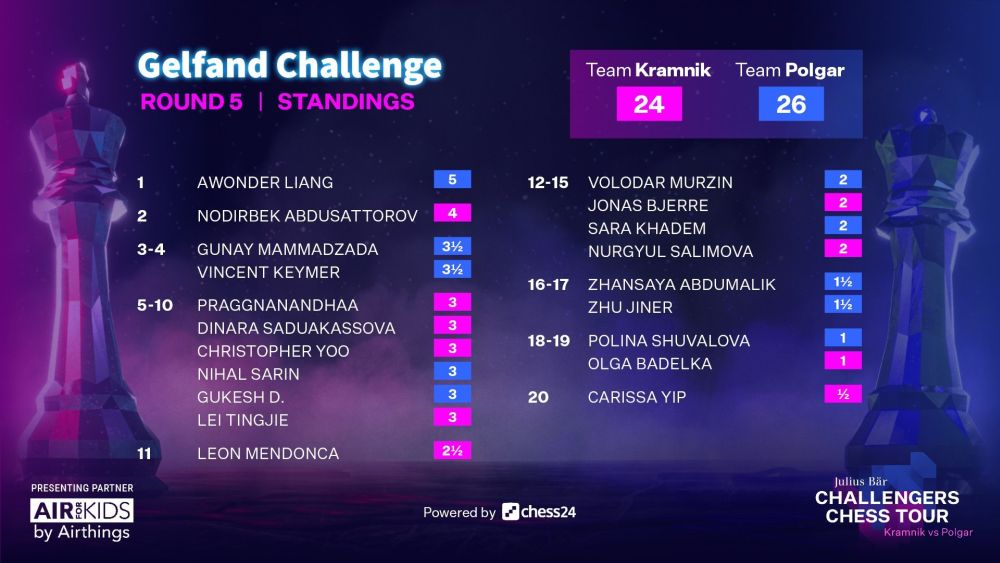 Schedule
Everyday game starts at 6:30 p.m. IST
Links
---