Praggnanandhaa dominates Julius Baer Challengers Chess Tour Polgar Challenge
Praggnanandhaa delivered a dominant performance from day 1 to win Julius Baer Challengers Chess Tour Polgar Challenge. His domination is evident in the final score as he scored 15.5/19, one and a half point ahead of the competition. He will receive US$ 3000 for his efforts but most importantly a Wild Card entry at the next event of Meltwater Champions Chess Tour. That means Pragg will play in the big leagues with the best of the best of the world. A lot of dream matches are going to become reality. Gukesh and Nihal finished at shared second place with 14.0/19. Leon scored 12.0/19 and he shared the eighth position. Photo: Champions Chess Tour
Gukesh and Nihal share second place, Team Polgar wins with 96.5 points
Praggnanandhaa scored 3.5/4 on the final day to finish with 15.5/19, one and a half point ahead of the competition. Four players finished at 14.0/19. Abdusattorov, Gukesh and Nihal. They all shared the second position. Top two places were claimed by Team Kramnik while Team Polgar won the event with 96.5 points. Team Kramnik scored 88 points.
Round 16: Pragg beats Leon
Praggnanandhaa won against team mate Leon and Nihal lost to IM Volodar Murzin.
Nihal - Murzin: 0-1
Nihal made a positional mistake which allowed Murzin to gain the upper hand.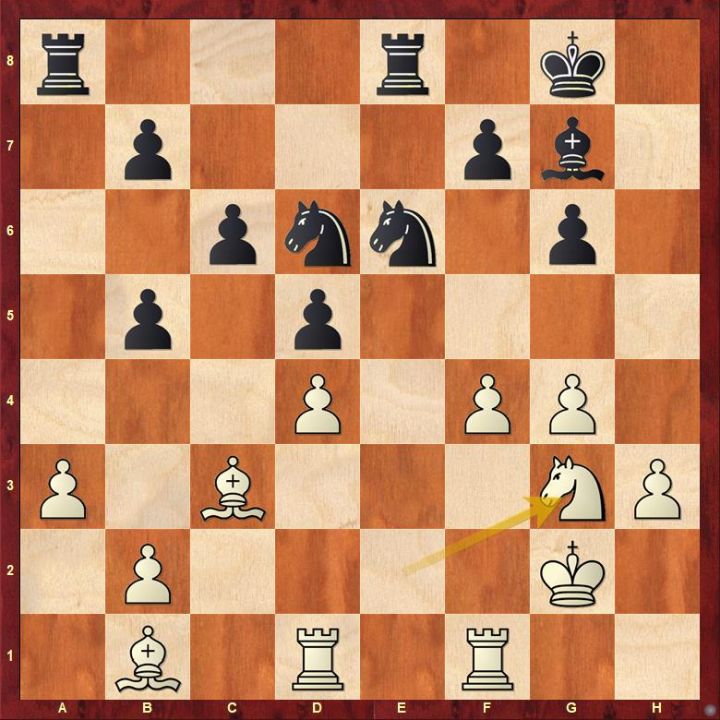 30.Ng3 exposes white's weak e3-square and after 30...Nc4, it becomes insurmountable for white.
Praggnanandhaa - Leon
Praggnanandhaa won against Leon with a very nice positional play.
White is evidently having a huge positional advantage. Try to think like Pragg after 25...Be7 and find out the plan. Eventually he got a material advantage which he converted into a victory.
Round 17: Gukesh, Leon, Pragg and Nihal win
Round 17 was a good round for the Indian kids as all four of them won their respective games. Gukesh, Leon, Praggnanandhaa and Nihal won against Liang, Salimova, Abdumalik and Mammadzada.
Gukesh - Liang: 1-0
Gukesh got a perfect position in the middlegame arising from King's Indian Defence Classical variation.
26.Qd4 white is in complete command and it would not be an understatement to say white is winning here.
Leon - Salimova: 1-0
Leon won against Salimova convincingly. However he could have won the game a bit earlier.
The game went on with 29.Qd4. There was a better continuation for white after 28...Qg6. What was it?
Abdumalik - Praggnanandhaa: 0-1
Praggnanandhaa showcased his masterful play in the endgame to win against IM Zhansaya Abdumalik.
Mammadzada - Nihal: 0-1
Nihal scored a comfortable victory over IM Gunay Mammadzada.
Round 18: Nihal, Pragg and Gukesh win
Nihal, Praggnanandhaa and Gukesh won against Jiner, Khadem and Yoo.
Jiner - Nihal: 0-1
Nihal once again applied the Norwegian variation of Ruy Lopez in second consecutive round successfully, this time scoring a win over WGM Zhu Jiner.
Praggnanandhaa - Khadem: 1-0
IM Sara Khadem decided to give up her bishop for Pragg's pawn in the Queen endgame but eventually it did not work things out for her.
Yoo - Gukesh: 0-1
IM Christopher Yoo made a blunder in a winning position against Gukesh.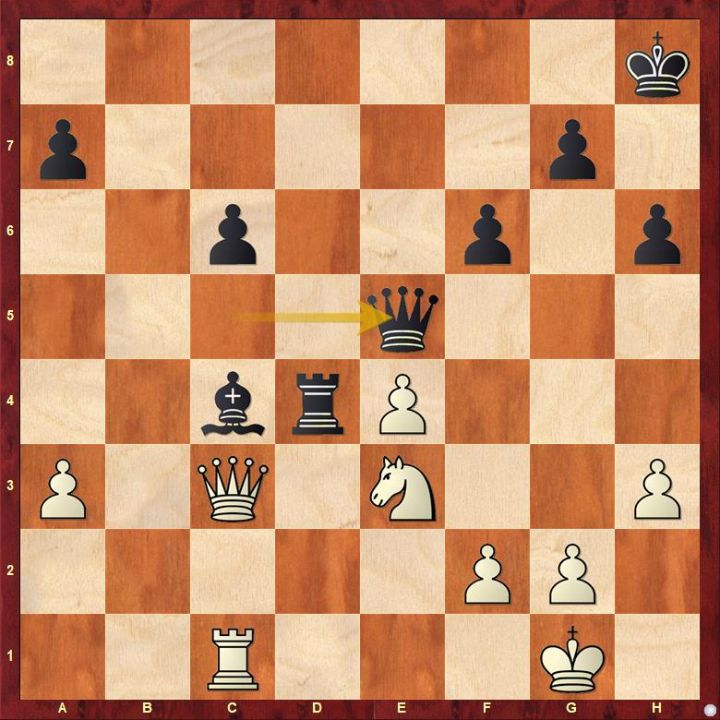 Find out the safest way for white to gain the c4-bishop after 27...Qe5.
Round 19: Gukesh and Nihal win
Gukesh and Nihal finished their tournament on a winning note against Shuvalova and Badelka respectively. Leon and Pragg drew with Liang and Abdusattorov respectively.
Gukesh - Shuvalova: 1-0
IM Polina Shuvalova trapped her knight on her own in the minor pieces endgame and lost the game.
Where should black move the knight? 39...Nd1 was played and the knight got trapped.
Leon - Liang: 0.5-0.5
Leon missed a good opportunity to beat GM Awonder Liang. Later he got into a difficult Rook ending which he somehow managed to defend and salvage a draw.
White is simply winning after 28.Nd6+ as white gains an exchange.
Abdusattorov - Praggnanandhaa: 0.5-0.5
Abdusattorov and Praggnanandhaa had a well-fought draw.
Nihal - Badelka: 1-0
Nihal beat IM Olga Badelka with ease.
20...Nf5 turned things into white's favor. Find out why.
Judit, Anand, Giri, Surya and Ramesh tweeted the following about Praggnanandhaa's triumph
Praggnanandhaa on his win
Replay Round 16-19 games
Replay the live stream
Final Standings after Round 19
Schedule
Everyday game starts at 7:30 p.m. IST
Links
---