Polgar Challenge Day 1: Praggnanandhaa, Yoo and Abdusattorov share the lead 4.0/5
Julius Baer Challengers Chess Tour Polgar Challenge started with a unique result. At the end of Day 1, both Team Kramnik and Team Polgar had 25 points each after Round 5. Team Kramnik had the top three places in the form of Praggnanandhaa, Yoo and Abdusattorov with 4.0/5 each followed by Team Polgar members Gukesh and Keymer at 3.5/5 each respectively. GM Lei Tingjie is the highest performing woman on Day 1, also finishing with 3.5/5. GM Awonder Liang scored a beautiful checkmate against IM Gunay Mammadzada in the final round of the day. Round 6 continues today from 7:30 p.m. IST. Photo: Amruta Mokal
Team Kramnik - Team Polgar: 25-25
GM Praggnanandhaa R, IM Christopher Yoo and GM Nodirbek Abdusattorov of Team Kramnik share the lead with 4.0/5. Despite starting with a loss against IM Volodar Murzin, Pragg made a good recovery and won the next four games to take the lead. Both Yoo and Abdusattorov remained undefeated including a draw against each other. GM Gukesh D and GM Vincent Keymer are the top scorers of Day 1 for Team Polgar with 3.5/5 each respectively.
Round 1: A tough start
Only Nihal Sarin made a draw among Indian kids. Praggnanandhaa, Gukesh and Leon lost their respective games.
Praggnanandhaa - Murzin: 0-1
Praggnanandhaa started the event with a loss against strong Russian IM Volodar Murzin.
18.Bg4 completely turned things in black's favor. White was already in a difficult position.
Yoo - Leon: 1-0
Leon got into trouble early in the middlegame.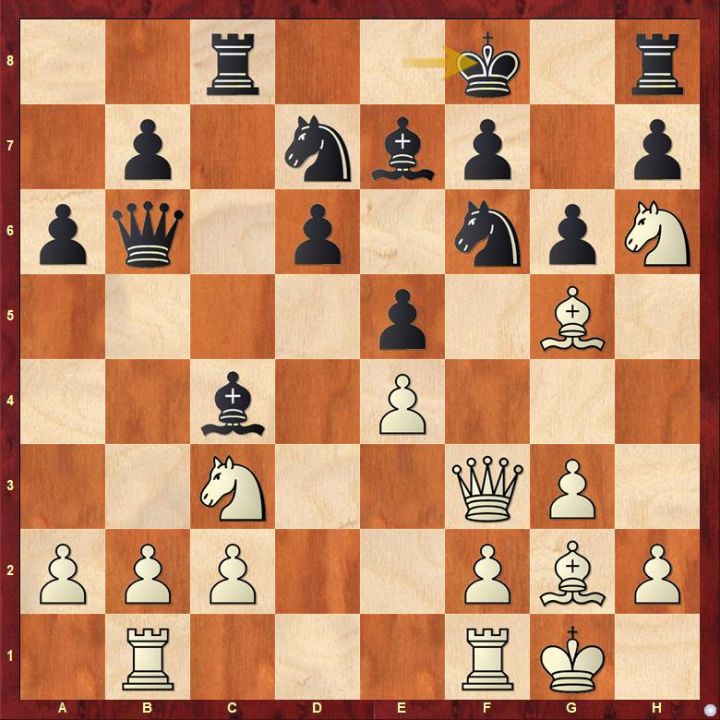 Black should have probably taken the exchange with 14...Bxf1. Instead 14...Kf8 looks slightly awkward for the black king. Later black lost an exchange without any compensation and eventually lost the game after 84 moves.
Jonas - Gukesh: 1-0
Gukesh lost in just 18 moves against GM Jonas Buhl Bjerre.
White got a completely winning position after 12...Qxd4. Find out what black should have played instead.
Round 2: Gukesh, Praggnanandhaa and Nihal win
Round 2 turned out to be a good one as Gukesh, Pragg and Nihal scored a victory. Leon missed a couple of opportunities but managed to salvage a draw.
Zhu - Gukesh: 0-1
Gukesh got a pleasant position out of the opening against WGM Zhu Jiner. He had no trouble converting it into a victory.
Leon - Shuvalova: 0.5-0.5
Leon had a good chance against IM Polina Shuvalova in the endgame.
White got a fantastic position after 27.Nf5. Black's move 27...Re8 did not help black's position. The game continued with 28.Qd4 but what was the winning continuation for white?
White had another winning opportunity after 33...Rc4. Can you find what was it?
Mammadzada - Praggnanandhaa: 0-1
IM Gunay Mammadzada despite being for the better part of the game, got herself in huge trouble in the endgame.
Find out why 45.c5 is a huge mistake for white.
Nihal Sarin completely outplayed IM Carissa Yip.
Round 3: Pragg beat Nihal
Since it's a Round-Robin tournament which means all players are supposed to face each other. In Round 3, Praggnanandhaa got the better of Nihal. Leon and Gukesh also scored a victory each.
Praggnanandhaa - Nihal: 1-0
Nihal's sacrifice did not yield enough compensation.
23...Bxg2 allows black to gain three pawns for the bishop but it does not lead to a winning attack as black would have liked.
35...Kg6 is a mistake as it costs black a pawn to avoid the rook from getting trapped. Black needed to play 35...Rd3 to keep some chances alive.
Jonas - Leon: 0-1
Jonas hyperextended on the kingside which gave the upper hand to Leon.
23.g5 is not a good idea for white. Instead white could have played 23.Rf3.
Gukesh - Keymer: 1-0
Gukesh capitalized on Keymer's mistake and scored a fine victory.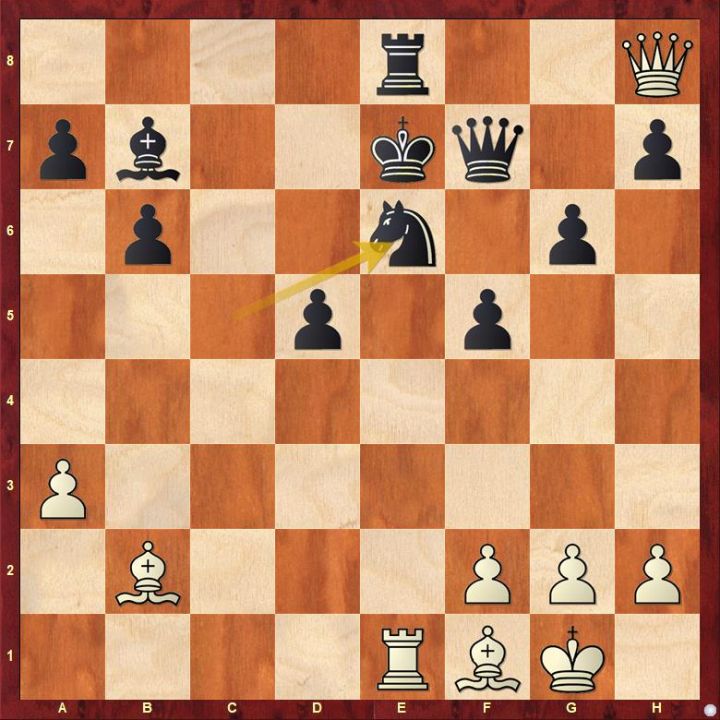 Black's final mistake in the game was 43...Ne6. Instead black should have played 43...Ne4 to continue the fight. Find out the winning continuation for white. Gukesh had no trouble converting his advantage into a win.
Round 4: Leon drew with Gukesh
Leon made a draw with Gukesh, Nihal and Praggnanandhaa won their respective games.
Leon - Gukesh: 0.5-0.5
Leon and Gukesh had a 74-move long well fought draw.
Nihal - Salimova: 1-0
IM Nurgyul Salimova made an incorrect knight sacrifice to launch an attack on Nihal's king but unfortunately for her, it did not work.
Position after 38...Nf4+
38...Nf4+ does not work. Instead black could have played 38...Qxh5. After 39.g4 Nf4+ would have been fine for black.
Badelka - Praggnanandhaa: 0-1
Praggnanandhaa scored a fine victory over IM Olga Badelka with a beautiful checkmate combination to finish the game.
Round 5: Pragg and Gukesh score win
Praggnanandhaa got a good position out of the opening against GM Lei Tingjie. However he made an unforced error which she could not capitalize on.
White did not need to play 26.Nxg7, instead 26.Ne7 should have been much better for white.
30...Rag8 allowed white to get back in the game with 31.Rc5. Instead black needed to continue with 30...Ng5 to maintain her advantage.
Gukesh - Abdumalik: 1-0
Abdumalik went wrong early in the opening and she could not get back for the rest of the game.
Position after 10...Bf5
Black should have played 10...Nbd7 which is the best move in the position. Instead 10...Bf5 causes black to lose valuable time and white gains a huge positional advantage.
Keymer - Leon: 1-0
Leon had trouble getting any kind of offense against Keymer.
Position after 33.Qd5
Black needed to continue with 33...Ne6 but instead 33...Bxe5 only helped white to move closer towards victory.
GM Awonder Liang scored a beautiful checkmate against IM Gunay Mammadzada.
Judit Polgar tweeted the following after the conclusion of Day 1
Replay Round 1-5 games
Replay the live stream
Standings after Round 5
Schedule
Everyday game starts at 7:30 p.m. IST
Links
---