44th Chess Olympiad 2022 preview
The 44th edition of the Chess Olympiad is the biggest Olympiad in the history, less than 24 hours away now. It is also the biggest sporting spectacle to ever take place in India. A total of 350 teams, 1736 players are taking part from 189 countries across the world. The host nation India is going to have six teams and 30 players taking part, which is the highest ever for a single edition of this extravaganza. Reigning World Champion Magnus Carlsen will play in the Olympiad for the first time since 2016. The legend who inspired the nation and beyond, Vishy Anand is the mentor for the Indian teams. Round 1 starts tomorrow at 3 p.m. IST. Photo: FIDE/Lennart Ootes
30 Indians will play in six teams
The final addition among the six Indian teams is in the Women's section. India 3 Women will comprise - IM Eesha Karavade, WIM Sahithi Varshini M, WGM Pratyusha Bodda, WGM Nandhidhaa P V and WIM Vishwa Vasnawala. The team will be captained by GM Dibyendu Barua.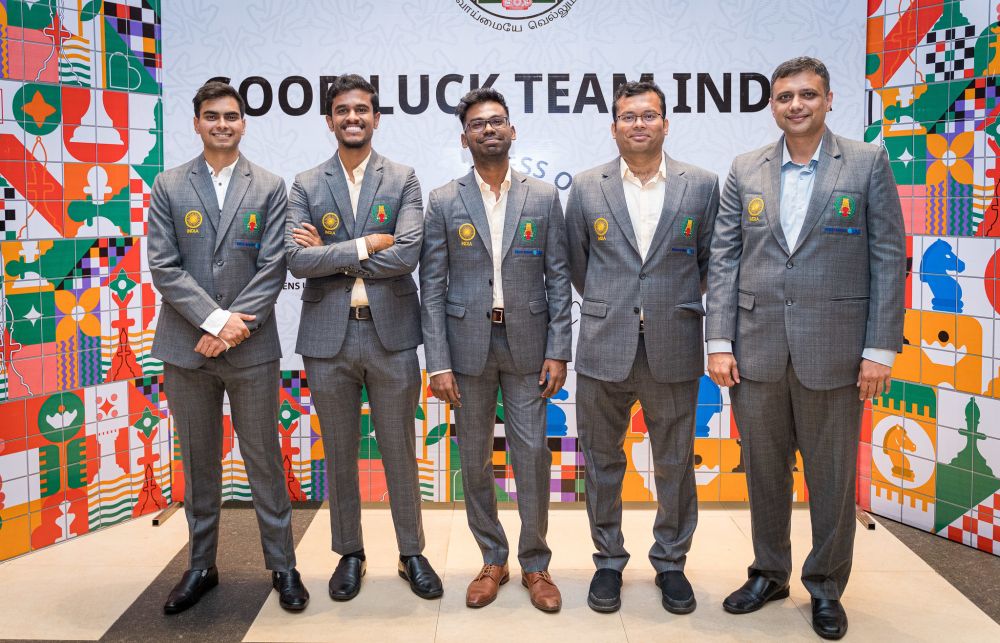 Cricket legend Sachin Tendulkar tweeted his best wishes for the Indian team
Press Conference
Stats and facts
• Open teams - 188, Players - 937
• Women teams - 162, Players - 799
• Total teams - 350, Players - 1736
• Open - 233 GMs, 111 IMs, 3 WGMs and a WIM are taking part from 186 countries.
• Women - 15 GMs, 46 IMs, 51 GMs and 98 WIMs are taking part from 160 countries.
• Teams having 4 players and no reserves - Open: Comoros Islands, Laos and Nicaragua. Women: Ivory Coast, Cyprus, Fiji, Gabon, Guatemala, Indonesia, Laos, Nicaragua, Sao Tome and Principe, Timor-leste and Chinese Taipei.
• Both Open and Women's team top seeds - Magnus Carlsen and Koneru Humpy are yet to win a medal at Chess Olympiad event. This is also Carlsen's first Olympiad since 2016.
• 13 Women are playing in the Open section.
• Youngest participant of the event is Randa Seder of Palestine. She is just eight years old.
Opening Ceremony
Schedule
Everyday round starts at 3 p.m. IST from 29th July to 8th August 2022. The final round on 9th August starts 10 a.m. IST. Rest day is on 4th August 2022.
Open teams list
| | | | | | |
| --- | --- | --- | --- | --- | --- |
| No. | | FED | Team | RtgAvg | Captain |
| 1 | | USA | United States of America | 2771 | Donaldson, John |
| 2 | | IND | India | 2696 | Narayanan, Srinath |
| 3 | | NOR | Norway | 2692 | Haarr, Jon Kristian |
| 4 | | ESP | Spain | 2687 | Magem Badals, Jordi |
| 5 | | POL | Poland | 2683 | Bartel, Mateusz |
| 6 | | AZE | Azerbaijan | 2680 | Abasov, Nijat |
| 7 | | NED | Netherlands | 2672 | Smeets, Jan |
| 8 | | UKR | Ukraine | 2666 | Sulypa, Oleksandr |
| 9 | | GER | Germany | 2664 | Gustafsson, Jan |
| 10 | | ENG | England | 2662 | Pein, Malcolm |
| 11 | | IND | India 2 | 2649 | Ramesh, R B |
| 12 | | ARM | Armenia | 2642 | Pashikian, Arman |
| 13 | | IRI | Iran | 2636 | Pourramezanali, Amirreza |
| 14 | | UZB | Uzbekistan | 2625 | Sokolov, Ivan |
| 15 | | FRA | France | 2621 | Maze, Sebastien |
| 16 | | IND | India 3 | 2619 | Bakre, Tejas |
| 17 | | CRO | Croatia | 2611 | Kozul, Zdenko |
| 18 | | CZE | Czech Republic | 2608 | Simacek, Pavel |
| 19 | | HUN | Hungary | 2607 | Acs, Peter |
| 20 | | ROU | Romania | 2605 | Miron, Lucian-Costin |
| 21 | | TUR | Turkey | 2602 | Kanmazalp, Ogulcan |
| 22 | | ISR | Israel | 2598 | Glaz, Ilana David |
| 23 | | SRB | Serbia | 2595 | Perunovic, Miodrag |
| 24 | | GEO | Georgia | 2580 | Sturua, Zurab |
| 25 | | GRE | Greece | 2575 | Nikolaidis, Ioannis |
Women teams list
| | | | | | |
| --- | --- | --- | --- | --- | --- |
| No. | | FED | Team | RtgAvg | Captain |
| 1 | | IND | India | 2486 | Kunte, Abhijit |
| 2 | | UKR | Ukraine | 2478 | Brodsky, Michail |
| 3 | | GEO | Georgia | 2475 | Jojua, Davit |
| 4 | | POL | Poland | 2423 | Dziuba, Marcin |
| 5 | | FRA | France | 2400 | Gozzoli, Yannick |
| 6 | | AZE | Azerbaijan | 2399 | Mamedov, Nidjat |
| 7 | | USA | United States of America | 2390 | Khachiyan, Melikset |
| 8 | | GER | Germany | 2383 | Yakovich, Yuri |
| 9 | | ARM | Armenia | 2367 | Andriasian, Zaven |
| 10 | | KAZ | Kazakhstan | 2365 | Kotsur, Pavel |
| 11 | | IND2 | India 2 | 2351 | Swapnil, S. Dhopade |
| 12 | | HUN | Hungary | 2342 | Papp, Gabor |
| 13 | | ESP | Spain | 2327 | Martinez Martin, David |
| 14 | | CUB | Cuba | 2324 | Alvarez Pedraza, Aramis |
| 15 | | BUL | Bulgaria | 2319 | Arnaudov, G. Petar |
| 16 | | IND3 | India 3 | 2318 | Barua, Dibyendu |
| 17 | | NED | Netherlands | 2312 | Bosch, Jeroen |
| 18 | | SRB | Serbia | 2312 | Chelushkina, Irina |
| 19 | | ISR | Israel | 2287 | Botvinnik, Ilia |
| 20 | | ROU | Romania | 2283 | Szabo, Gergely-Andras-Gyula |
| 21 | | ENG | England | 2274 | D'Costa, Lorin |
| 22 | | SVK | Slovakia | 2265 | Stohl, Igor |
| 23 | | CZE | Czech Republic | 2260 | Polak, Tomas |
| 24 | | VIE | Vietnam | 2259 | Nguyen, Minh Thang |
| 25 | | ITA | Italy | 2251 | Bellia, Fabrizio |
Links
Stats and facts - Chess-results and FIDE
---