44th Chess Olympiad 2022 R6: Gukesh wins six in-a-row, now World no.26, India decimates Georgia Women
India 1 dominated Georgia women by 3-1 in the sixth round of 44th Chess Olympiad 2022. Humpy and Vaishali scored emphatic victories, Harika and Tania held the fort by drawing their respective games. India 2 suffered their first loss of the event against the tournament leader Armenia 1.5-2.5. D Gukesh scored his sixth consecutive win to take his live rating to 2719.3 and become World #26. Harikrishna defeated the reigning World Rapid champion, Nodirbek Abdusattorov to ensure India 1 can hold a draw with Uzbekistan 2-2. India 2 Women were held to a draw by much lower rated Czech Republic. Neither team managed to score a win. India 3 defeated Lithuania 3.5-0.5 to setup a clash with India 1 in the next round. Today is a rest day. Round 7 starts tomorrow 5th August at 3 p.m. IST. Photo: FIDE/Madelene Belinki
Armenia (Open) and India (Women) are the sole leaders
India 3 Women defeated Australia 3-1 to take their score 9/12. USA registered their second consecutive victory to stay just a full point behind the leaders. They defeated Iran 2.5-1.5 to setup a clash with Armenia (12). Nine teams are at 10/12, including lower seeded Cuba, Peru and Kazakhstan. Cuba and Austria drew with Spain and England 2-2, Poland lost to Serbia 1.5-2.5. Peru, Kazakhstan and Australia defeated Croatia, Czech Republic and Norway. Norway has been pushed to Hall 2 in Round 7. If Carlsen plays, Hall 2 will suddenly see a surge in spectators for sure.
Open: India 2 - Armenia: 1.5-2.5
GM D Gukesh (2684) scored the sole victory for the team against GM Gabriel Sargissian (2698)
Gukesh - Sargissian
Black made a thematic error early in the opening 11...Nxf3+ 12.gxf3 opened the g-file and allowed White to have a strong pawn in the center. The Armenian also needed to prevent it from rolling down the board 17...f6 to prevent e5 would have been better. Instead 17...a5 invited more trouble 18.e5 Bc5 19.Rg5 Ba6 20.Rdg1 g6 21.Bxa6 Rxa6 22.f5 Ba7 23.e6 Kh8 24.Kb1 gxf5 25.Bxb4! and we reach the above position. It is irrelevant how Black captures the bishop as White's idea remains the same, exploit the back-rank weakness, promote the e-pawn into a queen and win the game. That's what happened.
Uzbekistan - India 1: 2-2
GM Pentala Harikrishna (2720) scored the sole win for India 1 against Uzbekistan. His strategy was simple - take the game to his opponent before he takes it to him. In other words, attack and be the person to take charge, before your opponent does that. His opponent, the reigning World Rapid champion, GM Nodirbek Abdusattorov (2688) is well-known for his fierce attacking play. It did not work against Harikrishna as he imploded.
Abdusattorov - Harikrishna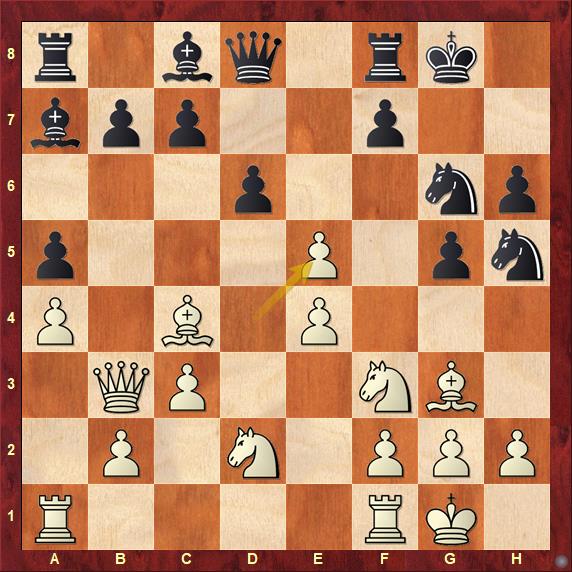 White's first big mistake in the game was 14.dxe5 g4 just paralyzes White's position 15.Ne1 needs to be played to avoid a material loss. Anyway, the game continued 14...Nxg3 15.hxg3 dxe5 16.Rad1 g4 17.Nh2 Qg5 18.Rfe1 Kg7 19.Re2 h5 20.Ndf1 h4 and it is safe to say Black is completely winning positionally. Abdusattorov was given zero chance to regroup and retailiate.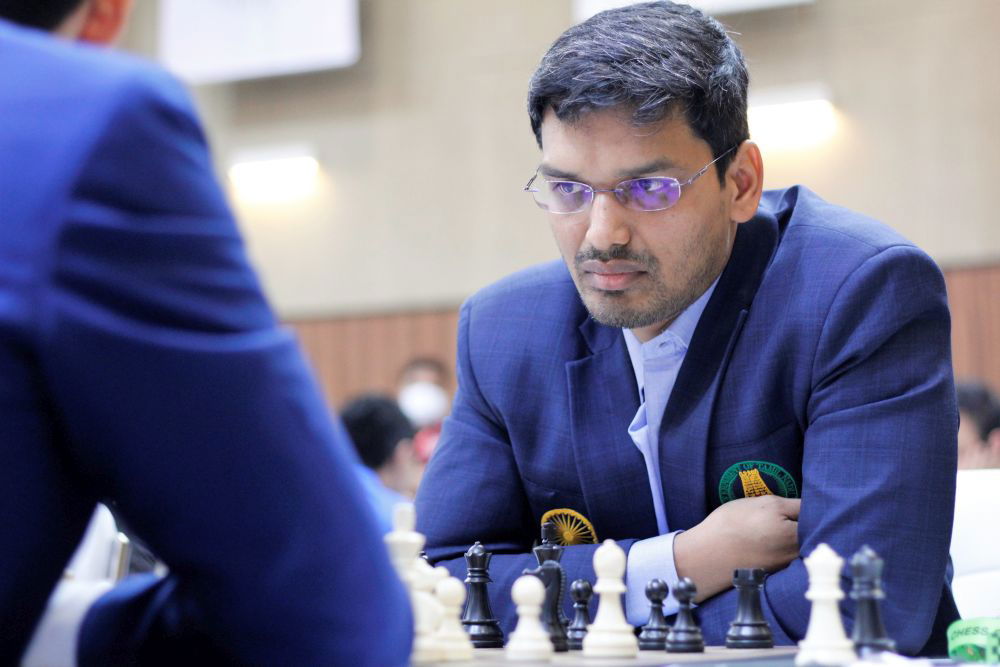 India 3 - Lithuania: 3.5-0.5
India 3 expectedly defeated Lithuania convincingly. GM Surya Sekhar Ganguly (2608) conceded the sole draw against GM Titas Stremavicius (2532). This is his fifth draw of the event so far. GM Sethuraman S P (2623), GM Abhijeet Gupta (2627) and GM Abhimanyu Puranik (2612) won their respective games comfortably.
Women: India 1 - Georgia: 3-1
India 1 defeated Georgia convincingly. GM Koneru Humpy (2586) and IM Vaishali R (2442) scored the victories over GM Nana Dzagnidze (2531) and IM Lela Javakhishvili (2476), GM Harika Dronavalli (2517) and IM Tania Sachdev (2399) drew their games against GM Nino Batsiashvili (2466) and IM Salome Melia (2384).
Humpy - Dzagnidze
Black had to take the c6-pawn here. Perhaps the reason behind rejecting that idea is 26.Nxb5 Nxb5 27.Qxc4+ or 26....d5 27.Nxc7 is met with Nxb4 and things are balanced.. Sure Black might still end up down by two pawns, however it would have been better than the text. The last time Dzagnidze beat Humpy in Classical chess is June 2014. That statistics remained unchanged.
Vaishali - Javakhishvili
The knight did not have a lot of safe squares to go. 16...Nf5 or Ne8 would have been better as 16...Nb7 trapped her own bishop. Vaishali found a beautiful move 17.b4! It momentarily sacrifices the exchange, however Black has no way to save the a6-bishop. The b5-threat is looming large. For the lack of a better choice, 17...Bxa1 had to be played 18.Qxa1 Qe7 19.b5 and rest is just a matter of time. Vaishali employed some more tactical threats to end the game in her favor.

Czech Republic - India 2: 2-2
All four games ended in draws. WGM Mary Ann Gomes (2324) and WGM Divya Deshmukh (2319) escaped the jaws of defeat against WGM Karolina Pilsova (2230) and WGM Kristyna Petrova (2238).
Australia - India 3: 1-3
IM Eesha Karavade (2339) and WGM Nandhidhaa P V (2312) drew their respective games. WIM Sahithi Varshini M (2312) and WIM Vishwa Vasnawala (2305) defeated WFM Nguyen Mai Chi Phan (2139) and WFM Thu Giang Nguyen (2119) respectively in prolonged battles.
Standing (L to R): Avathanshu Bhat, Shahid Ahmed and Aditya Sur Roy
Sitting in the middle (L to R): FI Niklesh Jain, Abhyudaya Raam, Shashwat Mishra and Supriya Bhat
Sitting at the front: IM Sagar Shah and Amruta Mokal (ChessBase India Cofounders)
Replay the live stream
Video Gallery
Schedule
Everyday round starts at 3 p.m. IST from 29th July to 8th August 2022. The final round on 9th August starts 10 a.m. IST. Rest day is on 4th August 2022.
Replay Round 6 Open games
Replay Round 6 Women games
Round 6 Open results
No.
SNo
Team
Team
Pts.
MP
Res.
:
Res.
MP
Pts.
Team
Team
SNo
1
11
IND2
India 2
17½
10
1½
:
2½
10
15
Armenia
ARM
12
2
14
UZB
Uzbekistan
17
9
2
:
2
9
15
India
IND
2
3
1
USA
United States of America
13½
9
2½
:
1½
9
14½
Iran
IRI
13
4
32
CUB
Cuba
15½
9
2
:
2
8
14½
Spain
ESP
4
5
5
POL
Poland
13½
8
1½
:
2½
8
13
Serbia
SRB
23
6
7
NED
Netherlands
16
8
2½
:
1½
8
16
Georgia
GEO
24
7
9
GER
Germany
14
8
2½
:
1½
8
15
Italy
ITA
26
8
10
ENG
England
14½
8
2
:
2
8
13
Austria
AUT
33
9
36
SUI
Switzerland
12½
8
1½
:
2½
8
15½
France
FRA
15
10
16
IND3
India 3
13½
8
3½
:
½
8
14½
Lithuania
LTU
35
11
37
PER
Peru
13½
8
2½
:
1½
8
14½
Croatia
CRO
17
12
40
KAZ
Kazakhstan
15
8
2½
:
1½
8
16
Czech Republic
CZE
18
13
52
PHI
Philippines
14
8
2
:
2
8
15½
Israel
ISR
22
14
29
AUS
Australia
15
7
2½
:
1½
7
14
Norway
NOR
3
15
34
SVK
Slovakia
12
7
1
:
3
7
13½
Azerbaijan
AZE
6
16
8
UKR
Ukraine
15
7
2½
:
1½
7
15
Argentina
ARG
30
17
19
HUN
Hungary
13½
7
2½
:
1½
7
14
Montenegro
MNE
39
18
20
ROU
Romania
13½
7
2
:
2
7
12½
Canada
CAN
44
19
21
TUR
Turkey
14
7
2
:
2
7
14
Moldova
MDA
48
20
25
GRE
Greece
13½
7
4
:
0
7
12
Belgium
BEL
50
Round 7 Open pairings
No.
SNo
Team
Team
Pts.
MP
Res.
:
Res.
MP
Pts.
Team
Team
SNo
1
2
IND
India *)
17
10
:
10
17
India 3
IND
16
2
12
ARM
Armenia
17½
12
:
11
16
United States of America
USA
1
3
15
FRA
France
18
10
:
10
18½
Netherlands
NED
7
4
23
SRB
Serbia
15½
10
:
10
16½
Germany
GER
9
5
32
CUB
Cuba
17½
10
:
10
19
India 2
IND
11
6
37
PER
Peru
16
10
:
10
19
Uzbekistan
UZB
14
7
4
ESP
Spain
16½
9
:
10
17½
Kazakhstan
KAZ
40
8
6
AZE
Azerbaijan
16½
9
:
9
17½
Israel
ISR
22
9
25
GRE
Greece
17½
9
:
9
17½
Ukraine
UKR
8
10
28
BRA
Brazil
16½
9
:
9
16½
England
ENG
10
11
13
IRI
Iran
16
9
:
9
17½
Australia
AUS
29
12
33
AUT
Austria
15
9
:
9
16
Hungary
HUN
19
13
5
POL
Poland
15
8
:
9
16
Philippines
PHI
52
14
17
CRO
Croatia
16
8
:
8
16
Mongolia
MGL
45
15
18
CZE
Czech Republic
17½
8
:
8
16½
Indonesia
INA
46
16
20
ROU
Romania
15½
8
:
8
17
Paraguay
PAR
47
17
21
TUR
Turkey
16
8
:
8
12½
Uruguay
URU
49
18
48
MDA
Moldova
16
8
:
8
17½
Georgia
GEO
24
19
26
ITA
Italy
16½
8
:
8
18½
Portugal
POR
53
20
27
DEN
Denmark
17
8
:
8
16½
Finland
FIN
55
Round 6 Women results
No.
SNo
Team
Team
Pts.
MP
Res.
:
Res.
MP
Pts.
Team
Team
SNo
1
1
IND
India *)
15½
10
3
:
1
10
15
Georgia
GEO
3
2
20
ROU
Romania
14½
10
2
:
2
9
15½
Ukraine
UKR
2
3
6
AZE
Azerbaijan
15½
9
3
:
1
9
15
Kazakhstan
KAZ
10
4
18
SRB
Serbia
14½
8
0
:
4
8
15½
Poland
POL
4
5
17
NED
Netherlands
13½
8
3
:
1
8
15
France
FRA
5
6
19
ISR
Israel
14
8
3
:
1
8
14½
Germany
GER
8
7
21
ENG
England
13½
8
½
:
3½
8
16½
Armenia
ARM
9
8
23
CZE
Czech Republic
13½
8
2
:
2
8
14
India 2
IND2
11
9
24
VIE
Vietnam
13½
8
2½
:
1½
8
14½
Hungary
HUN
12
10
15
BUL
Bulgaria
16
8
2½
:
1½
8
15
Peru
PER
31
11
47
DEN
Denmark
15
8
0
:
4
7
15
Spain
ESP
13
12
14
CUB
Cuba
13
7
2½
:
1½
7
13½
Colombia
COL
33
13
35
AUS
Australia
13
7
1
:
3
7
12½
India 3
IND3
16
14
36
BRA
Brazil
13½
7
1½
:
2½
7
12
Slovakia
SVK
22
15
43
CRO
Croatia
12
7
2½
:
1½
7
15
Slovenia
SLO
26
16
27
GRE
Greece
14½
7
3½
:
½
7
11½
Egypt
EGY
44
17
48
NOR
Norway
13½
7
1½
:
2½
7
14
Mongolia
MGL
28
18
29
SUI
Switzerland
13
7
3
:
1
7
11½
Paraguay
PAR
67
19
30
EST
Estonia
13
7
3
:
1
7
13½
Belgium
BEL
49
20
7
USA
United States of America
12½
6
4
:
0
6
12
Venezuela
VEN
58
Round 7 Women pairings
No.
SNo
Team
Team
Pts.
MP
Res.
:
Res.
MP
Pts.
Team
Team
SNo
1
6
AZE
Azerbaijan
18½
11
:
12
18½
India *)
IND
1
2
3
GEO
Georgia
16
10
:
11
16½
Romania
ROU
20
3
2
UKR
Ukraine
17½
10
:
10
16½
Netherlands
NED
17
4
4
POL
Poland
19½
10
:
10
18½
Bulgaria
BUL
15
5
9
ARM
Armenia
20
10
:
10
17
Israel
ISR
19
6
10
KAZ
Kazakhstan
16
9
:
10
16
Vietnam
VIE
24
7
11
IND2
India 2
16
9
:
9
18
Greece
GRE
27
8
13
ESP
Spain
19
9
:
9
15½
Czech Republic
CZE
23
9
28
MGL
Mongolia
16½
9
:
9
15½
Cuba
CUB
14
10
16
IND3
India 3
15½
9
:
9
16
Switzerland
SUI
29
11
22
SVK
Slovakia
14½
9
:
9
16
Estonia
EST
30
12
5
FRA
France
16
8
:
9
14½
Croatia
CRO
43
13
40
ARG
Argentina
14½
8
:
8
16½
United States of America
USA
7
14
8
GER
Germany
15½
8
:
8
15½
Turkey
TUR
41
15
12
HUN
Hungary
16
8
:
8
16
Lithuania
LTU
42
16
46
UZB
Uzbekistan
16½
8
:
8
14½
Serbia
SRB
18
17
21
ENG
England
14
8
:
8
15
Denmark
DEN
47
18
25
ITA
Italy
16
8
:
8
15½
Ireland
IRL
51
19
31
PER
Peru
16½
8
:
8
13½
Malaysia
MAS
52
20
32
INA
Indonesia
18
8
:
8
13
Mexico
MEX
54
Links
---