44th Chess Olympiad 2022 R5: Gukesh and Adhiban keep India 2 at the top
India 2 registered their fifth consecutive win of 44th Chess Olympiad. Spain lost to them 1.5-2.5. Gukesh and Adhiban scored the key victories for the team, Nihal drew and Praggnanandhaa lost. Armenia is the only other who is at the exact same score 10/10. Naturally they will face each other in the sixth round before the rest day. India 1 got back to winning ways, thanks to Arjun Erigaisi's win which helped them beat Romania 2.5-1.5. In the Women's section, India 2 defeated France 2.5-1.5. Once again, IM Tania Sachdev's win proved to be very important for the team. India 2 lost to Georgia 1-3. Round 6 starts today at 3 p.m. IST. Photo: FIDE/Stev Bonhage
India 2 and Armenia are Perfect 10
Azerbaijan lost to Cuba 1.5-2.5 when GM Rauf Mamedov and GM Vasif Durarbayli went down against GM Carlos Daniel Albornoz Cabrera and GM Luis Ernesto Quesada Perez. Uzbekistan and Netherlands whitewashed Slovakia and Canada respectively, something which is not so common in the fifth round at the top boards. India 3 bounced back after a loss to beat Chile 2.5-1.5, while India 3 Women were held to a draw by Brazil 2-2. Poland and USA lost to Romania and Peru 1.5-2.5 respectively.
Open: India 1 - Romania: 2.5-1.5
GM Arjun Erigaisi (2689) scored the sole victory for the team against GM Mircea-Emilian Parligras (2576). The win helped India 1 beat Romania. GM Harikrishna, GM Vidit and GM Narayanan drew their respective games.
Arjun - Parligras
39...b5 allows White to bring the king into the action 40.Ke4 Nd5 41.Bh3 Nxc3+ 42.Kf5 Nd4+ 43.Kxg5+ and it's over for Black.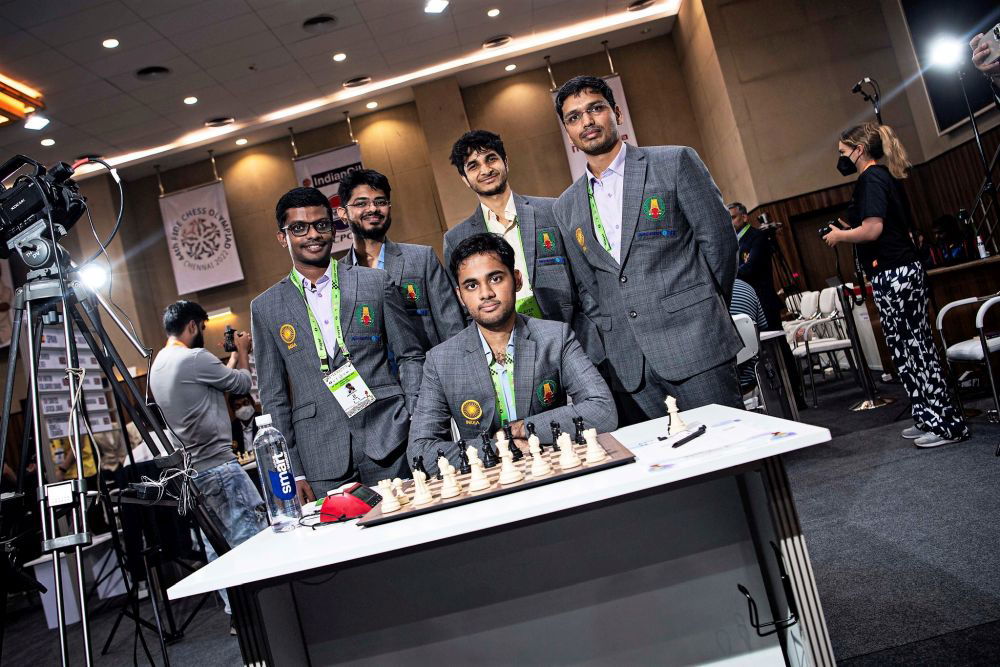 Spain - India 2: 1.5-2.5
GM D Gukesh (2684) and GM B Adhiban (2598) scored the wins for India 2. GM Praggnanandhaa (2648) suffered his first loss of the event. GM Nihal Sarin (2651) drew with GM David Anton Guijarro (2667).
Shirov - Gukesh
White had to play the counter-intuitive 28.fxe5 dxe5 29.Rf1 to keep things in balance. 29.f5 actually locked things up for White. Black created passed pawns in the center which were absolutely menacing.
This win moved Gukesh to India #3 and World #27 with a live rating of 2714.1
Adhiban - Iturrizaga
What Black should not do here is exchange the bishops at c6 as that helps White. That is exactly what he did 38...Bxc6 39.dxc6 the pawn reached one step closer to the promotion square. 39...Ne6 40.Qe5 Nc7 41.Qxc7 Qxe3+ 42.Kh2 Qe8 43.Qd6 Qc8 44.Bxf6 gxf6 45.Qd7 Black resigned.
Chile - India 3: 1.5-2.5
GM Sethuraman S P (2623) and GM Abhimanyu Puranik (2612) scored wins for the team. GM Surya Sekhar Ganguly (2608) drew his game. GM Karthikeyan Murali (2613) suffered his first loss of the event.
Women: India 1 - Hungary: 2.5-1.5
IM Vaishali R (2442) was completely winning against IM Anastasia Savina (2377). However, she missed her opportunity and Savina escaped with a draw. IM Tania Sachdev (2399) defeated WIM Andreea Navrotescu (2373) comfortably to register India's fifth win of the event.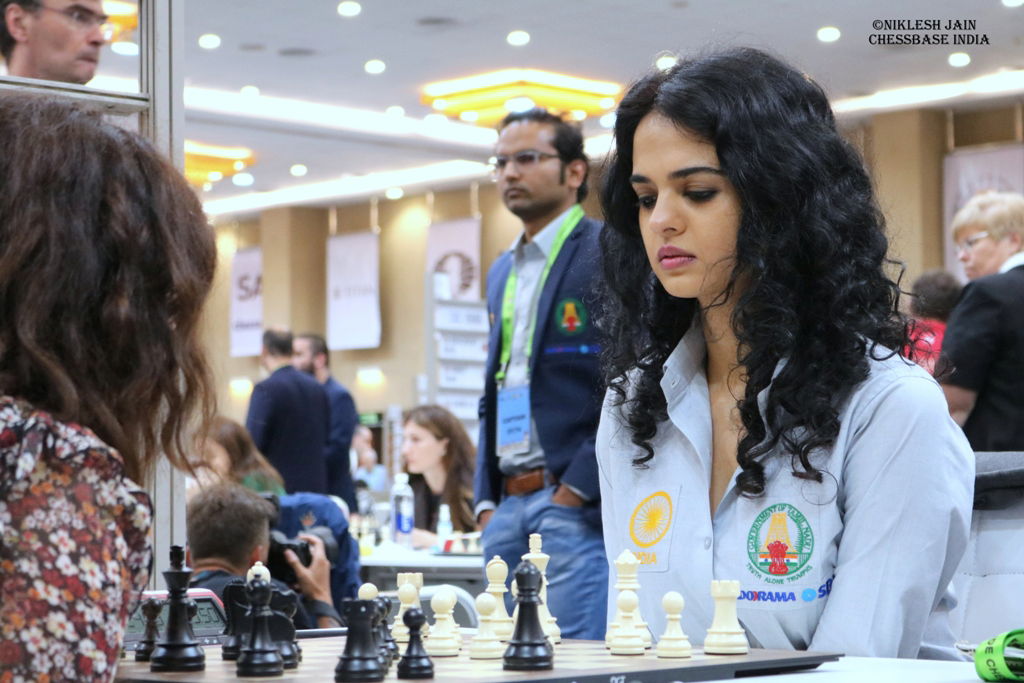 India 2 - Georgia: 1-3
WGM Vantika Agrawal (2371) and IM Padmini Rout (2374) survived completely lost positions against GM Nana Dzagnidze (2531) and GM Nino Batsiashvili (2466). It did not prove to be enough as IM Soumya Swaminathan (2335) and WGM Divya Deshmukh (2319) lost their games.
India 3 - Brazil: 2-2
WGM Nandhidhaa P V (2312) scored the sole full point for the team. IM Eesha Karavade (2339) and WGM Pratyusha Bodda (2310) drew their respective games, although Pratyusha missed a winning combination.
Replay the live stream
Video Gallery
Schedule
Everyday round starts at 3 p.m. IST from 29th July to 8th August 2022. The final round on 9th August starts 10 a.m. IST. Rest day is on 4th August 2022.
Replay Round 5 Open games
Replay Round 5 Women games
Round 5 Open results
No.
SNo
Team
Team
Pts.
MP
Res.
:
Res.
MP
Pts.
Team
Team
SNo
1
2
IND
India *)
12½
7
2½
:
1½
7
12
Romania
ROU
20
2
4
ESP
Spain
13
8
1½
:
2½
8
15
India 2
IND
11
3
10
ENG
England
13
8
1½
:
2½
8
12½
Armenia
ARM
12
4
22
ISR
Israel
14
8
1½
:
2½
7
11
United States of America
USA
1
5
15
FRA
France
13½
7
2
:
2
7
11½
Poland
POL
5
6
6
AZE
Azerbaijan
12
7
1½
:
2½
7
13
Cuba
CUB
32
7
13
IRI
Iran
11½
7
3
:
1
7
13
Turkey
TUR
21
8
14
UZB
Uzbekistan
13
7
4
:
0
7
12
Slovakia
SVK
34
9
7
NED
Netherlands
12
6
4
:
0
7
12½
Canada
CAN
44
10
41
SLO
Slovenia
12
6
1
:
3
6
11
Germany
GER
9
11
42
CHI
Chile
11
6
1½
:
2½
6
11
India 3
IND
16
12
17
CRO
Croatia
11½
6
3
:
1
6
10½
Iceland
ISL
43
13
18
CZE
Czech Republic
12½
6
3½
:
½
6
11½
Mongolia
MGL
45
14
46
INA
Indonesia
11
6
1½
:
2½
6
10½
Serbia
SRB
23
15
24
GEO
Georgia
12½
6
3½
:
½
6
12½
Paraguay
PAR
47
16
48
MDA
Moldova
12
6
2
:
2
6
11½
Greece
GRE
25
17
26
ITA
Italy
11½
6
3½
:
½
6
9
Uruguay
URU
49
18
50
BEL
Belgium
10
6
2
:
2
6
13
Australia
AUS
29
19
30
ARG
Argentina
13
6
2
:
2
6
12½
Colombia
COL
51
20
52
PHI
Philippines
11½
6
2½
:
1½
6
9½
Sweden
SWE
31
Round 6 Open pairings
No.
SNo
Team
Team
Pts.
MP
Res.
:
Res.
MP
Pts.
Team
Team
SNo
1
11
IND2
India 2
17½
10
:
10
15
Armenia
ARM
12
2
14
UZB
Uzbekistan
17
9
:
9
15
India
IND
2
3
1
USA
United States of America
13½
9
:
9
14½
Iran
IRI
13
4
32
CUB
Cuba
15½
9
:
8
14½
Spain
ESP
4
5
5
POL
Poland
13½
8
:
8
13
Serbia
SRB
23
6
7
NED
Netherlands
16
8
:
8
16
Georgia
GEO
24
7
9
GER
Germany
14
8
:
8
15
Italy
ITA
26
8
10
ENG
England
14½
8
:
8
13
Austria
AUT
33
9
36
SUI
Switzerland
12½
8
:
8
15½
France
FRA
15
10
16
IND3
India 3
13½
8
:
8
14½
Lithuania
LTU
35
11
37
PER
Peru
13½
8
:
8
14½
Croatia
CRO
17
12
40
KAZ
Kazakhstan
15
8
:
8
16
Czech Republic
CZE
18
13
52
PHI
Philippines
14
8
:
8
15½
Israel
ISR
22
14
29
AUS
Australia
15
7
:
7
14
Norway
NOR
3
15
34
SVK
Slovakia
12
7
:
7
13½
Azerbaijan
AZE
6
16
8
UKR
Ukraine
15
7
:
7
15
Argentina
ARG
30
17
19
HUN
Hungary
13½
7
:
7
14
Montenegro
MNE
39
18
20
ROU
Romania
13½
7
:
7
12½
Canada
CAN
44
19
21
TUR
Turkey
14
7
:
7
14
Moldova
MDA
48
20
25
GRE
Greece
13½
7
:
7
12
Belgium
BEL
50
Round 5 Women results
No.
SNo
Team
Team
Pts.
MP
Res.
:
Res.
MP
Pts.
Team
Team
SNo
1
5
FRA
France
13½
8
1½
:
2½
8
13
India *)
IND
1
2
2
UKR
Ukraine
13½
8
2
:
2
8
13½
Azerbaijan
AZE
6
3
11
IND2
India 2
13
8
1
:
3
8
12
Georgia
GEO
3
4
4
POL
Poland
14
8
1½
:
2½
8
12
Romania
ROU
20
5
10
KAZ
Kazakhstan
12
7
3
:
1
7
12
Cuba
CUB
14
6
8
GER
Germany
11½
6
3
:
1
7
13
Mongolia
MGL
28
7
7
USA
United States of America
11
6
1½
:
2½
6
12½
Peru
PER
31
8
32
INA
Indonesia
13
6
1
:
3
6
13½
Armenia
ARM
9
9
12
HUN
Hungary
11
6
3½
:
½
6
12½
Sweden
SWE
34
10
33
COL
Colombia
11½
6
2
:
2
6
13
Spain
ESP
13
11
38
IRI
Iran
12½
6
1
:
3
6
13
Bulgaria
BUL
15
12
16
IND3
India 3
10½
6
2
:
2
6
11½
Brazil
BRA
36
13
39
PHI
Philippines
11½
6
1½
:
2½
6
11
Netherlands
NED
17
14
18
SRB
Serbia
11½
6
3
:
1
6
11
Argentina
ARG
40
15
41
TUR
Turkey
12
6
½
:
3½
6
10½
Israel
ISR
19
16
42
LTU
Lithuania
11½
6
1½
:
2½
6
11
England
ENG
21
17
22
SVK
Slovakia
10
6
2
:
2
6
10
Croatia
CRO
43
18
23
CZE
Czech Republic
10
6
3½
:
½
6
11
Finland
FIN
45
19
46
UZB
Uzbekistan
12
6
½
:
3½
6
10
Vietnam
VIE
24
20
25
ITA
Italy
11½
6
1
:
3
6
12
Denmark
DEN
47
Round 6 Women pairings
No.
SNo
Team
Team
Pts.
MP
Res.
:
Res.
MP
Pts.
Team
Team
SNo
1
1
IND
India *)
15½
10
:
10
15
Georgia
GEO
3
2
20
ROU
Romania
14½
10
:
9
15½
Ukraine
UKR
2
3
6
AZE
Azerbaijan
15½
9
:
9
15
Kazakhstan
KAZ
10
4
18
SRB
Serbia
14½
8
:
8
15½
Poland
POL
4
5
17
NED
Netherlands
13½
8
:
8
15
France
FRA
5
6
19
ISR
Israel
14
8
:
8
14½
Germany
GER
8
7
21
ENG
England
13½
8
:
8
16½
Armenia
ARM
9
8
23
CZE
Czech Republic
13½
8
:
8
14
India 2
IND2
11
9
24
VIE
Vietnam
13½
8
:
8
14½
Hungary
HUN
12
10
15
BUL
Bulgaria
16
8
:
8
15
Peru
PER
31
11
47
DEN
Denmark
15
8
:
7
15
Spain
ESP
13
12
14
CUB
Cuba
13
7
:
7
13½
Colombia
COL
33
13
35
AUS
Australia
13
7
:
7
12½
India 3
IND3
16
14
36
BRA
Brazil
13½
7
:
7
12
Slovakia
SVK
22
15
43
CRO
Croatia
12
7
:
7
15
Slovenia
SLO
26
16
27
GRE
Greece
14½
7
:
7
11½
Egypt
EGY
44
17
48
NOR
Norway
13½
7
:
7
14
Mongolia
MGL
28
18
29
SUI
Switzerland
13
7
:
7
11½
Paraguay
PAR
67
19
30
EST
Estonia
13
7
:
7
13½
Belgium
BEL
49
20
7
USA
United States of America
12½
6
:
6
12
Venezuela
VEN
58
Links
---