44th Chess Olympiad 2022 R3: India 2 scores a hat-trick of 4-0, Italy no.1 Vocaturo holds Carlsen
All six Indian teams maintain their winning streak. In the Open section, India 2 is yet to concede even a half point. They won all three of their matches 4-0. In Round 3, Gukesh, Nihal, Praggnanandhaa and Raunak all teenagers faced Switzerland. Praggnanandhaa persevered a completely lost position and managed to win against Yannick Pelletier on time. Although he was not happy about it. Harikrishna and Arjun Erigaisi scored important wins to ensure India 1 beats Greece. Among the Women, Vaishali and Bhakti's wins propelled India 1 to beat England. Harika Dronavalli who is expecting, played her first game at 44th Chess Olympiad 2022. Round 4 starts today at 3 p.m. IST. Photo: FIDE/Lennart Ootes
Italy beats Norway: 3-1
The biggest upset coming out of the third round is certainly Italy beating Norway convincingly 3-1. Italy did not conceded a single loss and Norway did two. Italy no.1 GM Daniele Vocaturo played solid to draw with the world champion and world no.1 Magnus Carlsen.
Open: India 1 - Greece: 3-1
GM Pentala Harikrishna (2720) scored a fantastic victory over GM Dimitrios Mastrovasilis (2599) by destroying his kingside. GM Arjun Erigaisi (2689) was the other victor for India 1 against GM Nikolaos Theodorou (2575). GM Vidit Gujrathi (2714) and GM Krishnan Sasikiran (2638) drew their games against GM Nikolaos Theodorou (2575) and IM Evgenios Ioannidis (2459) respectively.
Harikrishna - Dimitrios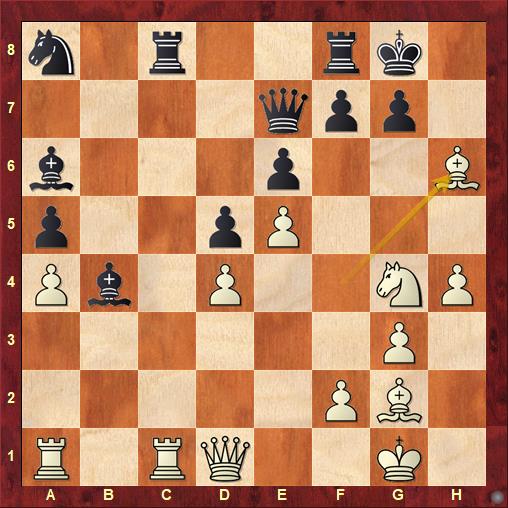 23...Na8 was a too deep of a maneuever which invited trouble. White happily accepted the invitation with 24.Bxh6! gxh6 25.Nf6+ Kg7 26.Qg4+ Kh8 now comes the next sacrifice 27.Bxd5 exd5 runs into 29.Nh5+ Kh7 30.Qf5+ Kh8 31.Nf6+-. 27...Bd3 was played in the game 28.Nh5+ Kh7 29.Be4+ and it's over for Black.
India 2 - Estonia: 4-0
GM D Gukesh (2684), GM Nihal Sarin (2651) GM R Praggnanandhaa (2648) and GM Raunak Sadhwani (2611) scored a victory each. Out of them, Praggnanandhaa was completely lost against Switzerland no.4, GM Yannick Pelletier (2551).
Pelletier - Praggnanandhaa
White had a decisive advantage for the better part of the game. One of the best chances was after 40...Ne4. 41.Bh5 would have left Black with little to no choice. Thankfully, he opted for 41.Bxd6. After missing several opportunities, White went on to lose the game on time.
Mexico - India 3: 0.5-3.5
GM Sethuraman S P (2623) and GM Abhijeet Gupta (2627) scored important victories for the team against GM Hannes Stefansson (2541) and GM Gudmundur Kjartansson (2448) respectively to earn their team a victory against Iceland.
Women: England - India 1: 1-3
IM Vaishali R (2442) and IM Bhakti Kulkarni (2373) scored important wins against WGM Katarzyna Toma (2303) and FM Akshaya Kalaiyalahan (2158). IM Tania Sachdev (2274) had a decisive advantage WIM Lan Yao (2274). However, she was unable to make the most out of it.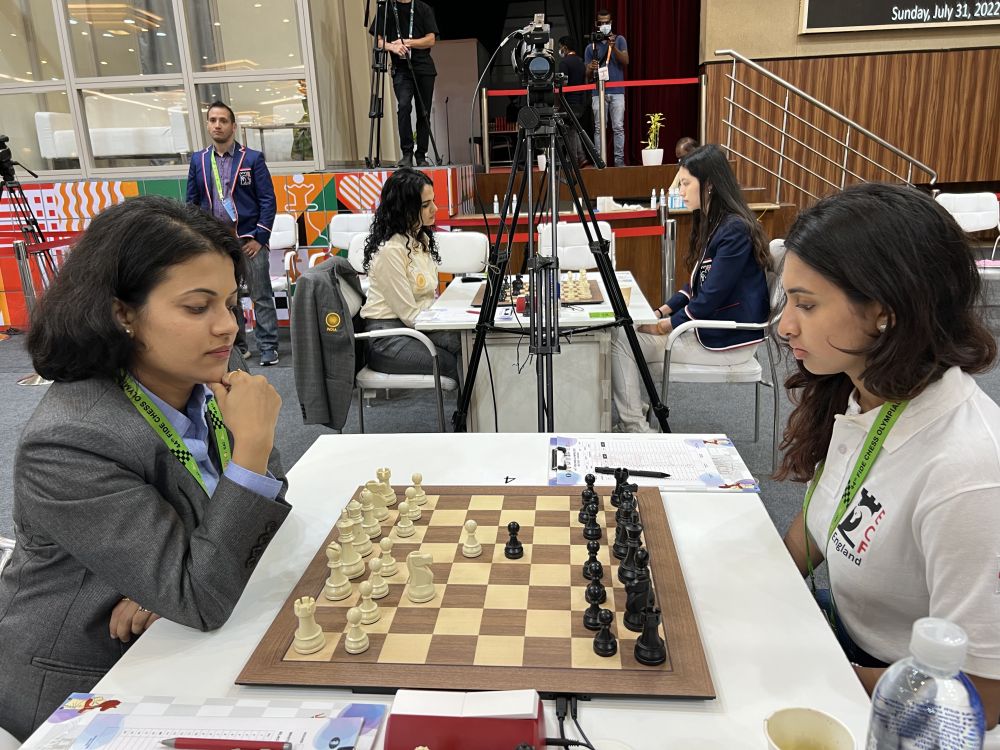 Indonesia - India 2: 1-3
WGM Vantika Agrawal (2371) and IM Soumya Swaminathan (2335) scored the key victories for India 2 against IM Irine Kharisma Sukandar (2373) and Fariha Mariroh (1839). IM Padmini Rout (2374) was completely winning against IM Medina Warda Aulia (2374), unfortunately the former missed her opportunity and her opponent escaped with a draw.
India 3 - Austria: 2.5-1.5
WGM Nandhidhaa P V got a walk over. WGM Pratyusha Bodda (2310) defeated WFM Elisabeth Hapala (2113). IM Eesha Karavade (2339) was held to a draw by WIM Katharina Newrkla (2265).
Italy - Norway: 3-1
GM Lorenzo Lodici (2553) and GM Franceso Sonis (2543) had won their games against GM John Ludvig Hammer (2638) and GM Johan-Sebastian Christiansen (2593) respectively. Italy no.1 GM Daniele Vocaturo (2616) was up against the world no.1 and world champion, Magnus Carlsen (2864). He had a solid position and managed to hold a draw.
Replay the live stream
Video Gallery
Schedule
Everyday round starts at 3 p.m. IST from 29th July to 8th August 2022. The final round on 9th August starts 10 a.m. IST. Rest day is on 4th August 2022.
Replay Round 3 Open games
Replay Round 3 Women games
Round 3 Open results
No.
SNo
Team
Team
Pts.
MP
Res.
:
Res.
MP
Pts.
Team
Team
SNo
1
2
IND
India *)
7½
4
3
:
1
4
7½
Greece
GRE
25
2
24
GEO
Georgia
8
4
1
:
3
4
6
United States of America
USA
1
3
26
ITA
Italy
7½
4
3
:
1
4
7½
Norway
NOR
3
4
4
ESP
Spain
7½
4
3
:
1
4
7½
Brazil
BRA
28
5
29
AUS
Australia
7½
4
1½
:
2½
4
7
Poland
POL
5
6
6
AZE
Azerbaijan
7
4
3
:
1
4
8
Argentina
ARG
30
7
31
SWE
Sweden
6
4
0
:
4
4
6½
Netherlands
NED
7
8
8
UKR
Ukraine
8
4
2
:
2
4
8
Cuba
CUB
32
9
33
AUT
Austria
7
4
2½
:
1½
4
7
Germany
GER
9
10
10
ENG
England
7
4
2½
:
1½
4
6½
Lithuania
LTU
35
11
36
SUI
Switzerland
7
4
0
:
4
4
8
India 2
IND
11
12
12
ARM
Armenia
7
4
2½
:
1½
4
6
Egypt
EGY
38
13
39
MNE
Montenegro
8
4
1
:
3
4
6½
Iran
IRI
13
14
14
UZB
Uzbekistan
8
4
3
:
1
4
7½
Slovenia
SLO
41
15
42
CHI
Chile
7½
4
0
:
4
4
7½
France
FRA
15
16
16
IND3
India 3
6½
4
3
:
1
4
6½
Iceland
ISL
43
17
18
CZE
Czech Republic
7½
4
1½
:
2½
4
8
Canada
CAN
44
18
45
MGL
Mongolia
7½
4
2
:
2
4
7
Hungary
HUN
19
19
20
ROU
Romania
7½
4
2½
:
1½
4
6
Indonesia
INA
46
20
63
BUL
Bulgaria
7½
4
1
:
3
4
8
Turkey
TUR
21
Round 4 Open pairings
No.
SNo
Team
Team
Pts.
MP
Res.
:
Res.
MP
Pts.
Team
Team
SNo
1
15
FRA
France
11½
6
:
6
10½
India *)
IND
2
2
1
USA
United States of America
9
6
:
6
11
Uzbekistan
UZB
14
3
16
IND3
India 3
9½
6
:
6
10½
Spain
ESP
4
4
5
POL
Poland
9½
6
:
6
10
Romania
ROU
20
5
21
TUR
Turkey
11
6
:
6
10
Azerbaijan
AZE
6
6
22
ISR
Israel
11½
6
:
6
10½
Netherlands
NED
7
7
23
SRB
Serbia
10
6
:
6
9½
England
ENG
10
8
11
IND2
India 2
12
6
:
6
10½
Italy
ITA
26
9
12
ARM
Armenia
9½
6
:
6
9½
Austria
AUT
33
10
44
CAN
Canada
10½
6
:
6
9½
Iran
IRI
13
11
34
SVK
Slovakia
9½
5
:
5
10
Ukraine
UKR
8
12
32
CUB
Cuba
10
5
:
5
9
Hungary
HUN
19
13
3
NOR
Norway
8½
4
:
5
9½
Mongolia
MGL
45
14
9
GER
Germany
8½
4
:
4
9½
Ireland
IRL
59
15
60
FAI
Faroe Islands
7
4
:
4
8
Croatia
CRO
17
16
61
MKD
North Macedonia
7
4
:
4
9
Czech Republic
CZE
18
17
62
MEX
Mexico
9½
4
:
4
9
Georgia
GEO
24
18
25
GRE
Greece
8½
4
:
4
8½
Bulgaria
BUL
63
19
27
DEN
Denmark
9
4
:
4
8
Latvia
LAT
64
20
28
BRA
Brazil
8½
4
:
4
7½
Bangladesh
BAN
65
Round 3 Women results
No.
SNo
Team
Team
Pts.
MP
Res.
:
Res.
MP
Pts.
Team
Team
SNo
1
21
ENG
England
7
4
1
:
3
4
7½
India *)
IND
1
2
2
UKR
Ukraine
7
4
4
:
0
4
7½
Slovakia
SVK
22
3
23
CZE
Czech Republic
6
4
1½
:
2½
4
6½
Georgia
GEO
3
4
4
POL
Poland
7½
4
3
:
1
4
6
Vietnam
VIE
24
5
25
ITA
Italy
6½
4
1
:
3
4
8
France
FRA
5
6
6
AZE
Azerbaijan
8
4
2½
:
1½
4
7
Greece
GRE
27
7
28
MGL
Mongolia
8
4
3
:
1
4
7
United States of America
USA
7
8
8
GER
Germany
7
4
3
:
1
4
7
Switzerland
SUI
29
9
30
EST
Estonia
7
4
2½
:
1½
4
8
Armenia
ARM
9
10
10
KAZ
Kazakhstan
7
4
3
:
1
4
8
Peru
PER
31
11
32
INA
Indonesia
8
4
1
:
3
4
7½
India 2
IND2
11
12
12
HUN
Hungary
6½
4
3
:
1
4
8
Colombia
COL
33
13
34
SWE
Sweden
8
4
3
:
1
4
8
Spain
ESP
13
14
14
CUB
Cuba
7½
4
2
:
2
4
7
Australia
AUS
35
15
36
BRA
Brazil
8
4
0
:
4
4
7½
Bulgaria
BUL
15
16
16
IND3
India 3
7
4
2½
:
1½
4
7
Austria
AUT
37
17
38
IRI
Iran
8
4
½
:
3½
4
7
Netherlands
NED
17
18
18
SRB
Serbia
7½
4
2½
:
1½
4
6½
Philippines
PHI
39
19
65
ECU
Ecuador
6½
4
0
:
4
4
5½
Israel
ISR
19
20
20
ROU
Romania
7
4
2½
:
1½
4
8
Kyrgyzstan
KGZ
79
Round 4 Women pairings
No.
SNo
Team
Team
Pts.
MP
Res.
:
Res.
MP
Pts.
Team
Team
SNo
1
1
IND
India *)
10½
6
:
6
9½
Hungary
HUN
12
2
15
BUL
Bulgaria
11½
6
:
6
11
Ukraine
UKR
2
3
3
GEO
Georgia
9
6
:
6
9½
India 3
IND3
16
4
17
NED
Netherlands
10½
6
:
6
10½
Poland
POL
4
5
5
FRA
France
11
6
:
6
10
Serbia
SRB
18
6
19
ISR
Israel
9½
6
:
6
10½
Azerbaijan
AZE
6
7
20
ROU
Romania
9½
6
:
6
10
Germany
GER
8
8
28
MGL
Mongolia
11
6
:
6
10
Kazakhstan
KAZ
10
9
11
IND2
India 2
10½
6
:
6
9½
Estonia
EST
30
10
14
CUB
Cuba
9½
5
:
6
11
Sweden
SWE
34
11
35
AUS
Australia
9
5
:
4
8
United States of America
USA
7
12
9
ARM
Armenia
9½
4
:
4
8½
Ireland
IRL
51
13
13
ESP
Spain
9
4
:
4
7
Mexico
MEX
54
14
52
MAS
Malaysia
6½
4
:
4
8
England
ENG
21
15
22
SVK
Slovakia
7½
4
:
4
9
Singapore
SGP
55
16
56
CAN
Canada
8½
4
:
4
7½
Czech Republic
CZE
23
17
24
VIE
Vietnam
7
4
:
4
8½
Chile
CHI
57
18
58
VEN
Venezuela
8½
4
:
4
7½
Italy
ITA
25
19
59
POR
Portugal
6½
4
:
4
9½
Slovenia
SLO
26
20
27
GRE
Greece
8½
4
:
4
8
Bolivia
BOL
60
Links
---