44th Chess Olympiad 2022 R7: Gukesh 7/7, now World no.25, Indian Women extend their lead
Azerbaijan went down against India 1 women 1.5-2.5 in the seventh round of 44th Chess Olympiad 2022. Humpy suffered her first loss against Azerbaijan no.1 woman, IM Gunay Mammadzada. Although the team won the match, thanks to Vaishali and Tania's resounding victories. They are now two points ahead of Ukraine, Georgia and Armenia. India 1 will face their toughest challenge against Ukraine in Round 8. In the Open section, India 1 expectedly won against India 3 by 3-1. Arjun Erigaisi and S L Narayanan scored the wins. The team will face the sole leader Armenia and India 2 will be up against the USA. Round 8 starts today at 3 p.m. IST. Photo: FIDE/Lennart Ootes
Armenia without Aronian can still put up a fight
Armenia in the Open and India 1 Women maintained their lead in their respective sections. Armenia vs USA had four decisive games. GM Sam Shankland lost in a dramatic fashion against GM Robert Hovhannisyan after the former incorrectly made an illegal move with his king which cost him the game and the match ended in a draw. Uzbekistan scored their fourth whitewash of the event, it was against Peru in Round 7. Spain and England went down against Kazakhstan and Brazil respectively by a minimum margin. In the Women's event, India 2 suffered a shocking defeat against Greece 1.5-2.5. Poland was held to a draw by Bulgaria 2-2.
History will always be kind to Magnus Carlsen. Norway despite being third seeded in the Open section, is having a hard time finding their footing in this event. They barely managed to defeat North Macedonia in Round 7.
Open: India 1 - India 3: 3-1
GM Arjun Erigaisi (2689) defeated GM Abhijeet Gupta (2627) when the latter incorrectly liquidated into a queen ending.
Arjun Erigaisi - Abhijeet
31...Qb8 or Re7 would have been better for Black. 31...Rxe5 proved to be fatal 32.Qxe5 and now d4 does not help Black to promote a queen as the white king can prevent it.
Abhimanyu - Narayanan
21.dxe5 on a regular day would have been fine. However, there is a sniper bishop at b6 which makes 21...Nh5! an excellent choice. Black does not need to rush taking the e5-pawn. 22.Nf1 Nxg3 23.Nxg3 Nxe5 24.Ra3 Qf6 the pin is extremely uncomfortable for White. Although White was able to get back in the game but an eventual mistake cost him the game.
Cuba - India 2: 0.5-3.5
GM D Gukesh (2684), GM Nihal Sarin (2651) and GM Praggnanandhaa R (2648) scored a win each. GM B Adhiban (2598) drew with GM Omar Almeida Quintana (2523).
Carlos Daniel - Gukesh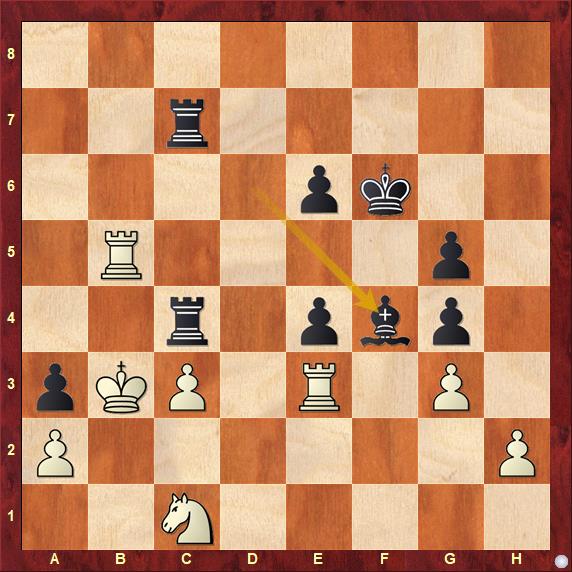 Gukesh is undoubtedly in top form. He made a beautiful finish 45...Bf4. Even after 46.gxf4 gxf4 47.Re2/1 Rxc3+ Black recovers the material and converts his advantage into a win easily.
Women: Azerbaijan - India 1: 1.5-2.5
All previous encounters between IM Gunay Mammadzada (2455) and GM Koneru Humpy (2586) ended in 1-0. This one was no exception. Although, Humpy got a substantial advantage in the middlegame.
Gunay - Humpy
Black is in full command after 24.e3. However, Gunay created some chances for herself by breaking the pawn chain.
37...h5 turned out to be the decisive mistake as 38.Qd6 forced the exchange of queens. 37...f3 would have still kept Black in the game.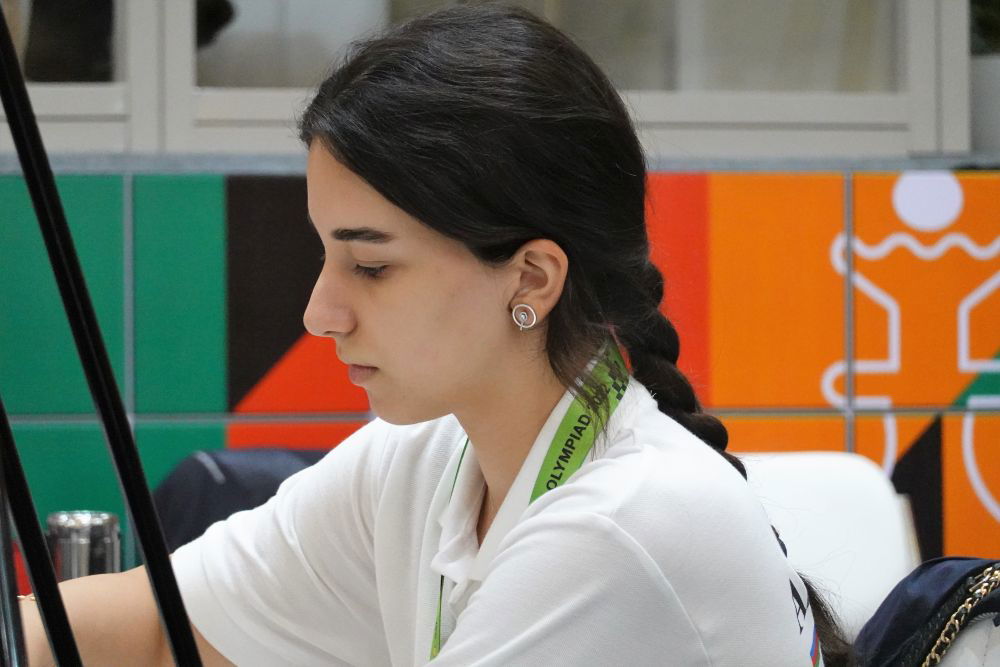 Harika - Khanim
White is winning here. There are two ways, one is to push the pawn to a7 and then go f3-g4 break. The other one is to keep the pawn at a6 and bring the king to the queenside by sacrificing a couple of kingside pawns. Harika opted for the latter 42.g3 Kf6 43.Ke3 Ra3+ 44.Kd2 Ra2+ 45.Kc3 Rxf2 46.Rc8 Ra2 and the game meandered into a draw. 47.Kb4 would have still kept winning chances.
Govhar - Vaishali
3 vs 4 pawns on the same side in Rook ending is a draw. However, the defender must play correctly to save the point. 64.Rg8 is the correct way to defend it. White blundered 64.Re8 and Vaishali seized her opportunity 64...f5 65.Rg8 Kh3 and it's all over for White because Black invaded with the king.
Tania - Ulviyya
Find out the correct way for Black to save the game. Both 47...Ra1 and Rxg3 loses for Black. The Azeri opted for the former and Tania capitalized on her mistake.

India 2 - Greece: 0.5-3.5
WGM Divya Deshmukh (2319) scored the sole victory for the team against WFM Haritomeni Markantonaki (2154). WGM Mary Ann Gomes (2324) drew with WIM Ekaterini Pavlidou (2138). WGM Vantika Agrawal and IM Soumya Swaminathan lost their respective games. Thus, India 2 lost the match to Greece by a minimum margin 1.5-2.5

India 3 - Switzerland: 3-1
IM Eesha Karavade (2339) and WGM Nandhidhaa P V (2312) won, WGM Pratyusha Bodda (2312) and WIM Vishwa Vasnawala (2305) drew their respective games.
Replay the live stream
Video Gallery
Schedule
Everyday round starts at 3 p.m. IST from 29th July to 8th August 2022. The final round on 9th August starts 10 a.m. IST. Rest day is on 4th August 2022.
Replay Round 7 Open games
Replay Round 7 Women games
Round 7 Open results
No.
SNo
Team
Team
Pts.
MP
Res.
:
Res.
MP
Pts.
Team
Team
SNo
1
2
IND
India *)
17
10
3
:
1
10
17
India 3
IND
16
2
12
ARM
Armenia
17½
12
2
:
2
11
16
United States of America
USA
1
3
15
FRA
France
18
10
2
:
2
10
18½
Netherlands
NED
7
4
23
SRB
Serbia
15½
10
1½
:
2½
10
16½
Germany
GER
9
5
32
CUB
Cuba
17½
10
½
:
3½
10
19
India 2
IND
11
6
37
PER
Peru
16
10
0
:
4
10
19
Uzbekistan
UZB
14
7
4
ESP
Spain
16½
9
1½
:
2½
10
17½
Kazakhstan
KAZ
40
8
6
AZE
Azerbaijan
16½
9
3
:
1
9
17½
Israel
ISR
22
9
25
GRE
Greece
17½
9
2
:
2
9
17½
Ukraine
UKR
8
10
28
BRA
Brazil
16½
9
2½
:
1½
9
16½
England
ENG
10
11
13
IRI
Iran
16
9
3½
:
½
9
17½
Australia
AUS
29
12
33
AUT
Austria
15
9
0
:
4
9
16
Hungary
HUN
19
13
5
POL
Poland
15
8
2
:
2
9
16
Philippines
PHI
52
14
17
CRO
Croatia
16
8
3
:
1
8
16
Mongolia
MGL
45
15
18
CZE
Czech Republic
17½
8
3
:
1
8
16½
Indonesia
INA
46
16
20
ROU
Romania
15½
8
3½
:
½
8
17
Paraguay
PAR
47
17
21
TUR
Turkey
16
8
4
:
0
8
12½
Uruguay
URU
49
18
48
MDA
Moldova
16
8
2½
:
1½
8
17½
Georgia
GEO
24
19
26
ITA
Italy
16½
8
3
:
1
8
18½
Portugal
POR
53
20
27
DEN
Denmark
17
8
2
:
2
8
16½
Finland
FIN
55
Round 8 Open pairings
No.
SNo
Team
Team
Pts.
MP
Res.
:
Res.
MP
Pts.
Team
Team
SNo
1
12
ARM
Armenia
19½
13
:
12
20
India *)
IND
2
2
1
USA
United States of America
18
12
:
12
22½
India 2
IND
11
3
9
GER
Germany
19
12
:
12
23
Uzbekistan
UZB
14
4
40
KAZ
Kazakhstan
20
12
:
11
19½
Azerbaijan
AZE
6
5
7
NED
Netherlands
20½
11
:
11
20
Hungary
HUN
19
6
13
IRI
Iran
19½
11
:
11
20
France
FRA
15
7
8
UKR
Ukraine
19½
10
:
11
19
Brazil
BRA
28
8
16
IND3
India 3
18
10
:
10
16
Peru
PER
37
9
35
LTU
Lithuania
17½
10
:
10
19
Croatia
CRO
17
10
41
SLO
Slovenia
18½
10
:
10
20½
Czech Republic
CZE
18
11
42
CHI
Chile
18½
10
:
10
19
Romania
ROU
20
12
44
CAN
Canada
17½
10
:
10
20
Turkey
TUR
21
13
23
SRB
Serbia
17
10
:
10
17½
Iceland
ISL
43
14
52
PHI
Philippines
18
10
:
10
19½
Greece
GRE
25
15
48
MDA
Moldova
18½
10
:
10
19½
Italy
ITA
26
16
58
AND
Andorra
17½
10
:
10
18
Cuba
CUB
32
17
3
NOR
Norway
18
9
:
9
15½
Slovakia
SVK
34
18
4
ESP
Spain
18
9
:
9
18
Egypt
EGY
38
19
39
MNE
Montenegro
19½
9
:
9
17
Poland
POL
5
20
10
ENG
England
18
9
:
9
15
Belgium
BEL
50
Round 7 Women results
No.
SNo
Team
Team
Pts.
MP
Res.
:
Res.
MP
Pts.
Team
Team
SNo
1
6
AZE
Azerbaijan
18½
11
1½
:
2½
12
18½
India *)
IND
1
2
3
GEO
Georgia
16
10
2½
:
1½
11
16½
Romania
ROU
20
3
2
UKR
Ukraine
17½
10
3½
:
½
10
16½
Netherlands
NED
17
4
4
POL
Poland
19½
10
2
:
2
10
18½
Bulgaria
BUL
15
5
9
ARM
Armenia
20
10
2½
:
1½
10
17
Israel
ISR
19
6
10
KAZ
Kazakhstan
16
9
2½
:
1½
10
16
Vietnam
VIE
24
7
11
IND2
India 2
16
9
1½
:
2½
9
18
Greece
GRE
27
8
13
ESP
Spain
19
9
2
:
2
9
15½
Czech Republic
CZE
23
9
28
MGL
Mongolia
16½
9
3½
:
½
9
15½
Cuba
CUB
14
10
16
IND3
India 3
15½
9
3
:
1
9
16
Switzerland
SUI
29
11
22
SVK
Slovakia
14½
9
2½
:
1½
9
16
Estonia
EST
30
12
5
FRA
France
16
8
2
:
2
9
14½
Croatia
CRO
43
13
40
ARG
Argentina
14½
8
½
:
3½
8
16½
United States of America
USA
7
14
8
GER
Germany
15½
8
3½
:
½
8
15½
Turkey
TUR
41
15
12
HUN
Hungary
16
8
2½
:
1½
8
16
Lithuania
LTU
42
16
46
UZB
Uzbekistan
16½
8
1½
:
2½
8
14½
Serbia
SRB
18
17
21
ENG
England
14
8
3½
:
½
8
15
Denmark
DEN
47
18
25
ITA
Italy
16
8
2½
:
1½
8
15½
Ireland
IRL
51
19
31
PER
Peru
16½
8
3
:
1
8
13½
Malaysia
MAS
52
20
32
INA
Indonesia
18
8
3
:
1
8
13
Mexico
MEX
54
Round 8 Women pairings
No.
SNo
Team
Team
Pts.
MP
Res.
:
Res.
MP
Pts.
Team
Team
SNo
1
1
IND
India *)
21
14
:
12
21
Ukraine
UKR
2
2
3
GEO
Georgia
18½
12
:
12
22½
Armenia
ARM
9
3
16
IND3
India 3
18½
11
:
11
21½
Poland
POL
4
4
20
ROU
Romania
18
11
:
11
20
Azerbaijan
AZE
6
5
10
KAZ
Kazakhstan
18½
11
:
11
17
Slovakia
SVK
22
6
15
BUL
Bulgaria
20½
11
:
11
20½
Greece
GRE
27
7
28
MGL
Mongolia
20
11
:
10
18½
Hungary
HUN
12
8
7
USA
United States of America
20
10
:
10
17½
Czech Republic
CZE
23
9
24
VIE
Vietnam
17½
10
:
10
19
Germany
GER
8
10
13
ESP
Spain
21
10
:
10
18½
Italy
ITA
25
11
17
NED
Netherlands
17
10
:
10
19½
Peru
PER
31
12
18
SRB
Serbia
17
10
:
10
21
Indonesia
INA
32
13
34
SWE
Sweden
19½
10
:
10
18½
Israel
ISR
19
14
38
IRI
Iran
19
10
:
10
17½
England
ENG
21
15
43
CRO
Croatia
16½
10
:
9
17½
India 2
IND2
11
16
36
BRA
Brazil
17½
9
:
9
18
France
FRA
5
17
14
CUB
Cuba
16
9
:
9
17½
Austria
AUT
37
18
26
SLO
Slovenia
20
9
:
9
18½
Philippines
PHI
39
19
29
SUI
Switzerland
17
9
:
9
18½
Norway
NOR
48
20
30
EST
Estonia
17½
9
:
9
14½
Latvia
LAT
50
Links
---