44th Chess Olympiad 2022 R1: Indian teams start with six whitewashes
The host nation India won all six matches and 24 individual games in the first round of 44th Chess Olympiad. 16-year-old GM Raunak Sadhwani scored the fastest victory among all Indians. IM Tania Sachdev had to battle over five hours and 103 moves later she became victorious. GM Koneru Humpy also shoof off initial cobwebs to score a win. All teams scored a resounding victory against the minnow teams. Angola no.1 IM David Silva had the most impressive result of the first round as he drew with the two-time World Cup winner, Levon Aronian. Round 2 starts today at 3 p.m. IST. Photo: FIDE/Lennart Ootes
Every single Indian score a win
Open: India 1 - Zimbabwe: 4-0
While Vidit Gujrathi (2714) had to work a lot to convert his advantage against IM Rodwell Makoto (2346), Arjun Erigaisi, Narayanan S L and K Sasikiran scored regulation victories.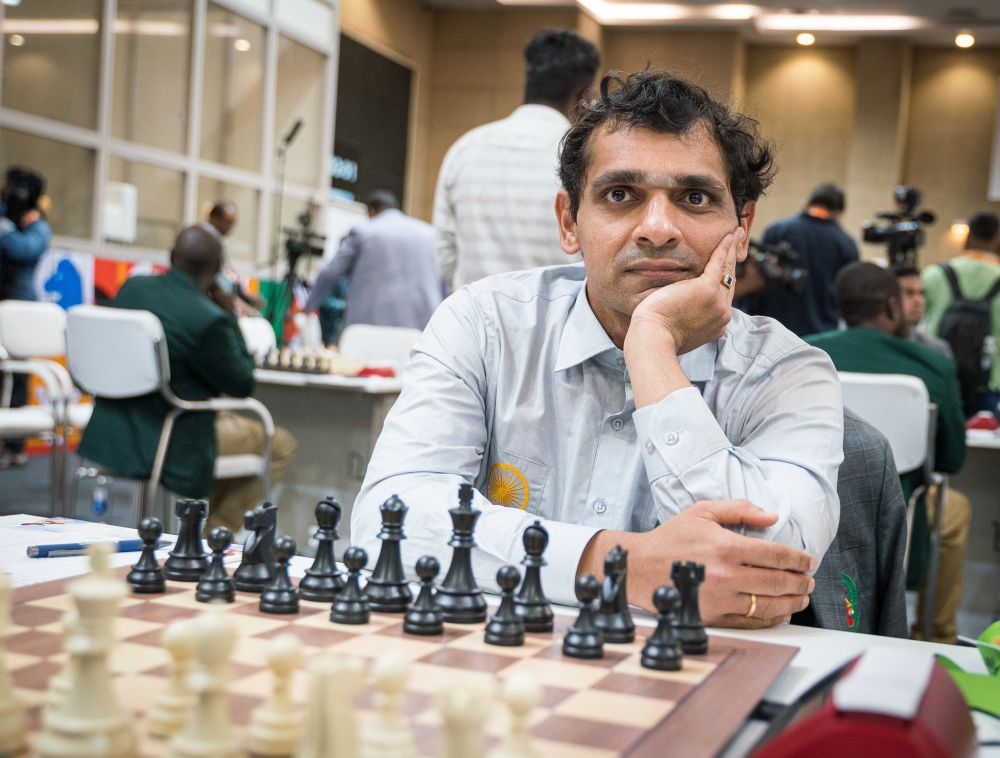 UAE - India 2: 0-4
GM Nihal Sarin (2651) had to work quite hard against IM Ibrahim Sultan (2108).
Nihal - Ibrahim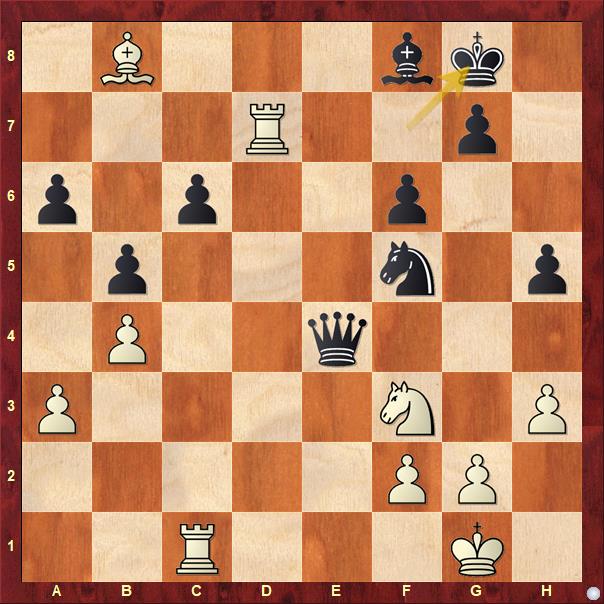 33...Kg6 is the recommendation by the computer. 33...Kg8 runs into back rank issues after 34.Re1 Qc4 35.Re8 Qc1+ 36.Kh2 Qxa3 now White needed to do Ne1-d3-f4-e6/g6 maneuvering to get the f8-bishop. It is not easy to spot the knight manuever. 37.Rdd8 Qxb4 38.Rxf8+ Qxf8 39.Rxf8+ Kxf8 gave Black some practical chances for a draw. It was not easy to salvage a draw, eventually Black made a mistake and Nihal walked away with a full point.
India 3 - South Sudan: 4-0
GM Sethuraman S P, GM Abhijeet Gupta, GM Karthikeyan Murali and GM Abhimanyu Puranik scored emphatic victories.

Women: Tajikistan - India 1: 0-4
IM Tania Sachdev (2399) survived a massive scare against Rukhsona Saidova (1624).
Rukhsona - Saidova
The teenager missed the 39.f4 break against which Black did not have any good defense. 39...f6 is met by 40.f5 Qg7 41.Kf2 Black's pieces are completely paralyzed. The game soon liquidated into a drawn minor piece endgame. However, Rukshona's lack of experience allowed Tania to grind the endgame until her opponent made a mistake to score the victory.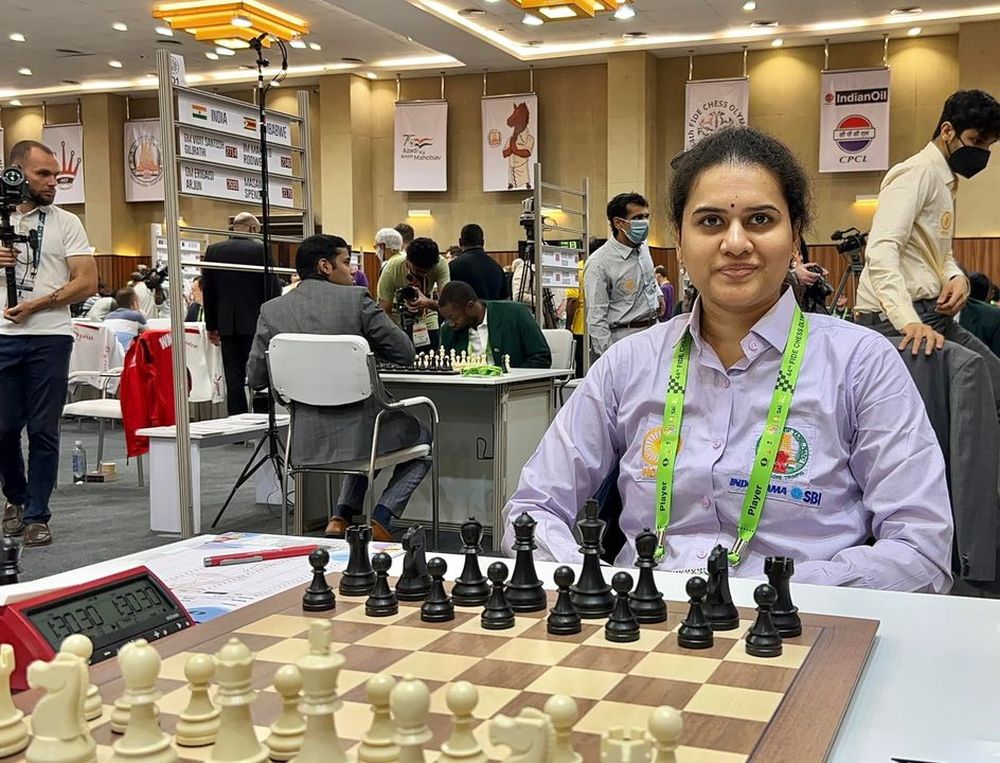 Humpy recovered well after a not so smooth start | Photo: Aditya Sur Roy
Wales - India 2: 0-4
Only WGM Vantika Agrawal (2371) had to persevere a difficult position against WFM Olivia Smith (2038). IM Soumya Swaminathan, WGM Mary Ann Gomes and WGM Divya Deshmukh scored comfortable wins.
India 3 - Hong Kong: 4-0
IM Eesha Karavade, WGM Nandhidhaa P V, WIM Sahithi Varshini M and WGM Pratyusha Bodda scored a victory each.
Angola - USA: 0.5-3.5
GM Levon Aronian (USA, 2775) made an exchange sacrifice against Angola no.1, IM David Silva (2315). The two-time World Cup winner did not gain enough compensation for it.
Silva - Aronian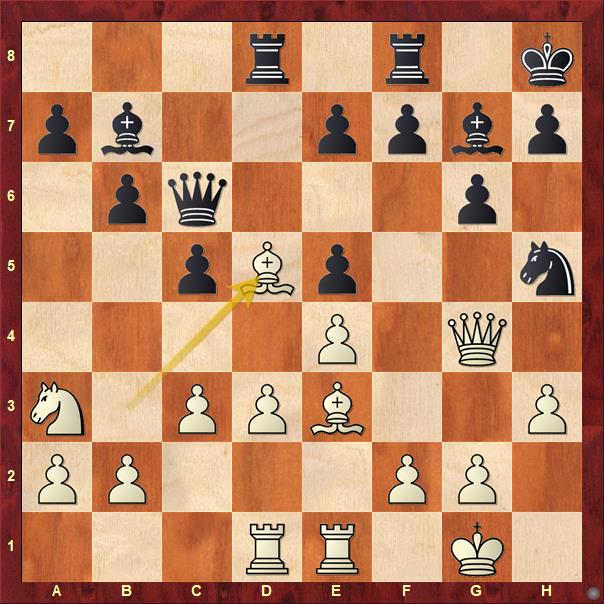 18...Rxd5 is quite logical 19.exd5 Qxd5 20.f3 Qc6. White eventually got substantial advantage too. However, it was not clear how to maximize his chances. After more than three hours of play, the game ended in a draw agreement.
Replay the live stream
Video Gallery
Schedule
Everyday round starts at 3 p.m. IST from 29th July to 8th August 2022. The final round on 9th August starts 10 a.m. IST. Rest day is on 4th August 2022.
Replay Round 1 Open games
Replay Round 1 Women games
Round 1 Open results
No.
SNo
Team
Team
Pts.
MP
Res.
:
Res.
MP
Pts.
Team
Team
SNo
1
2
IND
India *)
0
0
4
:
0
0
0
Zimbabwe
ZIM
94
2
93
ANG
Angola
0
0
½
:
3½
0
0
United States of America
USA
1
3
95
LBN
Lebanon
0
0
½
:
3½
0
0
Norway
NOR
3
4
4
ESP
Spain
0
0
4
:
0
0
0
Wales
WLS
96
5
97
SYR
Syria
0
0
0
:
4
0
0
Poland
POL
5
6
6
AZE
Azerbaijan
0
0
4
:
0
0
0
Algeria
ALG
98
7
99
JOR
Jordan
0
0
0
:
4
0
0
Netherlands
NED
7
8
8
UKR
Ukraine
0
0
4
:
0
0
0
Thailand
THA
100
9
101
SUD
Sudan
0
0
0
:
4
0
0
Germany
GER
9
10
10
ENG
England
0
0
4
:
0
0
0
Cyprus
CYP
102
11
103
UAE
United Arab Emirates
0
0
0
:
4
0
0
India 2
IND
11
12
12
ARM
Armenia
0
0
4
:
0
0
0
Madagascar
MAD
104
13
105
NCA
Nicaragua
0
0
0
:
4
0
0
Iran
IRI
13
14
14
UZB
Uzbekistan
0
0
4
:
0
0
0
Nepal
NEP
107
15
108
JAM
Jamaica
0
0
½
:
3½
0
0
France
FRA
15
16
16
IND3
India 3
0
0
4
:
0
0
0
South Sudan
SSD
109
17
110
ETH
Ethiopia
0
0
0
:
4
0
0
Croatia
CRO
17
18
18
CZE
Czech Republic
0
0
3½
:
½
0
0
Puerto Rico
PUR
111
19
112
SRI
Sri Lanka
0
0
1
:
3
0
0
Hungary
HUN
19
20
20
ROU
Romania
0
0
4
:
0
0
0
Botswana
BOT
113
Round 2 Open pairings
No.
SNo
Team
Team
Pts.
MP
Res.
:
Res.
MP
Pts.
Team
Team
SNo
1
48
MDA
Moldova
4
2
:
2
4
India *)
IND
2
2
1
USA
United States of America
3½
2
:
2
4
Paraguay
PAR
47
3
3
NOR
Norway
3½
2
:
2
3
Uruguay
URU
49
4
50
BEL
Belgium
4
2
:
2
4
Spain
ESP
4
5
5
POL
Poland
4
2
:
2
4
Colombia
COL
51
6
52
PHI
Philippines
4
2
:
2
4
Azerbaijan
AZE
6
7
7
NED
Netherlands
4
2
:
2
4
Portugal
POR
53
8
54
ALB
Albania
4
2
:
2
4
Ukraine
UKR
8
9
9
GER
Germany
4
2
:
2
4
Finland
FIN
55
10
56
SGP
Singapore
4
2
:
2
4
England
ENG
10
11
11
IND2
India 2
4
2
:
2
4
Estonia
EST
57
12
58
AND
Andorra
3
2
:
2
4
Armenia
ARM
12
13
13
IRI
Iran
4
2
:
2
4
Ireland
IRL
59
14
60
FAI
Faroe Islands
4
2
:
2
4
Uzbekistan
UZB
14
15
15
FRA
France
3½
2
:
2
4
North Macedonia
MKD
61
16
62
MEX
Mexico
4
2
:
2
4
India 3
IND
16
17
17
CRO
Croatia
4
2
:
2
4
Bulgaria
BUL
63
18
64
LAT
Latvia
4
2
:
2
3½
Czech Republic
CZE
18
19
19
HUN
Hungary
3
2
:
2
4
Bangladesh
BAN
65
20
66
ECU
Ecuador
4
2
:
2
4
Romania
ROU
20
Round 1 Women results
No.
SNo
Team
Team
Pts.
MP
Res.
:
Res.
MP
Pts.
Team
Team
SNo
1
80
TJK
Tajikistan
0
0
0
:
4
0
0
India *)
IND
1
2
2
UKR
Ukraine
0
0
4
:
0
0
0
South Africa
RSA
81
3
82
IRQ
Iraq
0
0
0
:
4
0
0
Georgia
GEO
3
4
4
POL
Poland
0
0
4
:
0
0
0
Syria
SYR
83
5
84
MNC
Monaco
0
0
0
:
4
0
0
France
FRA
5
6
6
AZE
Azerbaijan
0
0
4
:
0
0
0
United Arab Emirates
UAE
85
7
86
PUR
Puerto Rico
0
0
0
:
4
0
0
United States of America
USA
7
8
8
GER
Germany
0
0
4
:
0
0
0
Zambia
ZAM
87
9
88
BOT
Botswana
0
0
0
:
4
0
0
Armenia
ARM
9
10
10
KAZ
Kazakhstan
0
0
4
:
0
0
0
Guatemala
GUA
89
11
90
WLS
Wales
0
0
0
:
4
0
0
India 2
IND2
11
12
12
HUN
Hungary
0
0
3½
:
½
0
0
Panama
PAN
91
13
92
JPN
Japan
0
0
0
:
4
0
0
Spain
ESP
13
14
14
CUB
Cuba
0
0
4
:
0
0
0
Uganda
UGA
93
15
94
ZIM
Zimbabwe
0
0
0
:
4
0
0
Bulgaria
BUL
15
16
16
IND3
India 3
0
0
4
:
0
0
0
Hong Kong
HKG
95
17
96
JAM
Jamaica
0
0
0
:
4
0
0
Netherlands
NED
17
18
18
SRB
Serbia
0
0
4
:
0
0
0
Sri Lanka
SRI
97
19
98
KOR
South Korea
0
0
1
:
3
0
0
Israel
ISR
19
20
20
ROU
Romania
0
0
3
:
1
0
0
Kenya
KEN
99
Round 2 Women pairings
No.
SNo
Team
Team
Pts.
MP
Res.
:
Res.
MP
Pts.
Team
Team
SNo
1
1
IND
India *)
4
2
:
2
3½
Argentina
ARG
40
2
41
TUR
Turkey
4
2
:
2
4
Ukraine
UKR
2
3
3
GEO
Georgia
4
2
:
2
4
Lithuania
LTU
42
4
43
CRO
Croatia
3½
2
:
2
4
Poland
POL
4
5
5
FRA
France
4
2
:
2
4
Egypt
EGY
44
6
45
FIN
Finland
4
2
:
2
4
Azerbaijan
AZE
6
7
7
USA
United States of America
4
2
:
2
4
Uzbekistan
UZB
46
8
47
DEN
Denmark
4
2
:
2
4
Germany
GER
8
9
9
ARM
Armenia
4
2
:
2
4
Norway
NOR
48
10
49
BEL
Belgium
4
2
:
2
4
Kazakhstan
KAZ
10
11
11
IND2
India 2
4
2
:
2
4
Latvia
LAT
50
12
51
IRL
Ireland
4
2
:
2
3½
Hungary
HUN
12
13
13
ESP
Spain
4
2
:
2
4
Malaysia
MAS
52
14
53
MDA
Moldova
4
2
:
2
4
Cuba
CUB
14
15
15
BUL
Bulgaria
4
2
:
2
4
Mexico
MEX
54
16
55
SGP
Singapore
4
2
:
2
4
India 3
IND3
16
17
17
NED
Netherlands
4
2
:
2
4
Canada
CAN
56
18
57
CHI
Chile
4
2
:
2
4
Serbia
SRB
18
19
19
ISR
Israel
3
2
:
2
4
Venezuela
VEN
58
20
59
POR
Portugal
3½
2
:
2
3
Romania
ROU
20
Links
---