Airthings Masters R1-4: Ding Liren takes sole lead 10.0/12
by Shahid Ahmed - 20/02/2022
World no.3 Ding Liren might have missed his second consecutive opportunity to qualify for the Candidates, the fire inside him still burns bright. He scored three wins and a draw to take sole lead 10.0/12 after round 4 of Meltwater Champions Chess Tour Airthings Masters. He is closely followed by Nepomniachtchi who scored a hat-trick of wins after starting the day with a loss against Aronian. The World Championship 2021 Challenger defeated Carlsen for the first time since March 2021 in the fourth round, handing him his second consecutive defeat of the day. Both Carlsen and Praggnanandhaa struggled on the first day as they racked only 4.0/12 and 1.0/12 each respectively. Round 5 starts tonight at 10:30 p.m. IST. Photo: Amruta Mokal
Tough start for Carlsen and Praggnanandhaa
The new format of Meltwater Champions Chess Tour encourages players to play fighting chess. It was evident on the first day as only nine out of 32 games ended in draws which means 71.87% games were decisive. The shortest draw was 24 moves. That definitely shows that incentivizing players for playing fighting chess and a good regulation can make an impact in the quality of games. Andrey Esipenko and Ian Nepomniachtchi ensured Magnus Carlsen's two consecutive losses in round 3 and 4.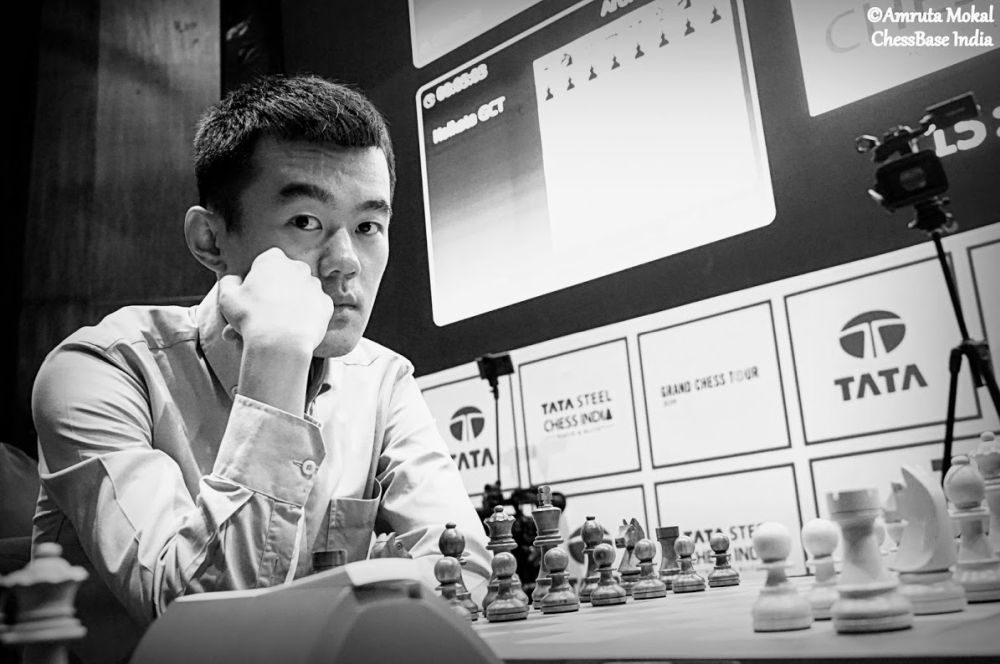 Round 1: Carlsen - Artemiev: 1-0
Magnus Carlsen scored his sole victory of the day against Vladislav Artemiev in the first round.
Queen endings are as always quite complex. 35...Qg4 turned things completely into White's favor. Find out why it is a mistake and what Black should have played instead.
Esipenko - Mamedyarov: 1-0
Shakhriyar Mamedyarov started the event with a loss as he blundered a piece early in the opening.
9...Re8 is what is commonly played here. 9...Nc6 drops a piece after 10.Nxc6 bxc6 11.e5 and it's over for Black. White wrapped up the game in just 23 moves with a beautiful finish.
Keymer - Ding: 0-1
Ding Liren's first win against Vincent Keymer was a rollercoaster thrill ride. Evaluation kept changing back and forth in the endgame.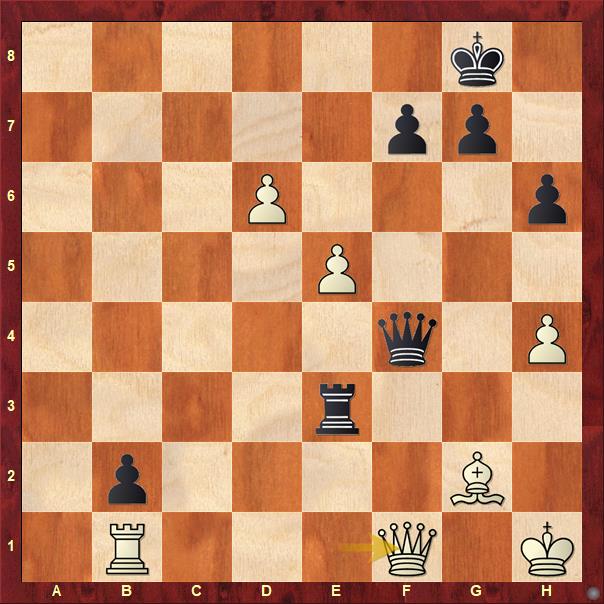 White is on the verge of losing both h4 and e5-pawns. Despite being ahead in material and having a passed pawn at d6, the exposed king does not help White's case. Ding Liren won the game after a long battle.
Praggnanandhaa - Liem: 0.5-0.5
Praggnanandhaa started the day with a solid draw against Liem Quang Le (VIE).
Round 2: Hansen - Praggnanandhaa: 1-0
Eric Hansen (CAN) made the most out of his opportunities against Praggnanandhaa.
What did Black miss when he played 24...Nxb3?
Black had an opportunity to get back in the game after 26.Qh3. What was it?
Round 3: Esipenko - Carlsen: 1-0
Carlsen made a questionable choice of capturing Esipenko's pawn and not defending his own.
20...Nd8 would have been a better way to continue for Black. Sure, it may seem slightly passive. 21.Qxe6+ Qxe6 22.Nxe6 Esipenko seized his advantage and went on to win the game.
Praggnanandhaa - Ding: 0-1
Praggnanandhaa did not respond correctly to Ding Liren's onslaught on the kingside.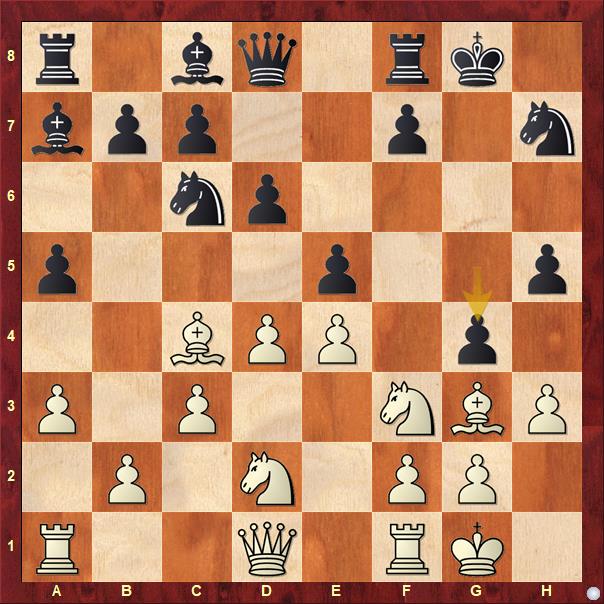 The f3-knight is under attack which means d4 is about to fall. Find out the best continuation for White.
Round 4: Ding - Liem: 1-0
How do you know Ding Liren is in terrific form? You have to see his immaculate technique in the double rook endgame against Liem.
White is not afraid of losing the f2-pawn or f3 becoming a menace because he knows that he can not only wreak havoc in the seventh rank but also prevent the f-pawn from being promoted when required. Thus, he played 28.Ree7 and won the game eventually.
Carlsen - Nepomniachtchi: 0-1
Carlsen suffered his second consecutive loss of the day, his first one against Nepomniachtchi since March 2021 at Carlsen Invitational.
Replay the live stream
Replay Round 1-4 games
Standings after Round 4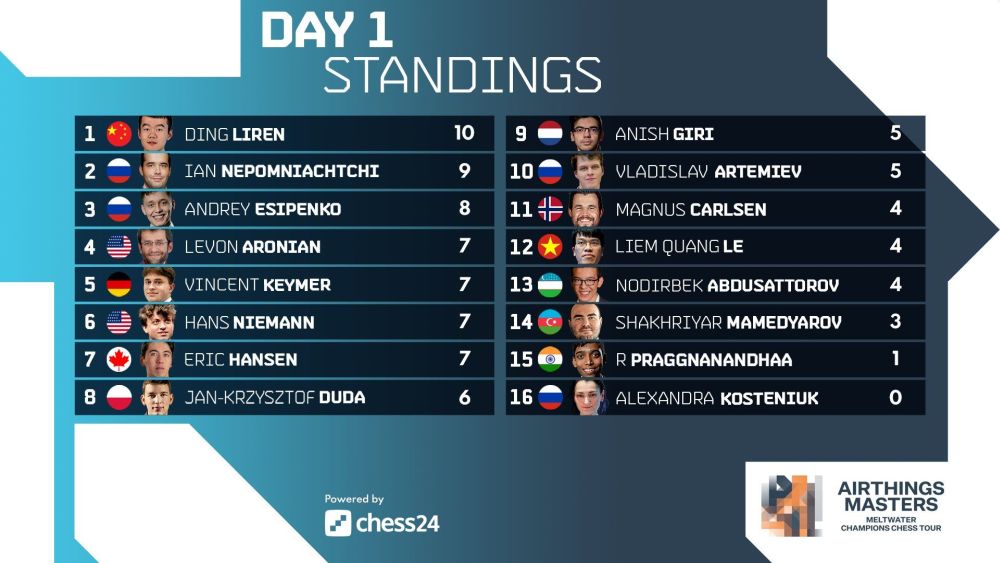 All games will start from 10:30 p.m. IST between 19th and 26th February 2022.
Links
---
Related news
:
MCCT Finals R7: Praggnanandhaa beats Arjun Erigaisi, So finishes second

@ 21/11/2022 by Shahid Ahmed (en)
Magnus Carlsen wins MCCT Finals 2022 with a round to spare

@ 20/11/2022 by Shahid Ahmed (en)
MCCT Finals R5: Praggnanandhaa wins a thriller against Duda

@ 19/11/2022 by Shahid Ahmed (en)
MCCT Finals R4: Arjun Erigaisi beats Mamedyarov, ends his win drought

@ 18/11/2022 by Shahid Ahmed (en)
MCCT Finals R3: Praggnanandhaa squashes Liem 3-0

@ 17/11/2022 by Shahid Ahmed (en)
MCCT Finals R2: Giri makes a comeback against Praggnanandhaa

@ 16/11/2022 by Shahid Ahmed (en)
MCCT Finals R1: Tough start for Arjun and Praggnanandhaa

@ 15/11/2022 by Shahid Ahmed (en)
Arjun Erigaisi and Praggnanandhaa to battle Carlsen and Co. at Meltwater Champions Chess Tour 2022 Finals

@ 14/11/2022 by Shahid Ahmed (en)
Jan-Krzysztof Duda defies Mamedyarov's inspired comeback, clinches Aimchess Rapid 2022

@ 22/10/2022 by Shahid Ahmed (en)
Aimchess Rapid Finals: Jan-Krzysztof Duda wins the first set

@ 21/10/2022 by Shahid Ahmed (en)
Aimchess Rapid SF: Jan-Krzysztof Duda denies Magnus Carlsen a hat-trick again

@ 20/10/2022 by Shahid Ahmed (en)
Aimchess Rapid QF: Carlsen wins the Tour with a tournament to spare

@ 19/10/2022 by Shahid Ahmed (en)
Aimchess Rapid R13-15: Gukesh, Arjun Erigaisi and Vidit Gujrathi advance to the Quarterfinals

@ 18/10/2022 by Shahid Ahmed (en)
Aimchess Rapid R9-12: Gukesh becomes the youngest ever to win against the World Champion Carlsen

@ 17/10/2022 by Shahid Ahmed (en)
Aimchess Rapid R5-8: Arjun Erigaisi beats Magnus Carlsen for the very first time

@ 16/10/2022 by Shahid Ahmed (en)
Aimchess Rapid R1-4: Carlsen escapes the jaws of defeat against Aditya Mittal

@ 15/10/2022 by Shahid Ahmed (en)
Five Indians will battle Carlsen and the world's best at Aimchess Rapid starting today

@ 14/10/2022 by Shahid Ahmed (en)
Magnus Carlsen dominates Julius Baer Generation Cup

@ 26/09/2022 by Shahid Ahmed (en)
Generation Cup Final 1: Carlsen wins the first set

@ 25/09/2022 by Shahid Ahmed (en)
Generation Cup SF: Arjun Erigaisi bests Liem, set to clash with Carlsen in the Finals

@ 24/09/2022 by Shahid Ahmed (en)
जनरेशन कप के सेमी फाइनल में पहुंचे अर्जुन

@ 23/09/2022 by Niklesh Jain (hi)
Generation Cup QF: Arjun Erigaisi eliminates Christopher Yoo

@ 23/09/2022 by Shahid Ahmed (en)
Magnus Carlsen tops Generation Cup Prelims by a huge margin, breaks his silence

@ 22/09/2022 by Shahid Ahmed (en)
Generation Cup R9-12: Carlsen regains his sole lead, Arjun Erigaisi firm second

@ 21/09/2022 by Shahid Ahmed (en)
Generation Cup R5-8: Praggnanandhaa sets the board ablaze with Carlsen, Arjun Erigaisi grabs sole lead

@ 20/09/2022 by Shahid Ahmed (en)
Generation Cup R1-4: Praggnanandhaa beats Ivanchuk, Duda and Gelfand

@ 19/09/2022 by Shahid Ahmed (en)
Praggnanandhaa, Arjun Erigaisi and Adhiban to duke it out with Carlsen and co. at Julius Baer Generation Cup

@ 18/09/2022 by Shahid Ahmed (en)
Praggnanandhaa beats Magnus three times in-a-row, still Carlsen wins FTX Crypto Cup 2022

@ 22/08/2022 by Shahid Ahmed (en)
Magnus Carlsen on the verge of winning the FTX Crypto Cup 2022

@ 21/08/2022 by Shahid Ahmed (en)
FTX Crypto Cup 2022 R5: Duda beats Carlsen four times in four hours

@ 20/08/2022 by Shahid Ahmed (en)
FTX Crypto Cup 2022 R4: Praggnanandhaa scores a crushing victory over Aronian

@ 19/08/2022 by Shahid Ahmed (en)
FTX Crypto Cup 2022 R3: Praggnanandhaa beats Niemann, stays in the lead with Carlsen

@ 18/08/2022 by Shahid Ahmed (en)
FTX Crypto Cup 2022 R2: Praggnanandhaa gets his revenge against Giri

@ 17/08/2022 by Shahid Ahmed (en)
FTX Crypto Cup 2022 R1: Praggnanandhaa beats Firouzja for the very first time

@ 16/08/2022 by Shahid Ahmed (en)
Praggnanandhaa set to battle against Carlsen, Aronian, Duda and Co. at FTX Crypto Cup

@ 15/08/2022 by Shahid Ahmed (en)
FTX Road to Miami QF: Levon Aronian eliminates Arjun Erigaisi

@ 15/07/2022 by Shahid Ahmed (en)
FTX Road to Miami R13-15: Arjun Erigaisi set to clash with Aronian in the Quarterfinals

@ 14/07/2022 by Shahid Ahmed (en)
FTX Road to Miami R9-12: Arjun Erigaisi storms into the Quarterfinals with Sevian

@ 13/07/2022 by Shahid Ahmed (en)
FTX Road to Miami R5-8: Arjun Erigaisi ascends to the second place

@ 12/07/2022 by Shahid Ahmed (en)
FTX Road to Miami R1-4: Arjun Erigaisi beats Levon Aronian again

@ 11/07/2022 by Shahid Ahmed (en)
Arjun Erigaisi will face the World's best at FTX Road to Miami

@ 10/07/2022 by Shahid Ahmed (en)
Ding Liren clinches Chessable Masters 2022, Praggnanandhaa delivers stupendous performance

@ 27/05/2022 by Shahid Ahmed (en)
Chessable Masters 2022 F1: Ding Liren gains advantage

@ 26/05/2022 by Shahid Ahmed (en)
Chessable Masters 2022 SF: Praggnanandhaa knocks out Giri, will face Ding Liren in the Final

@ 25/05/2022 by Shahid Ahmed (en)
Chessable Masters 2022 QF: Praggnanandhaa eliminates Wei Yi, set to clash with Giri in the Semifinal

@ 24/05/2022 by Shahid Ahmed (en)
Chessable Masters 2022 R13-15: Praggnanandhaa advances to the Quarterfinals

@ 23/05/2022 by Shahid Ahmed (en)
Chessable Masters 2022 R9-12: Anish Giri climbs to the top

@ 22/05/2022 by Shahid Ahmed (en)
Chessable Masters 2022 R5-8: Praggnanandhaa beats Magnus Carlsen again

@ 21/05/2022 by Shahid Ahmed (en)
Chessable Masters 2022 R1-4: Wei Yi takes an early sole lead

@ 20/05/2022 by Shahid Ahmed (en)
Vidit, Harikrishna and Praggnanandhaa will duke it out with World's best at Chessable Masters 2022

@ 19/05/2022 by Shahid Ahmed (en)
Jan-Krzysztof Duda halts Carlsen's hat-trick, wins Oslo Esports Cup

@ 29/04/2022 by Shahid Ahmed (en)
Oslo Esports Cup R6: Duda denies Praggnanandhaa

@ 28/04/2022 by Shahid Ahmed (en)
Oslo Esports Cup R5: Minimalist Praggnanandhaa strikes again, regains sole lead

@ 27/04/2022 by Shahid Ahmed (en)
Oslo Esports Cup R4: Carlsen crushes Praggnanandhaa, joins the lead

@ 26/04/2022 by Shahid Ahmed (en)
Oslo Esports Cup R3: Fiery Praggnanandhaa bests Liem, scores a hat-trick

@ 25/04/2022 by Shahid Ahmed (en)
Oslo Esports Cup R2: Praggnanandhaa superb against Shakh, gains sole lead

@ 24/04/2022 by Shahid Ahmed (en)
Oslo Esports Cup R1: Praggnanandhaa beats Jorden van Foreest

@ 23/04/2022 by Shahid Ahmed (en)
Praggnanandhaa gets a Wildcard to the Oslo Esports Cup

@ 22/04/2022 by Shahid Ahmed (en)
Magnus Carlsen wins Charity Cup in a thrilling Final

@ 27/03/2022 by Shahid Ahmed (en)
मेगनस कार्लसन नें जीता मेल्टवाटर चैरिटी कप

@ 27/03/2022 by Niklesh Jain (hi)
Magnus Carlsen on the verge of winning the Charity Cup

@ 26/03/2022 by Shahid Ahmed (en)
Charity Cup SF: Carlsen will face arch rival Duda in the Finals

@ 25/03/2022 by Shahid Ahmed (en)
Charity Cup QF: Carlsen, Duda and Ding Liren storm into Semifinals

@ 24/03/2022 by Shahid Ahmed (en)
Charity Cup R13-15: Heartbreak for Praggnanandhaa and Vidit

@ 23/03/2022 by Shahid Ahmed (en)
Charity Cup R9-12: Vidit beats Duda

@ 22/03/2022 by Shahid Ahmed (en)
Charity Cup R5-8: Praggnanandhaa stuns World no.3 Ding Liren

@ 21/03/2022 by Shahid Ahmed (en)
Charity Cup R1-4: Vidit makes an unbeaten start 8.0/12

@ 20/03/2022 by Shahid Ahmed (en)
चैरिटी कप D1 : विदित गुजराती की अच्छी शुरुआत

@ 20/03/2022 by Niklesh Jain (hi)
Vidit, Harikrishna and Praggnanandhaa to face Carlsen and world's best at Charity Cup

@ 18/03/2022 by Shahid Ahmed (en)
Magnus Carlsen wins Airthings Masters 2022

@ 27/02/2022 by Shahid Ahmed (en)
Airthings Masters Final 1: Four exciting draws

@ 26/02/2022 by Shahid Ahmed (en)
Airthings Masters SF: Magnus Carlsen set to face Ian Nepomniachtchi in the Finals

@ 25/02/2022 by Shahid Ahmed (en)
Airthings Masters QF: Vladislav Artemiev eliminates Ding Liren

@ 24/02/2022 by Shahid Ahmed (en)
Airthings Masters R13-15: Nepomniachtchi tops the Prelims

@ 23/02/2022 by Shahid Ahmed (en)
Airthings Masters R9-12: Carlsen is down with Covid, still climbs to second spot

@ 22/02/2022 by Shahid Ahmed (en)
Airthings Masters R5-8: Praggnanandhaa beats Magnus Carlsen for the very first time

@ 21/02/2022 by Shahid Ahmed (en)
Praggnanandhaa set to clash with Carlsen and world's best at Airthings Masters

@ 19/02/2022 by Shahid Ahmed (en)