FTX Crypto Cup 2022 R2: Praggnanandhaa gets his revenge against Giri
by Shahid Ahmed - 17/08/2022
Praggnanandhaa lost to Anish Giri in the final round of Oslo Esports Cup earlier this year. The wunderkind did not forget it, as that loss cost him a podium finish. After missing a golden opportunity in the third game of Meltwater Champions Chess Tour FTX Crypto Cup, the 17-year-old made sure he does not let another opportunity slip by in the fourth game. The world no.9's twitter jibe backfired as he went down against the in-form Praggnanandhaa. USA's top junior surprised the world champion in their very first game. Magnus Carlsen then won the next three games, including a game starting with 1.a3 to show he is still the man to beat. Round 3 starts tonight at 9:30 p.m. IST. Photo: ChessBase India live stream
Aronian beats Duda in tie-breaks
The second round of FTX Crypto Cup witnessed 17 games in total. Ten of them were decisive and seven draws. Carlsen-Niemann had all four decisive games. Duda-Aronian went to the tie-breaks where the first game ended in a draw. Aronian won the second one to win the match.
Praggnanandhaa - Giri: 2.5-1.5
The first two games ended in draws with no real chances for either side. Praggnanandhaa got a winning opportunity in the rook ending of the third game.
Praggnanandhaa - Giri, Game 3
Having only a little over a minute left on the clock, Black blundered 39...Ke5 40.Rb5+ Ke6. Instead of taking the h5-pawn, White gave another check 41.Rb6+. 14-moves later White got a few more opportunities, however, Black managed to escape by the skin of his teeth. The score remained level 1.5-1.5.
Praggnanandhaa is someone who just does not let the opportunities slip by. When Giri made a tiny positional inaccuracy in the fourth game, he just pounced on it.
Giri - Praggnanandhaa, Game 4
21.Rd3 was the inaccuracy. 21.Rb1 or Ba1 is recommended by the computer to prevent Rc2 invasion. 22.Ba3 was forced Rxe2 23.Bxb4 Rxe1+ 24.Bxe1 Nxe4 25.d5 Ndc5 26.Ra3 and we get the following position.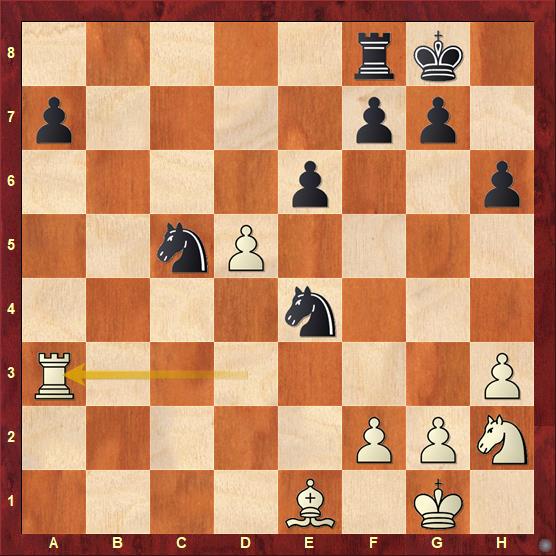 Position after 26.Ra3
It was not easy to keep the d5-pawn protected. It was a lost cause anyway. 26...exd5 the new isolated passed pawn eventually became a deciding factor in White losing the game and the match too.
USA's top junior, GM Hans Niemann surprised the world champion, Magnus Carlsen in the very first game.
Carlsen - Niemann, Game 1
Black's position looks quite pleasant. Find out the best way for Black to proceed.
Hans Niemann in a post-game interview said, "Chess speaks for itself" before walking away nonchalantly.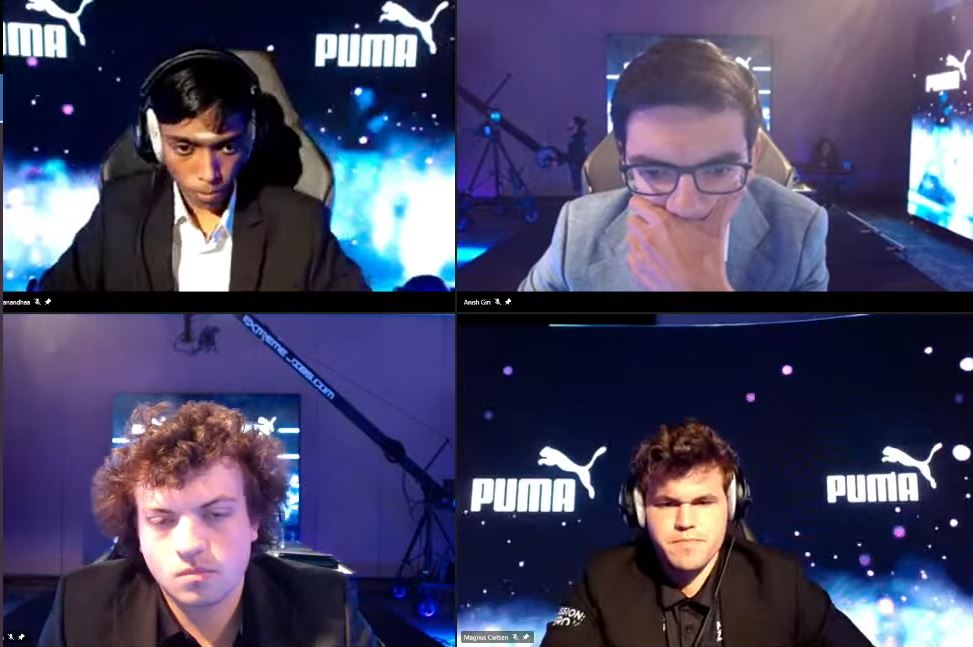 Replay the live stream
Replay Round 2 games
Round 2 results
Standings after Round 2
All games will start from 9:30 p.m. IST between 15th and 21st August 2022.
Links
---
Related news
:
MCCT Finals R7: Praggnanandhaa beats Arjun Erigaisi, So finishes second

@ 21/11/2022 by Shahid Ahmed (en)
Magnus Carlsen wins MCCT Finals 2022 with a round to spare

@ 20/11/2022 by Shahid Ahmed (en)
MCCT Finals R5: Praggnanandhaa wins a thriller against Duda

@ 19/11/2022 by Shahid Ahmed (en)
MCCT Finals R4: Arjun Erigaisi beats Mamedyarov, ends his win drought

@ 18/11/2022 by Shahid Ahmed (en)
MCCT Finals R3: Praggnanandhaa squashes Liem 3-0

@ 17/11/2022 by Shahid Ahmed (en)
MCCT Finals R2: Giri makes a comeback against Praggnanandhaa

@ 16/11/2022 by Shahid Ahmed (en)
MCCT Finals R1: Tough start for Arjun and Praggnanandhaa

@ 15/11/2022 by Shahid Ahmed (en)
Arjun Erigaisi and Praggnanandhaa to battle Carlsen and Co. at Meltwater Champions Chess Tour 2022 Finals

@ 14/11/2022 by Shahid Ahmed (en)
Jan-Krzysztof Duda defies Mamedyarov's inspired comeback, clinches Aimchess Rapid 2022

@ 22/10/2022 by Shahid Ahmed (en)
Aimchess Rapid Finals: Jan-Krzysztof Duda wins the first set

@ 21/10/2022 by Shahid Ahmed (en)
Aimchess Rapid SF: Jan-Krzysztof Duda denies Magnus Carlsen a hat-trick again

@ 20/10/2022 by Shahid Ahmed (en)
Aimchess Rapid QF: Carlsen wins the Tour with a tournament to spare

@ 19/10/2022 by Shahid Ahmed (en)
Aimchess Rapid R13-15: Gukesh, Arjun Erigaisi and Vidit Gujrathi advance to the Quarterfinals

@ 18/10/2022 by Shahid Ahmed (en)
Aimchess Rapid R9-12: Gukesh becomes the youngest ever to win against the World Champion Carlsen

@ 17/10/2022 by Shahid Ahmed (en)
Aimchess Rapid R5-8: Arjun Erigaisi beats Magnus Carlsen for the very first time

@ 16/10/2022 by Shahid Ahmed (en)
Aimchess Rapid R1-4: Carlsen escapes the jaws of defeat against Aditya Mittal

@ 15/10/2022 by Shahid Ahmed (en)
Five Indians will battle Carlsen and the world's best at Aimchess Rapid starting today

@ 14/10/2022 by Shahid Ahmed (en)
Magnus Carlsen dominates Julius Baer Generation Cup

@ 26/09/2022 by Shahid Ahmed (en)
Generation Cup Final 1: Carlsen wins the first set

@ 25/09/2022 by Shahid Ahmed (en)
Generation Cup SF: Arjun Erigaisi bests Liem, set to clash with Carlsen in the Finals

@ 24/09/2022 by Shahid Ahmed (en)
जनरेशन कप के सेमी फाइनल में पहुंचे अर्जुन

@ 23/09/2022 by Niklesh Jain (hi)
Generation Cup QF: Arjun Erigaisi eliminates Christopher Yoo

@ 23/09/2022 by Shahid Ahmed (en)
Magnus Carlsen tops Generation Cup Prelims by a huge margin, breaks his silence

@ 22/09/2022 by Shahid Ahmed (en)
Generation Cup R9-12: Carlsen regains his sole lead, Arjun Erigaisi firm second

@ 21/09/2022 by Shahid Ahmed (en)
Generation Cup R5-8: Praggnanandhaa sets the board ablaze with Carlsen, Arjun Erigaisi grabs sole lead

@ 20/09/2022 by Shahid Ahmed (en)
Generation Cup R1-4: Praggnanandhaa beats Ivanchuk, Duda and Gelfand

@ 19/09/2022 by Shahid Ahmed (en)
Praggnanandhaa, Arjun Erigaisi and Adhiban to duke it out with Carlsen and co. at Julius Baer Generation Cup

@ 18/09/2022 by Shahid Ahmed (en)
Praggnanandhaa beats Magnus three times in-a-row, still Carlsen wins FTX Crypto Cup 2022

@ 22/08/2022 by Shahid Ahmed (en)
Magnus Carlsen on the verge of winning the FTX Crypto Cup 2022

@ 21/08/2022 by Shahid Ahmed (en)
FTX Crypto Cup 2022 R5: Duda beats Carlsen four times in four hours

@ 20/08/2022 by Shahid Ahmed (en)
FTX Crypto Cup 2022 R4: Praggnanandhaa scores a crushing victory over Aronian

@ 19/08/2022 by Shahid Ahmed (en)
FTX Crypto Cup 2022 R3: Praggnanandhaa beats Niemann, stays in the lead with Carlsen

@ 18/08/2022 by Shahid Ahmed (en)
FTX Crypto Cup 2022 R1: Praggnanandhaa beats Firouzja for the very first time

@ 16/08/2022 by Shahid Ahmed (en)
Praggnanandhaa set to battle against Carlsen, Aronian, Duda and Co. at FTX Crypto Cup

@ 15/08/2022 by Shahid Ahmed (en)
FTX Road to Miami QF: Levon Aronian eliminates Arjun Erigaisi

@ 15/07/2022 by Shahid Ahmed (en)
FTX Road to Miami R13-15: Arjun Erigaisi set to clash with Aronian in the Quarterfinals

@ 14/07/2022 by Shahid Ahmed (en)
FTX Road to Miami R9-12: Arjun Erigaisi storms into the Quarterfinals with Sevian

@ 13/07/2022 by Shahid Ahmed (en)
FTX Road to Miami R5-8: Arjun Erigaisi ascends to the second place

@ 12/07/2022 by Shahid Ahmed (en)
FTX Road to Miami R1-4: Arjun Erigaisi beats Levon Aronian again

@ 11/07/2022 by Shahid Ahmed (en)
Arjun Erigaisi will face the World's best at FTX Road to Miami

@ 10/07/2022 by Shahid Ahmed (en)
Ding Liren clinches Chessable Masters 2022, Praggnanandhaa delivers stupendous performance

@ 27/05/2022 by Shahid Ahmed (en)
Chessable Masters 2022 F1: Ding Liren gains advantage

@ 26/05/2022 by Shahid Ahmed (en)
Chessable Masters 2022 SF: Praggnanandhaa knocks out Giri, will face Ding Liren in the Final

@ 25/05/2022 by Shahid Ahmed (en)
Chessable Masters 2022 QF: Praggnanandhaa eliminates Wei Yi, set to clash with Giri in the Semifinal

@ 24/05/2022 by Shahid Ahmed (en)
Chessable Masters 2022 R13-15: Praggnanandhaa advances to the Quarterfinals

@ 23/05/2022 by Shahid Ahmed (en)
Chessable Masters 2022 R9-12: Anish Giri climbs to the top

@ 22/05/2022 by Shahid Ahmed (en)
Chessable Masters 2022 R5-8: Praggnanandhaa beats Magnus Carlsen again

@ 21/05/2022 by Shahid Ahmed (en)
Chessable Masters 2022 R1-4: Wei Yi takes an early sole lead

@ 20/05/2022 by Shahid Ahmed (en)
Vidit, Harikrishna and Praggnanandhaa will duke it out with World's best at Chessable Masters 2022

@ 19/05/2022 by Shahid Ahmed (en)
Jan-Krzysztof Duda halts Carlsen's hat-trick, wins Oslo Esports Cup

@ 29/04/2022 by Shahid Ahmed (en)
Oslo Esports Cup R6: Duda denies Praggnanandhaa

@ 28/04/2022 by Shahid Ahmed (en)
Oslo Esports Cup R5: Minimalist Praggnanandhaa strikes again, regains sole lead

@ 27/04/2022 by Shahid Ahmed (en)
Oslo Esports Cup R4: Carlsen crushes Praggnanandhaa, joins the lead

@ 26/04/2022 by Shahid Ahmed (en)
Oslo Esports Cup R3: Fiery Praggnanandhaa bests Liem, scores a hat-trick

@ 25/04/2022 by Shahid Ahmed (en)
Oslo Esports Cup R2: Praggnanandhaa superb against Shakh, gains sole lead

@ 24/04/2022 by Shahid Ahmed (en)
Oslo Esports Cup R1: Praggnanandhaa beats Jorden van Foreest

@ 23/04/2022 by Shahid Ahmed (en)
Praggnanandhaa gets a Wildcard to the Oslo Esports Cup

@ 22/04/2022 by Shahid Ahmed (en)
Magnus Carlsen wins Charity Cup in a thrilling Final

@ 27/03/2022 by Shahid Ahmed (en)
मेगनस कार्लसन नें जीता मेल्टवाटर चैरिटी कप

@ 27/03/2022 by Niklesh Jain (hi)
Magnus Carlsen on the verge of winning the Charity Cup

@ 26/03/2022 by Shahid Ahmed (en)
Charity Cup SF: Carlsen will face arch rival Duda in the Finals

@ 25/03/2022 by Shahid Ahmed (en)
Charity Cup QF: Carlsen, Duda and Ding Liren storm into Semifinals

@ 24/03/2022 by Shahid Ahmed (en)
Charity Cup R13-15: Heartbreak for Praggnanandhaa and Vidit

@ 23/03/2022 by Shahid Ahmed (en)
Charity Cup R9-12: Vidit beats Duda

@ 22/03/2022 by Shahid Ahmed (en)
Charity Cup R5-8: Praggnanandhaa stuns World no.3 Ding Liren

@ 21/03/2022 by Shahid Ahmed (en)
Charity Cup R1-4: Vidit makes an unbeaten start 8.0/12

@ 20/03/2022 by Shahid Ahmed (en)
चैरिटी कप D1 : विदित गुजराती की अच्छी शुरुआत

@ 20/03/2022 by Niklesh Jain (hi)
Vidit, Harikrishna and Praggnanandhaa to face Carlsen and world's best at Charity Cup

@ 18/03/2022 by Shahid Ahmed (en)
Magnus Carlsen wins Airthings Masters 2022

@ 27/02/2022 by Shahid Ahmed (en)
Airthings Masters Final 1: Four exciting draws

@ 26/02/2022 by Shahid Ahmed (en)
Airthings Masters SF: Magnus Carlsen set to face Ian Nepomniachtchi in the Finals

@ 25/02/2022 by Shahid Ahmed (en)
Airthings Masters QF: Vladislav Artemiev eliminates Ding Liren

@ 24/02/2022 by Shahid Ahmed (en)
Airthings Masters R13-15: Nepomniachtchi tops the Prelims

@ 23/02/2022 by Shahid Ahmed (en)
Airthings Masters R9-12: Carlsen is down with Covid, still climbs to second spot

@ 22/02/2022 by Shahid Ahmed (en)
Airthings Masters R5-8: Praggnanandhaa beats Magnus Carlsen for the very first time

@ 21/02/2022 by Shahid Ahmed (en)
Airthings Masters R1-4: Ding Liren takes sole lead 10.0/12

@ 20/02/2022 by Shahid Ahmed (en)
Praggnanandhaa set to clash with Carlsen and world's best at Airthings Masters

@ 19/02/2022 by Shahid Ahmed (en)