Nihal on the cover of the ChessBase Magazine 178
The ChessBase Magazine has established itself as one of the best resources for chess training and information. It is published every two months and has analysis by top grandmasters, videos by the likes of Daniel King and Simon Williams, and in general a lot of training material. Usually on the cover you have a picture of either Magnus Carlsen, Wesley So, Hikaru Nakamura. When one says that an Indian is on the cover of the magazine you might imagine that it is Vishy Anand or Pentala Harikrishna! No! It's a 12-year-old prodigy and his name is Nihal Sarin!
The World Junior Championship 2014 in Pune was our (Amruta and mine) first full-fledged assignment as chess journalists. Amruta would spend hours taking pictures and I would come back to the room and weave those images into an article. All the while we would be looking around, staying alert for a new story coming our way that would make the report more interesting. We got a participant to play the piano, made so many people share their stories with the world and in general Amruta was able to capture some brilliant moments. But I think the find of the tournament was definitely the 10-year-old boy from Kerala Nihal Sarin.
The boy who would never sit!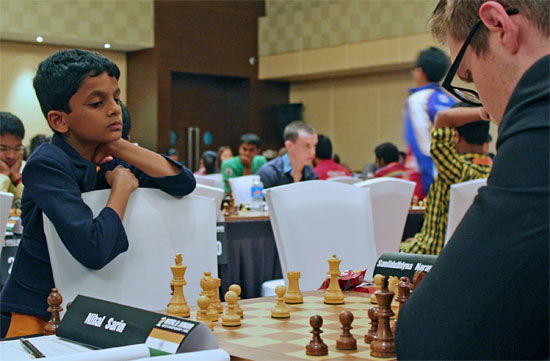 Experienced WGM Swati Ghate sat next to Nihal to ask him questions about the game. What we saw next simply stunned us. The clarity of the words he chose, the precise variations that he would show, the accurate evaluations at the end of the line. Was this really a ten-year-old boy? Unfortunately, that video has been deleted from Livestream. I have been pestering Vijay Kumar for years now for that video of Nihal explaining his game. I hope he is able to find it. Until then you will have to do with this one minute interview that I conducted with him after one of his encounters:
Over the last two and a half years Nihal has shaped up into a very strong player. The efforts of his father Dr. Sarin A., and mother Dr. Shijin, coaches Nirmal E.P and Dmitri Komarov have been rewarded by Nihal becoming an IM at the age of 12 years and 8 months. It comes to me as no surprise that this happened. The boy had such clarity in his thinking that it was impossible not to have a bright forecast for his future.
Nihal in Hamburg
When I got to know Nihal was in the ChessBase studio a few months ago, I got really excited. The reason: Nihal would record something for the world and people would finally be able to see him showing variations and analysis. Team ChessBase was wise enough to do that, and they went the extra mile....
And guess who has taken the above picture? Of course it's the famous Nihal stare captured by Amruta at the World Juniors 2014! As someone rightly put it, "Nihal's stare is akin to Kasparov's in his prime!"
The boy is now nearly 13 years old. He is more matured. He speaks calmly but the clarity of variations and ideas is still very much intact. What I found really amazing in those 15 minutes of Nihal explaining his game over Bluebaum is the amount of information that this boy could easily remember and reproduce.
I have been in that same studio in Hamburg and recorded many videos for ChessBase. The usual procedure for me is to take my analyzed game in a USB stick, open it in the computer in the studio and then play over the moves while explaining it in the lecture. The reason for me doing this is quite straight forward - speaking to the camera is already quite a difficult task. On top of that I do not want the added stress of remembering my variations. By already having the game fully annotated I am able to focus on the explanations.
But Nihal simply sat in the studio with the bare moves of his game. He remembered all the critical lines, (and mind you there are many) and explained them with great accuracy. This just shows what a phenomenal memory the boy has. For mortals like us I would have liked him to stay with the position for a few seconds after the variation ended, but the boy's mind works so fast that he is already onto the next lines of the game! I think watching this video will give you a better understanding of how a boy from Kerala could become an International Master at the same age as Magnus Carlsen!
A small tour of the ChessBase Office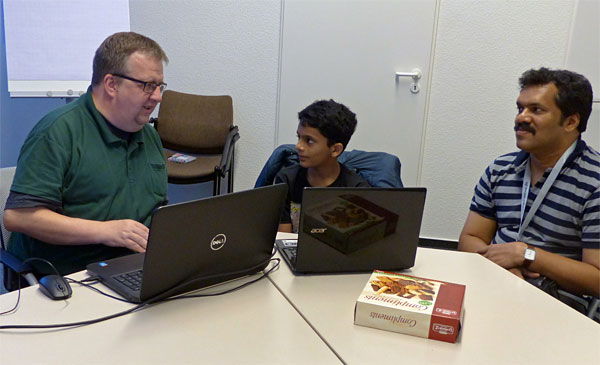 Nihal has everyone's undivided attention. On the left is Pascal Simon - the young man is one of the most hard working people I have ever met. He edits videos, co-ordinates live commentary, video recordings and much more. Perhaps he receives more than 200 emails each day! Next to him is Andre Schulz, the editor-in-chief of German newspage. Andre has a great sense of humour and it is always nice to be in his company. On the right is GM Rainer Knaak. Knaak was a super strong grandmaster in the 70s and 80s having crossed swords against the likes of Karpov, Korchnoi, Taimanov, Timman and many strong players. He is the person who ensures that ChessBase Magazine remains a high quality resource.
Do not forget to get the latest issue of ChessBase Magazine 178. For just Rs.699/- you really get some very high quality content. Apart from Nihal's video, some of the highlights of the issue are:


Win with Plan B: Aronian analyses his game against Naiditsch at the Grenke Classic: with an exchange sacrifice, a king hunt and an alternative solution.
This is how child prodigies think: 12-year old Nihal Sarin from India presents for you his win over GM Bluebaum (video).
"The lurking bishop": Enjoy the tactical fireworks with Oliver Reeh and solve his favourite combination with really masterly moves! (Interactive video)
"Strategically completely irrational": Mihail Marin shows you what has been happening in recent years in the French Winawer Variation.
Speculative and spectacular: Enjoy Kramnik's rook sacrifice for three pawns and a consternated Harikrishna!
The pawn as a curse: Test your endgame technique and together with Karsten Müller find the narrow pathway to the draw. (interactive video)
Triumph in Poikovsky: Emil Sutovsky (7 out of 9) analyses in great detail his first round win against the previous years' victor: Sutovsky-Korobov
Sharp update: Let Erwin l'Ami show you fantastic new ideas for White and Black in the Two Knights Defence. (video)
Popular and dangerous: Adhiban delivers with his attacking win over Swayans further proof for the potential of Queen's Pawn games.
Declining the gambit and still getting an advantage: Krisztian Szabo knows why you do not need to fear 3…f5 in the Ruy Lopez.
---