Murleidhor Jalan Foundation sponsors Rs.7,50,000 for two young talents from North-East India
Historically, players from North East India have not been able to unleash their full potential in chess because of the lack of opportunities. Less tournaments being held, financial difficulties have made many talents lose out on creating a career in chess. Shahil Dey, born in 2007, has an Elo of 2400. Mayank Chakraborty, born in 2009, has an Elo of 2164. Both of these youngsters are the strongest young talents of North East India chess. Jalan industries, which has massive tea plantations in North East India, run a foundation by the name of Murleidhor Jalan Foundation. They have decided to invest Rs.7,50,000 in these youngster - Rs.5 lakh to Shahil and Rs.2.5 lakh to Mayank to make sure that they fulfill their potential.
Indian chess is on the rise. And there is no doubt about it. However, if you notice, there are some parts of the country which are still lagging behind. The last five grandmasters of the country shows the trend in some way:
68th - Arjun Kalyan - Tamil Nadu
69th - Harshit Raja - Maharashtra
70th - Rithvik Raja - Telangana
71st - Sankalp Gupta - Maharashtra
72nd - Mitrabha Guha - West Bengal
Tamil Nadu, Maharashtra, West Bengal are known as the powerhouses of Indian chess. Telangana is quickly turning into one with strong youngsters like Arjun Erigaisi, Rithvik Raja and more sprouting out from that place. While these states continue to build on their strong chess culture, there many other states which are lagging behind. One such region is North East India which includes the eight states of Arunachal Pradesh, Assam, Manipur, Meghalaya, Mizoram, Nagaland, Tripura and Sikkim. A few years ago when I took part in strong open events in the country, I would meet my friends from the North East and one of the things that always amazed me was how were they able to travel for so many hours before an important event. Some of them would travel for 48-50 hours in train before reaching the tournament. They usually couldn't afford good accommodation due to financial constraints. The talent was always there but they lacked the resources. They lacked good events happening in their region and they lacked good training facilities which could help them prosper. This is the reason why until 2021, there was not a single titled player to have come out of North-East India. But now things are changing. 14-year-old Shahil Dey from Assam has become the first IM from the region. AICF is planning to hold International Grandmaster event in Guwahati, Assam in March 2022. The wheels are rolling and to make the movement even stronger Murleidhor Jalan Foundation has decided to sponsor two young talents from the region to the tune of Rs.7,50,000. They are Shahil Dey and Mayank Chakraborty. Shahil gets a yearly sponsorship amount of Rs.5,00,000 and Mayank gets Rs.2,50,000.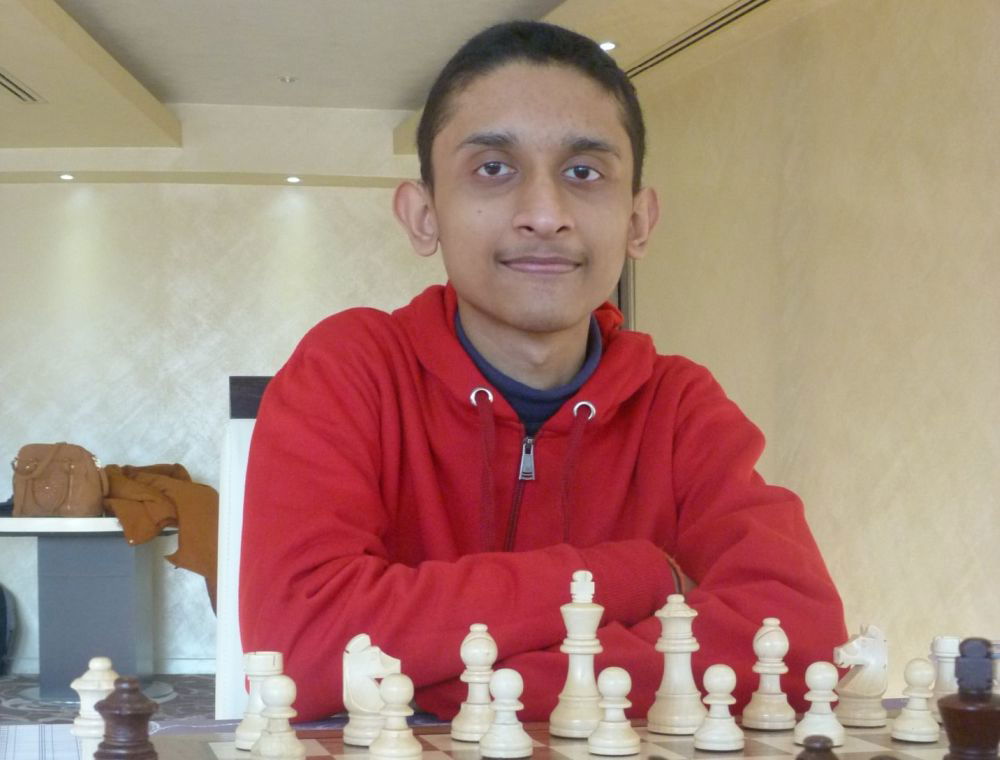 Rs.7,50,000 is a big amount and it is sure to help both the youngsters fulfill their aims. Speaking to ChessBase India, Mithu Dey, Shahil's mother said, "I want to thank Murleidhor Jalan Foundation from the core of my heart. In this tough time, we had lost every hope to get sponsors and we were doubtful whether we would be able to continue Shahil's chess career or not. Chess is an expensive sport and for us it's difficult to continue in a professional way without the support of sponsors. Previously Shahil had received the Pursue your chess scholarship from ChessBase India (Rs.50,000). Also two kind individuals Mr. Khanna and Mr. Kapoor had supported to the tune of Rs.50,000 each. but this is the first time he will be sponsored with a substantial amount like Rs.5 lakh. With this amount we will begin with Shahil's personal coaching and try to continue with vigour to become a GM as soon as possible. Lastly, I would also like to thank ChessBase India without whose support this would not have been possible."
Monomita Chakraborty, Mayank's mother, writes to us, "A huge thanks and gratitude to the Murleidhor Jalan Foundation. This amount will play a pivotal role in the development of Mayank's career as a chess player. I am also indebted to ChessBase India's Helpchess Foundation to hold his hands in his chess journey. Mayank is determined to live up to the expectation of his supporters. We were really worried how to manage funds for his advanced coaching as he didn't have a sponsor. We had exhausted our resources recently at European tournaments. This amount of Rs.2,50,000 will be used exclusively on his chess training and training materials like video tutorials, books, laptops etc.
Get to know the sponsor - the Murleidhor Jalan Foundation
The Murleidhor Jalan Foundation was established in 1991, by the Jalan family in the memory of Mr. Murleidhor Jalan, one of the pioneer tea planters, who planted and acquired tea gardens across Upper Assam from the 1920's to the 1950's. He was also a social reformer who was way ahead of his time in his visions for social welfare. One such act was to set up an only girls' school by the name of Surajmal Jalan Balika Shiksha Sadan in Dibrugarh in 1935. He was a philanthropist and was instrumental in setting up the Assam Medical College in Dibrugarh by donating 100 acres of land for the establishment of the institution. Over the years The MDJ Foundation has donated funds and land towards other hospitals, community and sports centres, as well as relief funds during floods and natural calamities in the State of Assam. The foundation currently is run by Mrityunjay Jalan, who is the great grandson of Murleidhor Jalan and one of the trustees. The Foundation strives to preserve the rich legacy of Mr. Murleidhor Jaan and promote activities involving social and economic development of tea garden workers, improvement in education standards, promotion of sport, art, culture, and upliftment of the tea workers' community.
Mrityunjay Jalan, is grandson of Murliedhor Jalan, harbors the ambition of supporting chess and making it big. Born in 1991, Mrityunjay is only 30 years old, but he has a vision to transform and empower the youngsters of North East India. How did this vision come about? How did he get so interested in chess? We got in touch with Mrityunjay and below is a short interview:
Sagar Shah (SS): Tell us about yourself, your tea gardens, and your work?
Mrityunjay Jalan (MJ): I am mostly based out of the tea gardens in Assam currently. Though my family was always based out of Assam, I was born and brought up in Kolkata after which I went to Singapore for my higher education. I graduated from Singapore Management University and after my graduation, I worked in Singapore as an Analytical Consultant for a year before heading straight to Assam to set up a modern Japanese green tea factory. Since the last six years, I have been working in different parts of Assam running a tea plantation business and working with the local community at the grassroots level. I was always passionate about the manufacturing process, seeing a product change its form from a raw material to a finished product excited me and I also enjoyed being in the countryside, hence coming back to Assam and having an opportunity to work hands on with tea felt like a natural fit. The work however, is not just restricted to manufacturing and selling of a product, when you're at the ground level at the plantations, most of the work revolves around managing a large working community and ensuring its sustainable growth. We were lucky to be covered by The Better India and they wrote a nice piece on our work a few years ago. It gives a nice perspective to what work has been like at the plantations.
SS: How did you get interested in chess?
MJ: Like most of the kids in India, my father introduced me to chess during my early years. I grew up playing a lot of sports. Represented my club and school in various sports like cricket, table-tennis, hockey and football. I could pick up sports naturally and the same happened with chess. However, as a kid, I was more inclined to stay outdoors so the focus shifted from chess to the other sports. I fell back on chess a few years back when I was in Assam after my stint in Singapore. Being in the eastern most region of India, the sun sets very early here, and is usually pitch dark by around 5 p.m. As a sports addict, I needed some sport to stay engaged with and since the outdoor sports couldn't work out because of the hectic work hours during the day and early sun sets, chess became the natural choice. I usually end up studying deep technicalities of things that I am passionate about and the same happened with chess.
After falling in love with the sport again through online games, I started researching more and started looking up YouTube videos on how to improve. That's when I stumbled across Agadmator's chess channel and it soon became a ritual for me to start and end the day with chess videos. I remember, being obsessed with the sport during the 2018 world championship games of Carlsen and Caruana. I would have my chess app open for hours, on the side, waiting for the players to make their moves. When the pandemic hit, and the online chess content started exploding, I was surprised to see a video of Samay Raina and a few other comics beating Agadmator. That was really my first real introduction to Samay. The interest in chess then just snowballed and once I got introduced to Sagar and ChessBase India through his streams, there was no looking back. Watching chess tournaments with live commentary became as exciting as any other live sporting experience and the sports fan in me just can't have enough of it.
SS: What made you decide that you should support North East chess?
MJ: The decision and the passion to support North East chess stems from two main reasons:
1. Being based out of the Northeast for the past few years has made me realise that there exists an abundance of talent in this region that is just waiting to explode. Due to a lack of connect between the northeast and the rest of the country, there have been limited resource investments here leading to poor infrastructure development and limited opportunities for the talents emerging out of this region. Once the resources start to flow, the talents from this region will get their opportunity to showcase their calibre to the rest of the world.
2. Being passionate about sports and grassroot level development, a long term dream of mine has been to set up a sports school/program and support sportspersons from an early age by providing them with the resources to become successful in their sports at a global stage. However, the aim is to also provide them with a back up of education and soft skill trainings so that in case they don't make it professionally in their sport, they have something to fall back on and become employable to support themselves and their family in the future. We lose out on professional sportspersons as lots of talented youngsters coming from modest backgrounds have to drop out of training at critical junctures because they need to decide between funding themselves to potentially become professional sportspersons or supporting their family and more often than not, the latter prevails. By starting the sports school/program, I want to eliminate this particular decision making process to ensure that the young sportspersons can freely dedicate themselves to the sport without having to consider the option, "what if I fail to make it big."
A summation of the above two reasons along with my passion for the sport, makes the decision for me to focus on the support for North east chess a fairly straightforward one. I feel there are currently a lot of talented chess players from the Northeast who if given the right resources will be able to break through and become world class professionals of the highest calibre. I feel they are at that juncture where either they can take their performance to the next level or fizzle out due to external pressures and lack of resources. I would want to support them by ensuring that they get the necessary resources to take their sport performance to the next level and get that opportunity to become world class sport professionals. As we know, there is not a single Chess Grandmaster from the Northeast. If through our support, we are able to help a talented youngster achieve his or her dream of becoming a grandmaster, we would not only be helping a single individual but we would also be helping to start a beacon effect which would lead to more youngsters getting inspired, taking up chess, gaining titles and growing the sport in the region.
SS: Tell us a bit about the Murleidhor Jalan foundation and the work it has done in the past.
MJ: The Murleidhor Jalan Foundation was established in 1991, by the Jalan family in the memory of Mr. Murleidhor Jalan, one of the pioneer tea planters, who planted and acquired tea gardens across Upper Assam from the 1920's to the 1950's. He was also a social reformer who was way ahead of his time in his visions for social welfare. One such act was to set up an only girls' school by the name of Surajmal Jalan Balika Shiksha Sadan in Dibrugarh in 1935. He was a philanthropist and was instrumental in setting up the Assam Medical College in Dibrugarh by donating 100 acres of land for the establishment of the institution. Over the years The MDJ Foundation has donated funds and land towards other hospitals, community and sports centres, as well as relief funds during floods and natural calamities in the State of Assam. The most recent work that it has been a part of has been in the setting up of a 200 bed Covid Ward in Dibrugarh, Assam that was run by the Foundation completely free of cost to help the local community and the administration fight the spread of the Covid - 19 pandemic. The Deccan Herald covered the work as well.
SS: What is your vision for north east India chess?
MJ: My vision for North east India chess at a professional sport level is to see the region become a hub of chess talent that generates top level chess grandmasters and hosts elite chess tournaments. At a grassroot level, my vision is to see the sport become popular among the masses where people take to the sport in their recreational time and use the sport to fight social evils such as alcoholism, use of drugs, etc.
SS: What is your opinion about Shahil Dey and Mayank Chakraborty?
MJ: I have been following the games of Shahil Dey and Mayank Chakraborty for quite a while now. Both seem to be brimming with talent and have clearly put in the hard work to reach the level that they're currently at. By becoming the first IM from the Northeast, Shahil Dey has already brought a lot of pride to the region but I am sure that this is just the start of an illustrious chess career. Starting his quest and then achieving his IM title during the worst phase of the Covid pandemic has just shown everyone the kind of fighter he is and I have no doubt whatsoever, that he will go on achieve great things in the future.
Mayank Chakraborty has already shown signs of greatness as well by winning the National under-11 open a couple of years back and I am sure that with added exposure and opportunities to participate in more tournaments, his rise in ratings will be exponential and gaining titles will be inevitable.
I wish both these extremely talented and hard working youngsters all the very best for their chess endeavours and just want to give them the message that they should go out and play the sport freely with absolute dedication and love for the sport and not worry about any other external pressure. We will take care of that in any which way we can.
How the funds are being utilized?
As soon as Mayank and his family got to know that the Murleidhor Jalan foundation is supporting them, they invited GM Swayams Mishra to their place. Swayams, from Odisha, is one of the well-known trainers from the country and has played a major role in many Indian youngsters achieving their titles. Mayank worked with Swayams for five days.
After the camp, Swayams spoke to ChessBase India. He said, "He is quite ambitious. He is intuitive and hard working as well. His self confidence is commendable. Probably consistency is something which will be evident as he matures. Personally I feel he has most of the skillset which is needed to go the distance. But of course, with efforts, experience and more opportunities - he should be able to do justice to his talent."
Mayank's laptop was also not working properly, so invested some of the funds in getting a good laptop and he also took an annual membership of the Killer Chess Training, an online training program run by the famous trainer and author GM Jacob Aagaard. Shahil is also working on his plan to use the fund of Rs.5,00,000 wisely in order to make strides towards improvement and becoming a GM.
Murleidhor Jalan Foundation has partnered with HelpChess Foundation run by ChessBase India to ensure that the funds are used in the best possible manner and that the recipients are able to make the best use of the funds. When we started the HelpChess Foundation three years ago, this was exactly what we wanted to achieve. There are people who are interested in supporting the sport and the talented players, and there are talents in need of funds. ChessBase India through its transparency and meticulous work aims to be the bridge where the sponsors feel confident that their funds are well utilized. If you would like to support the growing sport of chess, consider writing to us at chessbaseindia@gmail.com. HelpChess Foundation is charitable trust with 80G registration (this helps you to get tax benefits for the donations that you make).
Important Links
Official website of Jalan Industries
Work done by HelpChess Foundation
Shahil Dey becomes the first IM of North East India
Mayank Chakraborty on his 350 point gain
---