Tata Steel Chess 2019 Round 1: Anand and Nepomniachtchi open with wins
The first elite chess event of the year, Tata Steel Chess, went underway in the Dutch town of Wijk aan Zee on Saturday. After a nail-biting first round, Viswanathan Anand and Ian Nepomniachtchi turned out to be the two victors of the day. Magnus Carlsen showed some enterprising chess in the premier matchup against Ding Liren but was unable to secure a win. Teimur Radjabov, on the other hand, was a heartbeat away from winning his opening clash against Vladimir Kramnik but the former world champ managed to wriggle out with a draw. Meanwhile, Parham Maghsoodloo found his king checkmated in the top game of the challenger's group against Anton Korobov. Evgeny Bareev also made the most of R Praggnanandhaa's errors to open with a win. Erwin l'Ami and Maksim Chigaev started with wins on the first day. Round 1 report.

Exciting games abound!
The first elite chess event of the year, Tata Steel Chess – aka the Wimbledon of Chess – kicked off at its traditional venue in the Dutch coastal town of Wijk aan Zee on Saturday. The inaugural round of this 81st edition was quite a spectacle. Two games concluded decisively while all others were thoroughly entertaining.
The 14 player single round robin, as has been traditional by now, boasts of an eclectic field of participants. Four of the top five Grandmasters of the world, including the reigning World Champion Magnus Carlsen, feature in the star studded lineup alongside legends of the game like Viswanathan Anand and Vladimir Kramnik. Further spicing up the field are young guns with the likes of Vidit Gujrathi, Jan Krzysztof Duda, Jorden van Foreest etc. Rounds are to be played until the 28th of Jan, 2019, with a time control of 100 minutes for 40 moves, then 50 minutes for 20 moves, then 15 minutes for the rest of the game plus 30 seconds bonus per move starting from move one.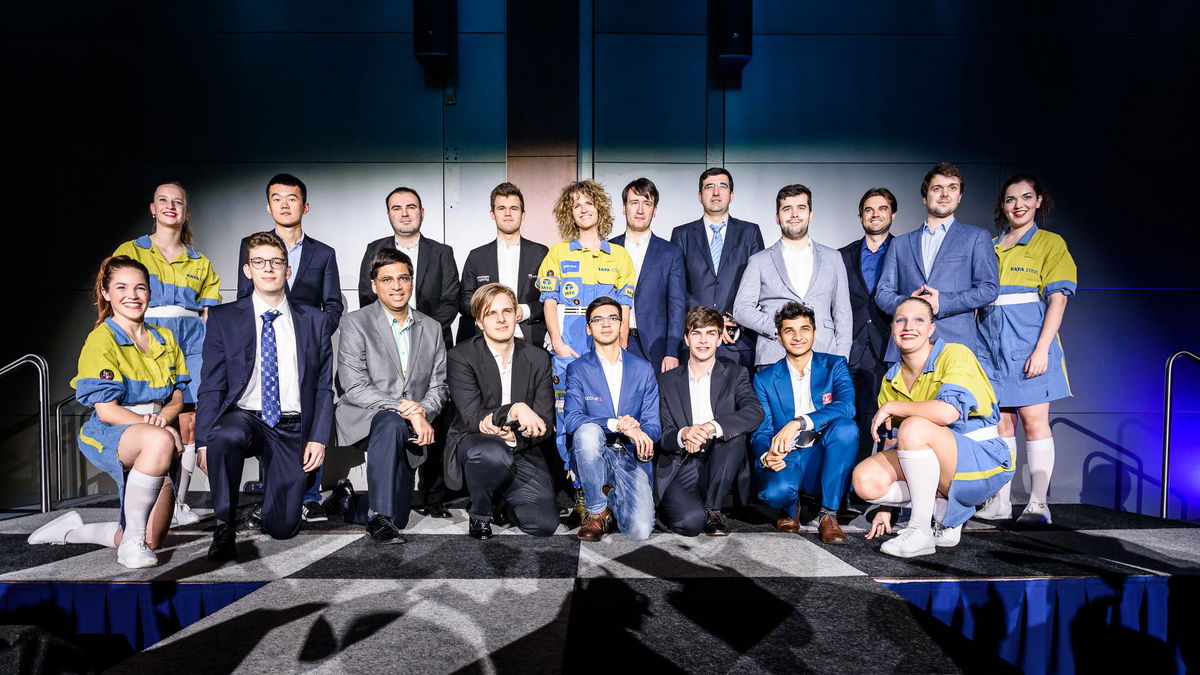 At the conclusion of day one, Indian ace, Viswanathan Anand found himself atop the leaderboard alongside Ian Nempomniachtchi scoring a full point in the opening game. But while Anand did score a victory, he wasn't particularly pleased by it.
"I don't know. Frankly, I wasn't sure whether I was better or worse because the position was very hard to judge," Anand said after the game. "He just walked into f4 and that was unfortunate because otherwise the game was still going on fine. I am not convinced that I did everything well in the opening either. It's not such a great game but, of course, I got lucky that it went so fast in the end."
The position Anand was pointing at was the one that had arisen after white's 21.Ne5 (diagram) when Anand got a devastating kingside attack.
After 21…f4, white's position was simply untenable. 22.Qe1 Nf5 23.Nxg6 Rxg6 followed and soon the black knight landed on the e3 square. Once again, Wilhelm Steinitz's wise words on the archetypal knight on King 6 rang true. The game won itself on its own accord.
In the other decisive game of the day, too, a grave error on the part of one of the players decided matters. "It must be Christmas!" Lawrence Trent exclaimed as he saw Anish Giri go for a dubious knight sacrifice in his game against Ian Nepomniachtchi.
Seventeen moves into a razor-sharp Pirc Defence, Giri had found his knight in an awkward state. In the diagrammed position, White is forced to retreat his knight to b1 as 18.Ne2 runs into 18…Nc4, in which case, he would lose a piece by force.
Giri took radical measures here by leaving the knight to its fate. Play continued 18.exf5 bxc3 19.fxe6 cxb2 20.Kb1 Nf6. The remaining six moves of the game were just a vain attempt on Giri's part to find a miracle.
Meanwhile, Magnus Carlsen was hell-bent on getting an original position in the premier game of the round. Against Ding Liren's 1.Nf3, he went with 1…Nf6 2.g3 b5 and the game steered into unchartered territory within just five moves. Complications arose very soon. Carlsen gave up an exchange just 12 moves into the game and played energetically, going into the middle game.
Ding returned the exchange to keep things under control but Carlsen threw one more exchange at him very soon afterwards.
Carlsen had just recovered his exchange with 26…Bxf1. After 27.Rxf1, he whipped out another stunner with 27…Rxf3. Ding, however, seemed to have foreseen the shot. He simply took the offered exchange with 28.Nxf3 e4 29.Qe3 and after 29…Nf3, returned it immediately with 30.Rxf3 to liquidate into a drawn endgame.
Vidit Gujrathi's game against Jan Krzysztof Duda also saw its fair share of tactical sparkles. In the game that had begun with the Queen's Gambit Ragozin, Vidit had remained with an extra pawn out of the opening. Duda, in turn, had sufficient compensation and asserted his initiative with a neat tactical trick.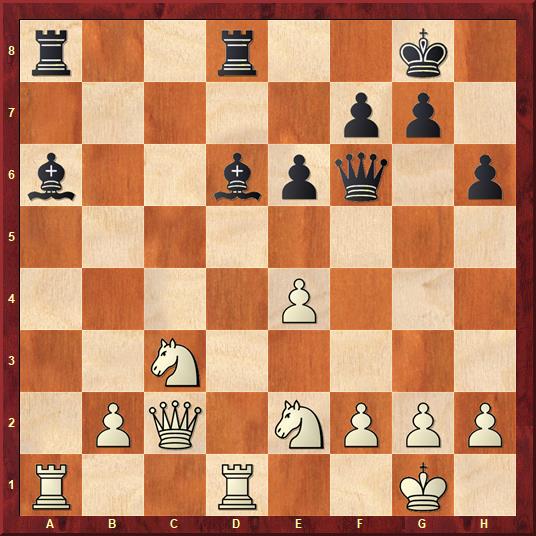 Duda found 18…Bd3! here. Of course, the bishop is immune from capture. 19.Rxd3 leaves the a1 rook en prise and white loses once again after 19.Qxd3 Rxa1 20.Rxa1 Bxh2+. Vidit continued with 19.Qd2 and soon had to part with his extra pawn. The game, however, went on until the 78th move before peace was signed.
Another nailbiting encounter was witnessed in the game between Teimur Radjabov and Vladimir Kramnik. The former world champion was in horrible time trouble around his 33rd move. To add to his troubles, his position wasn't promising either; at one point, he was even dead lost. Nevertheless, Big Vlad kept finding defensive resources and managed to come out of the woods alive after his opponent erred and let him escape with a move repetition.
All games
Standings
Rk.
Name
Rtg.
Nt.
Pts.
n

1

2

3

4

5

6

7

8

9

10

11

12

13

14

TB
Perf.

1

GM

2773

1.0

1

0.00

3412

1

GM

2763

1.0

1

0.00

3583

3

GM

2835

0.5

1

0.50

2813

3

GM

2813

0.5

1

0.50

2835

5

GM

2738

0.5

1

0.00

2695

5

GM

2724

0.5

1

0.00

2731

5

GM

2777

0.5

1

0.00

2757

5

GM

2817

0.5

1

0.00

2725

5

GM

2757

0.5

1

0.00

2777

5

GM

2731

0.5

1

0.00

2724

5

GM

2725

0.5

1

0.00

2817

5

GM

2695

0.5

1

0.00

2738

13

GM

2783

0.0

1

0.00

1963

13

GM

2612

0.0

1

0.00

1973

TBs: Koya, Wins, Direct encounter
Challengers
The Challengers' group saw two more decisive results than the Masters'. In the top matchup of the round, top-seeded GM Anton Korobov, who had missed the title last year, pulled off a pounding win over the reigning World Junior Champion, GM Parham Maghsoodloo of Iran.
The opening round of the challengers also saw a match-up between the youngest and the oldest players in the field: R Praggnanandhaa and Evgeny Bareev. And this time, experience triumphed over youth.
Pragg, who had the white pieces in the game, blundered in a difficult position and fell into a mating net.
Praggnanandhaa chose the worst square to defend his rook when he played 41.Rb5. Bareev responded with 41…Qe4 and now mate isn't avertable. Prag tried to defend the a4 pawn with 42.Ka3 but with 42…Re1, Black reintroduced the mating threat, this time from the other side.
All games
Standings
Rk.
Name
Rtg.
Nt.
Pts.
n

1

2

3

4

5

6

7

8

9

10

11

12

13

14

TB
Perf.

1

GM

2650

1.0

1

0.00

3339

1

GM

2604

1.0

1

0.00

3272

1

GM

2699

1.0

1

0.00

3479

1

GM

2643

1.0

1

0.00

3270

5

GM

2584

0.5

1

0.50

2687

5

IM

2500

0.5

1

0.50

2477

5

GM

2687

0.5

1

0.50

2584

5

WGM

2477

0.5

1

0.50

2500

9

GM

2615

0.5

1

0.00

2502

9

GM

2502

0.5

1

0.00

2615

11

IM

2470

0.0

1

0.00

1843

11

GM

2679

0.0

1

0.00

1899

11

GM

2539

0.0

1

0.00

1850

11

WGM

2472

0.0

1

0.00

1804

TBs: Koya, Wins, Direct encounter
---