Airthings Masters 2023 LQF: Arjun Erigaisi eliminates Gukesh
Arjun Erigaisi defeated D Gukesh 1.5-0.5 in the Losers Quarterfinals. He will face Wesley So in the Losers Semifinals and the winner of that match will face Hikaru Nakamura. The reigning World Fischer Random champion, drew all four Rapid games against Magnus Carlsen. The Norwegian won the bid for Armageddon by 1 second and opted for Black. Carlsen missed several winning chances throughout the day, it was no different in Armageddon either. It ended in a draw and the World no.1 advanced to the Grand Final which will take place on Friday. Praggnanandhaa lost the Winners Final against Sam Sevian in Division 3. However, he Oleksandr Bortnyk and bounced back to the Grand Final to face Sevian again. Division 3 Grand Final and Division 1 LSF of Airthings Masters starts tonight from 9:30 p.m. IST. Photo: ChessBase India live stream
Carlsen wins Armageddon against Nakamura, advances to the Grand Final
Arjun Erigaisi and R Praggnanandhaa are the only two Indians who are still there in the Airthings Masters 2023. Both of them are on their second chances. Arjun must beat Wesley So and then face Hikaru Nakamura on the very same day. If he manages to beat Nakamura also, then he will face Magnus Carlsen in the Grand Final on Friday. In Division 3, R Praggnanandhaa will face Sam Sevian in the Grand Final.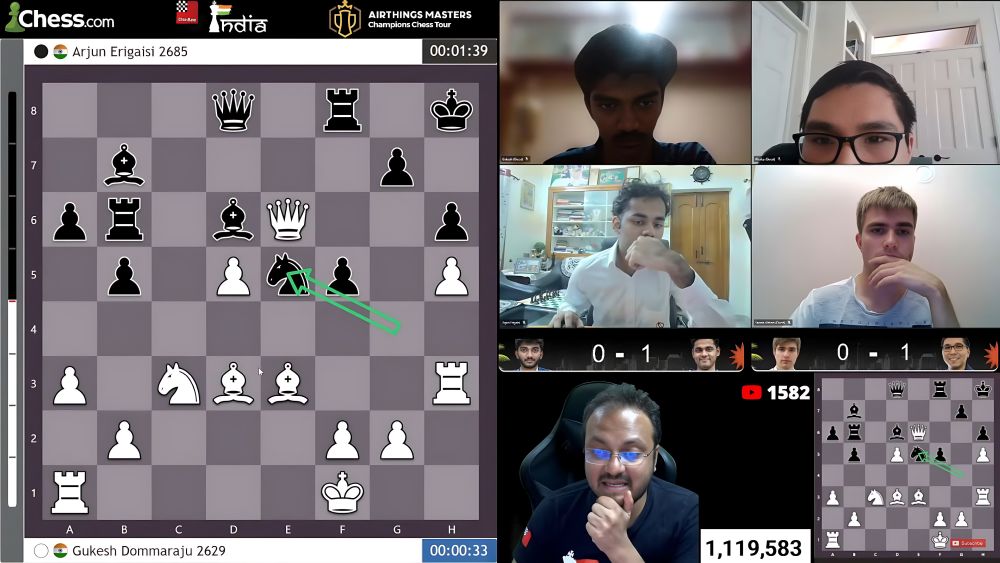 Semifinals: Carlsen - Nakamura: 2.5-2.5
Magnus Carlsen had a decisive advantage in the first game against Hikaru Nakamura.
Carlsen - Nakamura, Game 1
32.Kb5 threatening Nb6+ is one of the ways to win the above position. The game continued 32.Ne3+ Kd4 33.Nc2+ Kd5 White could have simply taken the pawn 34.Kxa4 and won the game eventually. Instead, 34.Kb5 Nc5 gave Black enough time to save the game.
In the second game, Carlsen missed a tactical shot in the middlegame.
Nakamura - Carlsen, Game 2
25.Rb1 would have been fine for White. 25.Bd7 self pinning the bishop runs into trouble Qe7 which Carlsen missed. 25...Kg7 26.a4 and the opportunity was lost.
Third and fourth game were mellow draws which means Armageddon was enforced. Check out the Armageddon bids and their reactions
Carlsen opted for the Black pieces as he won the bid by 1 second. He drew the Armageddon after missing multiple winning chances to win the Winners Final and advance to the Grand Final.
Arjun Erigaisi defeated D Gukesh 1.5-0.5 in the Losers Quarterfinal to advance to the Losers Semifinal where he will face Wesley So.
Gukesh - Arjun, Game 2
While 21...Bc5 was a simple and strong continuation for Black, 21...Ne5!? is an interesting choice. Black offers an exchange after deliberately trapping his own rook but the real reason is something else. Can you find it? Arjun was winning in the second game too. However, he missed all his chances and the game ended in a draw which was enough for him to advance to the Semifinal and setup a clash with So.
Replay the live stream
Replay Division 1 Winners Final and Losers Quarterfinal games
Replay Division 3 Winners Final and Losers QF, SF and Final games
Results of Divisions 3
All games will start from 9:30 p.m. IST between 6th and 10th February 2022.
Links
---