Airthings Masters 2023: Nakamura takes the alternate route to the Grand Final
Arjun Erigaisi missed a draw against Wesley So in the first game of the Losers Semifinal. The teenager was lost in the second game too. However, So decided to draw the game as it was enough for him to advance to the Losers Final where Hikaru Nakamura was waiting for him. The reigning World Fischer Random champion missed a win in the first game. After a quick theoretical draw in the second, the match went into Armageddon which was won by Nakamura. He will face Magnus Carlsen in the Grand Final of Airthings Masters which starts tonight from 9:30 p.m. IST. Photo: ChessBase India live stream
Sam Sevian bests Praggnanandhaa to win Division 3
R Praggnanandhaa took the alternate path to the Grand Final of Division 3 where he faced Sam Sevian in a rematch. Praggnanandhaa won the first one, lost the next in 24 moves. The third game was a draw and Sam won the fourth one to win Division 3. He won $5000 and 20 CCT points.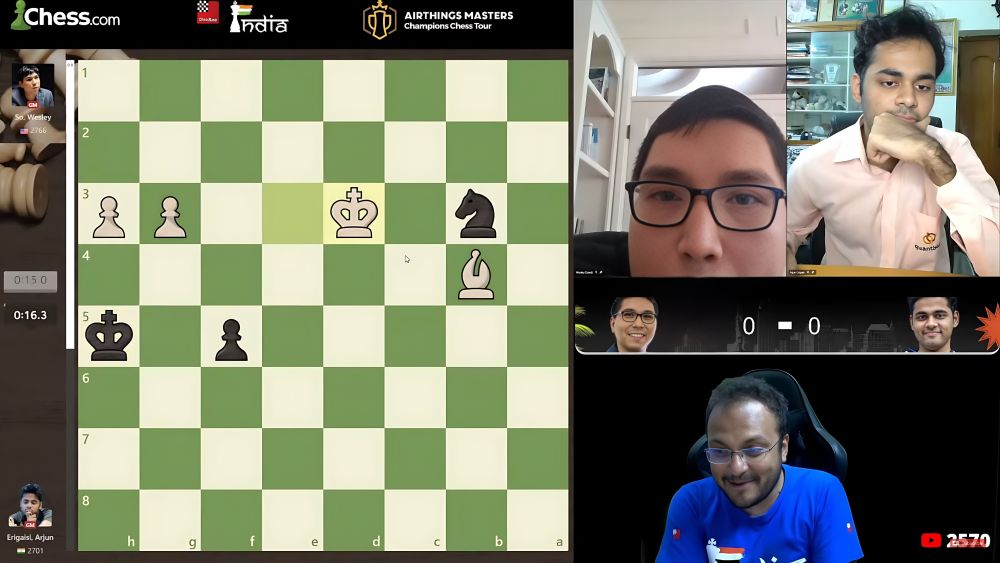 Semifinals: So - Arjun: 1.5-0.5
Arjun Erigaisi had one final chance to save the game against Wesley So, after evading disaster multiple times.
So - Arjun, Game 1
Being down to the final few seconds induced a blunder 70...Kg5 as now 71.Kc4 traps the knight. 71...Nc1 runs into 72.Bd2+ fork. 70...Nc1+ would have continued the fight for Black.
Arjun was lost in the second game too. However, So repeated moves as a draw was enough for him to advance to Losers Final and face Hikaru Nakamura.
Nakamura - So, Game 1
53.Qf3 forces queen exchange and White would have won the game. Instead, he played 53.Qe6+ Kg7 and the game ended in a draw.
The second game was a Berlin theoretical draw. Nakamura won Armageddon to set up a clash with Carlsen in the Grand Final.
Replay the live stream
GM Sam Sevian is the winner of Division 3
Replay Division 1 Losers Semifinal and Final games
Replay Division 3 Grand Final games
Results of Divisions 3
All games will start from 9:30 p.m. IST between 6th and 10th February 2022.
Links
---