Magnus Carlsen wins Airthings Masters 2023
Magnus Carlsen set the tone of the Grand Final by winning the first game. After a draw in the second game, Hikaru Nakamura got a great opportunity to deliver the equalizer in the third game. Despite having the decisive advantage for the better part of the endgame, the World Fischer Random champion could not find a way to win the game. Carlsen was winning the fourth game too but he decided to draw the game as it was enough for him to win the Grand Final and clinch the Airthings Masters 2023. For the second year in-a-row, Carlsen won this event. He earned $30000 and 150 CCT Tour points, Nakamura received $20000 and 100 Tour points. Photo: Champions Chess Tour
Carlsen beats Nakamura in the Final again
Fabiano Caruana won the Grand Final of Division 2. He won $10000, 50 CCT Tour points and a spot in the Division 1 at the next CCT event.
Carlsen - Nakamura: 2.5-1.5
Magnus Carlsen started the day with a win over Hikaru Nakamura. He made his intentions clear early in the game that he is playing for a win only.
Carlsen - Nakamura, Game 1
White got a positional advantage early in the middlegame and he had no trouble converting it into a win.
The second game ended in a draw. Nakamura was winning for the better part of endgame in the third game, yet he was unable to capitalize on his opportunity.
Carlsen - Nakamura, Game 3
Black had one of the best chances after 83...f3. However, after 84.gxf3 Black should not recapture it with the rook Rxf3. It was time to bring the king Kf4 and things would have been much easier as the white king is unable to defend. 84...Rxf3 allowed 85.Kg2 Rf2+ 86.Kg1 Rf7 87.Rb2 and Carlsen eventually made a miraculous escape with his extreme defensive skills.
Carlsen was winning the fourth game too. However, he made a draw as it was enough for him to win the Grand Final and the tournament too.
Replay the live stream
Fabiano Caruana is the winner of Division 2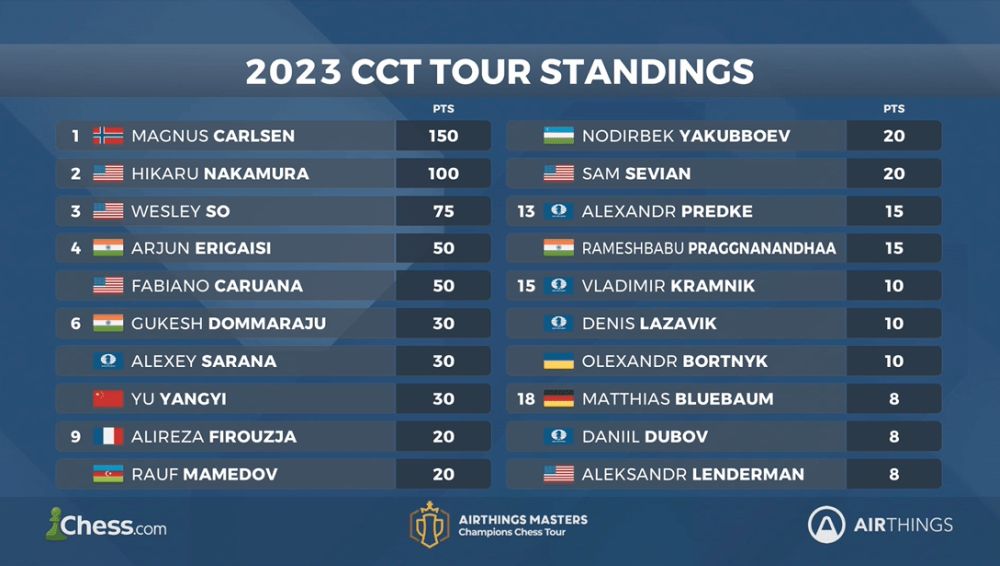 Replay Division 1 Grand Final games
All games started from 9:30 p.m. IST between 6th and 10th February 2022.
Links
---