Aleksey Goganov clinches ChessMood Open, Narayanan finishes second
Alexey Goganov (RUS) drew with Narayanan S L in the final round to win the ChessMood Open. Narayanan had to settle for second place. This is the third event of the year when Narayanan performed at over 2700. He gained 10 Elo rating points in this event which took his live rating to 2657. Goganov won 2,500,000 Armenian Drams (approx. ₹3.95 lacs), Narayanan received 1,750,000 AMD (approx. ₹2.76 lacs). Praggnanandhaa, Abhimanyu Puranik and Karthik Venkataraman scored 6.5/9 each. They were placed sixth, eighth and tenth respectively according to tie-breaks. IM Vaishali scored 6.5/9. She is the highest placed woman of the event. Photo: Rupali Mullick
Narayanan becomes India no.5
GM Narayanan S L has been consistently doing well throughout the year. For the second time in the year, he finished in second place. The previous one was at Riga Technical University Open 2021.
Narayanan - Goganov: 1-0
GM Narayanan S L tried to create chances for himself against GM Alexey Goganov. However, the Russian did not budge and Narayanan eventually had to settle for a draw and second place.
Narayanan tweeted on his fantastic performance.
Before the tournament, he visited Chess Academy Armenia.
Arjun - Hakobyan 0-1
GM Arjun Erigaisi went wrong early in the opening against GM Aram Hakobyan (ARM).
White is already behind in development and 20.Qd3 certainly does not help the case. 20.Re1 Rae8 21.Qd1 could have been a better continuation.
Abhimanyu - Danielyan: 1-0
GM Abhimanyu Puranik won a wild game against IM Vahe Danielyan (ARM).
It is not easy to make it work by going all-out against Abhimanyu as he thrives on sharp positions. Black's early attempt at an onslaught completely backfired him. The game continued 18.dxe4 dxc4 19.Qxc4 and it would not be an understatement to say, White is completely winning here.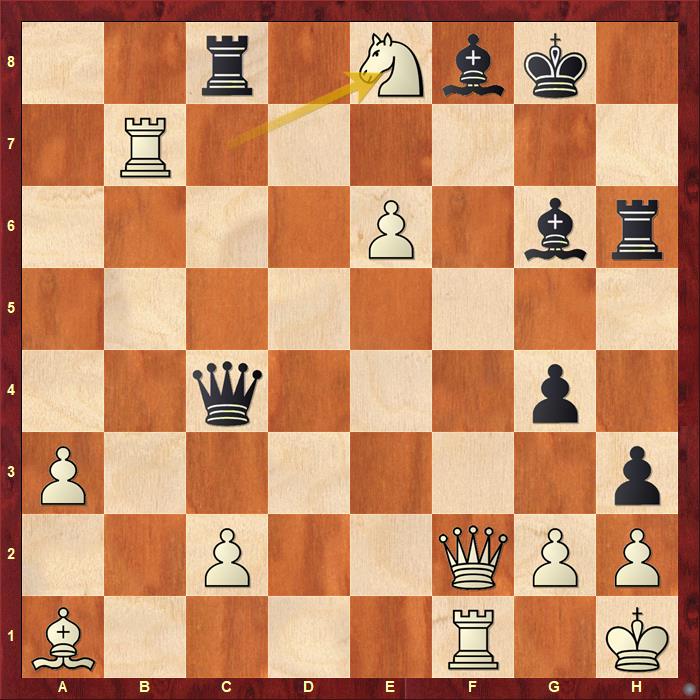 32.Ne8 is such a beautiful move which spells disaster for Black. The threat is Qxf8#. 32...Rxe8 does not save things as 33.Qxf8+ Rxf8 34.Rg7+ Kh8 35.Rxf8#. Black only delays the inevitable via 32...hxg2+ 33.Kxg2 Qe4+ 34.Kg1 and it's all over.
Vaishali - Gukesh: 0.5-0.5
IM Vaishali had a very good opportunity to create huge trouble for GM Gukesh.
20.b5 Nxe5 21.hxg5 Nxd3 22.Qxh6+ Kg8 23.Qg6+ Kh8 24.Qxd3 gives White a decent advantage. The game continued 20.exf6 Qxf6 21.hxg5 Qxg5 and Black managed to save the game.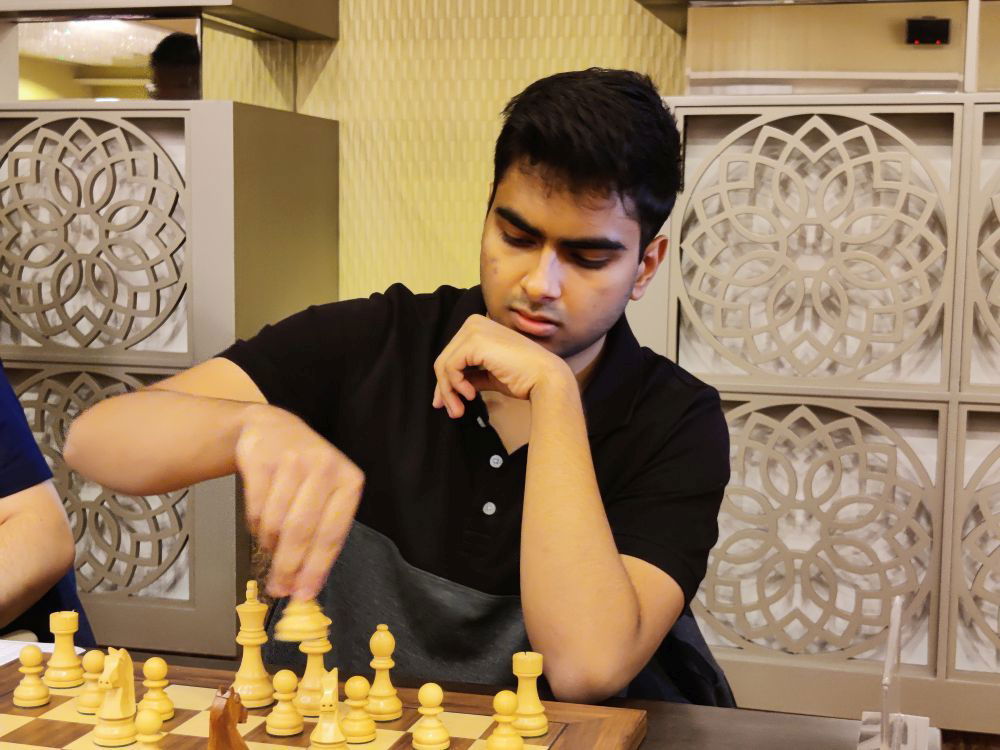 For more Round 9 photos, please click here.
Highlights
Here are a few interesting finishes of Round 9.
Replay Round 9 games
The tournament is taking place at Tsaghkadzor Marriott Hotel, Tsaghkadzor in Armenia from 4th to 12th October 2021. Time control is 90'/40 + 30' + 30" per move. Everyday game starts at 3 p.m. local time (4:30 p.m. IST), except 12th October, the final round will start at 10:30 a.m. local time (12 p.m. IST).
Round 9 results
Final standings
| | | | | | | | | | | | | | | |
| --- | --- | --- | --- | --- | --- | --- | --- | --- | --- | --- | --- | --- | --- | --- |
| Rk. | SNo | | | Name | Typ | sex | FED | Rtg | Pts. | TB1 | TB2 | TB3 | K | rtg+/- |
| 1 | 14 | | GM | Goganov Aleksey | | | RUS | 2557 | 7,5 | 47,0 | 51,0 | 4 | 10 | 25,3 |
| 2 | 1 | | GM | Narayanan.S.L | | | IND | 2647 | 7,0 | 48,5 | 52,0 | 4 | 10 | 10,0 |
| 3 | 9 | | GM | Pantsulaia Levan | | | GEO | 2570 | 7,0 | 46,5 | 51,0 | 5 | 10 | 10,7 |
| 4 | 13 | | GM | Petrosian Tigran L. | | | ARM | 2562 | 7,0 | 44,0 | 48,5 | 4 | 10 | 13,9 |
| 5 | 6 | | GM | Ter-Sahakyan Samvel | | | ARM | 2607 | 6,5 | 50,5 | 54,5 | 4 | 10 | 8,1 |
| 6 | 5 | | GM | Praggnanandhaa R | U16 | | IND | 2618 | 6,5 | 49,0 | 54,0 | 5 | 10 | 3,1 |
| 7 | 8 | | GM | Hakobyan Aram | U20 | | ARM | 2603 | 6,5 | 45,0 | 49,0 | 5 | 10 | 4,4 |
| 8 | 10 | | GM | Puranik Abhimanyu | | | IND | 2568 | 6,5 | 45,0 | 49,0 | 4 | 10 | 6,6 |
| 9 | 19 | | GM | Mosadeghpour Masoud | | | IRI | 2486 | 6,5 | 43,5 | 47,0 | 5 | 10 | 7,8 |
| 10 | 21 | | GM | Karthik Venkataraman | | | IND | 2483 | 6,5 | 43,5 | 46,5 | 5 | 10 | 9,3 |
| 11 | 72 | | FM | Dilanyan Grigor | | | ARM | 2214 | 6,0 | 45,0 | 48,5 | 4 | 20 | 87,0 |
| 12 | 27 | | IM | Shahinyan David | | | ARM | 2469 | 6,0 | 43,0 | 45,5 | 5 | 10 | 14,9 |
| 13 | 12 | | GM | Paichadze Luka | | | GEO | 2566 | 6,0 | 42,0 | 45,5 | 4 | 10 | -3,0 |
| 14 | 7 | | GM | Petrosyan Manuel | | | ARM | 2605 | 6,0 | 41,5 | 46,0 | 5 | 10 | -6,2 |
| 15 | 18 | | GM | Mikaelyan Arman | | | ARM | 2487 | 6,0 | 39,5 | 42,5 | 4 | 10 | -1,9 |
| 16 | 40 | | WGM | Vaishali R | U20 | w | IND | 2419 | 6,0 | 36,5 | 39,0 | 4 | 10 | 0,7 |
| 17 | 26 | | IM | Gharibyan Mamikon | U18 | | ARM | 2471 | 5,5 | 44,5 | 47,5 | 4 | 10 | -1,6 |
| 18 | 4 | | GM | Erigaisi Arjun | U18 | | IND | 2634 | 5,5 | 44,0 | 47,5 | 4 | 10 | -9,6 |
| 19 | 32 | | GM | Babujian Levon | | | ARM | 2447 | 5,5 | 44,0 | 46,5 | 5 | 10 | 11,4 |
| 20 | 2 | | GM | Gukesh D | U16 | | IND | 2640 | 5,5 | 43,5 | 48,0 | 4 | 10 | -14,0 |
Links
---