Narayanan S L wins 1st Grandiscacchi Cattolica International, Pragg second
GM Narayanan S L has been consistent with his performance since the beginning of Covid-19 pandemic in 2020. He had several podium finishes in both online and over-the-board events. However, on 8th March 2022, he won his first otb tournament since December 2019 triumph at 1st Elllobregat Open. Seven players scored 6.5/9 at 1st Grandiscacchi Cattolica International. Narayanan won the tournament due to better tie-breaks, Praggnanandhaa secured second position. IM Pranav Anand was the only other Indian and sole IM to finish among top ten. The total prize fund was €12600. Top three prizes were €3000, €2000 and €1500 cash respectively.
Seven players finish at 6.5/9
"Thanks. I am happy to win the event. The tournament was well organized especially the hotel was very nice and I think I played well in the beginning with wins against Jobava and Azarov. In the penultimate round, I fought till the very last against Nesterov who defended well to get a draw, especially given the fact that he was under time trouble. For me, I thought it was very important to clinch the title but as you know, in open tournament you need a lot of luck as well to win the event and I am happy to win this one." - GM Narayanan S L on winning 1st Grandiscacchi Cattolica International Open.
"My game against Jobava was the one liked. I got a good position out of the opening and then kind of won comfortably." - On his favorite game from the event.
Narayanan - Jobava, Round 4
It is clear that the opening has gone really well for White.
In an already dwindling position, 25...Nfd5 only accelerated Black's demise. Find out the winning continuation for White.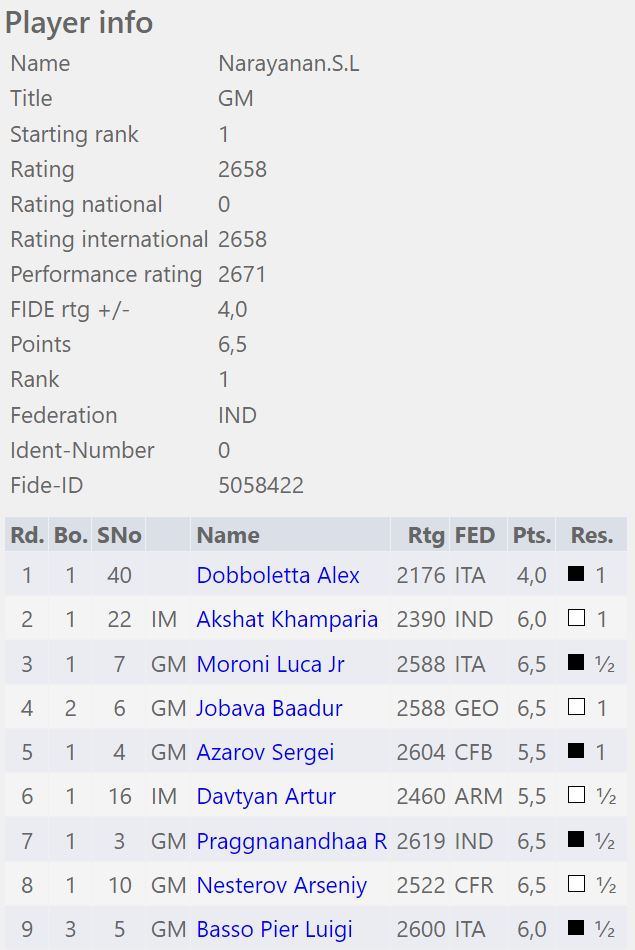 Round 4: Praggnanandhaa - Sergei Azarov: 0.5-0.5 | Photo: Renato/Grandiscacchi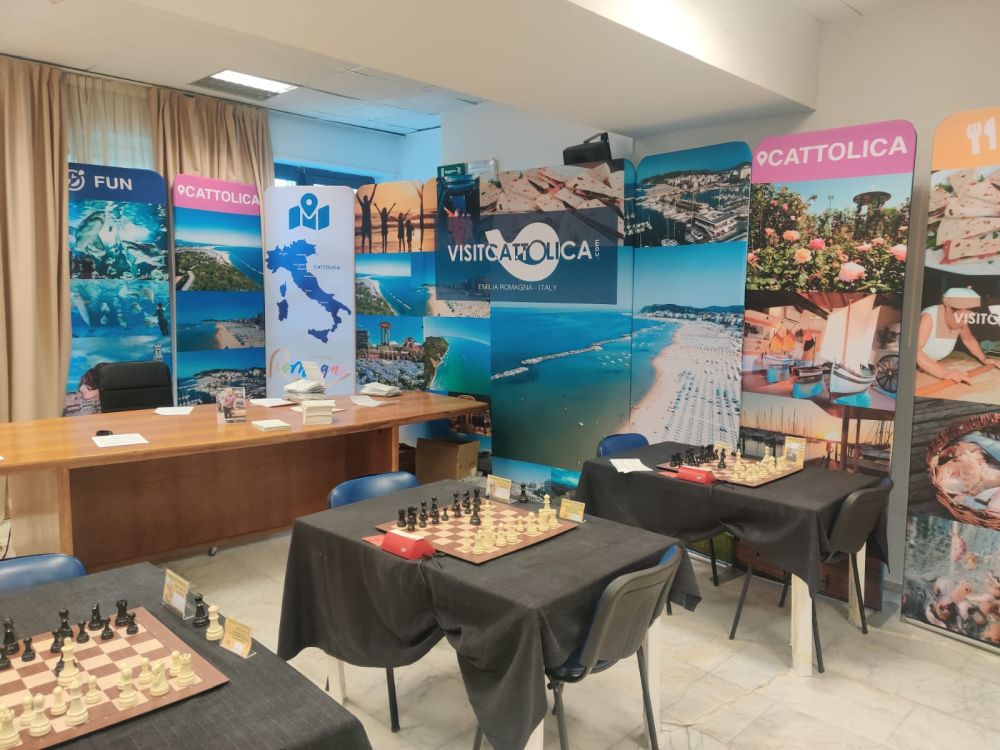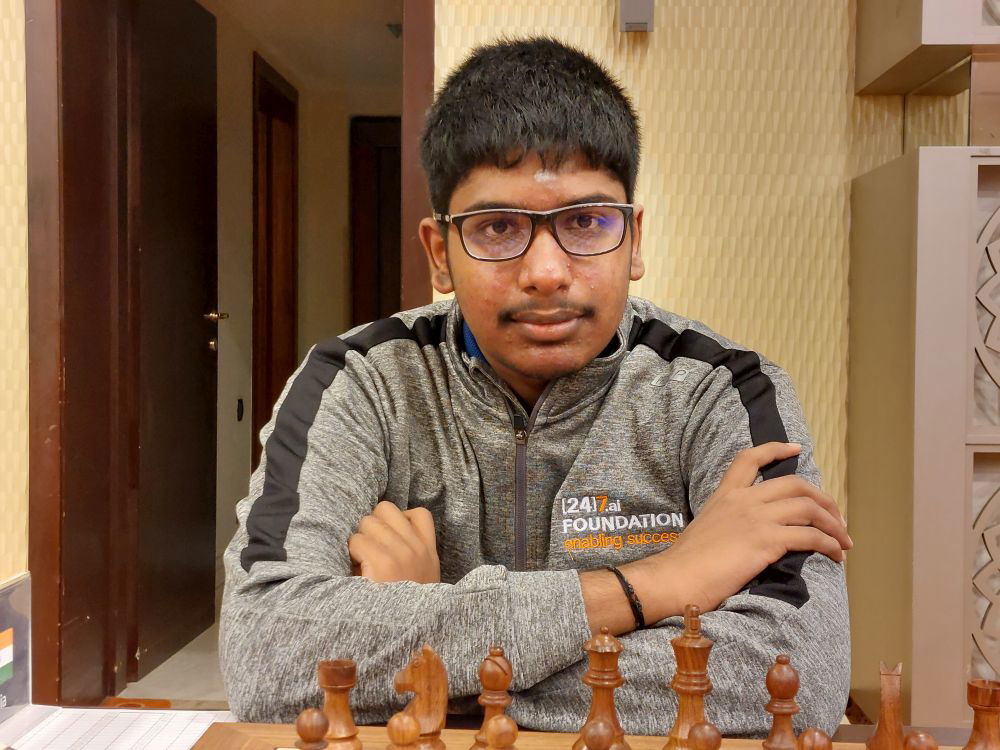 IM Pranav Anand scored 6.0/9 and missed his GM-norm by a whisker.
IM Akshat Khamparia is the only other Indian player to finish among top 20. He scored 6.0/9 to secure 11th position and gain 12.7 Elo rating points to cross 2400 once again.
The tournament was organized by Grandiscacchi. It took place at Hotel Kursaal, Cattolica in Italy from 1st to 8th March 2022. Time control of the tournament was 90 mins + 30 seconds increment.
Replay Narayanan's games
Final Standings
| | | | | | | | | | |
| --- | --- | --- | --- | --- | --- | --- | --- | --- | --- |
| Rk. | SNo | | Name | sex | FED | Rtg | Pts. | TB1 | TB2 |
| 1 | 1 | GM | Narayanan.S.L | | IND | 2658 | 6,5 | 53,0 | 2505 |
| 2 | 3 | GM | Praggnanandhaa R | | IND | 2619 | 6,5 | 52,0 | 2476 |
| 3 | 6 | GM | Jobava Baadur | | GEO | 2588 | 6,5 | 52,0 | 2464 |
| 4 | 2 | GM | Nisipeanu Liviu-Dieter | | GER | 2652 | 6,5 | 50,5 | 2423 |
| 5 | 9 | GM | Lodici Lorenzo | | ITA | 2537 | 6,5 | 48,5 | 2424 |
| 6 | 10 | GM | Nesterov Arseniy | | CFR | 2522 | 6,5 | 48,0 | 2388 |
| 7 | 7 | GM | Moroni Luca Jr | | ITA | 2588 | 6,5 | 48,0 | 2385 |
| 8 | 5 | GM | Basso Pier Luigi | | ITA | 2600 | 6,0 | 51,5 | 2445 |
| 9 | 17 | IM | Pranav Anand | | IND | 2436 | 6,0 | 51,5 | 2426 |
| 10 | 26 | WIM | Kamalidenova Meruert | w | KAZ | 2362 | 6,0 | 49,0 | 2417 |
Links
---