S L Narayanan wins Fagernes Autumn GM 2022, Abhimanyu Puranik second
GM S L Narayanan scored an unbeaten 7/9 to win Fagernes Autumn GM 2022. GM Abhimanyu Puranik and GM Anton Demchenko also scored the same. However, they were placed second and third according to tie-breaks. Top three prizes were €2400, €1600 and €800 each respectively. GM Sethuraman S P scored sole 6.5/9 to finish fourth. GM Praggnanandhaa and GM Sasikiran scored 6/9 each. They secured sixth and seventh place. IM Vaishali R and IM Padmini Rout scored 5/9 each. They shared the Best Woman prize. Padmini also secured second place in the Fagernes Slow Blitz II by scoring 5/7, despite starting the event with a loss. Photo: Tom Eriksen
Padmini second in Fagernes Slow Blitz II
GM S L Narayanan is having a great year. This was his third tournament triumph after winning the 1st Grandiscacchi Cattolica International in March and 23rd Sants Open Barcelona in August this year. He will carry important momentum heading into the Asian Continental, starting next week.
Round 6: Narayanan - Sasikiran: 1-0
GM S L Narayanan (2663) simply outplayed the defending champion GM K Sasikiran (2636) positionally.
18...Ne5 allowed White to gain full control of the d-file 19.Rd1 Ng6. Now White started slowly improving his position 20.Be3 Qb5 21.Qc2 Rae8 22.b3 Nc8 23.a4 Qa5 24.f3 Black is now lacking enough space for his pieces to move around freely.
Round 8: S L Narayanan - Andersen: 1-0
GM S L Narayanan (2663) scored an important victory against GM Mads Andersen (DEN, 2604) in the penultimate round to gain sole lead, heading into the final game.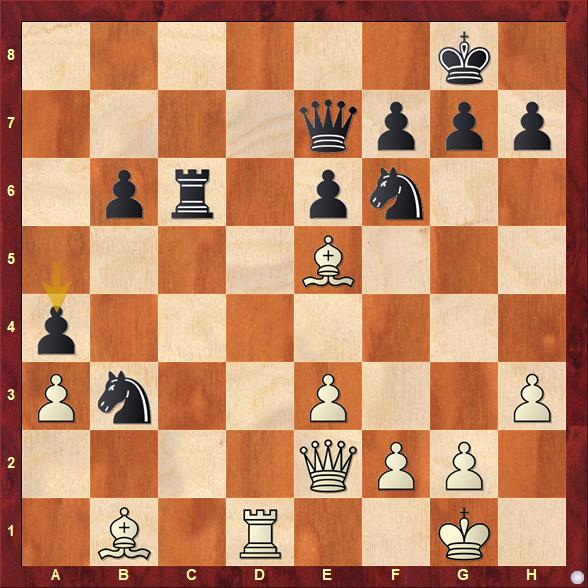 28...Nc5 29.Qb5 Qe8 would have kept things in balance. 28...a4 started to disintegrate Black's position in a hurry 29.Qa6 Qe8 30.Bxf6 Nc5 31.Qc4 gxf6 32.Qh4 Nd7 33.Bxh7+ and White won the game in ten more moves.
Praggnanandhaa - Sethuraman: 0-1
GM Sethuraman S P (2645) could have finished the game much earlier against GM Praggnanandhaa (2687) when the latter misplaced his knight at c6.
The first thing to spring in anyone's mind after seeing 43.Rc6 would be Rc8. 44.d5 Nd4 45.Rxd4 Re8 and White is not getting away. Sethuraman decided against it and played 43...Rd7. Soon the position arrived at a crossroads where White had to decide which endgame is safer for him.
Which endgame should White opt for here - rook or major piece endgame? If your answer is latter, you have matched Praggnanandhaa's move. However, it is not the correct way to proceed. 45.Qxd5 Rxd5 46.Nxd4 Rxd4 47.Re7+ Kg6 48.Rxa7 Rd2+ 49.Kg1 Rxb2 50.a4 and White should not have any trouble to get a half point. Instead, White opted 46.Nxd4 Qxd4 and the game liquidated into a lost queen endgame for White.
A total of 60 players including 11 GMs, 11 IMs and 3 WGMs took part from 14 countries across the world in the GM section. The tournament was organized by IO IA Hans Olav Lahlum in cooperation with Sotra Sjakklubb and Innlandet Sjakkrets from 9th to 16th October 2022 at Scandic Valdres hotel in Fagernes, Norway. The nine-round Swiss league tournament had a time control of 100 minutes/40 moves + 40 minutes/rest with 30 seconds increment from move no. 1.
Replay Round 6-9 games
Round 9 results
Final standings
Final standings in Slow Blitz II
Links
---