Fagernes Autumn GM 2022 R1-5: Vaishali's immortal game against Sethuraman
IM Vaishali perhaps scored her immortal win over GM Sethuraman in the fifth round of Fagernes Autumn GM 2022. Vaishali put both of her knights under attack in a rare self-fork against the former Asian Continental champion. The attack certainly rattled her opponent which induced some decisive mistakes. She is now joined by eight more players in the lead 4/5. GM Abhimanyu Puranik, GM S L Narayanan, Fagernes Open 2022 champion - GM K Sasikiran and GM Praggnanandhaa are the remaining four Indians who are at the pole position, fighting for the top prize. Round 6 starts today at 2 p.m. local time, 5:30 p.m. IST. Photo: Amruta Mokal
Vaishali in an eight-way lead
Four Indians claimed the top ten places in the earlier edition of Fagernes Open 2022. This time five are in the lead out of eight players at a little over the halfway mark of the tournament. Sasikiran is in pursuit to defend his crown within six months after winning the previous edition in April. Who will win the first prize of €2400?
Round 1: Sasikiran - Matan: 1-0
The defending champion, GM Krishnan Sasikiran (2636) started off the tournament with a 16-move miniature against Matan Prilleltensky (USA, 1987).
Round 3: Vaishali - S L Narayanan: 0-1
IM Vaishali R (2451) had a relatively balanced queen and rook endgame against GM S L Narayanan (2663).
White needed to get rid of the c6-pawn as quickly as possible to make sure things do not go out of hand. 36.Rf6 c5 37.Kh2 Qxc3 38.Rc6 was the correct way to proceed. Instead, 36.Qd6 was played which freed up Black's rook Re8 37.Kh2 Qe6 38.Qxe6 Rxe6. The resultant rook endgame would have been a draw if there were no c-pawns. However, the presence of them became a liability for White which eventually cost her the game.
Round 4: Tor Fredrik - Praggnanandhaa: 0-1
IM Tor Fredrik Kaasen (NOR, 2445) misjudged the propensity of his opponent GM Praggnanandhaa's (2687) chances on the kingside.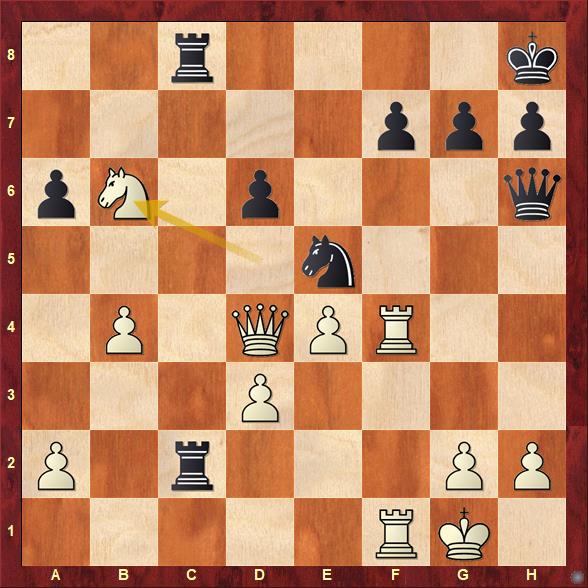 30.Nb6 puts the knight away from action and on the wrong part of the board. Black immediately launched a devastating attack which he was already preparing for. 30...Qg5 31.g3 Qh5 32.h4 Qe2 33.R1f2 Qe1+ 34.Kg2 Rc1 35.Kh3 R8c2 36.Rxf7 Qh1+ and checkmate in the next move.
Round 5: Vaishali - Sethuraman: 1-0
Self-pin is quite a common occurrence in chess but how many times have you seen self-fork in chess? It is a rare instance. IM Vaishali R (2445) played fantastic chess to win against GM Sethuraman S P (2645) who was rated exactly 200 Elo rating points higher.
If 23.Nbd4 did not impress you, 24.Nf4 certainly will. It would take a computer-like accuracy for Black to get out of this precarious position. Only a computer can tell you that Black is not in any danger. However, the games were played between mortals. Thus, it is excruciatingly difficult for Black to get out of this. 24...Qxe4 25.Nc6+ Ke8 26.Bxf6 Rxc6 Black should have done that on the previous move. 27.Nd5 Rxc2 28.Rxf8+ and Black resigned. What a fantastic play by Vaishali.
A total of 60 players including 11 GMs, 11 IMs and 3 WGMs are taking part from 14 countries across the world in the GM section. The tournament is organized by IO IA Hans Olav Lahlum in cooperation with Sotra Sjakklubb and Innlandet Sjakkrets from 9th to 16th October 2022 at Scandic Valdres hotel in Fagernes, Norway. The nine-round Swiss league tournament had a time control of 100 minutes/40 moves + 40 minutes/rest with 30 seconds increment from move no. 1.
Replay Round 1-5 games
Round 5 results
Round 6 pairings
Links
---