S L Narayanan wins 23rd Sants Open Barcelona 2022, Vaibhav Suri second
Top seed of the tournament GM S L Narayanan, GM Vaibhav Suri and GM Bobby Cheng (AUS) scored 8/10 each. Narayanan won the Playoffs to win 23rd Sants International Open Barcelona 2022. Vaibhav and Bobby were placed second and third. Ten players finished at 7.5/10. Out of them IM Aronyak Ghosh, GM Lalit Rohit and IM C R G Krishna were placed fourth, sixth and eighth according to the Playoffs. The Playoff results remained the same as their initial tie-breaks for the top eight finishers. Sadhana app sponsored, Aronyak earned his maiden GM-norm. Vedant Pimpalkhare and Rutuja Bakshi also scored their first IM and final WIM-norms respectively. Photo: Official site
Aronyak, Vedant and Rutuja score GM, IM and WIM-norms
GM S L Narayanan won the first tournament he played after 44th Chess Olympiad. This is also his second tournament triumph of the year after he won 1st Grandiscacchi Open in March this year. Five out of top ten places and top two out of the podium were claimed by Indian players. The total prize of the tournament was €20020. Top three prizes were €5000, €3000 and €1800 along with a trophy each.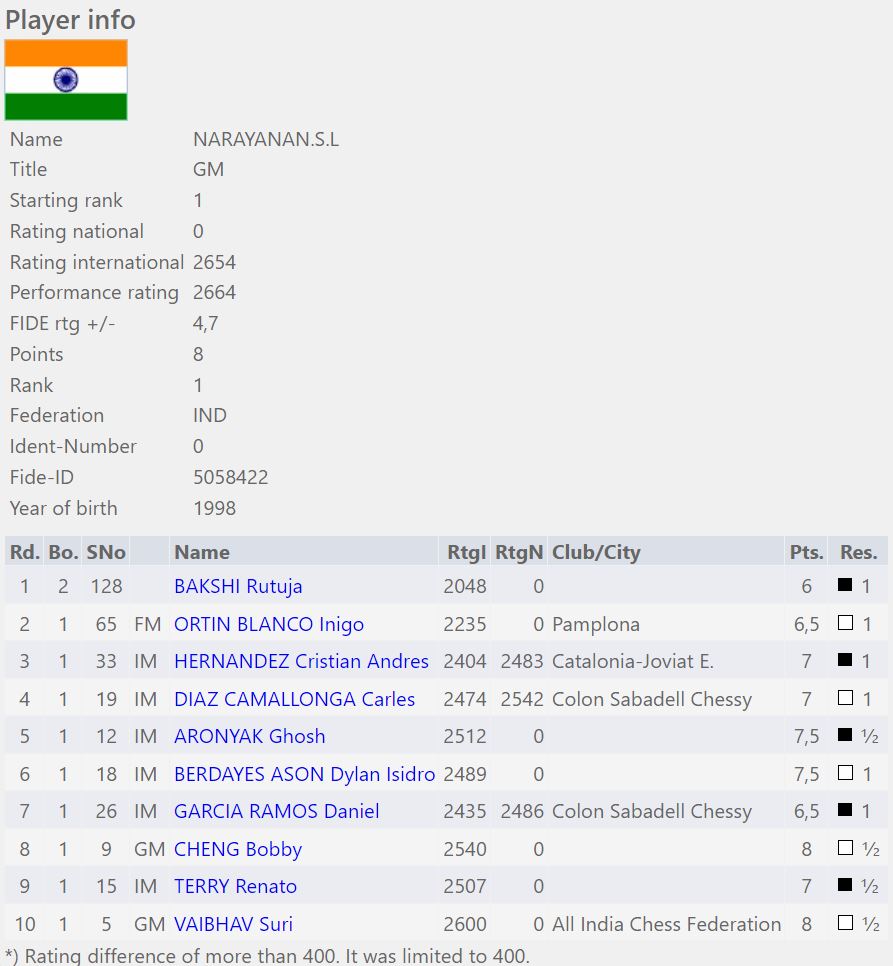 Daniel - Narayanan, Round 7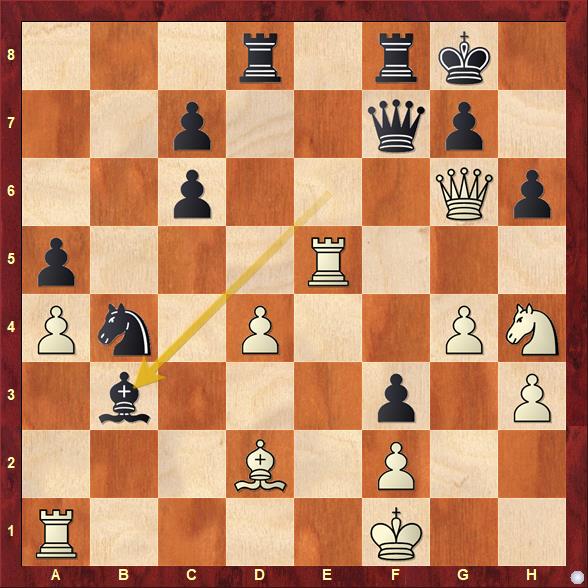 The toughest victory for GM S L Narayanan (2654) was certainly against IM Daniel Garcia Ramos (2435). Although the above position looks relatively easier to play as Black than White, Daniel provided some stiff resistance until he dropped another pawn in the rook and opposite color bishop endgame.
GM S L Narayanan tweeted on his triumph
Aronyak - Harikrishnan, Round 9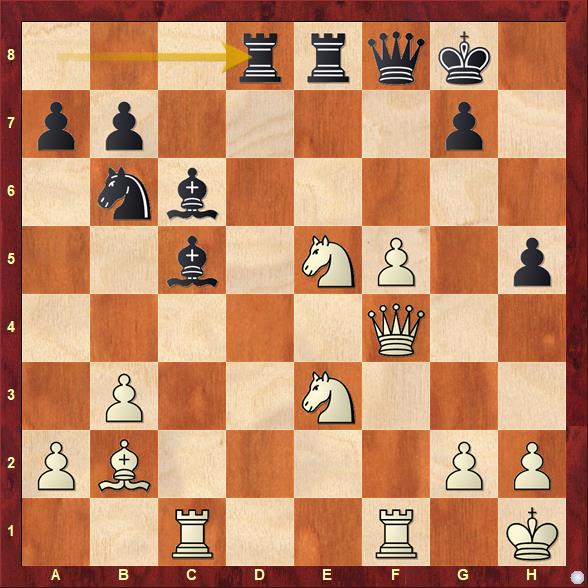 White is winning positionally in the above position. Find out the winning continuation for White which Aronyak executed in the game. This win helped him earn his maiden GM-norm.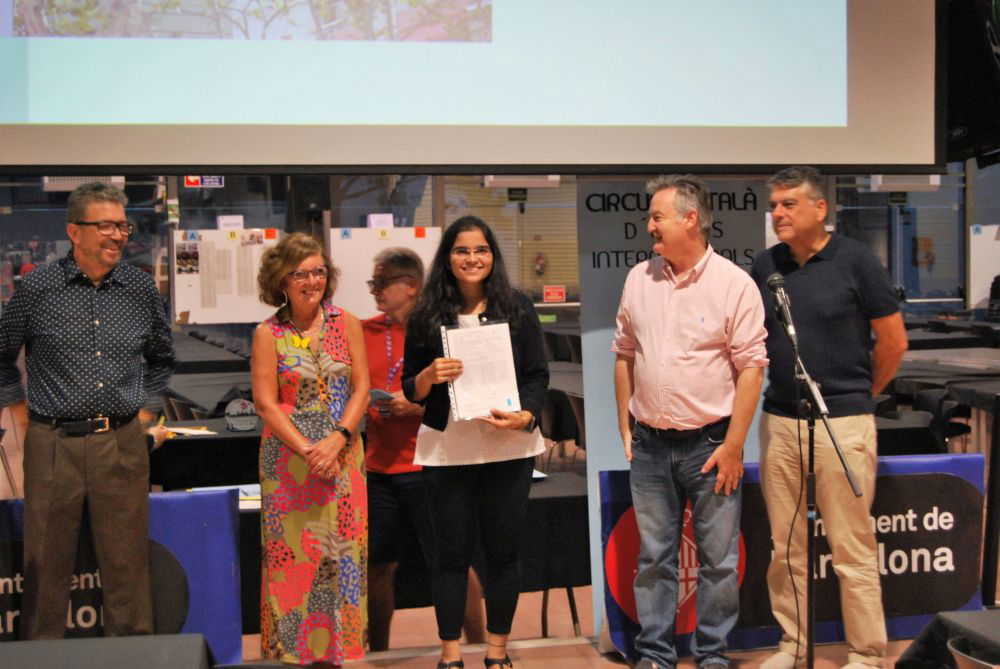 For more photos, please click here.
A total of 253 players including 13 GMs, 31 IMs and 3 WIMs took part from 31 countries in the Group A (Open) section. The tournaments were organized by Catalan Chess Federation and Secretariat of Entities of Saints in three different rating categories from 19th to 28th August 2022 at Cotxeres de Sants in Barcelona, Spain. The time control was 90 minutes/40 moves + 30 minutes + 30 seconds increment per move.
Final standings in Group A
| | | | | | | | | | | | | | | |
| --- | --- | --- | --- | --- | --- | --- | --- | --- | --- | --- | --- | --- | --- | --- |
| Rk. | SNo | | | Name | Typ | Gr | FED | RtgI | RtgN | Club/City | Pts. | TB1 | TB2 | TB3 |
| 1 | 1 | | GM | NARAYANAN.S.L | | | IND | 2654 | 0 | | 8 | 1 | 57 | 71 |
| 2 | 5 | | GM | VAIBHAV Suri | | | IND | 2600 | 0 | All India Chess Federation | 8 | 2 | 52 | 65,5 |
| 3 | 9 | | GM | CHENG Bobby | | | AUS | 2540 | 0 | | 8 | 3 | 51 | 63,5 |
| 4 | 12 | | IM | ARONYAK Ghosh | | | IND | 2512 | 0 | | 7,5 | 4 | 56 | 68,5 |
| 5 | 38 | | IM | FERNANDEZ GUILLEN Ernesto J. | A | | CUB | 2390 | 2411 | Tres Peons C.E. | 7,5 | 5 | 54,5 | 67,5 |
| 6 | 8 | | GM | LALITH Babu M R | | | IND | 2549 | 0 | All India Chess Federation | 7,5 | 6 | 55,5 | 68,5 |
| 7 | 18 | | IM | BERDAYES ASON Dylan Isidro | | | CUB | 2489 | 0 | | 7,5 | 7 | 50,5 | 63 |
| 8 | 25 | | IM | KRISHNA C R G | | | IND | 2436 | 0 | Indian Railways | 7,5 | 8 | 51,5 | 64 |
| 9 | 3 | | GM | MOTYLEV Alexander | | | FID | 2636 | 0 | | 7,5 | 0 | 50,5 | 62,5 |
| 10 | 11 | | GM | ALSINA LEAL Daniel | | 2498 | CAT | 2521 | 2542 | Barbera C.E. | 7,5 | 0 | 49 | 61 |
| 11 | 10 | | GM | CORDOVA Emilio | | | PER | 2533 | 0 | | 7,5 | 0 | 48,5 | 60,5 |
| 12 | 31 | | IM | MUTHAIAH Al | | | IND | 2414 | 0 | Chenai | 7,5 | 0 | 47,5 | 58,5 |
| 13 | 14 | | GM | CUARTAS Jaime Alexander | | 2510 | COL | 2510 | 2563 | Barbera C.E. | 7,5 | 0 | 47 | 59 |
| 14 | 36 | | IM | HARIKRISHNAN.A.RA | A | | IND | 2395 | 0 | | 7 | 0 | 53 | 65 |
| 15 | 15 | | IM | TERRY Renato | | | PER | 2507 | 0 | | 7 | 0 | 53 | 64,5 |
| 16 | 2 | | GM | PICHOT Alan | | 2575 | ARG | 2641 | 2587 | Valls C.E. | 7 | 0 | 50 | 62,5 |
| 17 | 28 | | IM | AYATS LLOBERA Gerard | | 2435 | CAT | 2430 | 2501 | Barcelona, Club Escacs | 7 | 0 | 48,5 | 60,5 |
| 18 | 33 | | IM | HERNANDEZ Cristian Andres | | 2406 | COL | 2404 | 2483 | Catalonia-Joviat E. | 7 | 0 | 48 | 60,5 |
| 19 | 19 | | IM | DIAZ CAMALLONGA Carles | | 2473 | CAT | 2474 | 2542 | Colon Sabadell Chessy | 7 | 0 | 47 | 59,5 |
| 20 | 29 | | IM | SANCHEZ Sebastian Felipe | | | COL | 2430 | 0 | Bolivar | 7 | 0 | 46 | 58,5 |
Links
---