Aravindh Chithambaram wins 41st Villa de Benasque Open 2022, Raunak Sadhwani third
Ten players including GM Aravindh Chithambaram and GM Raunak Sadhwani scored 8/10 each. Aravindh, GM Robert Hovhannisyan (ARM) and Raunak were placed first, second and third according to tie-breaks at 41st Benasque International Open 2022. Aravindh made a good recovery after a seventh round loss against GM Vojtech Plat (CZE). He won the last two crucial games to finish first. The final round win featuring a queen sacrifice is truly a fantastic one. The solid unbeaten performance for Raunak just days before 44th Chess Olympiad is surely going to give him the much-needed momentum for the biggest stage. Photo: WIM FT Raluca Sgircea/Benasque Open
Aravindh's fourth triumph of the year
This is GM Aravindh Chithambaram's fourth tournament victory of 2022. Earlier he successfully defended both his National Rapid and Blitz title and won 1st Rejoice CTF Rapid Rating Open. Top three prizes at 41st Benasque International Open were €4000, €3000 and €2000 along with a trophy each.
Karen Movsziszian - Aravindh, Round 10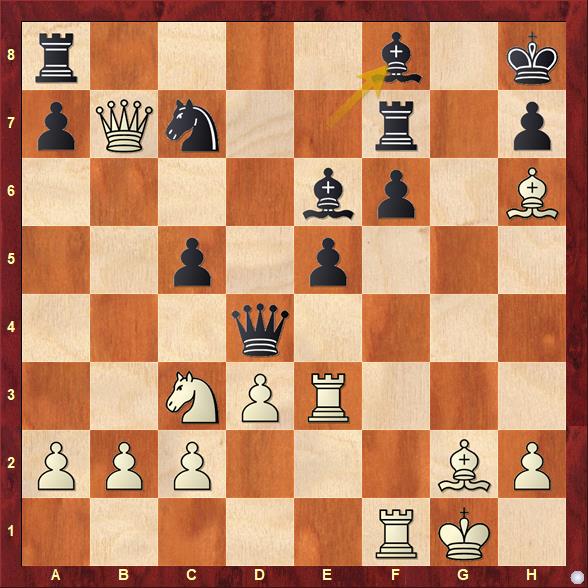 The veteran GM Karen Movsziszian (ARM) was playing the last round with only one result in mind, win. He knew a draw would not be enough, so he went for an all out attack. It did not work out the way he wanted. 19.Rf1 Qd4 20.Qxb7 Bf8! What an amazing backward move, something which most of the time gets overlooked by the human eye. 21.Ne2 and now comes a fantastic move 21...Bxh6!! yes it is the final round, Aravindh also wanted to win the game and if it meant he needed to sacrifice his queen, so be it. 22.Nxd4 Bxe3+ 23.Kh1 cxd4 and White resigned as there is not much to go on for White.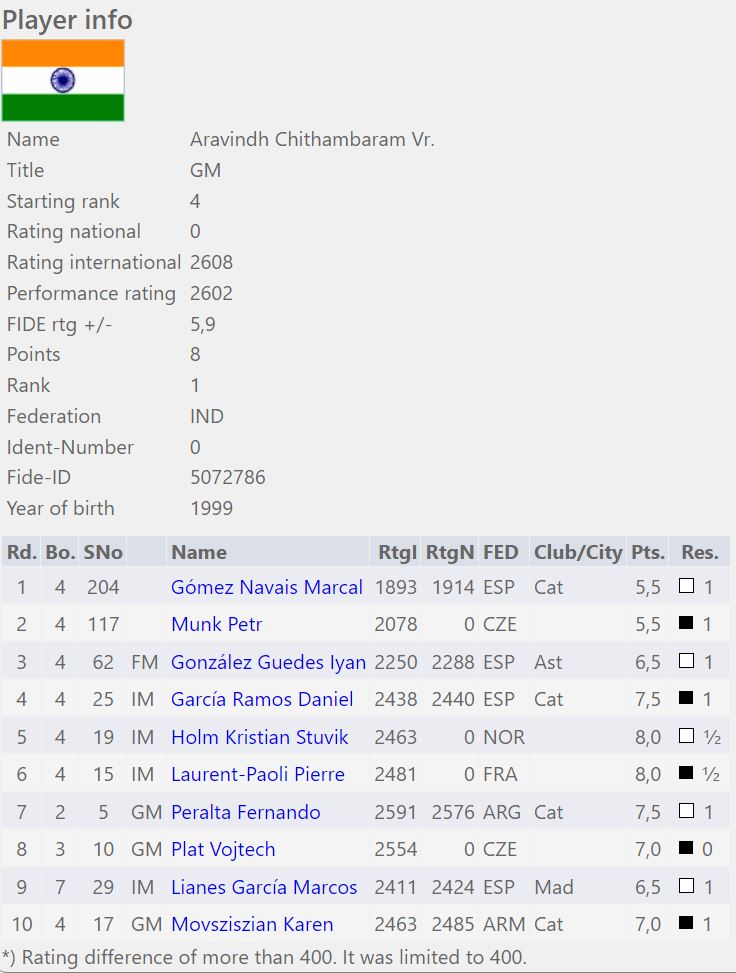 Sosa - Martinez, Round 1
23-year-old IM Tomas Sosa (ARG, 2520) quite possibly played one of the best games of his career. It is undoubtedly one of the best games of the year so far and it will certainly make it to various chess books in the future. Yes, that much instructive the game is. His play would have certainly made Mikhail Tal proud. There are multiple brilliancies throughout the game and lots of moments which can be turned into a diagram to solve. However, the final position is certainly a pleasant one. The game is like J R R Tolkien's Lord of the Rings movies, first 20 moves might seem like just another game, it starts to get interesting soon after.
A total of 375 players including 19 GMs, 18 IMs, 2 WGMs and 6 WIMs took part from 23 countries across the world in this ten-day ten rounds Swiss League rating tournament. The tournament was organized by Ayuntamiento de Benasque (Municipality of Benasque) at Benasque Sport Pavillion, Benasque, Huesca in Spain from 6th to 15th July 2022. The time control of the tournament was 90 minutes + 30 seconds increment.
Replay all games
Final standings
| | | | | | | | | | | | | | | | |
| --- | --- | --- | --- | --- | --- | --- | --- | --- | --- | --- | --- | --- | --- | --- | --- |
| Rk. | SNo | | | Name | Typ | sex | Gr | FED | RtgI | RtgN | Club/City | Pts. | TB1 | TB2 | TB3 |
| 1 | 4 | | GM | Aravindh Chithambaram Vr. | | | | IND | 2608 | 0 | | 8,0 | 54,25 | 2414 | 2362 |
| 2 | 6 | | GM | Hovhannisyan Robert | | | | ARM | 2591 | 0 | | 8,0 | 50,50 | 2394 | 2344 |
| 3 | 3 | | GM | Sadhwani Raunak | U18 | | | IND | 2611 | 0 | | 8,0 | 49,50 | 2449 | 2393 |
| 4 | 7 | | GM | Forcen Esteban Daniel | | | | ESP | 2568 | 2574 | Ara | 8,0 | 49,50 | 2432 | 2377 |
| 5 | 8 | | GM | Quesada Pérez Yasser | | | | CUB | 2568 | 0 | | 8,0 | 49,00 | 2364 | 2316 |
| 6 | 13 | | IM | Sosa Tomas | | | | ARG | 2520 | 2513 | Val | 8,0 | 48,50 | 2374 | 2325 |
| 7 | 15 | | IM | Laurent-Paoli Pierre | | | | FRA | 2481 | 0 | | 8,0 | 48,25 | 2416 | 2375 |
| 8 | 19 | | IM | Holm Kristian Stuvik | | | | NOR | 2463 | 0 | | 8,0 | 47,50 | 2374 | 2323 |
| 9 | 11 | | GM | Quesada Pérez Luis Ernesto | | | | CUB | 2549 | 0 | | 8,0 | 46,50 | 2361 | 2327 |
| 10 | 9 | | GM | Albornoz Cabrera Carlos Daniel | | | | CUB | 2566 | 2570 | Cat | 8,0 | 45,75 | 2401 | 2364 |
| 11 | 14 | | IM | Garriga Cazorla Pere | | | | ESP | 2505 | 2501 | Cat | 7,5 | 47,50 | 2355 | 2307 |
| 12 | 2 | | GM | Grigoryan Karen H. | | | | ARM | 2643 | 2640 | Gal | 7,5 | 47,25 | 2436 | 2382 |
| 13 | 5 | | GM | Peralta Fernando | | | | ARG | 2591 | 2576 | Cat | 7,5 | 47,00 | 2425 | 2372 |
| 14 | 18 | | IM | Costachi Mihnea | | | | ROU | 2463 | 0 | | 7,5 | 45,00 | 2249 | 2211 |
| 15 | 23 | | GM | Stella Andrea | | | | ITA | 2443 | 2448 | And | 7,5 | 41,00 | 2316 | 2264 |
| 16 | 25 | | IM | García Ramos Daniel | | | | ESP | 2438 | 2440 | Cat | 7,5 | 40,75 | 2224 | 2186 |
| 17 | 22 | | IM | Plazuelo Pascual Juan | | | | ESP | 2448 | 2447 | Mad | 7,5 | 40,00 | 2273 | 2246 |
| 18 | 1 | | GM | Pichot Alan | | | | ARG | 2647 | 2573 | Cat | 7,0 | 47,00 | 2432 | 2379 |
| 19 | 17 | | GM | Movsziszian Karen | | | | ARM | 2463 | 2485 | Cat | 7,0 | 45,50 | 2400 | 2347 |
| 20 | 24 | | GM | Álvárez Pedraza Aramis | | | | CUB | 2440 | 2486 | Cat | 7,0 | 44,00 | 2339 | 2290 |
Links
---