Pablo Glavina is the winner of IX Open Ciudad de Alfaro
Top seed of the tournament IM Pablo Glavina scored an unbeaten 6.0/7 to win the tournament for the first time since 2016. Untitled Andres Malon Insausti also scored 6.0/7, he was placed second according to the tie-break score. IM Rufino Camarena of Valencia, scored 5.5/7 to claim the third position. The champion's trophy is designed in the form of 'Stork' which is the main symbol of the city Alfaro in Spain. Total 115 players from 40 different clubs and fifteen regions of Spain, including four different countries Colombia, Germany, Guatemala and Spain participated in this tournament. Photo: Miguel Angel Felipo / Club Ajedrez Alfaro
Top seed Pablo Glavina reigns supreme
Spanish-Argentinian IM Pablo Glavina scored an unbeaten 6.0/7 to win the tournament and won €600 cash prize. Last time Alfaro had won this tournament was in 2016. Untitled Navarrese player Andres Malon Insausti also finished with the same score, he finished at second position according to tie-breaks and received €300 as a prize. IM Rufino Camarena of Valencia, scored 5.5/7 to secure the third position and got €250 for his efforts. All three podium finishers received a trophy each.
Storks are the main symbol of the city of Alfaro. More than one hundred an twenty nests and five hundred storks live on the roofs of La Colegiata de San Miguel Arcangel, the greatest church in the region of La Rioja, Spain. Between all these storks there is one with a very special value for chess players. It's the silver stork.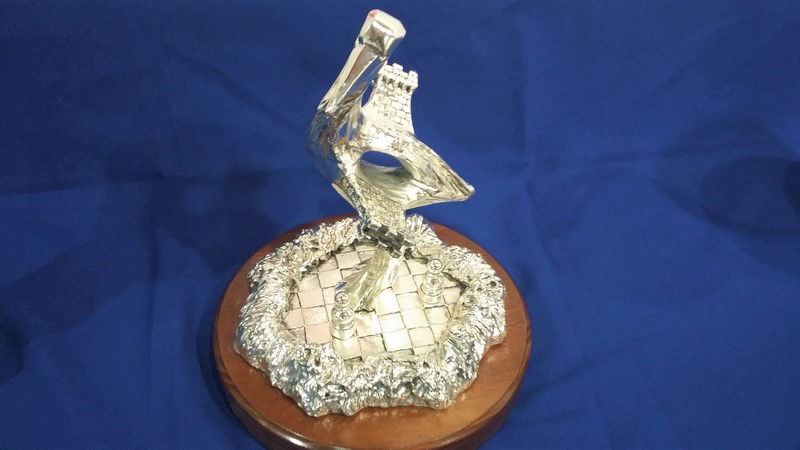 The prize for the best team went to Club Oberena, from Pamplona.
Activities for the mates and companions were organised. They visited the Bodegas Burgo Viejo cellar, in which forty participants could taste and appreciate its wines. There was also a guided tour to the Colegiata de San Miguel.
The organizers presented a book, a splendid novel written by a local player Candido Arechavaleta Garcia, based on a high level school for chess super talents. The title 'Fundación Pioneros La primavera de los genios'.
The tournament witnessed a total participation of 115 players from more than 40 clubs, fifteen Spanish regions and four different countries Colombia, Germany, Guatemala and Spain. Local authorities attended the closing ceremony.
Final Standings
| | | | | | | | | | | | | | |
| --- | --- | --- | --- | --- | --- | --- | --- | --- | --- | --- | --- | --- | --- |
| Rk. | SNo | | Name | FED | RtgI | RtgN | Club/City | Pts. | TB1 | TB2 | TB3 | K | rtg+/- |
| 1 | 1 | IM | Glavina Pablo | ESP | 2404 | 2406 | CA ALFARO | 6,0 | 28,0 | 1974 | 2404 | 10 | 1,7 |
| 2 | 10 | | Malon Insausti Andres | ESP | 2045 | 2053 | CA ANSOAIN-PAMPLONA | 6,0 | 28,0 | 1806 | 2645 | 40 | 65,2 |
| 3 | 2 | IM | Camarena Jimenez Rufino | ESP | 2321 | 2306 | CLUB AJEDREZ XERACO-VALENCIA | 5,5 | 29,5 | 1871 | 2233 | 10 | -3,5 |
| 4 | 3 | FM | Bayo Milagro Alvaro | ESP | 2274 | 2292 | CA ALFARO | 5,5 | 27,0 | 1832 | 2192 | 20 | -5,8 |
| 5 | 11 | | Habans Aguerrea Javier | ESP | 2041 | 2106 | CA OBERENA-PAMPLONA | 5,5 | 26,5 | 1739 | 2172 | 40 | 25,6 |
| 6 | 6 | | Labiano Hernandez Juan | ESP | 2073 | 2044 | CA OBERENA-PAMPLONA | 5,5 | 26,0 | 1631 | 2124 | 40 | 8,0 |
| 7 | 14 | | Atipov Hadzhiev Cristian | ESP | 1983 | 1985 | CA OBERENA-PAMPLONA | 5,0 | 28,5 | 1841 | 2033 | 40 | 26,0 |
| 8 | 7 | | Ruiz Gonzalez Jorge | ESP | 2066 | 2072 | CA ALFARO | 5,0 | 27,5 | 1793 | 1984 | 40 | -18,4 |
| 9 | 21 | | Ruiz Buendia Miguel | ESP | 1875 | 1933 | CA BARGAS F. SOLISS-TOLEDO | 5,0 | 27,5 | 1645 | 1829 | 40 | -6,0 |
| 10 | 5 | | Toledo Sanz Imanol | ESP | 2179 | 2187 | LEIOA ALTZAGA XAKE-VIZCAYA | 5,0 | 27,0 | 1837 | 2114 | 40 | -6,4 |
| 11 | 18 | | Juarros Ruiz Victor | ESP | 1912 | 1911 | CA ENROK2-BURGOS | 5,0 | 26,5 | 1788 | 1962 | 40 | 23,2 |
| 12 | 9 | | Esteban Romo Francisco J | ESP | 2051 | 2059 | CA CRM-BURGOS | 5,0 | 24,0 | 1671 | 1868 | 20 | -22,4 |
| 13 | 37 | | Tabuenca Mendataurigoitia Dani | ESP | 1698 | 1815 | CA TORRESBLANCAS-CANTABRIA | 5,0 | 24,0 | 1664 | 1863 | 40 | 63,6 |
| 14 | 29 | | Gonzalez Manrique Mario | ESP | 1775 | 1779 | BURGOS | 5,0 | 24,0 | 1616 | 1856 | 40 | 33,6 |
| 15 | 45 | | Zubizarreta Landera Amets | ESP | 1635 | 1625 | SANTURZI XAKE TALDEA-VIZCAYA | 4,5 | 28,5 | 1867 | 1973 | 40 | 110,8 |
| 16 | 31 | | Mugica Arratibel Daniel | ESP | 1747 | 1755 | CA OBERENA-PAMPLONA | 4,5 | 28,0 | 1775 | 1888 | 40 | 53,6 |
| 17 | 15 | WCM | Abrisqueta Zudaire Leyre | ESP | 1958 | 1963 | CA OBERENA-PAMPLONA | 4,5 | 27,5 | 1734 | 1877 | 40 | -17,2 |
| 18 | 20 | | Cardena Contreras Javier | ESP | 1882 | 1931 | CLUB AJEDREZ JAQUE MATE-MADRID | 4,5 | 26,5 | 1691 | 1929 | 20 | 10,8 |
| 19 | 16 | | Del Carmen Hernandez Aimer | ESP | 1952 | 1957 | CA OBERENA-PAMPLONA | 4,5 | 25,5 | 1730 | 1865 | 40 | -23,2 |
| 20 | 35 | WCM | Estevez Sacristan Deva | ESP | 1719 | 1734 | CA LA CASA DEL AJEDREZ-MADRID | 4,5 | 24,5 | 1683 | 1805 | 40 | 30,8 |
Links
---