Ernesto J Fernandez Guillen victorious at 4th Sant Adria Open 2022, Anustoop Biswas second
IM Ernesto J Fernandez Guillen (CUB) scored 7.5/9 to win 4th Sant Adria International Open 2022. He finished a half point ahead of the field. Anustoop Biswas scored 7/9 to finish second. He finished a full point ahead of the rest. FM Mike Ivanov (CAN) not going for a threefold repetition against the eventual runner-up, Anustoop, in the final round proved costly. Had he drawn it, he would have finished second. The loss put him in the third place. The total prize fund of the tournament was €3030. Top three prizes were €700, €400 and €300 along with a trophy each. Photo: IO NA Ricard Llerins
Ritvik Krishnan is on the rise
Ritvik Krishnan lost a total of 116.82 Elo rating points in the August 2022 FIDE Rating list. The 14-year-old travelled to Spain and he not only recovered that in a single event but also gained a lot more. He gained 125.6 Elo rating points at 46th Sitges Open, 116.4 Elo ratings points at 46th Badalona Open and 118.8 Elo rating points at this event. He gained 42.4 rating points at 23rd Barcelona Open. It will be interesting to see his rating on 1st September 2022, days before World Youth 2022 starts.
Lluis Maria - Anustoop, Round 6
Generally passive defence is not a good idea. 32.Nc1 Rb8 33.Rf1 Kf8 34.Rd1 e3 35.Kd3 Bf3 36.Re1 Bxg4 now Black is completely winning. Instead, 32.Nd2 Bxa2 33.c4 a3 34.Ra1 e3 35.Rxa2 exd2 36.Kxd3 is an alternative better continuation to keep things balanced. Anustoop went on to defeat IM Lluis Maria Perpinya Rofes (ESP, 2301).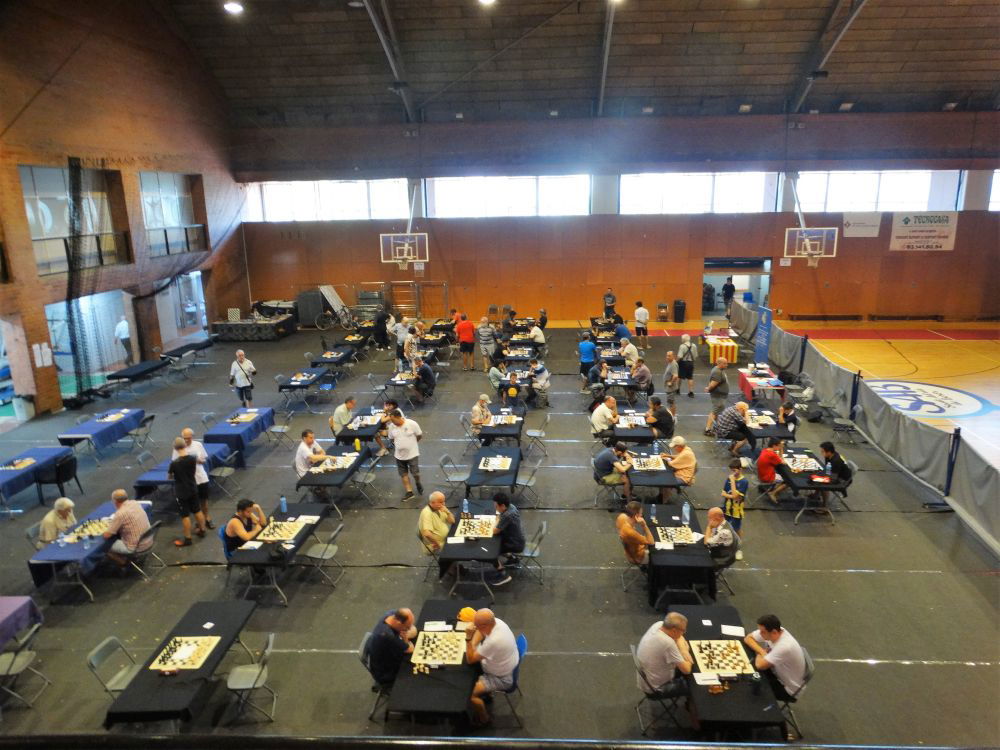 A total of 36 players including a GM and 4 IMs took part in the Open A (>=1950) and 48 in Open B tournament from 7 countries across the world. The tournaments were organized by Miquel Tarrago Domingo from 11th to 18th August 2022 at Pavello Esportiu Marina de Sant Adria, Passeig Dolores Ibarruri in Spain. The time control was 90 minutes + 30 seconds increment.
Replay all games
Final standings
| | | | | | | | | | | | | | | | | | | | | |
| --- | --- | --- | --- | --- | --- | --- | --- | --- | --- | --- | --- | --- | --- | --- | --- | --- | --- | --- | --- | --- |
| Rk. | SNo | | | Name | Typ | FED | RtgI | Club/City | Pts. | TB1 | TB2 | TB3 | TB4 | TB5 | n | w | we | w-we | K | rtg+/- |
| 1 | 2 | | IM | Fernandez Guillen Ernesto J. | A | CUB | 2390 | Cuba | 7,5 | 28,5 | 46,5 | 51 | 0 | 2439 | 9 | 7,5 | 6,38 | 1,12 | 10 | 11,2 |
| 2 | 13 | | | Anustoop Biswas | B | IND | 2145 | India | 7 | 26,5 | 45 | 49 | 0 | 2368 | 8 | 6 | 3,22 | 2,78 | 20 | 55,6 |
| 3 | 3 | | FM | Ivanov Mike | A | CAN | 2359 | Canada | 6 | 27,5 | 46 | 50 | 0 | 2350 | 8 | 6 | 6,01 | -0,01 | 20 | -0,2 |
| 4 | 1 | | GM | Moskalenko Viktor | S50 | ESP | 2452 | SC Colon Sabadell Chessy | 6 | 27,5 | 46 | 50 | 0 | 2316 | 9 | 6 | 7,54 | -1,54 | 10 | -15,4 |
| 5 | 12 | | | Paredes Lagos Anthony Javie | B | PER | 2160 | Peru | 6 | 24,5 | 42 | 45 | 0 | 2109 | 9 | 6 | 4,93 | 1,07 | 20 | 21,4 |
| 6 | 9 | | FM | Vergara Jofre Felipe | B | CHI | 2196 | Chile | 5,5 | 28 | 46 | 48,5 | 0 | 2155 | 9 | 5,5 | 4,50 | 1,00 | 20 | 20 |
| 7 | 25 | | | Krishnan Ritvik | C-16 | IND | 1968 | India | 5,5 | 27 | 44 | 48 | 0 | 2196 | 8 | 4,5 | 1,53 | 2,97 | 40 | 118,8 |
| 8 | 23 | | | Sudarshan Bhat | C | IND | 2025 | India | 5,5 | 26,5 | 43 | 47 | 0 | 2137 | 9 | 5,5 | 3,17 | 2,33 | 20 | 46,6 |
| 9 | 7 | | FM | Jimenez Ruano Adrian | A | ESP | 2278 | Barcelona | 5,5 | 25 | 41,5 | 45,5 | 0 | 2174 | 9 | 5,5 | 5,91 | -0,41 | 20 | -8,2 |
| 10 | 10 | | MK | Tarrago Antoni Maurici | B | ESP | 2187 | Catalonia Joviat | 5,5 | 24 | 41 | 43,5 | 0 | 2105 | 9 | 5,5 | 5,98 | -0,48 | 20 | -9,6 |
Links
---