Dylan Isidro triumphs at 22nd Sant Marti Open, Aronyak Ghosh third
IM Dylan Isidro Berdayes Ason (CUB), GM Hipolito Asis Gargatagli (ESP) and IM Aronyak Ghosh scored 7/9 each at 22nd Sant Marti International Open. They were placed first, second and third according to tie-breaks. Both Hipolito and Aronyak remained undefeated. Total prize fund of the tournament was €7210. Top three prizes were €1200, €1000 and €700 along with a trophy each. Arpan Das was the highest untitled and second-highest Indian finisher at 11th place, scoring 6/9. Vrushali Umesh Deodhar scored an impressive 5.5/9 and gained a whopping 69.2 Elo rating points. Photo: FI Atul Dahale
Aronyak makes unbeaten debut in Spain
This was Aronyak's first-ever tournament outside of Asia and Russia. The only time he played in Russia was in Aeroflot Open B in 2019 before he became an IM. He expressed gratitude to Sadhana app for sponsoring him which allowed him to debut in Spain and begin his quest for the GM-title. He had already crossed 2500 early this month, now his search for the norms continue.
Aronyak - Macak, Round 9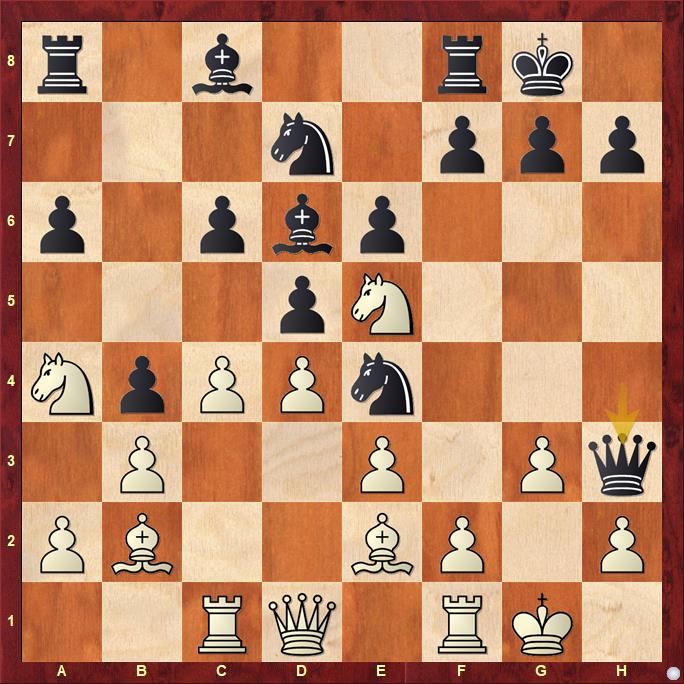 Black's ambitious attack 12...Qh4, 13...Qh3 on the kingside has gone wrong. 14.Nxc6 does not work because of Nxg3 and Black will aim for the perpetual check. Find out what is the correct continuation for White which Aronyak executed in the game.
The Deputy Chief Arbiter, FA Mireia Ramon (pictured in above photos) earned her maiden IA-norm at the age of 21 years.
A total of 96 including 6 GMs, 7 IMs and 2 WIMs took part in the Group A from 25 countries across the world. The tournament was organized by C E Sant Martí from 13th to 21st July 2022 at Centre Civic Sant Marti, Barcelona, Spain. The time control was 90 minutes + 30 seconds increment from move no.1.
Replay all Open A games
Final standings in Open A
| | | | | | | | | | | | | | | | | | | | | | |
| --- | --- | --- | --- | --- | --- | --- | --- | --- | --- | --- | --- | --- | --- | --- | --- | --- | --- | --- | --- | --- | --- |
| Rk. | SNo | | Name | Typ | sex | Gr | FED | RtgI | RtgN | Club/City | Pts. | TB1 | TB2 | TB3 | TB4 | n | w | we | w-we | K | rtg+/- |
| 1 | 5 | IM | Berdayes Ason Dylan Isidro | | | 0 | CUB | 2480 | 0 | CUBA | 7,0 | 52,5 | 41,0 | 0,0 | 2620 | 9 | 7 | 6,06 | 0,94 | 10 | 9,4 |
| 2 | 1 | GM | Asis Gargatagli Hipolito | | | 2568 | ESP | 2514 | 2511 | Ateneu Colón | 7,0 | 51,5 | 41,0 | 0,0 | 2614 | 9 | 7 | 6,23 | 0,77 | 10 | 7,7 |
| 3 | 4 | IM | Aronyak Ghosh | | | 0 | IND | 2486 | 0 | INDIA | 7,0 | 50,0 | 39,0 | 0,0 | 2566 | 9 | 7 | 6,09 | 0,91 | 10 | 9,1 |
| 4 | 3 | GM | Pena Gomez Manuel | | | 0 | ESP | 2492 | 2481 | GALICIA | 6,5 | 54,5 | 43,5 | 0,0 | 2593 | 8 | 5,5 | 5,15 | 0,35 | 10 | 3,5 |
| 5 | 6 | GM | Kovchan Alexander | | | 0 | UKR | 2468 | 0 | UKRAINE | 6,5 | 52,5 | 41,0 | 0,0 | 2573 | 9 | 6,5 | 5,85 | 0,65 | 10 | 6,5 |
| 6 | 2 | IM | Roshka Yevgeniy | | | 0 | UKR | 2497 | 0 | UKRAINE | 6,5 | 52,0 | 41,0 | 0,0 | 2534 | 9 | 6,5 | 6,56 | -0,06 | 10 | -0,6 |
| 7 | 7 | GM | Narciso Dublan Marc | | | 2475 | ESP | 2461 | 2461 | Ateneu Colón | 6,5 | 49,5 | 39,0 | 0,0 | 2432 | 9 | 6,5 | 6,88 | -0,38 | 10 | -3,8 |
| 8 | 12 | IM | D`costa Lorin | A | | 0 | ENG | 2372 | 0 | ENGLAND | 6,5 | 49,0 | 38,5 | 0,0 | 2442 | 9 | 6,5 | 6,19 | 0,31 | 10 | 3,1 |
| 9 | 8 | GM | Diermair Andreas | | | 0 | AUT | 2452 | 0 | AUSTRIA | 6,0 | 52,5 | 41,5 | 0,0 | 2499 | 8 | 5 | 4,76 | 0,24 | 10 | 2,4 |
| 10 | 11 | IM | Valenzuela Gomez Fernando | A | | 2478 | CHI | 2373 | 2367 | Barcelona | 6,0 | 50,5 | 40,0 | 0,0 | 2453 | 9 | 6 | 5,93 | 0,07 | 10 | 0,7 |
| 11 | 29 | | Arpan Das (Jr) | B-18 | | 0 | IND | 2178 | 0 | INDIA | 6,0 | 48,0 | 38,0 | 0,0 | 2339 | 8 | 5 | 5,13 | -0,13 | 40 | -5,2 |
| 12 | 13 | IM | Macak Stefan | A | | 0 | SVK | 2363 | 0 | SLOVAKIA | 6,0 | 47,5 | 37,5 | 0,0 | 2368 | 9 | 6 | 6,10 | -0,10 | 10 | -1,0 |
| 13 | 21 | CM | Tanaka Taira Tyler | B-18 | | 0 | CAN | 2242 | 0 | CANADA | 6,0 | 47,0 | 36,5 | 0,0 | 2350 | 9 | 6 | 5,12 | 0,88 | 40 | 35,2 |
| 14 | 17 | IM | Perpinya Rofes Lluis Maria | A | | 2416 | ESP | 2297 | 2315 | Colón Sabadell Chessy | 6,0 | 45,0 | 36,5 | 0,0 | 2320 | 9 | 6 | 5,56 | 0,44 | 10 | 4,4 |
| 15 | 33 | | Dahale Atul | B | | 0 | IND | 2162 | 0 | INDIA | 6,0 | 45,0 | 35,0 | 0,0 | 2286 | 9 | 6 | 5,15 | 0,85 | 20 | 17,0 |
---