Aronyak Ghosh wins 46th Ciutat de Badalona Open 2022, Anuj Shrivatri second
IM Aronyak and IM Anuj Shrivatri both scored 7/9 each at 46th Ciutat de Badalona Memorial M Castella Open 2022. Aronyak edged past Anuj due to better second tie-break score. They faced each other in the sixth round which ended in a draw. Four players scored 6.5/9 each. They are - IM Dylan Isidro Berdayes Ason (CUB), Saurabh Anand, Ritvik Krishnan and IM Filemon Cruz (PER). They secured third to sixth place according to tie-breaks. Top three prizes were €1000, €700 and €400 along with a trophy each. This is Aronyak's first tournament victory in Spain. He is sponsored by Sadhana app. Photo: CE Sant Josep
Aronyak's first triumph in Spain
Aronyak secured fourth place at 38th Andorra Open. He won the next event at Badalona. Currently, he is undefeated in 27 Classical games in Spain. His present unbeaten streak in Classical tournaments is 37 games.
Aronyak - Rein, Round 5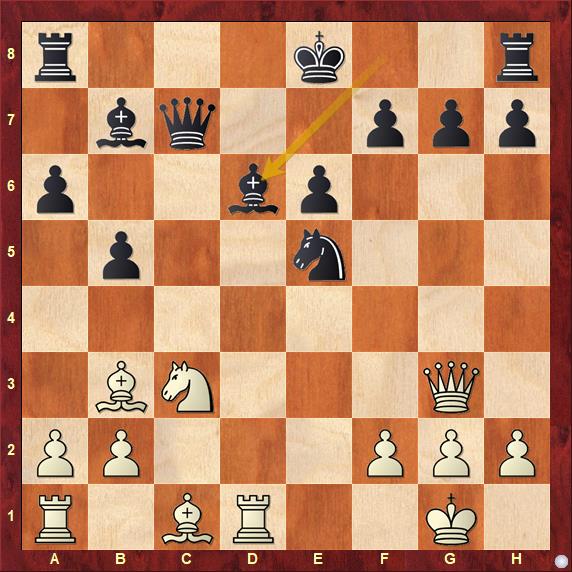 Find out why 15...Bd6 is a big mistake by Black.
A total of 51 players including 2 GMs, 8 IMs, a WGM and a WIM took part in the Group A from eight countries across the world. Category B (Below 1950) witneseed the participation of 106 players. The tournament was organized by Cor de marina Badalona Chess Club from 2nd to 10th August 2022 at Centre Civic La Salut Av Marques de Sant Mori Badalona, Spain. The time control was 90 minutes + 30 seconds increment from move no.1.
Replay all Open A games
Final standings in Open A
| | | | | | | | | | | | | | | | |
| --- | --- | --- | --- | --- | --- | --- | --- | --- | --- | --- | --- | --- | --- | --- | --- |
| Rk. | SNo | | | Name | Typ | sex | Gr | FED | Rtg | RtgN | Club/City | Pts. | TB1 | TB2 | TB3 |
| 1 | 2 | | IM | Aronyak Ghosh | | | | IND | 2512 | 0 | India | 7 | 0,5 | 2320 | 2479 |
| 2 | 5 | | IM | Anuj Shrivatri | | | | IND | 2413 | 0 | India | 7 | 0,5 | 2308 | 2479 |
| 3 | 3 | | IM | Berdayes Ason Dylan Isidro | | | | CUB | 2489 | 0 | Cuba | 6,5 | 0 | 2330 | 2427 |
| 4 | 17 | | | Saurabh Anand | B | | | IND | 2211 | 0 | India | 6,5 | 0 | 2316 | 2340 |
| 5 | 43 | | | Krishnan Ritvik | C-16 | | | IND | 1968 | 0 | India | 6,5 | 0 | 2264 | 2271 |
| 6 | 11 | | IM | Cruz Filemon | A | | | PER | 2316 | 0 | Alcoi | 6,5 | 0 | 2255 | 2368 |
| 7 | 21 | | | Pimpalkhare Vedant | B | | | IND | 2141 | 0 | India | 6 | 0 | 2261 | 2301 |
| 8 | 14 | | WGM | Chernyak Viktoria | A | w | | FID | 2239 | 0 | FIDE | 6 | 0 | 2212 | 2288 |
| 9 | 20 | | | Anustoop Biswas | B | | | IND | 2145 | 0 | India | 6 | 0 | 2161 | 2233 |
| 10 | 4 | | GM | Gonzalez Perez Arian | | | | ESP | 2429 | 2409 | Valencia | 6 | 0 | 2142 | 2234 |
| 11 | 29 | | | Bakshi Rutuja | C | w | | IND | 2048 | 0 | India | 5,5 | 0 | 2330 | 2222 |
| 12 | 19 | | | Paredes Lagos Anthony Javier | B | | | PER | 2160 | 0 | Peru | 5,5 | 0 | 2250 | 2261 |
| 13 | 13 | | IM | Vidarte Morales Arturo | A | | | PER | 2291 | 2381 | Mollet, Club D'escacs | 5,5 | 0 | 2196 | 2233 |
| 14 | 9 | | IM | Torres Rosas Luis Carlos | A | | | MEX | 2323 | 0 | Mexico | 5,5 | 0 | 2191 | 2228 |
| 15 | 37 | | | Sudarshan Bhat | C | | | IND | 2025 | 0 | India | 5,5 | 0 | 2177 | 2138 |
---