Aronyak Ghosh wins Tata Steel Chess Festival 2022 Blitz Open
IM Aronyak Ghosh, Subhayan Kundu and FM Aditya Vikram paul scored 7.5/9 at the Tata Steel Chess Festival 2022 All India Blitz Open. They secured first, second and third place respectively according to tie-breaks. Only Aronyak remained undefeated among them. He also won his third consecutive Tata Steel Chess Festival event. Rapid Open and Rapid Rating in 2019 and 2021 respectively and now Blitz Open. A total of 155 players including 5 IMs and two WIMs took part in this nine-round tournament with a time control of 3 minutes + 2 seconds increment each. The total prize fund was ₹39000. Top three prizes were ₹10000 + trophy, ₹6000 and ₹4000 each respectively. Photo: Lennart Ootes
Aronyak champion in his third consecutive Tata Steel Chess Festival event
The Tata Steel Chess Festival events are generally a much awaited tournament for all. Apart from a strong field and a decent prize fund, players know that the winner has something extra special for them. For the last few years, it was a once-in-a-lifetime opportunity to make the first move in the main event. Few winners were able to do it. However, this time, since it was the biggest Tata Steel Chess India event, three champions of the festival were called to receive their prize once again at the closing ceremony of the main event. Receiving the first prize in front of Vishy Anand and world's best players who participated this year is certainly a huge boost for the winners.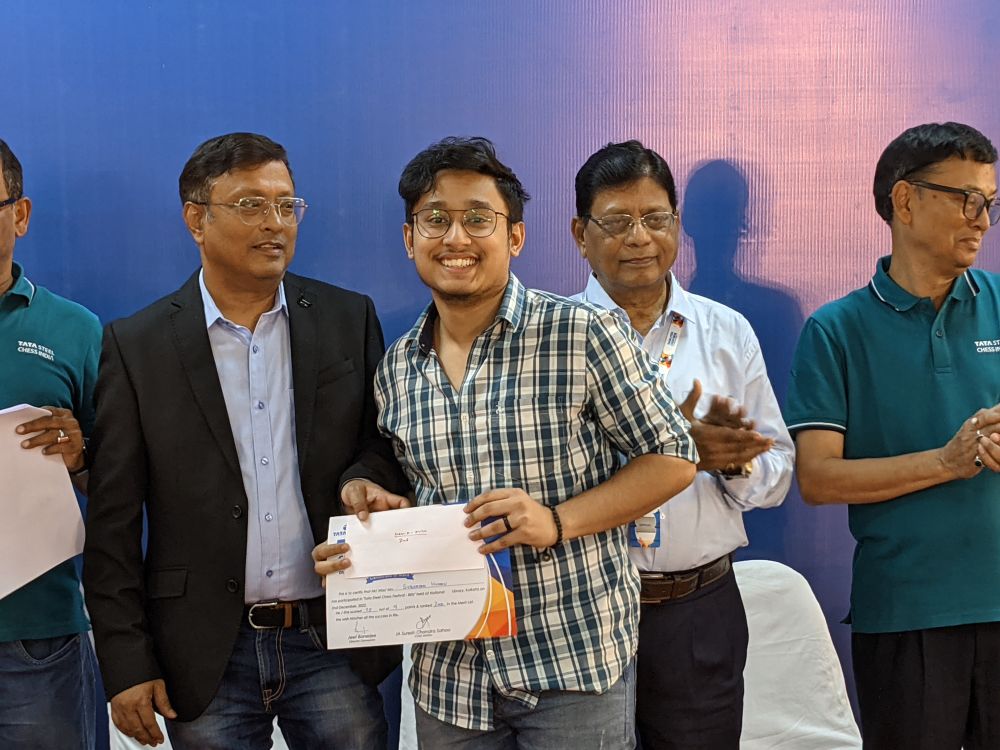 The reigning West Bengal State Senior champion, Subhayan Kundu secured second position in both Rapid Rating and Blitz Open events.
Tata Steel Chess Festival 2022 All India Rapid Rating Open champion, IM Neelash Saha secured fourth place for the second year in-a-row.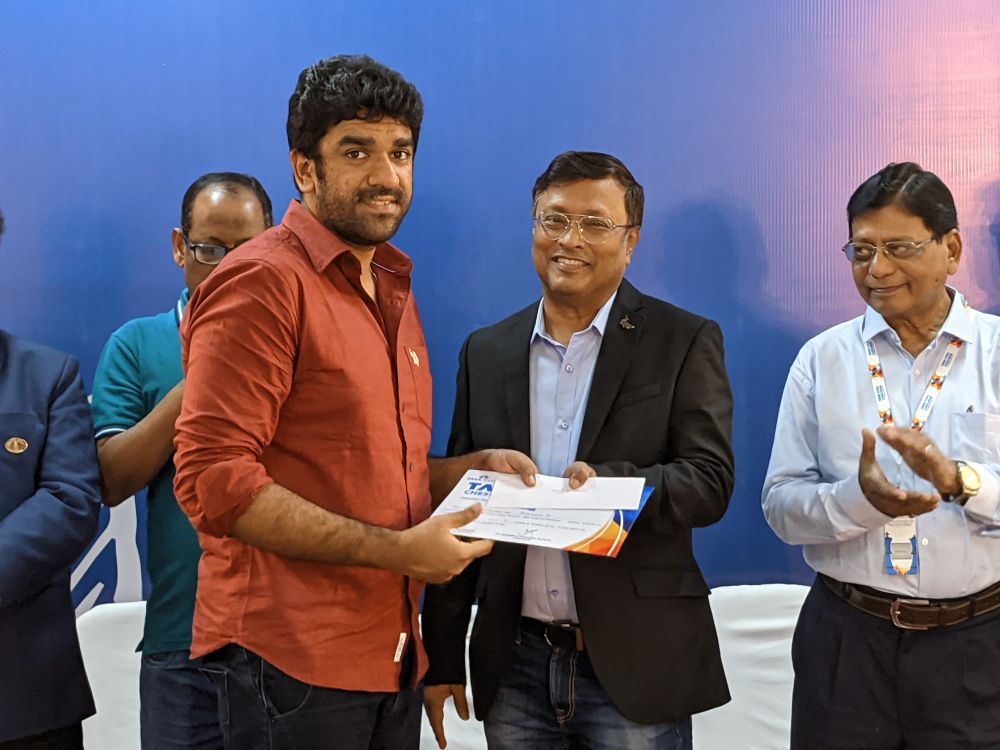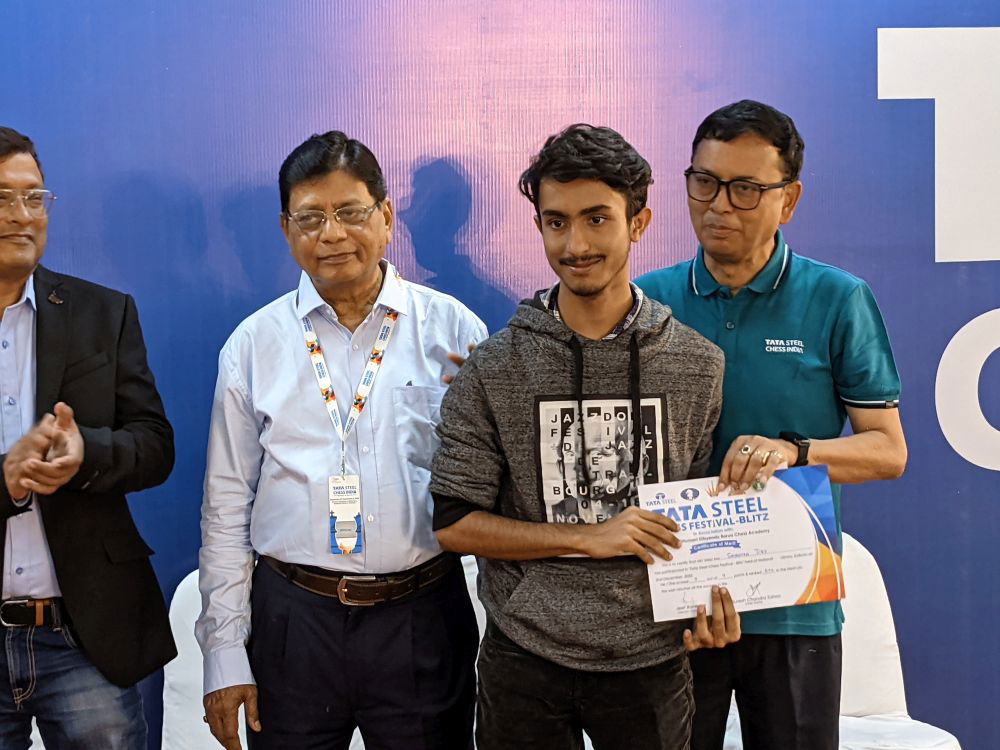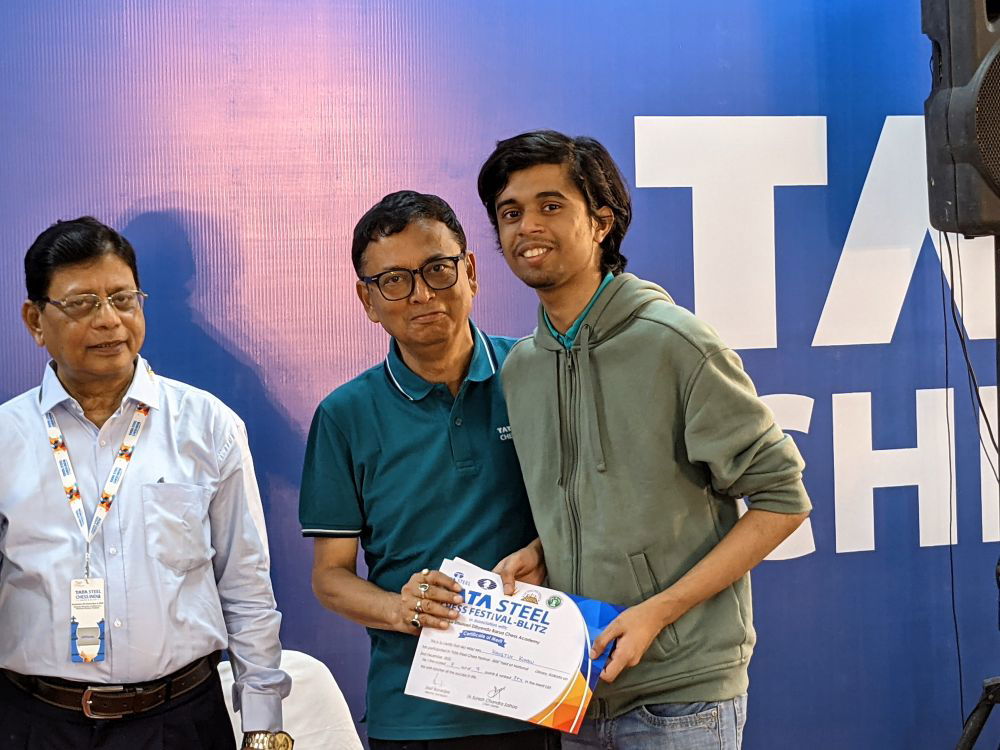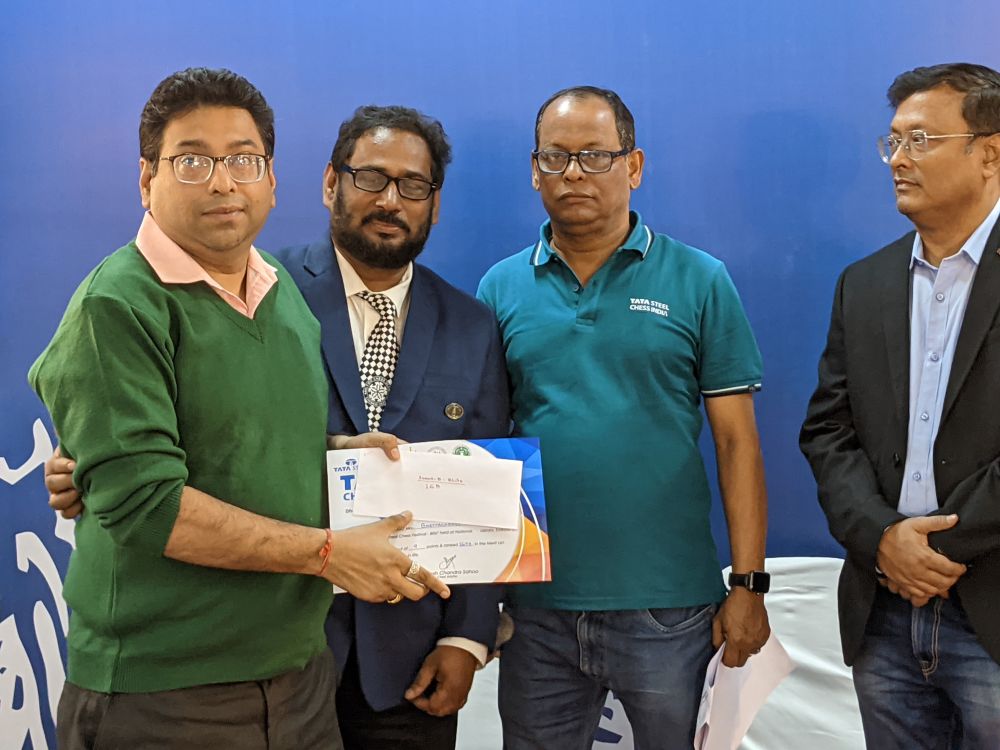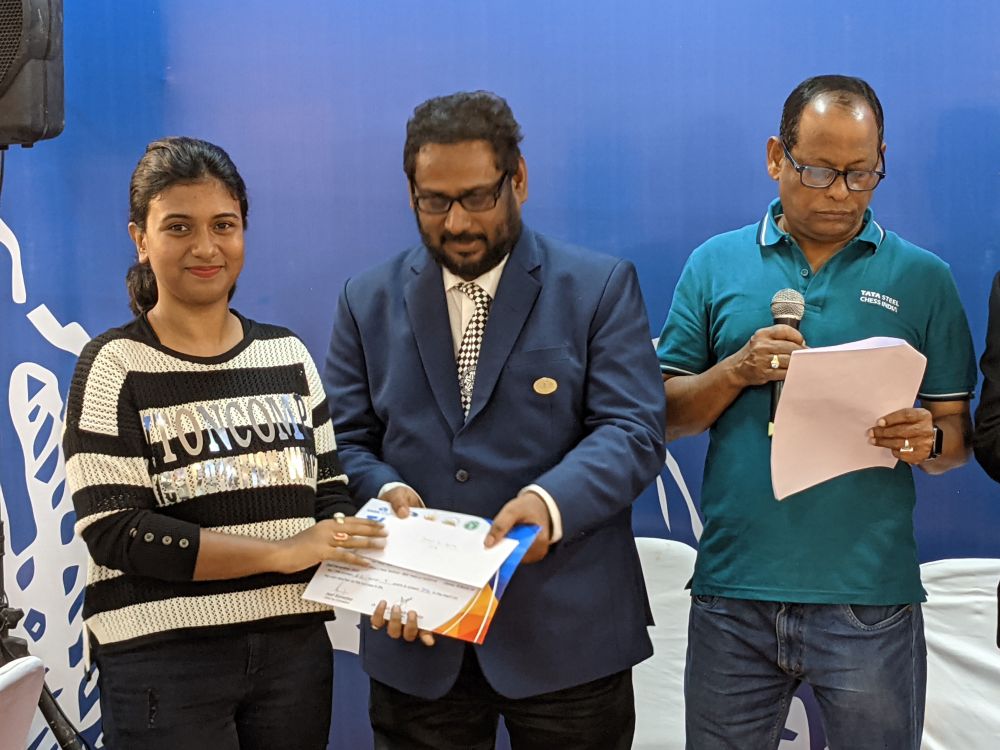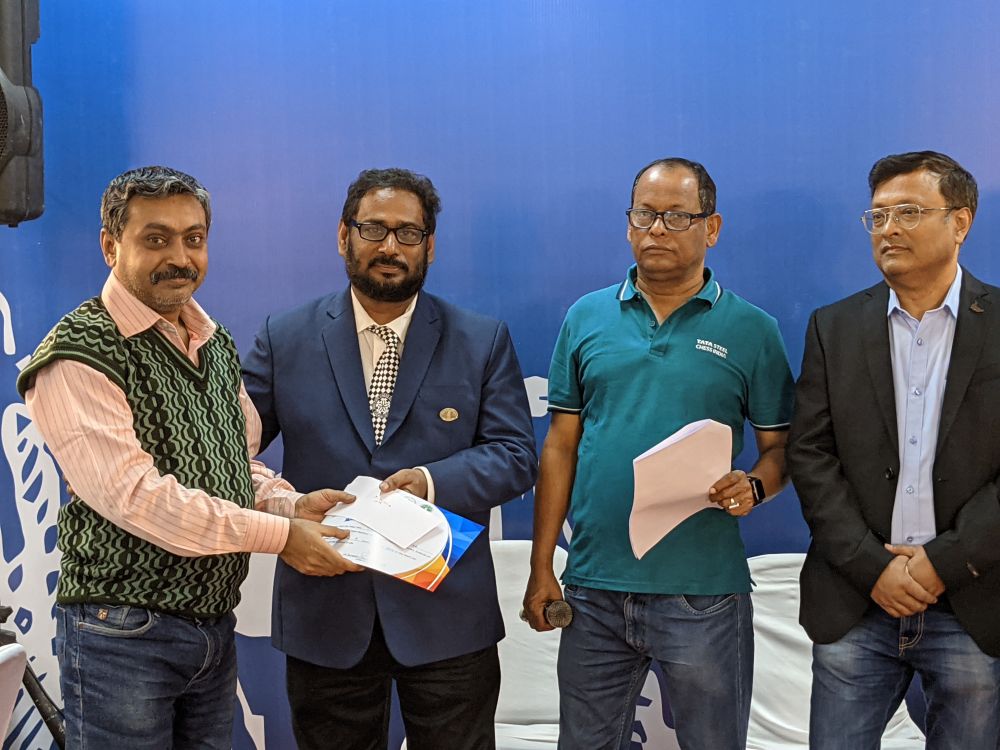 For more photos, please click here.
Final standings
| | | | | | | | | | | | | |
| --- | --- | --- | --- | --- | --- | --- | --- | --- | --- | --- | --- | --- |
| Rk. | SNo | | Name | sex | Gr | FED | Rtg | Club/City | Pts. | TB1 | TB2 | TB3 |
| 1 | 2 | IM | Aronyak Ghosh | | | IND | 2421 | WB | 7,5 | 49 | 54 | 44,25 |
| 2 | 14 | | Subhayan Kundu | | | IND | 2207 | WB | 7,5 | 49 | 53 | 42,25 |
| 3 | 4 | FM | Aditya Vikram Paul | | | IND | 2304 | WB | 7,5 | 47,5 | 52 | 42,75 |
| 4 | 3 | IM | Neelash Saha | | | IND | 2312 | WB | 7 | 50,5 | 54,5 | 40,50 |
| 5 | 10 | FM | Ashwath R. | | | IND | 2240 | TN | 7 | 50 | 54 | 39,50 |
| 6 | 72 | | Sayantan Dey | | | IND | 1346 | WB | 7 | 48,5 | 52,5 | 39,75 |
| 7 | 13 | | Kaustuv Kundu | | | IND | 2208 | WB | 7 | 48,5 | 52 | 37,50 |
| 8 | 68 | | Puspal Datta | | | IND | 1393 | WB | 7 | 48 | 51,5 | 37,50 |
| 9 | 6 | IM | Srijit Paul | | | IND | 2282 | WB | 7 | 47 | 50 | 36,00 |
| 10 | 18 | | Sumit Kumar | | | IND | 2097 | WB | 7 | 43,5 | 46,5 | 34,50 |
| 11 | 11 | | Utsab Chatterjee | | | IND | 2234 | WB | 7 | 43 | 47,5 | 37,00 |
| 12 | 16 | WIM | Arpita Mukherjee | w | | IND | 2129 | WB | 7 | 40,5 | 42,5 | 33,00 |
| 13 | 12 | | Anustoop Biswas | | | IND | 2212 | WB | 6,5 | 50 | 55 | 38,50 |
| 14 | 8 | | Sanket Chakravarty | | | IND | 2269 | WB | 6,5 | 49,5 | 54,5 | 36,50 |
| 15 | 27 | | Shaon Chowdhury | | | IND | 1897 | WB | 6,5 | 44 | 47,5 | 30,75 |
| 16 | 26 | | Ambarish Sharma | | | IND | 1901 | WB | 6,5 | 43,5 | 45,5 | 31,25 |
| 17 | 28 | | Bhattacharya Niladri Shekhar | | | IND | 1869 | WB | 6,5 | 42,5 | 46,5 | 32,25 |
| 18 | 35 | WIM | Chandreyee Hajra | w | | IND | 1725 | WB | 6,5 | 39 | 42,5 | 27,75 |
| 19 | 7 | | Dutta Sayantan | | | IND | 2272 | WB | 6 | 49,5 | 53,5 | 32,75 |
| 20 | 19 | | Debasish Mukherjee | | | IND | 2049 | WB | 6 | 48 | 51,5 | 31,00 |
---