Alexandr Fier wins 49th La Roda Open 2023, Aravindh Chithambaram second and Pranav Venkatesh third
GM Alexandr Fier drew with GM Aravindh Chithambaram in the final round of 49th La Roda Open 2023. The Brazil no.2 won the tournament due to better tie-breaks, Aravindh was placed second. Seven players scored 7/9 each. GM Pranav Venkatesh, GM Iniyan P and GM S L Narayanan secured third, fourth and fifth place respectively. GM Vignesh N R scored 6.5/9 to finish at tenth place. Thus, Indians claimed five out of the top ten places. The total prize fund of the tournament was €15000. The top three prizes were €3500, €2200 and €1000 along with a trophy each. After winning four tournaments in-a-row, this is Aravindh's first, runner-up finish in 2023, which is quite impressive. Photo: Official site
Indians claim second to fifth
Apart from GM Aravindh Chithambaram's fantastic run in 2023, GM Pranav Venkatesh, GM Iniyan P and GM Vignesh N R, all four managed to gain some rating points. Aravindh, Iniyan and GM S L Narayanan remained undefeated in this event, among the top ten Indian finishers.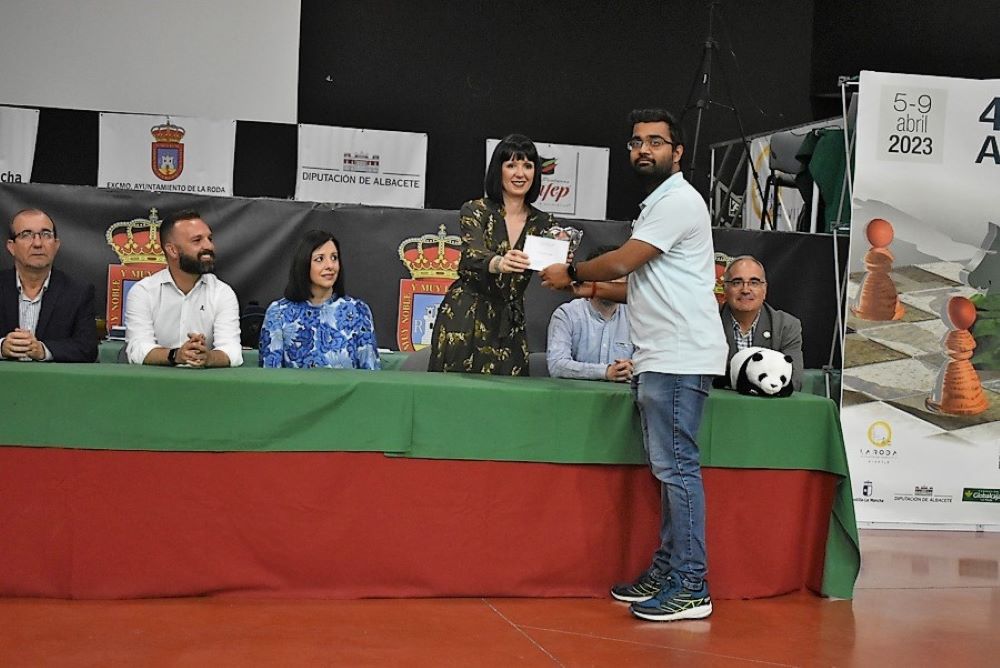 In case if you missed taking part in this event, the 50th edition of La Roda Open will take place from 27th to 31st March 2024 with an increased prize fund of €20000.
A total of 177 players including 16 GMs, 7 IMs and a WIM took part from 22 countries across the world. The tournament was organized by Club Ajedrez Torneos La Roda from 5th to 9th April 2023 at Caja Blanca in La Roda, Spain. The nine-round Swiss league tournament had a time control of 90 minutes + 30 seconds increment from move no. 1.
Replay Round 1-9 games
Round 9 results
Final standings
| | | | | | | | | | | | | | | | | | | |
| --- | --- | --- | --- | --- | --- | --- | --- | --- | --- | --- | --- | --- | --- | --- | --- | --- | --- | --- |
| Rk. | SNo | | | Name | Typ | sex | Gr | FED | RtgI | RtgN | Club/City | Pts. | TB1 | TB2 | TB3 | TB4 | K | rtg+/- |
| 1 | 6 | | GM | Fier Alexandr | | | | BRA | 2599 | 2607 | ARA | 7,5 | 52,5 | 57 | 41 | 46,25 | 10 | 14,9 |
| 2 | 4 | | GM | Aravindh Chithambaram Vr. | | | | IND | 2607 | 0 | India | 7,5 | 51 | 55,5 | 39,5 | 44,75 | 10 | 11,1 |
| 3 | 12 | | GM | Pranav V | | | | IND | 2545 | 0 | India | 7 | 52,5 | 57,5 | 39 | 43,00 | 10 | 17,8 |
| 4 | 13 | | GM | Iniyan P | | | | IND | 2515 | 0 | India | 7 | 51,5 | 56,5 | 38,5 | 42,50 | 10 | 19 |
| 5 | 1 | | GM | Narayanan.S.L | | | | IND | 2661 | 2661 | ARA | 7 | 51 | 56 | 37,5 | 42,00 | 10 | -1 |
| 6 | 8 | | GM | Albornoz Cabrera Carlos Daniel | | | | CUB | 2586 | 2589 | CAT | 7 | 50 | 55 | 37 | 41,00 | 10 | -1,5 |
| 7 | 9 | | GM | Li Di | | | | CHN | 2554 | 0 | China | 7 | 48,5 | 52,5 | 36 | 39,50 | 10 | 1,7 |
| 8 | 5 | | GM | Svane Frederik | | | | GER | 2600 | 0 | Alemania | 7 | 46,5 | 51,5 | 35,5 | 38,75 | 10 | 0,4 |
| 9 | 40 | | FM | Santos Antonio P | | | V65 | POR | 2176 | 0 | Portugal | 7 | 42 | 44,5 | 33 | 32,00 | 20 | 37 |
| 10 | 14 | | IM | Vignesh N R | | | | IND | 2497 | 0 | India | 6,5 | 51,5 | 56 | 35,5 | 39,25 | 10 | 5,3 |
| 11 | 18 | | IM | Zhao Yuanhe | | | | CHN | 2447 | 0 | China | 6,5 | 49 | 53,5 | 35,5 | 36,00 | 10 | 10,1 |
| 12 | 3 | | GM | Jumabayev Rinat | | | | KAZ | 2609 | 0 | Kazajistan | 6,5 | 49 | 53,5 | 34,5 | 35,75 | 10 | -6,2 |
| 13 | 11 | | GM | Kobo Ori | | | | ISR | 2549 | 0 | Israel | 6,5 | 48,5 | 53 | 35 | 36,25 | 10 | -5,1 |
| 14 | 7 | | GM | Xu Xiangyu | | | | CHN | 2587 | 0 | China | 6,5 | 47,5 | 51,5 | 36,5 | 35,25 | 10 | -0,4 |
| 15 | 48 | | CM | Horcajuelo Rocamora Martin | | | | ESP | 2107 | 2129 | MAD - C.A. Diagonal Alcorcon | 6,5 | 46 | 49 | 33 | 31,50 | 40 | 118 |
| 16 | 16 | | IM | Shyaamnikhil P | | | | IND | 2476 | 0 | India | 6 | 49,5 | 54 | 36 | 33,50 | 10 | 6,7 |
| 17 | 10 | | GM | Visakh N R | | | | IND | 2552 | 0 | India | 6 | 49 | 53,5 | 34,5 | 33,50 | 10 | -7,8 |
| 18 | 2 | | GM | Bernadskiy Vitaliy | | | | UKR | 2619 | 0 | Ucrania | 6 | 47,5 | 51,5 | 35 | 32,75 | 10 | -11,8 |
| 19 | 20 | | IM | Siddharth Jagadeesh | | | | SGP | 2393 | 0 | Singapur | 6 | 47 | 51 | 30,5 | 32,75 | 10 | -11,8 |
| 20 | 23 | | FM | Tabuenca Mendataurigoitia Daniel | | | | ESP | 2307 | 2332 | CNT | 6 | 47 | 50,5 | 33 | 30,00 | 20 | 13,8 |
Links
---