Aravindh Chithambaram dominates MPL National Blitz Chess Championship 2023 with a perfect 11/11
GM Aravindh Chithambaram (TN) just keeps creating record after record. He scored a perfect 11/11 to win MPL National Blitz Chess Championship 2023. Thus, he became the first person in Indian chess history to become National Rapid and Blitz champion for three consecutive editions* between 2019 and 2023. Of course his 11/11 first place finish record cannot be broken unless the total number of rounds increases in future editions which is highly unlikely. He also finished a staggering 2.5 points ahead of the field. IM Nubairshah Shaikh (MAH) and IM Avinash Ramesh (TN) scored 8.5/11 each to finish at second and third place respectively. Photo: Aditya Sur Roy
The Undisputed Hat-trick King of National Rapid and Blitz
Aravindh Chithambaram has shown that he is undoubtedly the strongest player to win National Rapid and Blitz Chess Championships 2023. If you are wondering why, the answer is, he is the only player to have won it three years in-a-row. No other player has won it twice, ever since it became an annual eventt from the year 2012. This was also the first time, two women finished in top ten. The reigning National Women and Asian Blitz Women champion, WGM Divya Deshmukh and former National and Asian Women's champion, IM Padmini Rout scored 8/11 and 7.5/11 to secure eighth and tenth place respectively. IM Bhakti Kulkarni remains the only woman to make a podium finish in 2019 at third place. Divya tied Bhakti's second best performance in 2014, finishing at eighth place.
The tournament had a total prize fund of ₹250000. The top three prizes were ₹50000 + trophy, ₹40000 and ₹30000 each respectively.
Apart from Aravindh, IM Nubairshah Shaikh (MAH) also showed consistency and secured second place in both Rapid and Blitz events with the exact same score.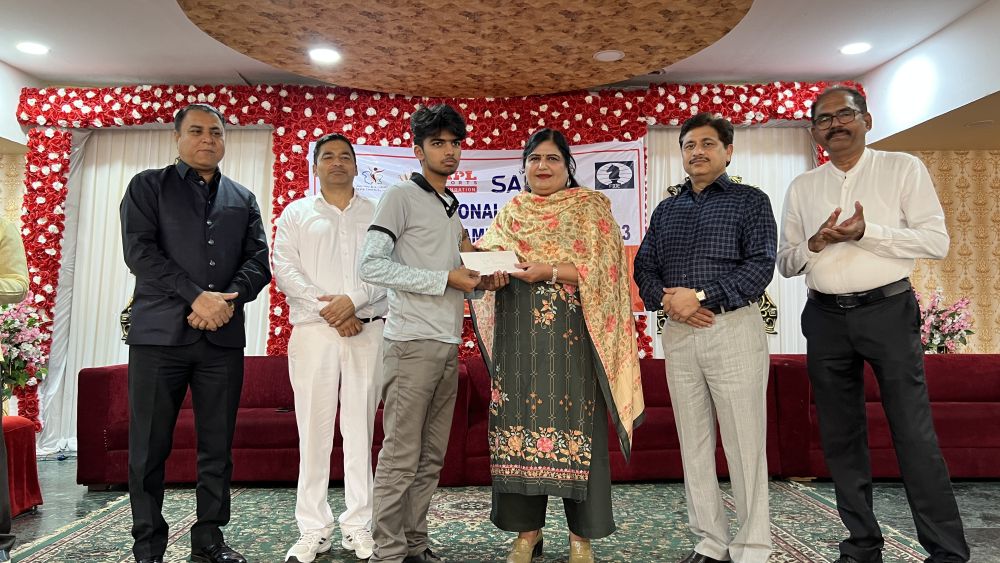 Srihari L (PUD) is the only untitled player to make a top ten finish. He scored 8/11 to finish fourth. A last round loss against IM Avinash Ramesh (TN) denied him a podium finish.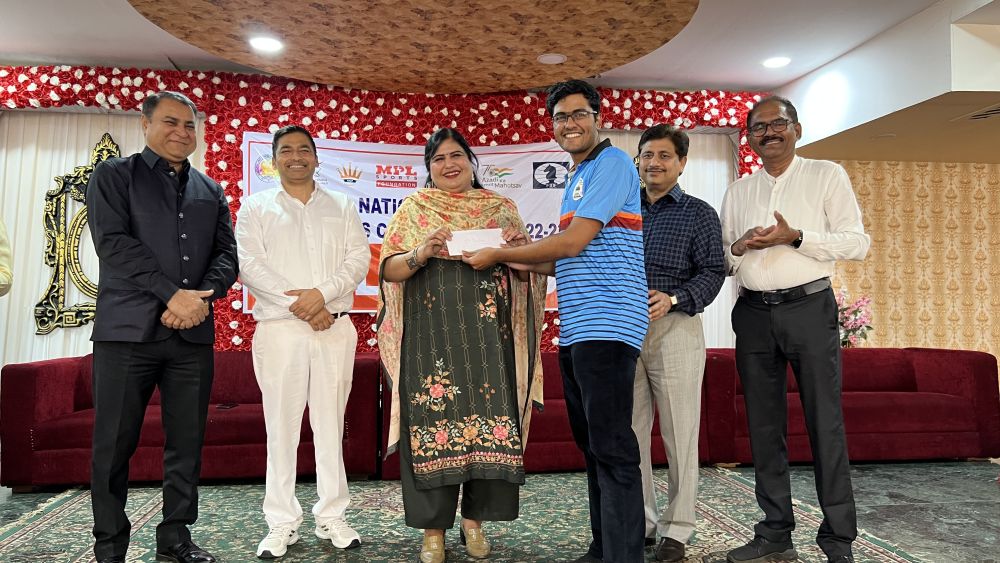 IM Padmini Rout made an unbeaten start 7.5/9. Two consecutive losses in the last two rounds cost her dearly, nevertheless she had a great tournament.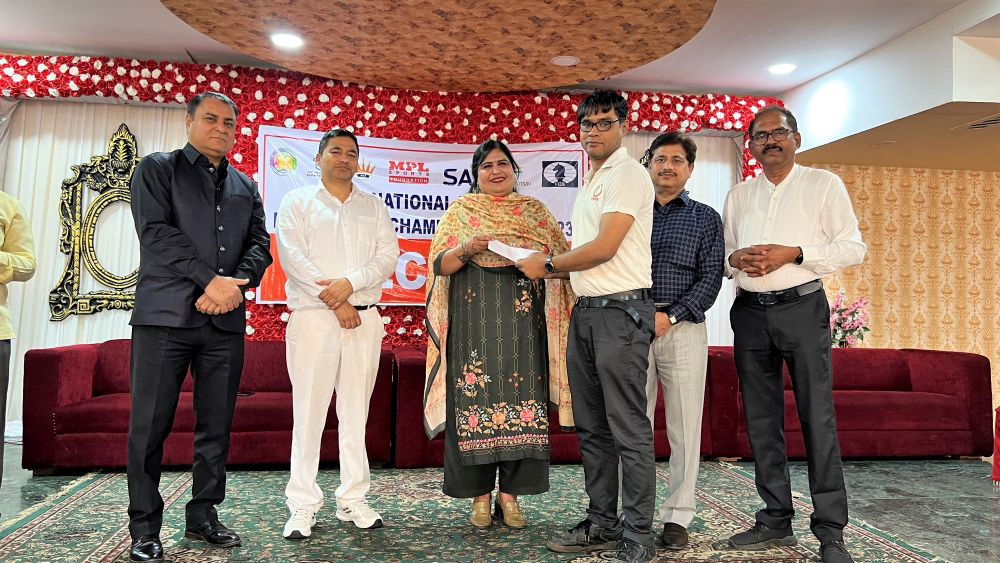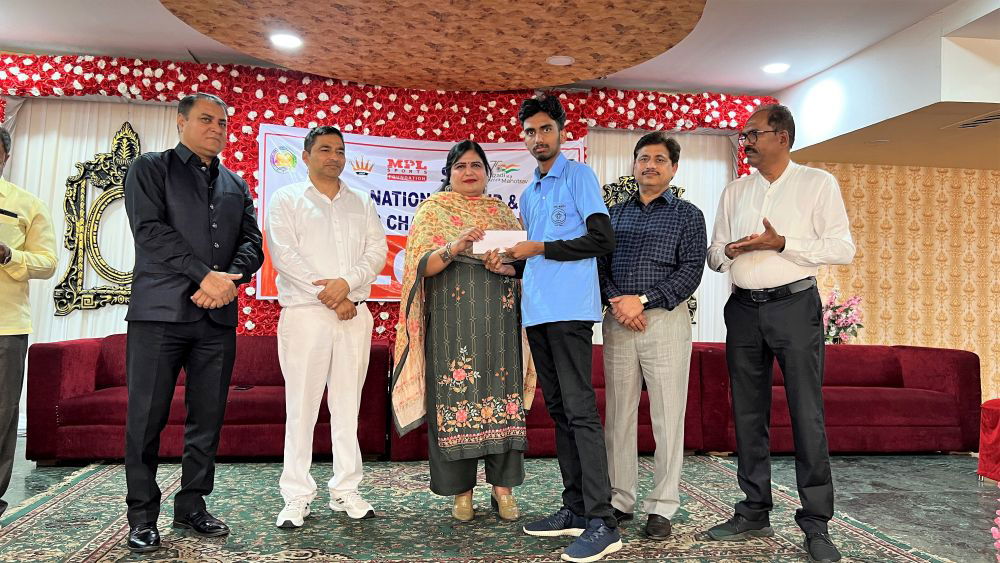 After Srihari L, Mihir Shah (MAH) is the only other untitled player to make a top 15 finish. Despite starting the tournament with a loss against a former National Rapid champion, GM Neelotpal Das (PSPB), he chained seven wins in-a-row including wins over former National Blitz champion - GM Sriram Jha (LIC), IM Sidhant Mohapatra, two eventual runner-ups - IM Nubairshah Shaikh and IM Avinash Ramesh. Considering the fact that he has played less than 40 tournnaments including non-rated events, this teenager is certainly a talent to watch out for.
*There were no National Rapid and Blitz Chess Championships in 2020 and 2021 due to Covid-19 pandemic.
For more photos, please click here.
A total of 111 players including 5 GMs, 11 IMs, 3 WGMs and a WIM are took part in this one-day eleven-round Swiss League Blittz Rating tournament. It was organized by Crown Trust from 27th February 2023 at The Kangra Fort, Jammu. The time control was 3 minutes + 2 seconds increment.
Round 11 results
| | | | | | | | | | | | | | | | | | |
| --- | --- | --- | --- | --- | --- | --- | --- | --- | --- | --- | --- | --- | --- | --- | --- | --- | --- |
| Bo. | No. | | Name | Gr | Typ | Rtg | Club/City | Pts. | Result | Pts. | | Name | Gr | Typ | Rtg | Club/City | No. |
| 1 | 1 | GM | Aravindh, Chithambaram Vr. | | | 2578 | Tamil Nadu | 10 | 1 - 0 | 8 | GM | Mitrabha, Guha | | | 2520 | West Bengal | 2 |
| 2 | 15 | IM | Avinash, Ramesh | | | 2264 | Tamil Nadu | 7½ | 1 - 0 | 8 | | Srihari, L | | | 2256 | Puducherry | 17 |
| 3 | 8 | IM | Mohammad, Nubairshah Shaikh | | | 2339 | Maharashtra | 7½ | 1 - 0 | 7½ | GM | Neelotpal, Das | | | 2327 | West Bengal | 9 |
| 4 | 12 | IM | Audi, Ameya | | | 2301 | Goa | 7 | 1 - 0 | 7½ | IM | Padmini, Rout | | | 2305 | Petroleum Sports Promotion Board | 11 |
| 5 | 16 | IM | Sidhant, Mohapatra | | | 2256 | Railways | 7 | 0 - 1 | 7 | GM | Raja, Rithvik R | | | 2411 | Telangana | 4 |
| 6 | 10 | WGM | Divya, Deshmukh | | | 2325 | Maharashtra | 7 | 1 - 0 | 7 | | Daksh, Goyal | | | 1849 | Delhi | 45 |
| 7 | 14 | FM | Aradhya, Garg | | | 2278 | Delhi | 7 | 1 - 0 | 7 | | Shah, Mihir | | | 1520 | Maharashtra | 68 |
| 8 | 3 | IM | Ravi, Teja S. | | | 2442 | Andhra Pradesh | 6½ | ½ - ½ | 6½ | IM | Prraneeth, Vuppala | | | 2345 | Telangana | 7 |
| 9 | 6 | IM | Sharma, Dinesh K. | | | 2346 | Life Insuranace Corporation Of Indi | 6½ | ½ - ½ | 6½ | IM | Dhulipalla, Bala Chandra Prasad | | | 2394 | Andhra Pradesh | 5 |
| 10 | 30 | AGM | Vignesh, B | | | 2058 | Tamil Nadu | 6½ | 1 - 0 | 6½ | CM | Soham, Kamotra | | | 2204 | Jammu And Kashmir | 21 |
Final standings
| | | | | | | | | | | | | | | | |
| --- | --- | --- | --- | --- | --- | --- | --- | --- | --- | --- | --- | --- | --- | --- | --- |
| Rk. | SNo | | Name | Typ | sex | Gr | FED | RtgI | Club/City | Pts. | TB1 | TB2 | TB3 | TB4 | TB5 |
| 1 | 1 | GM | Aravindh, Chithambaram Vr. | | | | IND | 2578 | Tamil Nadu | 11 | 75 | 79,5 | 79,50 | 0 | 11 |
| 2 | 8 | IM | Mohammad, Nubairshah Shaikh | | | | IND | 2339 | Maharashtra | 8,5 | 72,5 | 78 | 57,00 | 0 | 8 |
| 3 | 15 | IM | Avinash, Ramesh | | | | IND | 2264 | Tamil Nadu | 8,5 | 68 | 72,5 | 54,50 | 0 | 7 |
| 4 | 17 | | Srihari, L | | | | IND | 2256 | Puducherry | 8 | 76,5 | 81 | 53,00 | 0 | 8 |
| 5 | 14 | FM | Aradhya, Garg | | | | IND | 2278 | Delhi | 8 | 72,5 | 77,5 | 51,25 | 0 | 7 |
| 6 | 2 | GM | Mitrabha, Guha | | | | IND | 2520 | West Bengal | 8 | 71,5 | 76,5 | 51,00 | 0 | 8 |
| 7 | 4 | GM | Raja, Rithvik R | | | | IND | 2411 | Telangana | 8 | 70 | 75,5 | 52,50 | 0 | 8 |
| 8 | 10 | WGM | Divya, Deshmukh | | w | | IND | 2325 | Maharashtra | 8 | 65,5 | 70 | 48,75 | 0 | 7 |
| 9 | 12 | IM | Audi, Ameya | | | | IND | 2301 | Goa | 8 | 60,5 | 65,5 | 49,00 | 0 | 8 |
| 10 | 11 | IM | Padmini, Rout | | w | | IND | 2305 | Petroleum Sports Promotion Board | 7,5 | 79 | 83,5 | 52,75 | 0 | 6 |
| 11 | 9 | GM | Neelotpal, Das | | | | IND | 2327 | West Bengal | 7,5 | 70,5 | 75,5 | 48,25 | 0 | 7 |
| 12 | 30 | AGM | Vignesh, B | | | | IND | 2058 | Tamil Nadu | 7,5 | 67,5 | 71,5 | 45,25 | 0 | 7 |
| 13 | 32 | CM | Aaditya, Dhingra | | | | IND | 2054 | Haryana | 7,5 | 63 | 67 | 39,00 | 0 | 7 |
| 14 | 68 | | Shah, Mihir | | | | IND | 1520 | Maharashtra | 7 | 77,5 | 81,5 | 47,50 | 0 | 7 |
| 15 | 3 | IM | Ravi, Teja S. | | | | IND | 2442 | Andhra Pradesh | 7 | 75,5 | 80,5 | 46,25 | 0 | 6 |
| 16 | 6 | IM | Sharma, Dinesh K. | | | | IND | 2346 | Life Insuranace Corporation Of Indi | 7 | 70,5 | 76 | 44,00 | 0 | 5 |
| 17 | 7 | IM | Prraneeth, Vuppala | | | | IND | 2345 | Telangana | 7 | 67,5 | 73 | 43,50 | 0 | 6 |
| 18 | 18 | GM | Sriram, Jha | | | | IND | 2237 | Life Insuranace Corporation Of Indi | 7 | 67 | 72 | 39,00 | 0 | 7 |
| 19 | 5 | IM | Dhulipalla, Bala Chandra Prasad | | | | IND | 2394 | Andhra Pradesh | 7 | 66,5 | 71,5 | 42,50 | 0 | 5 |
| 20 | 45 | | Daksh, Goyal | | | | IND | 1849 | Delhi | 7 | 66 | 69 | 38,00 | 0 | 7 |
| 21 | 16 | IM | Sidhant, Mohapatra | | | | IND | 2256 | Railways | 7 | 65,5 | 70,5 | 42,50 | 0 | 7 |
| 22 | 41 | FM | Purushothaman, Thirumalai | | | | IND | 1979 | Andhra Pradesh | 7 | 65,5 | 70 | 38,50 | 0 | 7 |
| 23 | 44 | | Awadh, Chaitanya | | | | IND | 1870 | Madhya Pradesh | 7 | 63,5 | 68 | 39,50 | 0 | 7 |
| 24 | 40 | | Kumar, Gaurav | | | | IND | 1983 | Bihar | 7 | 63 | 67 | 37,00 | 0 | 7 |
| 25 | 64 | | Devansh, Singh | | | | IND | 1585 | Madhya Pradesh | 7 | 63 | 66,5 | 40,25 | 0 | 6 |
---