Alexander Donchenko deservedly wins Riga Technical University Open 2021, Narayanan finishes second
Top seed of the tournament, Alexander Donchenko made a storybook comeback by scoring six victories in the last six rounds after starting the event 1.5/3 to win Riga Technical University Open 2021. The German finished a half point ahead of the competition. Four players finished at 7.0/9. Narayanan S L secured the second position as he had the best tie-breaks followed by IM Tomas Laurusas (LTU), GM Gergely Kantor (HUN) and GM Karthikeyan Murali. GM Arjun Kalyan is the only other Indian to finish in top ten as he scored 6.5/9 and was placed eighth. Praggnanandhaa won the Closing blitz event as he scored an unbeaten 10.0/11. Photo: Anna Shtourman/Riga Technical University Open 2021
Praggnanandhaa wins the Closing blitz
Alexander Donchenko won the RTU Open 2021 with a perfect comeback. He won €2500 and a trophy for his efforts. Indian players dominated the Closing blitz H tournament. Top four places went to - Praggnanandhaa 10.0/11, Karthikeyan 9.5/11, Nihal 9.0/11 and Visakh 8.5/11. Both Pragg and Karthikeyan remained unbeaten.
Kovalenko - Donchenko: 0-1
Alexander Donchenko made a fierce comeback by scoring six consecutive victories including the one in the final round against Kovalenko to finish at the top.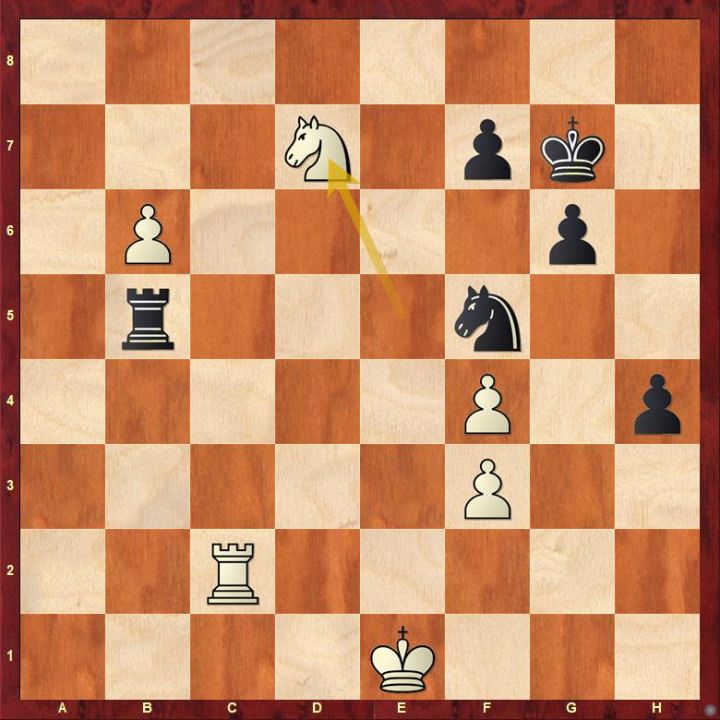 White should have played 57.Rc7 and went for the f7-pawn. Of course letting go of the b-pawn is definitely a difficult decision but that cost him the game as the h-pawn became unstoppable.
Smirin - Narayanan: 0.5-0.5
Narayanan made a short 14-move draw with GM Ilia Smirin (ISR). A win would have given Narayanan the championship because he had better tie-breaks than Donchenko.
Karthikeyan - Meshkovs: 1-0
Karthikeyan scored a comfortable victory over GM Nikita Meshkovs (LAT) to finish fifth on tie-breaks with a score of 7.0/9.
Nihal - Arjun Kalyan: 0.5-0.5
Nihal and Arjun Kalyan had the same game as Vidit's game against Duda from the recently concluded FIDE World Cup 2021, with a slightly different move order.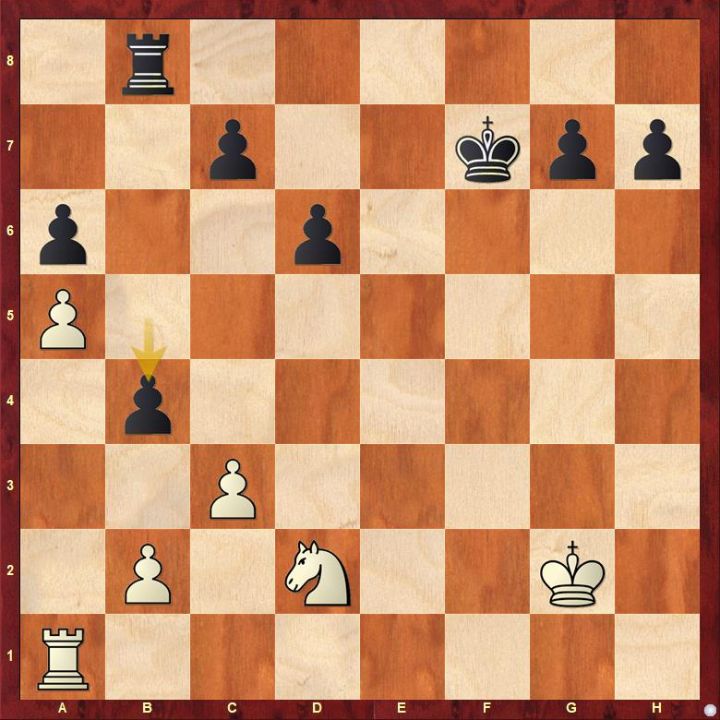 Arjun deviated 25...b4 instead of Vidit's 25...Re8 and he went on to draw the game in another six moves.
Pranav - Grigorov: 1-0
IM Pranav Anand won the Best Junior prize €100. He scored an impressive 6.5/9, missed a GM-norm by a whisker and finished 11th overall. He beat GM Grigor Grigorov (BUL) in the final round.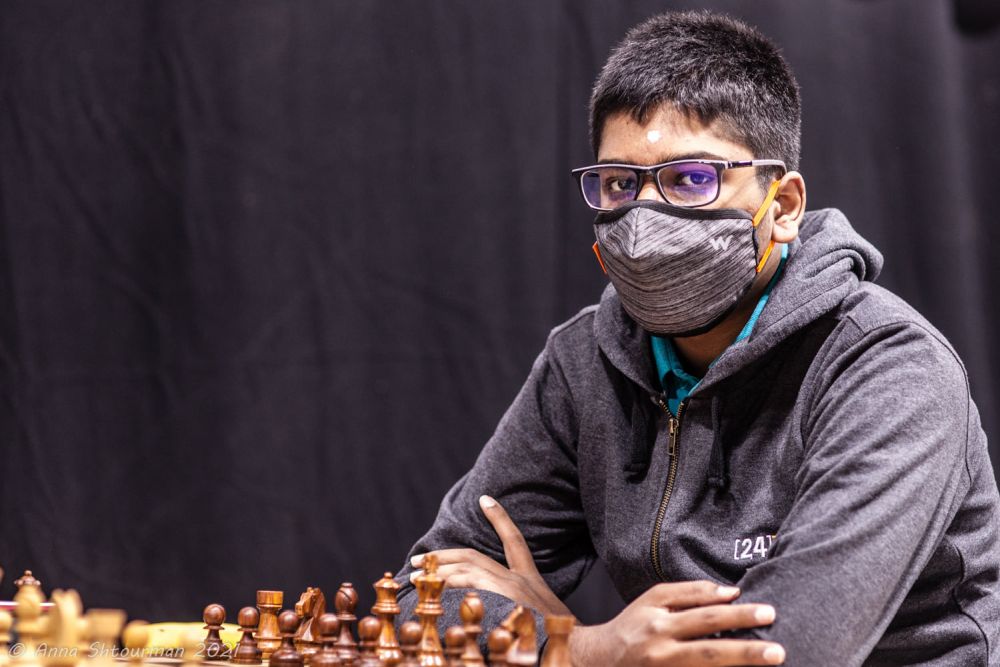 Highlights
Here are a couple of interesting finishes from Round 9:
Replay Round 9 games
Round 9 results
Final standings
| | | | | | | | | | | | | | | | |
| --- | --- | --- | --- | --- | --- | --- | --- | --- | --- | --- | --- | --- | --- | --- | --- |
| Rk. | SNo | | | Name | Typ | sex | Gr | FED | Rtg | Pts. | TB1 | TB2 | TB3 | K | rtg+/- |
| 1 | 1 | | GM | Donchenko Alexander | | | | GER | 2657 | 7,5 | 43,0 | 36,5 | 2634 | 10 | 4,6 |
| 2 | 6 | | GM | Narayanan.S.L | | | | IND | 2624 | 7,0 | 47,5 | 41,0 | 2718 | 10 | 11,8 |
| 3 | 18 | | IM | Laurusas Tomas | | | | LTU | 2549 | 7,0 | 47,5 | 41,0 | 2673 | 10 | 15,0 |
| 4 | 20 | | GM | Kantor Gergely | | | | HUN | 2533 | 7,0 | 46,0 | 39,5 | 2662 | 10 | 15,8 |
| 5 | 10 | | GM | Karthikeyan Murali | | | | IND | 2606 | 7,0 | 44,0 | 38,0 | 2569 | 10 | 1,8 |
| 6 | 3 | | GM | Kovalenko Igor | | | | LAT | 2644 | 6,5 | 51,5 | 44,0 | 2683 | 10 | 6,8 |
| 7 | 7 | | GM | Hakobyan Aram | U20 | | | ARM | 2612 | 6,5 | 49,5 | 42,5 | 2669 | 10 | 8,6 |
| 8 | 24 | | IM | Arjun Kalyan | U20 | | | IND | 2503 | 6,5 | 46,5 | 40,0 | 2639 | 10 | 17,9 |
| 9 | 14 | | GM | Ivic Velimir | U20 | | | SRB | 2571 | 6,5 | 46,5 | 40,0 | 2605 | 10 | 5,9 |
| 10 | 8 | | GM | Smirin Ilia | | | | ISR | 2610 | 6,5 | 46,5 | 39,5 | 2642 | 10 | 5,7 |
| 11 | 46 | | IM | Pranav Anand | U16 | | | IND | 2417 | 6,5 | 45,0 | 38,0 | 2569 | 10 | 20,8 |
| 12 | 17 | | GM | Yuffa Daniil | | | | RUS | 2556 | 6,5 | 44,0 | 37,5 | 2557 | 10 | 0,6 |
| 13 | 9 | | GM | Praggnanandhaa R | U16 | | | IND | 2608 | 6,5 | 44,0 | 37,0 | 2480 | 10 | -3,6 |
| 14 | 33 | | GM | Miezis Normunds | | | | LAT | 2468 | 6,5 | 40,0 | 34,0 | 2403 | 10 | -2,8 |
| 15 | 45 | | FM | Dudin Gleb | U18 | | | RUS | 2422 | 6,5 | 39,0 | 32,0 | 2480 | 10 | 9,9 |
| 16 | 4 | | GM | Sethuraman S.P. | | | | IND | 2644 | 6,5 | 38,0 | 32,0 | 2465 | 10 | -10,4 |
| 17 | 11 | | GM | Erigaisi Arjun | U18 | | | IND | 2597 | 6,0 | 50,0 | 43,0 | 2617 | 10 | 4,4 |
| 18 | 2 | | GM | Nihal Sarin | U18 | | | IND | 2655 | 6,0 | 48,5 | 42,0 | 2606 | 10 | -3,5 |
| 19 | 44 | | IM | Ioannidis Evgenios | U20 | | | GRE | 2422 | 6,0 | 47,5 | 40,0 | 2531 | 10 | 14,9 |
| 20 | 27 | | GM | Budisavljevic Luka | U18 | | | SRB | 2495 | 6,0 | 46,5 | 39,5 | 2577 | 10 | 12,0 |
| 21 | 21 | | GM | Pultinevicius Paulius | U20 | | | LTU | 2528 | 6,0 | 46,5 | 39,5 | 2566 | 10 | 6,5 |
| 22 | 16 | | GM | Sanal Vahap | | | | TUR | 2557 | 6,0 | 46,5 | 39,0 | 2575 | 10 | 3,9 |
| 23 | 31 | | IM | Roshka Yevgeniy | U20 | | | UKR | 2476 | 6,0 | 46,0 | 39,0 | 2476 | 10 | 2,7 |
| 24 | 5 | | GM | Aravindh Chithambaram Vr. | | | | IND | 2641 | 6,0 | 45,5 | 39,0 | 2552 | 10 | -8,1 |
| 25 | 15 | | GM | Meshkovs Nikita | | | | LAT | 2568 | 6,0 | 45,5 | 38,5 | 2529 | 10 | -2,1 |
| 26 | 13 | | GM | Gukesh D | U16 | | | IND | 2578 | 6,0 | 45,5 | 38,5 | 2522 | 10 | -2,8 |
| 27 | 35 | | IM | Aditya Mittal | U16 | | | IND | 2464 | 6,0 | 44,5 | 37,5 | 2374 | 10 | -6,2 |
| 28 | 43 | | IM | Vignesh N R | | | | IND | 2428 | 6,0 | 43,5 | 36,5 | 2397 | 10 | 5,1 |
| 29 | 12 | | GM | Puranik Abhimanyu | | | | IND | 2580 | 6,0 | 42,5 | 36,0 | 2521 | 10 | -4,9 |
| 30 | 25 | | IM | Blohberger Felix | U20 | | | AUT | 2502 | 6,0 | 40,5 | 35,0 | 2381 | 10 | -9,3 |
Final Standings of Closing blitz H
| | | | | | | | | | | | | | | |
| --- | --- | --- | --- | --- | --- | --- | --- | --- | --- | --- | --- | --- | --- | --- |
| Rk. | SNo | | | Name | Typ | sex | FED | Rtg | Pts. | TB1 | TB2 | TB3 | K | rtg+/- |
| 1 | 6 | | GM | Praggnanandhaa R | U18 | | IND | 2555 | 10,0 | 80,0 | 70,5 | 2711 | 20 | 43,6 |
| 2 | 5 | | GM | Karthikeyan Murali | | | IND | 2564 | 9,5 | 74,0 | 64,0 | 2559 | 20 | 18,8 |
| 3 | 1 | | GM | Nihal Sarin | U18 | | IND | 2658 | 9,0 | 77,5 | 67,5 | 2640 | 20 | 8,6 |
| 4 | 17 | | GM | Visakh N R | | | IND | 2428 | 8,5 | 73,5 | 63,5 | 2470 | 20 | 26,2 |
| 5 | 7 | | GM | Hakobyan Aram | | | ARM | 2547 | 8,5 | 71,5 | 63,5 | 2501 | 20 | 10,0 |
| 6 | 19 | | IM | Gokerkan Cem Kaan | | | TUR | 2361 | 8,5 | 71,0 | 61,0 | 2385 | 20 | 20,6 |
| 7 | 3 | | GM | Erigaisi Arjun | U18 | | IND | 2609 | 8,0 | 82,0 | 72,0 | 2578 | 20 | 6,6 |
| 8 | 49 | | IM | Pranav Anand | U18 | | IND | 2126 | 8,0 | 77,5 | 67,5 | 2547 | 20 | 112,2 |
| 9 | 10 | | GM | Yuffa Daniil | | | RUS | 2509 | 8,0 | 74,5 | 65,0 | 2451 | 20 | 0,8 |
| 10 | 8 | | GM | Kantor Gergely | | | HUN | 2514 | 8,0 | 74,0 | 65,0 | 2466 | 20 | 3,0 |
| 11 | 18 | | IM | Vignesh N R | | | IND | 2401 | 8,0 | 73,0 | 64,0 | 2316 | 20 | -6,0 |
| 12 | 30 | | FM | Samunenkov Ihor | U18 | | UKR | 2281 | 8,0 | 69,5 | 61,0 | 2303 | 20 | 18,4 |
| 13 | 9 | | GM | Donchenko Alexander | | | GER | 2509 | 8,0 | 66,0 | 58,5 | 2361 | 20 | -19,2 |
| 14 | 35 | | FM | Dudin Gleb | U18 | | RUS | 2239 | 8,0 | 65,5 | 57,5 | 2158 | 20 | -1,6 |
| 15 | 11 | | GM | Sanal Vahap | | | TUR | 2495 | 7,5 | 79,5 | 69,5 | 2419 | 20 | -3,0 |
Links
---