ChessMood Open R6: Samvel Ter-Sahakyan regains sole lead
GM Samvel Ter-Sahakyan defeated compatriot IM David Shahinyan in the sixth round to regain his sole lead 5.5/6 at ChessMood Open. Four players are trailing by a half point. They are - Narayanan S L, Levan Pantsulaia (GEO), Abhimanyu Puranik and Alexey Goganov (RUS). All three of them won their respective games in the sixth round. IM Bharath Subramaniyam H had a 116-move long marathon draw against GM Arman Mikaelyan (ARM). Arjun, Gukesh, Sandipan and Karthik won their respective games. WFM Sahithi Varshini M held IM Padmini Rout to a draw. Round 7 starts today from 4:30 p.m. IST. Photo: ChessMood
Narayanan and Abhimanyu in the title fray
Top seed of the tournament GM Narayanan S L and GM Abhimanyu Puranik maintain their position in the championship picture as they are just a half point behind the leader at 5.0/6.
Narayanan - Paichadze: 1-0
GM Narayanan S L defeated GM Luka Paichadze using a nice tactics.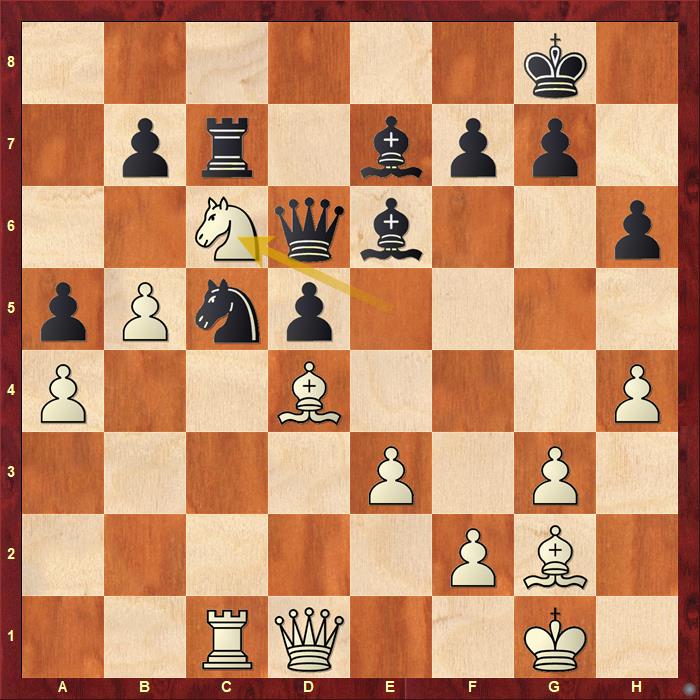 29.Nc6 is a multipurpose move. It is blockading the rook's support on the c5-knight, also threatening Be5 in the next move. Black has no choice but to take the knight 29...bxc6 30.Bxc5 and now he decided to sacrifice his queen to increase the fighting chances 30...Qxc5 31.Rxc5 Bxc5. White is still winning and Narayanan had no trouble showcasing the right technique. 30...Qd7 31.Bxe7 Qxe7 32.b6 Rc8 33.Qd2 would have also given White a decisive advantage.
Narayanan made a very nice breakthrough 44.g4 to convert his advantage into a win. 44...fxg4 45.Qg6+ Ke7 46.Qxg7+ Ke8 47.Qxh6 Re7 48.Bxg4 Bxg4 49.Qg6+ and it's all over for Black.
Praggnanandhaa - Goganov: 0-1
GM Alexey Goganov made an interesting sacrifice on GM Praggnanandhaa's kingside.
22...Bxh3 is undoubtedly an interesting sacrifice with the motive of 23...Nf3+ if White decides to accept the sacrifice 23.gxh3 which is not a good idea. Thus the best continuation is to eliminate the Nf3 threat immediately 23.Rxe5 and then after 23...Bxe5 24.gxh3 will allow White to save the game. The game continued 23.Nxc7 Qxc7 24.Rxe5 Rxe5 25.gxh3 Rae8 and things just spiraled out of control for White. 25.Bf4 would still have given some fighting chance.
Mosadeghpour - Abhimanyu: 0-1
GM Abhimanyu Puranik does not shy away from tactical skirmish. His opponent GM Masoud Mosadeghpour (IRI) missed a tactical defense and had to pay a heavy price for it.
White is in deep trouble, however he has a way to get out of the skewer and avoid material loss. How? 26.Nxc5 Qxc5 27.Qc3 Bxd1 28.Be5 Qc6 29.Rfd1 Rfe8 and Black converted his advantage into a full point in a few more moves.
Farahat - Arjun: 0-1
GM Arjun Erigaisi scored a crushing victory against IM Farahat Ali (USA).
Arjun had made his intentions clear with an early 6...g5, 7...g4 that he is playing only for one result - win. 13.b4 only helped Black's case as 13...Nxe4 gave Black a free pawn and his pieces swarmed towards White's kingside. Black wrapped up the game in just 24 moves.
Gukesh - Mitrabha: 1-0
IM Mitrabha Guha played extremely passive against GM D Gukesh.
Black had to sacrifice the knight for a pawn to open up the position 31...gxf5 32.gxh5 fxe4 33.Bxe4. Unfortunately for him, it was not enough and Gukesh went on to win the game.
For more Round 6 photos, please click here.
Highlights
Here are a few interesting finishes of Round 6.
Replay Round 6 games
The tournament is taking place at Tsaghkadzor Marriott Hotel, Tsaghkadzor in Armenia from 4th to 12th October 2021. Time control is 90'/40 + 30' + 30" per move. Everyday game starts at 3 p.m. local time (4:30 p.m. IST), except 12th October, the final round will start at 10:30 a.m. local time (12 p.m. IST).
Round 6 results
Round 7 pairings
Links
---