ChessMood Open R3: Narayanan, Pragg, Ter-Sahakyan and Shahinyan in a four-way lead
GMs Narayanan S L, R Praggnanandhaa, Samvel Ter-Sahakyan and IM David Shahinyan are the four players in the lead 3.0/3 after the third round of ChessMood Open. Eleven players are at a half point behind 2.5/3. GMs D Gukesh and Arjun Erigaisi are the only two Indians among them. Arjun ended Bharath Subhramaniyam's undefeated streak. IM Moksh Amit Doshi continues his impressive run as he again got himself a decisive advantage, this time against GM Levan Pantsulaia. Narayanan will face Ter-Sahakyan and Praggnanandhaa will be up against Shahinyan in the fourth round which starts today from 4:30 p.m. IST. Photo: Rupali Mullick
A showcase of technique
Narayanan, Praggnanandhaa, Gukesh and Arjun have showed some fine technique to convert their advantage into a victory in the third round.
Minasian - Narayanan: 0-1
GM Narayanan S L is India no.6 and a very strong player. He has been consistent for over a year and he is now at career peak rating of 2647. To get a glimpse of his strength, take a look at the following position from his game against GM Artashes Minasian (ARM).
The above position is equal. However, Black has a bishop pair. Narayanan utilized that fact to his advantage by creating imbalance and eventually forced his opponent to make a mistake.
White has made a couple of tiny positional mistakes. Exchanging a pawn towards the center might have given him a passed pawn, it is Black who has gained a space advantage which is good for him because he has a bishop pair and comparatively Black's king rapidly move towards the center unlike the White's king. Rest is just a matter of technique which Narayanan showed beautifully to convert his advantage into a victory.
Gharibyan - Praggnanandhaa: 0-1
It is well established by now that GM R Praggnanandhaa has a great understanding of the position. He reminds us all once again in his game against IM Mamikon Gharibyan (ARM).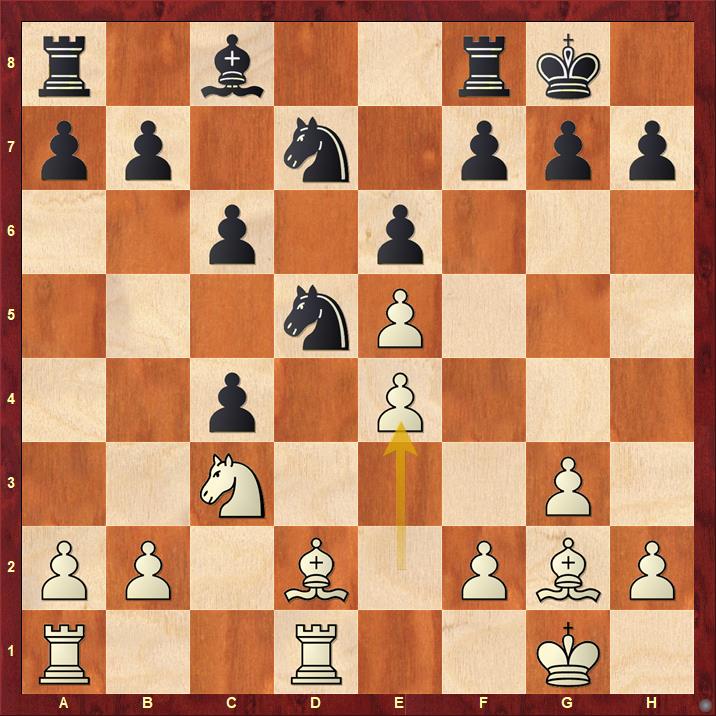 14.e4 is not really a bad move. However, if you stretch your imagination a bit, you may find why it is so. There is a hole at the d3 square and the d5-knight is ready to jump on it 14...Nb4 15.f4 Nd3 16.b3 b5 17.Be3 Ba6 18.Bf1 Rad8. The knight is now tactically defended twice. If White goes 19.Bxd3 cxd3 20.Rxd3 b4 and White will lose material.
White has made a tactical error as he played 27.Ne4. Find out why it is a huge mistake. 27.Bd6 could have continued the game a little further which probably would not have changed the outcome as 27...Nc3 is there and Black already has a pleasant position.
Ter-Sahakyan - Mitrabha: 1-0
IM Mitrabha Guha blundered in an already difficult position against GM Samvel Ter-Sahakyan (ARM).
21...Rxb7 22.Bxb7 Kg7 23.Rxa5 and White is still significantly better. However, Black still has something to continue the fight. 21...Rc5 immediately ends the game due to the threat of Rxa5 followed by Ra8 or Ra7. Both of them are unstoppable threats.
Gukesh - Barseghyan: 1-0
What separates strong players from the rest? They make calculative and methodical decisions. Take a look GM D Gukesh's careful decision of which endgame to go to while taking a pawn against FM Armen Ar. Barseghyan (ARM).
White could have taken the b7-pawn in the previous move 31.Rxc8+ Nxc8 32.Qxb7 Qxb7 33.Nxb7 which the computer says White having a decisive advantage. Only a human would know that it has that much more chances of a draw. Instead, Gukesh opted for 31.Rc5 Kg7 and then he took 32.Nxb7. Soon Black made a dubious sacrifice which resulted in him being down by a rook in search of a perpetual which he could not find and Gukesh won the game.
Arjun - Bharath: 1-0
IM Bharath Subramaniyam H showed a lack of interest in defending his pawn which shifted the balance in his opponent GM Arjun Erigaisi's favor.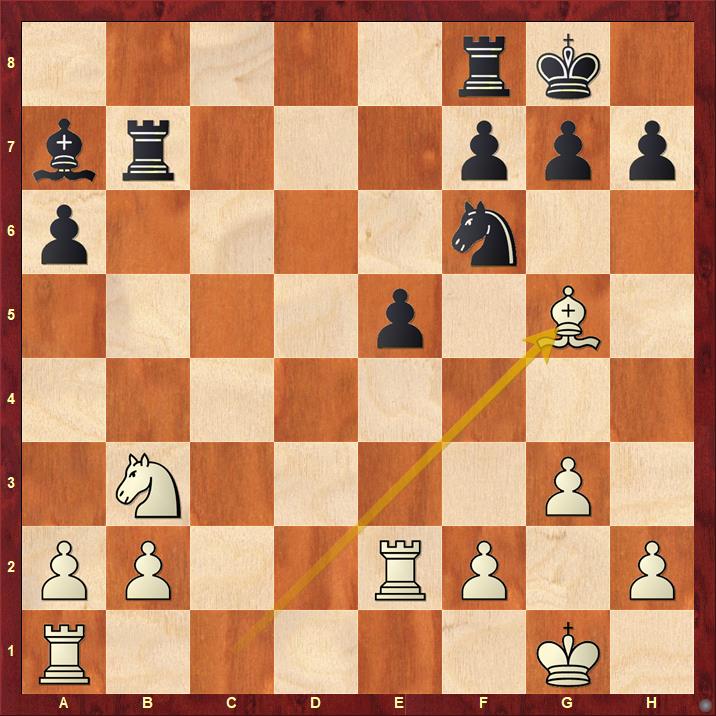 Black can save the e5-pawn in two different ways, 18...Ng4 or Rc8. In the first case, Black is defending the e5-pawn directly, whereas in the latter Black will still go Ng4 with the same motif. The game continued 18...Nd5 19.Rxe5 and Black did not get a chance to get back for the rest of the game.
Moksh - Pantsulaia: 1-0
IM Moksh Amit Doshi continues his good form as he once again got a decisive advantage, this time against GM Levan Pantsulaia (GEO).
A lot of things are going on in the above position. There are many things to consider. One thing is for certain that White has a decisive advantage but how to maximize it? Find out the best continuation for White.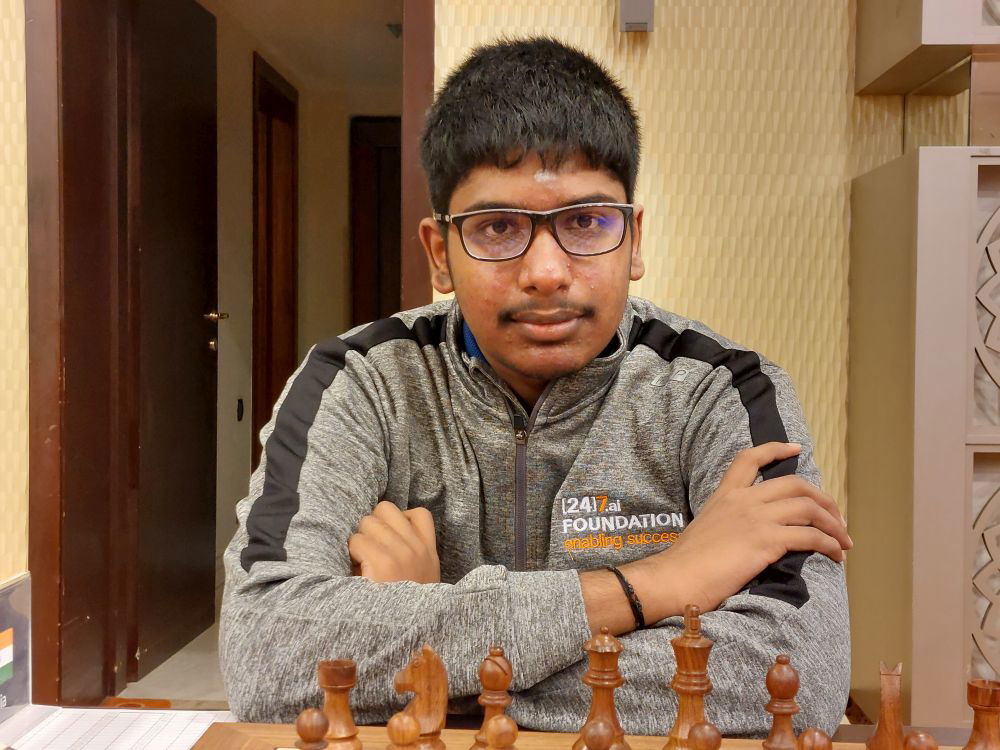 For more Round 3 photos, please click here.
Highlights
Here is an interesting finish of Round 3
Replay Round 3 games
The tournament is taking place at Tsaghkadzor Marriott Hotel, Tsaghkadzor in Armenia from 4th to 12th October 2021. Time control is 90'/40 + 30' + 30" per move. Everyday game starts at 3 p.m. local time (4:30 p.m. IST), except 12th October, the final round will start at 10:30 a.m. local time (12 p.m. IST).
Round 3 results
Round 4 pairings
Links
---