ChessMood Open R1: Vedant Panesar stuns Tigran Harutyunyan
Vedant Panesar scored the biggest upset of the first round at ChessMood Open. He beat GM Tigran Harutyunyan (ARM) convincingly. CM Robert Piliposyan (ARM) held Georgia no.4 GM Levan Pantsulaia and WIM Priyanka Nutakki held GM Luka Paichadze to a draw. GM Narayanan S L is the top seed of the tournament. He is followed by D Gukesh who is the second seeded player. Arjun Erigaisi, R Praggnanandhaa and Abhimanyu Puranik among the other top Indian seeds at the tournament. A total of 103 players including 26 GMs, 22 IMs, a WGM and 4 WIMs are taking part from ten countries across the world. The total prize fund is 10,250,000 Armenian Drams, first prize is 2,500,000 AMD (approx.₹382,000). Photo: Rupali Mullick
Priyanka Nutakki holds Luka Paichadze to a draw
WIM Priyanka Nutakki held Georgia no.5 GM Luka Paichadze to a draw. CM Prraneeth Vuppala drew with countryman GM Harsha Bharathakoti. WIM Aakanksha Hagawane drew with GM Arman Mikaelyan (ARM). WFM Sahithi Varshini M defeated IM Farahat Ali (USA).
Vedant Panesar - Harutyunyan: 1-0
Vedant took advantage of his opponent GM Tigran Harutyunyan's (ARM) tactical mistake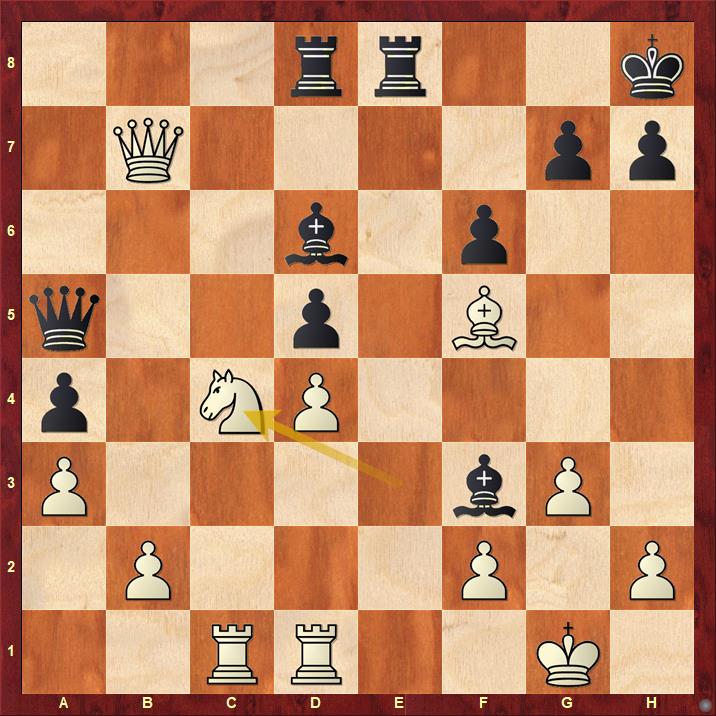 35.Nc4 takes advantage of the d5-pawn being pinned along the long diagonal. Black is forced to play 35...Qc7. The alternative 35...dxc4 is also bad as the c4-pawn will eventually after 36.Qxf3. The game continued 36.Nxd6 Qxd6 37.Re1 g6 38.Rxe8+ Rxe8 39.Rc8 Rxc8 40.Qxc8+ Kg7 41.Qd7+. The resultant same color bishop ending is completely winning for White due to the fact that a4-pawn will fall shortly and Black has already lost a pawn.
Paichadze - Nutakki: 0.5-0.5
WIM Priyanka Nutakki had a good opportunity against GM Luka Paichadze (GEO).
20.Nf3 is a dubious move. White could have gone Qa4 threatening b5 after 20.Rxd8+ Rxd8. The idea is to simply blindside the a6-bishop. 20.Nf3 allowed Black to gain a pawn via 20...Bd3 21.Qb3 Rxa1 22.Rxa1 Bxe4. White has no compensation for the lost pawn apart from forcing the c6-knight to go back home at b8 via 23.b5. Black opted for 20...Qe6 and the e4-pawn continued to exist.
In the endgame, it was White who got an opportunity to gain a pawn after 39...Bf5. Try to find out how White could have made things difficult for Black in the above position. The game continued 40.Qf4 and Black managed to save the day 40...Qe7.
Gukesh - Hakemi: 1-0
GM D Gukesh had an interesting game against FM Arman Hakemi (ARM).
28...Rd1 would have still kept Black in the game. 29.Rxd1 Nxd1 30.Re2 Qd4+ 31.Bf2 Nxf2 32.Rxf2 c3 is one of the way Black could have continued the fight. The game continued 28...cxb3 29.Qxb3 Rd3 30.Qa2 Nd1 31.Re2 and now White is completely winning.
Vantika - Shant Sargsyan: 0-1
WIM Vantika Agrawal could have held GM Shant Sargsyan (ARM) to a draw if she had played the queen ending correctly.
What should be White's plan here to save the game?
White decided to protect e5-pawn and give up the a2. The a5-passed pawn looks menacing, however it is still not over, White is very much in the game and can still make a draw. Find out how.
Photo Gallery
For more photos, please click here.
Highlights
Here is an interesting finish of Round 1
Replay Round 1 games
The tournament is taking place at Tsaghkadzor Marriott Hotel, Tsaghkadzor in Armenia from 4th to 12th October 2021. Time control is 90'/40 + 30' + 30" per move. Everyday game starts at 3 p.m. local time (4:30 p.m. IST), except 12th October, the final round will start at 10:30 a.m. local time (12 p.m. IST).
Round 1 results
Round 2 pairings
Links
---