ChessMood Open R4: Samvel Ter-Sahakyan takes sole lead 4.0/4
Samvel Ter-Sahakyan beat the top seed of the tournament, Narayanan S L to emerge as the sole leader 4.0/4 at the conclusion of the fourth round of ChessMood Open. Praggnanandhaa is the only Indian who is a half point behind the leader. They will face each other in the fifth round. Apart from Abhimanyu, Karthik and Mitrabha's win, it was a tough day for the Indian players at the top as Gukesh, Arjun, Krishna, Moksh, Raahil, Padmini and Pranav lost their respective games. WIMs Aakanksha Hagawane and Isha Sharma held IMs Daneshvar Bardiya (IRI) and Vaishali to a draw each respectively. Round 5 starts today from 4:30 p.m. IST. Photo: Rupali Mullick
Praggnanandhaa in pursuit
Five players are at a half point behind the leader. They are - GMs R Praggnanandhaa, Alexey Goganov (RUS), Giga Quparadze (GEO), Levon Babujian (ARM) and IM David Shahinyan (ARM).
Narayanan - Ter-Sahakyan: 0-1
GM Narayanan S L made an interesting bishop sacrifice against GM Samvel Ter-Sahakyan (ARM).
23.Bxh5 does not yield anything immediately as White does not have enough pieces to make the damage on the black king. The game continued 23...gxh5 24.Qe2 Nf8 25.Qxh5 Ng6 26.Nc2 Bf8 27.Ne3 Qe7. White took a bit longer to bring the knight. 25.Ne3 instead of taking the h5-pawn would have been faster, before Black could regroup his pieces.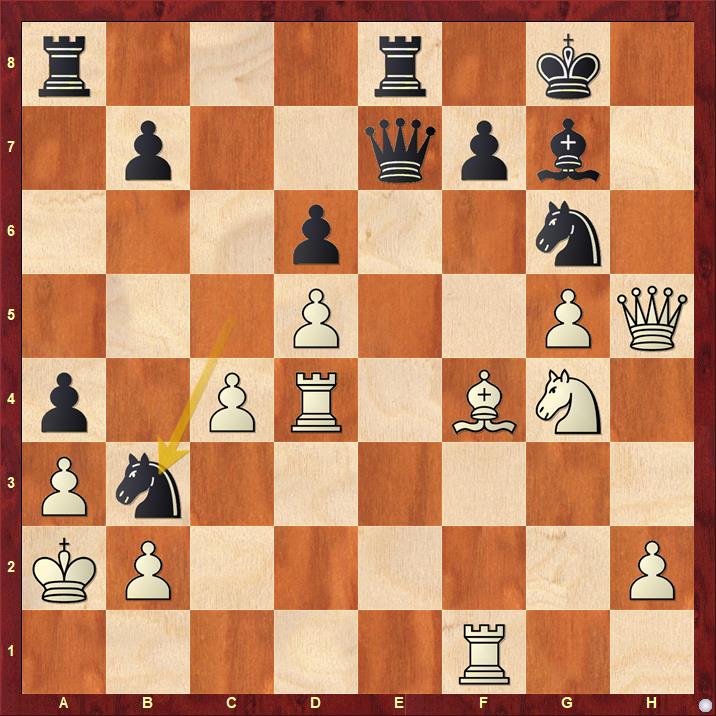 The position is incredible. It seems like things are falling apart for White, however there is a way to save the game. It is not an easy one. Find out what it is.
Goganov - Gukesh: 1-0
Sometimes two knights can be stronger than a pair of bishops. That is exactly what happened in the game between GM Alexey Goganov (RUS) and GM D Gukesh.
Black's position is unpleasant. It is certainly not easy to play. 36...Bb3 makes sure after bxc5+ the b-file remains blocked temporarily after bxc5+. 36...Be6 37.bxc5+ Ka7 and now the Black king is stranded at the edge of the board. After 38.Rxa4+ bxa4, it is not only easy for White to pick up the a-pawn but also Black's king is more vulnerable than it would have been if it were on c7. White exploited the king's vulnerability and won the game shortly.
Quparadze - Arjun: 1-0
GM Arjun Erigaisi made a questionable break against GM Giga Quparadze (GEO).
16...f5 allowed White to transform the position in his favor by gaining space advantage and blindsiding the b7-bishop 17.d5 Ne5 18.Nd4 Bc8 19.Ra3 and Black's position is already quite unpleasant, as there is no good way to generate an attack on the kingside for Black. Thing spiralled out of Black's control and White eventually won the game.
Sokolovsky - Abhimanyu: 0-1
FM Yahli Sokolovsky (ISR) almost managed to save the game against GM Abhimanyu Puranik, until he overextended his position and made his king vulnerable.
White would have probably still lost the game even without 41.f4. However, the pawn push only accelerated Black's chances of converting the advantage. For e.g. 41.Kf1 and White maintaining the checkmate threat on the seventh rank is a better alternative as it is not easy for Black to make progress.
Mosadeghpour - Moksh: 1-0
GM Masoud Mosadeghpour (IRI) stopped IM Moksh Amit Doshi's great momentum.
Black's position is quite difficult to play as both bishops path are obstructed. The only thing going for Black is, White is still yet to complete the development of pieces. The game continued 16...Re8 17.c4 bxc3 18.bxc3 Qf6 19.Rb1 Rab8 20.Nxd7 and it was all over for Black. Find out what Black should have done instead.
For more Round 4 photos, please click here.
Replay Round 4 games
The tournament is taking place at Tsaghkadzor Marriott Hotel, Tsaghkadzor in Armenia from 4th to 12th October 2021. Time control is 90'/40 + 30' + 30" per move. Everyday game starts at 3 p.m. local time (4:30 p.m. IST), except 12th October, the final round will start at 10:30 a.m. local time (12 p.m. IST).
Round 4 results
Round 5 pairings
Links
---