ChessMood Open R5: Ter-Sahakyan and Shahinyan at the top
Samvel Ter-Sahakyan drew with Praggnanandhaa in the fifth round to maintain his lead 4.5/5. He is joined by fellow countryman IM David Shahinyan (ARM) after the fifth round of ChessMood Open. The tournament leaders will face each other in the sixth round. Ten players are at a half point behind the leader. Narayanan S L, Praggnanandhaa and Abhimanyu Puranik are the three Indians among them. IMs Mitrabha Guha and P Shyam Nikhil held Armenian GMs Shant Sargsyan and Manuel Petrosyan to a draw each, respectively. IM Bharath Subramaniyam H got back to winning ways as he defeated GM Harsha Bharathakoti. Round 6 starts today from 4:30 p.m. IST. Photo: Rupali Mullick
Narayanan, Praggnanandhaa and Abhimanyu in the hunt
Three of the first five boards ended in draws. The remaining games of the top ten boards ended decisively. That definitely shows how strong the field is.
Ter-Sahakyan - Praggnanandhaa: 0.5-0.5
Samvel Ter-Sahakyan sacrificed his bishop to expose Praggnanandhaa's king.
19.Bxg7 is not that scary for Black because White does not have sufficient pieces to deliver the checkmate. 19...Kxg7 20.Qg5+ Kh8 and after a couple of repetitions 24.Re3 Rfc8 25.e5 Kf8 26.Rae1 Qd8 27.Qh8+ Ke7 28.Qf6+ and it is a draw by perpetual check.
Karthik - Narayanan: 0-1
An incorrect break at the center can completely have the opposite outcome than a desired one. GM Karthik Venkataraman made a break which did not yield what he wanted against GM Narayanan S L.
28.d4 actually helps Black to gain more control of the center, get rid of the doubled pawns on e-file which means the f6-bishop's path also gets opened. White could have done 28.b4 instead. The game continued 28...exd4 29.Nxd4 c5 30.Nf3 Be7. The next positional mistake was 31.e5 which reduced the space for White after 31...d5 32.Rg4 d4 33.Bd2 Rxb2. Black could have gone for 33...Qxf3+ 34.Qxf3 Rxf3 35.Kxf3 Ne5 which is also winning. White managed to prolong the game, however the outcome remained unchanged.
Abhimanyu - Kasparov: 1-0
GM Abhimanyu Puranik scored a clinical victory over GM Sergey Kasparov (BLR).
For more Round 5 photos, please click here.
Highlights
Here are a few interesting finishes of Round 5.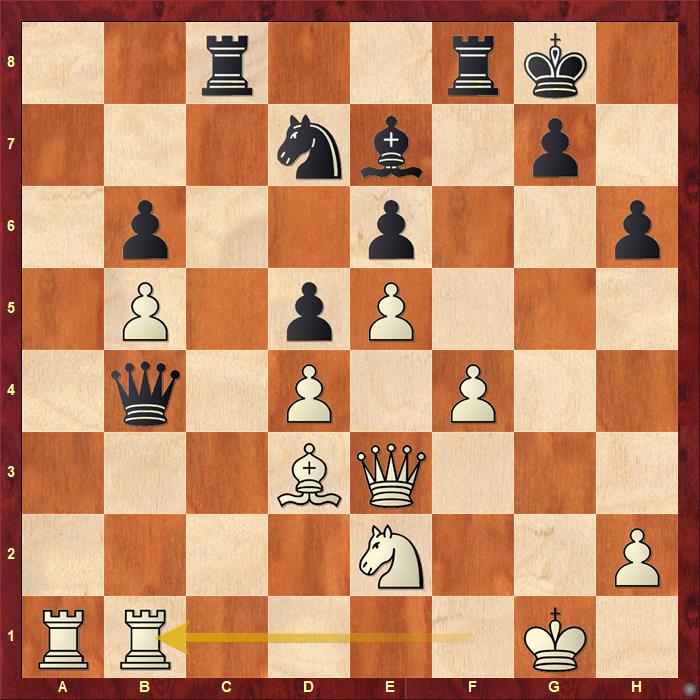 Replay Round 5 games
The tournament is taking place at Tsaghkadzor Marriott Hotel, Tsaghkadzor in Armenia from 4th to 12th October 2021. Time control is 90'/40 + 30' + 30" per move. Everyday game starts at 3 p.m. local time (4:30 p.m. IST), except 12th October, the final round will start at 10:30 a.m. local time (12 p.m. IST).
Round 5 results
Round 6 pairings
Links
---