Priyanka K wins the MKG Scholarship for Rs.50,000
MKG Scholarship for a girl child below the age of 18 years was the first scholarship instituted under the HelpChess Initiative by ChessBase India Foundation. The scholarship has been started by the family of Anitha and Jagadeesh Balakrishnan in the memory of former's father Mr. MK Govindraj. The amount of scholarship is Rs.50,000. On 10th of July we released an article for the scholarship and in the next 15 days we received numerous applications. As per the decision of the sponsor and the ChessBase India Foundation team the winner of the scholarship is K. Priyanka. 17-year-old Priyanka is the current under-17 national champion of India, former under-16 Commonwealth gold medalist, 1 WIM norm holder, National A player and also two-time Tamil Nadu Junior State Champion. Here's her story and why she is the most deserving candidate for the scholarship.
The MK Govindraj Scholarship for a girl child below the age of 18 years begins from the month of August 2018. The winner of the Scholarship is Priyanka Kalidhass. She will receive Rs.50,000 over a period of one year - Rs.6,000 in the first month and Rs.4,000 in the next eleven months.
Says Anitha Jagadeesh, daughter of MK Govindraj, "We received many applications and some of them were quite deserving. It was not at all easy but we decided to give the scholarship to Priyanka K for the following reasons:
1) Strong player with high rating and achievements.
2) Dad is no more. There is a genuine need for finance.
3) This is a critical age for her to play chess. After a few years she will be handling multiple responsibilities and now is the time for chess.
Priyanka was thrilled that she had won the scholarship. Talking to ChessBase India she said, "I am actually surprised to know that I received the scholarship. I sincerely thank everyone for this scholarship. It is a great initiative taken by Anitha and Jagadeesh Balakrishnan to give the MKG scholarship for a girl under 18 years. I owe everything to them. I am now additionally motivated to become a full fledged Grandmaster as soon as possible. This money will help me play in more tournaments."
Recently Priyanka played against GM Sundararajan Kidambi at the Commonwealth Championships 2018. After the game ended in a draw, Kidambi said, "Priyanka defended very well against me. 100 plus moves. And I was always better but she made my task as difficult as possible. She can be quite a strong player with right breaks." Words like these from an experienced GM like Kidambi instill our confidence that this scholarship has been given to the right person.
The story of Priyanka K:
Priyanka was born on 3rd August 2001 in Coimbatore. Her love for trophies began at an early age of 3 when she recited 30 Tamil 'Thirukkural' and got first prize in school sports day. This surprised her parents, Mr S.Kalidhass and Mrs K.Maruthambal, and made them feel that she had a unique talent and good memory. Priyanka was winning many such prizes in competitions like fancy dress, debate shows in few popular Tamil TV channels, piano, dance etc. As Priyanka says, "I was pretty good at almost everything I did and also was the topper in academics. But I was always feeling that my trophies aren't as big as I wanted." One day she saw a girl in her school assembly getting a very big trophy for chess and this is where it all began! The very same evening, Priyanka asked her dad to teach her to play chess. It was the love of trophies that got the little girl initiated in the game of chess! She was 8 years old at that point.
Priyanka's dad was her first coach. She used to play with him every evening after he would come back from work. Says Priyanka, "Inspired by my love for the game, my parents started taking me to tournaments and I showed some great results. I won the U-9 TN State Chess Championship in 2010, within a year of me starting to play chess. I also finished 4th (joint third) in U-9 National and won Silver in Asian Schools the same year. These achievements made us feel that chess had to be taken seriously."
But then disaster struck. "Everything was going well, I had no complaints in my life and I can say I was the happiest kid until a huge disaster hit our family. On Feb 18, 2012, I lost my father in an accident. I was just 10 then and so it was hard to understand what had just happened, the meaning of death, to accept the truth that my dad will not come back. It was very difficult for me to adapt in that situation." Priyanka and her family needed a new atmosphere. So she gave her 5th grade examination and moved to a city in Karnataka with her mom, uncle K.V.Sridhar and grandmother Ramalakshmi. She didn't play chess after that for almost 1.5 years, but eventually started missing the chequered board very badly. "I didn't want to give up something which gives me happiness, my dad's dream was also that. So I started playing chess again under the coaching and guidance of GM R.B.Ramesh sir."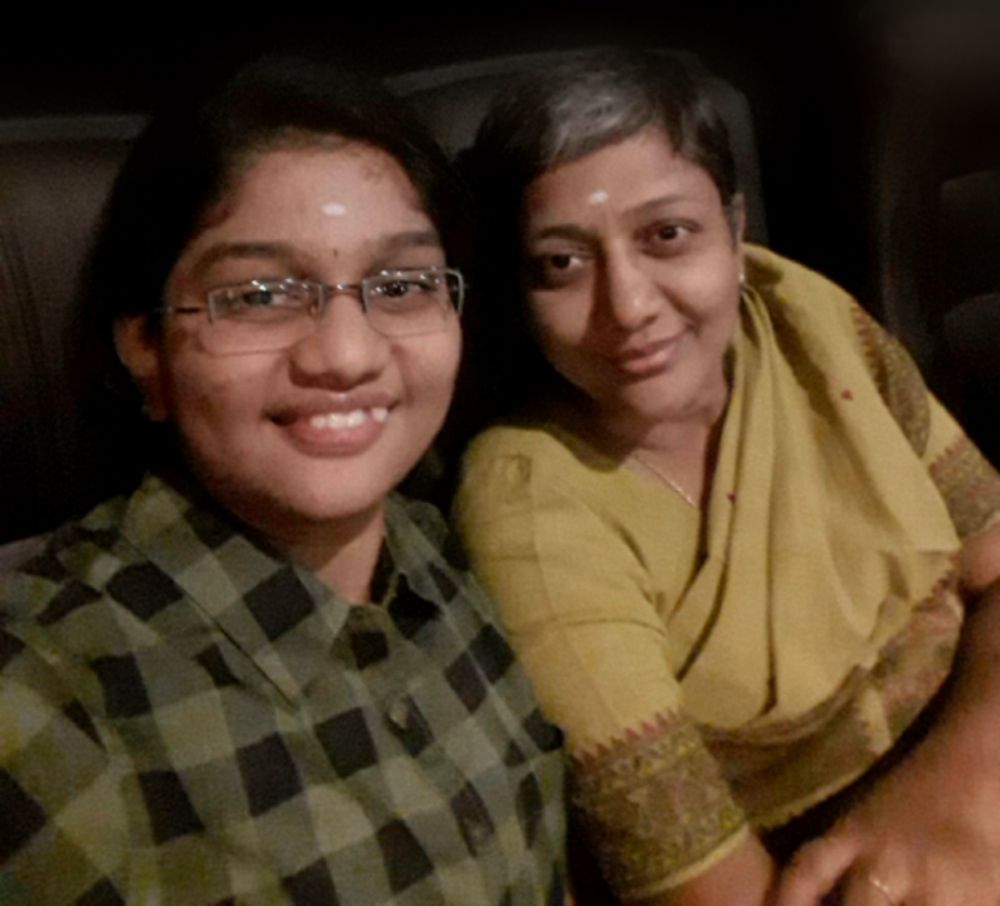 In the beginning, Priyanka couldn't play well. She was getting upset very often which reflected in her play. But with the continuous motivation of Ramesh sir and her family, she was back to normal and started winning some big events. In 2015, she was the second runner up in U-15 Nationals and also got selected for National Women Premier. "But we faced another big problem now - Finance. Chess itself is a costly game and it's never an easy task for a middle class single lady to handle those expenses. We started looking for sponsors but I never got a regular one. This practically became very difficult and at some point I even had to stop taking coaching as we couldn't afford the expenses of going to Chennai."
Looking for regular sponsorship was a never ending process and Priyanka's family was not successful. Just when they were about to give up, they met Mr Shankar Vanavarayar of Kumaraguru College of Technology, Coimbatore. Says Priyanka, "He has been a great pillar of my career; he has been sponsoring me for tournaments for the past few years. I also started achieving little, like I reached a rating of 2200, won Gold in U-16 Commonwealth in 2017 thanks to his support."
Finding a good coach was a problem for Priyanka but fortunately, a coaching camp of GM Vishnu Prasanna was held in her hometown and that's how the classes with Vishnu began. "I feel that he is quite lucky for me as I won my first National title, U-17 Nationals, immediately after the camp. Everything turned out to be colourful again."
Once Priyanka started playing well she had to attend more events. The cost of that was pretty high and sponsors were not coming forth. Priyanka remembers a pretty unfortunate incident that happened this year, "I had planned to play a couple of tournament in France and we were in the search of sponsorship. I received my visa and also booked the accommodation there. And finally we collected the money from few individuals just a day before I was leaving. So we were in the urge for booking tickets, and then we suddenly noticed that the train fare in France, from Paris to another city shot up very high. We couldn't manage for that cost and so we dropped the plan. Everything was ready, but this last moment change in price jeopardized all my plans. I have dropped many such tournaments just because of lack of money. I can even say, I missed more tournaments than what I have played. And this disturbs me mentally and makes it difficult for me to enjoy the game, as many times I'll get to know whether I will be playing a tournament just a day or two before the first round is scheduled to begin. My mother is a homemaker and our monthly income is roughly around Rs.8,000. This MKG Scholarship will help me to play more tournaments."
Priyanka's next tournaments will be the Abu Dhabi International beginning in a week from now and then the under-17 nationals in Haryana. In spite of all the difficulties Priyanka maintains a smile on her face. She dreams of becoming a full fledged grandmaster one day.

Write to us at chessbaseindiafoundation@gmail.com if you are interested to donate and support a talent in India. If you are interested to donate, ChessBase India will ensure that rest of the groundwork is done and the money reaches the players who are worthy and in need.
"When ordinary people come together and contribute, extraordinary things can happen to our chess society."
Links:
The launch of ChessBase India Foundation
MKG Scholarship for a girl child under the age of 18 years
---