The boy who attacked Celebral Palsy - Samarth Rao wins the Dennis Kow Scholarship for Rs.51,000
Samarth didn't choose this way of life. He was born as a premature baby and was attacked by neonatal jaundice and pneumonia because of which all the milestones of child growth were delayed. He couldn't sit, he couldn't walk, he couldn't even talk. He suffered from celebral palsy. Going to school was a problem, doing the smallest of chores was an issue. Life looked dim and colourless for Samarth. That's when he was introduced to the game of chess! Samarth fell in love with the 64 squares and moved from strength to strength to become one of the strongest disabled chess players of our country. Today, we wish to recognize Samarth's achievements with this article and also by awarding to him the Dennis Kow Scholarship of Rs.51,000.
Samarth Rao is 19 years old, studying in B.com 2nd semester in SDM College, Honnavar Uttara Kannada, Karnataka. He is the son of Sri Jagadish Rao B. S, native of Basrur, Kundapur, Udupi, District and Smt. Vinutha Bhat, Honnavar. Samarth suffers from Cerebral Palsy, due to which he is unable to stand or walk independently. He is also unable to talk. He has no body balance and he has more than 75% disability. Samarth is fully dependent on others for his daily activities. In spite of all of this he is mentally very intelligent.
In December 2018 we launched a scholarship of Rs.51,000 - the Dennis Kow scholarship. It was meant for the specially abled chess players of India. The total sum of the scholarship is Rs.51,000. Rs.30,000 was contributed by Jagadeesh Balakrishnan, who was a very close friend of Mr. Dennis Kow and Rs.21,000 was contributed by 9-year-old Suhaani Lohia, who had won the sum as the runner-up in under-9 nationals.
We received quite a few applications and it was quite difficult to select the person who should be given the scholarship. Each of the applicant was special and had fought innumerable problems to achieve something in chess. But from all of those, the story of Samarth Rao stood out. The boy suffers from celebral palsy, but has never ever given up in life. Here's his life story.
Samarth's life story:
Samarth was a premature baby and was attacked by neonatal jaundice for 1 month after he was born. When he was 4 months old, he suffered from pneumonia. For days he took 32 injections and finally recovered from it. There was no neck control or body control, all the milestones of child growth were totally delayed. He started to sit after two years but his parents used to keep pillows on every side of him, because most of the time he would fall down on the ground. For moving from one place to another, he would rollover on the floor.
When he was 4 years old, he joined "Anganawadi" (Kannada LKG). He had difficulty in writing but his grasping and memory power was good. He used his left hand for writing. He learnt there for two years and showed his talent of memory power. That time, if anyone showed him the calendar of a year, he would observe all 12 months - date, day and holidays marked in that calendar within 5 minutes. After that, if asked any date, he would respond back with the day. Also, if asked the holiday dates for any month, he immediately gave the correct answer!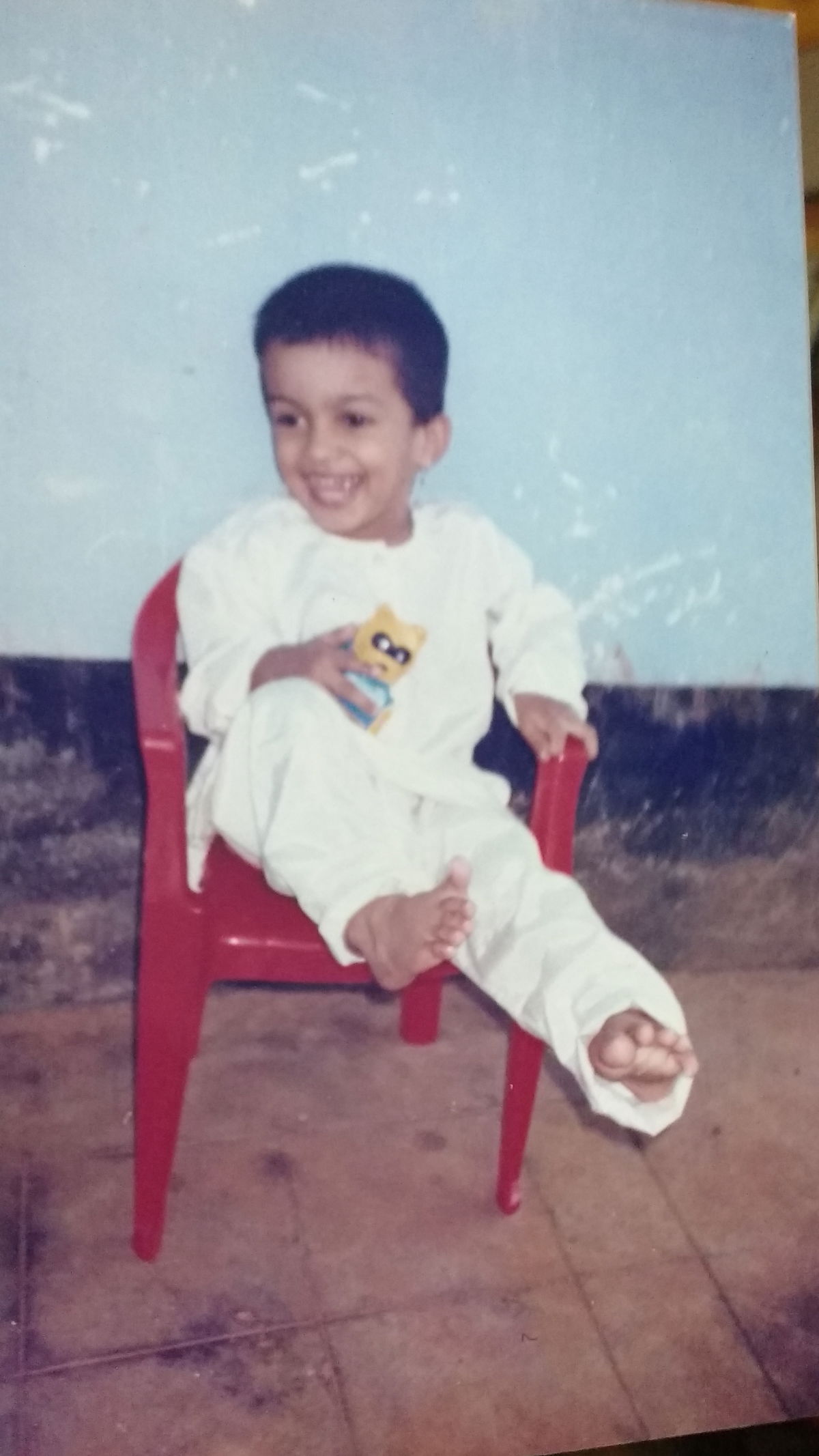 When his parents wished for him to join 1st Standard, they met with Head of Private School and discussed about Samarth's condition. Finally, the school replied that they were unable to give admission, because the toilet was very far from the class room. Then, Samarth's parents met the Head Master of Govt Model Higher Primary Kannada School, in Prabhath Nagar, Honnavar. They happily agreed to give admission to him. All teachers and students were supportive of Samarth and also helped by gathering Samarth's books, pencil, pens, keeping them into his bag and delivering them to his mother or grandfather.
His mother Vinutha Bhat or his Grandfather Sri G R Bhat used to take him to school and back. When he was in 7th standard, one day Samarth was sitting in front of the class door and was watching his friends playing on the playground, when his mother came by with a scooter to take him home. She observed the scene, and while bringing him home told Samarth that if he learnt indoor games like chess or carrom, his friends would come to play with him. At home, she showed him a chess board and a carrom board and tried to teach him carrom, but Samarth found carroom difficult to play. So he chose chess! His mother and grandfather started to play with him. In school his best friend Manju Prasad gave him some chess tips.
He was selected to participate in cluster level chess tournament of SGFI. There he became a candidate for Taluka level chess tournament. Unfortunately, he was not able to succeed and didn't proceed for the district level. But failure never disappointed Samarth. He continued his chess practice. On observing his interest in chess, his parents contacted Late Sri V R Shastri, Retd Physical Director, SDM college, Honnavar to coach him. Samarth also participated in U-25 Karnataka State Level Chess tournament at Davanagere, where the Organiser supported Samarth, and he scored 4 points out of 9 rounds in his 1st State level chess tournament and was awarded the consolation prize. This was the turning point of Samarth's career and it increased his interest in chess. Sri Shastri advised Mr Rao and Mrs Bhat to take him to a better coach who had a computer, internet awareness, and practical experience. They also suggested to contact Sri V K Kamath, who was a very good chess player. Mr Kamath introduced Mr. Prasad Hegde who was working in OSWAL Investment and Security, Honnavar. Mr. Prasad coached Samarth and imparted some ideas and found some improvement. Meanwhile Mr. Vinaykumar Hiremath (>2000 rating) of Sirsi also played with Samarth and coached him.
Entry Into FIDE Rated Chess Tournaments:
During October 2014 in Bangalore, Samarth entered his First FIDE rated Chess Tournament, where he won against a rated player and also drew against one, and totally scored 4.5 out of 9 rounds. There he was awarded with special prize by the organizer. When he participated in State level chess tournament in Silicon city, Bangalore, his parents met with Mr. Jyothiprakasam, Chess coach of Madhurai, and requested him to train Samarth. He agreed to coach him and came to his home in Honnavar for six days. After six days of coaching, he informed them to take him to IPCA World Chess Championship, and praised Samarth, saying he would bring laurels to India. The family was introduced Mr. G K. Irudayaraj, of Trichy, TN, (father of WIM Jennita Anto) 2nd Vice President of IPCA. Mr. G K Irudayaraj guided them suitably and encouraged Samarth. After finishing second at the National level tournament in Trichy, Samarth started preparing hard for the 15th IPCA World Championship in 2015 with the help of Jothypraksam, Srinidhi Sripathy, R. Narayan, Swaraj Palit and Shashikant Kutwal.
In 2017 he participated in OMD Dystro Ope-net chess championship (world level) Organized by Slovakia and got 2nd prize in the tournament. In 2018 he also participated along with other 2 Indian Physically challenged players in OMD Dystro Ope-net chess championship organized by Slovakia and the Indian team won the 1st prize and Samarth became the Champion of the tournament.
In spite of all of his health issues Samarth has continued his chess journey and participated in more than 70 chess tournaments, which consist of 30 Taluka District and Inter District level, 26 state levels, 8 National levels, 2 international level, 4 IPCA World Chess championships and 1 World Junior chess championship for Disabled in USA.
To participate in chess Tournament his family has traveled various places like, Slovakia, Serbia, Czech Republic, Florida USA, Kerala, Goa, Tamil Nadu, New Delhi, Karnataka, Bangalore, Mysore, Mandya, Chitradurga, Davanager, Udupi, Mangalore, Puttur, Nippani, Belgaum, Hubli, Dharwad,Bhadravati, Sindhanoor, Raichur, Gulbarga, Yadgiri, Gadag, Sirsi, Karwar, Karkala, Kaup, Brahmavar, Byndoor, Manipal, Kundapur etc.
Titles And Felicitations:

1. Samarth was awarded CM (Candidate Master) Title by FIDE for his excellent performance at the 1st FIDE World Junior Chess championship for Disabled at Florida, USA.
2. In Arena Online Chess he got AIM (Arena International Master) Title.
3. He was awarded title of Veeranjaneya Janapadashree Prashasti in Malenada Utsava at Bangarmakki Honnavar.
4. He was also awarded title of "Karnataka Sister of Social Services" by Someshwara Charitable Trust, (Regd) Sirsi
5. "Havyaka Saadhaka Rathna" Prashasti awarded by Havyaka Mahamandala, Bangalore in Vishwa Havyaka Sammelana, Bangalore
6. In April 2015 Silver Medal in men section of 1st Physically Disabled National Individual Chess Championship at Trichy.
7. In 15th IPCA World Chess Championship he got Bronze Medal in junior boys category held at Bratislava, Slovakia during June 2015.
8. In 16th IPCA WORLD Chess Championship he got Bronze Medal in junior Boys category held at Novi Sad, Serbia during July 2016.
9. In 17th IPCA World Chess championship he got Bronze Medal in Junior Boys category boys held at Ruzomberok, Slovakia, during June 2017.
10. He got Gold medal (Junior Boy's category) in IPCA World Individual Blitz chess championship held at Ruzomberok, Slovakia during 2017.
11. In First Fide World junior Chess Championship for Disabled, he got Silver Medal with Top Physically Disabled player award held at Kissimmee Florida, USA during July 2017. And he was awarded CM (Candidate Master) Title by Fide. In 2017 he has increased 237 Elo in 2 tournaments and rating increased to 1629.
12. In Sept 2015 he got Gold Medal/Champion in U-16 Karnataka State Level Rapid Chess Championship held at Chitradurga
13. In 2018 Oct he played in U-19 Karnataka State Selection chess Tournament at Gulbarga and unbeaten 7.5 out of 8 rounds and became CHAMPION and selected for Nationals.
14. In Feb 2019 he has participated in Below 1500 rating Open Rapid Chess Championship in Belgaum. He scored unbeaten 8 out of 8 rounds and became the Champion.
Samarth is recognized by various Organizations like Syndicate Bank, Lions Club, Rotary Club, V. R. Deshpande Trust, Haliyala and was felicitated in more than 65 functions. God of Indian Chess, World Chess Champion Mr. Viswanthan Anand honored Samarth in Trichy.
Sponsors who helped Samarth in the past:
Syndicate Bank, Corporate Office, Bangalore, TAPMI Manipal, Lions Club Manipal, Kannada Sangha Miami USA, Sports Authority of India Delhi (2 persons flight fare India to USA and back) and Karnataka Kreeda Pradhikar (1 person's flight fare from India to Slovakia and back) Late Sri V R Shastri, Honnavar, Smt. Kavyashree Mallanna (Mysore) USA, Late Sri G R Bhat and family, Honnavar.
Supporters:
All India Chess Federation Chennai, Chess Federation for Physically Disabled Trichy, United Karnataka Chess Association Bangalore, Mr. Sagar Shah, ChessBase India, All chess Players, Parents, Chess lovers, Organizers, Arbiters, Press and Media Reporters, well-wishers, School and College Lecturers, Teachers, Friends, Relatives have supported and encouraged Samarth to keep going.
What is the next plan?
Samarth is invited by Chess Educators, USA to participate in 3rd FIDE World Junior individual Chess championship for Disabled at Philadelphia, New Jersey, USA from 8th to 14th July 2019. Prior to that he will participate in the 19th IPCA World Individual Championships in fourth week of 2019. This is Samarth's last opportunity to play at the World Juniors. From next year he would have crossed the age of 20.
Samarth's aim:
Five time World Champion GM Viswanathan Anand is the role model of Samarth. He wishes one day he could become like Anand!
Note: We had mentioned that the winner of the scholarship would get Rs.7,000 in the first month, followed by 11 months of Rs.4,000. However, as Samarth has an urgent need of finances for his World Championship in Slovakia and World Juniors in USA, we would be crediting Rs.51,000 in his account with immediate effect.
Avathanshu Bhat contributed to this article
---