WIM Mounika Akshaya wins the King's Gambit Scholarship of Rs.120,000
Mounika Akshaya Bommini is 18 years old and recently became India's latest WIM. She had been very ambitious about her chess in the pandemic and had planned several European trips. This had eaten up her parent's savings and it was becoming increasingly difficult to continuing her training to get better at chess. Prabodh Prakash, a software developer from Bangalore, who has fallen in love with chess and follows ChessBase India regularly put up a scholarship of Rs.1,20,000 (Rs.10,000 per month). He named it the King's Gambit Scholarship! This has been awarded to Akshaya so that she can continue her training and make India proud in the years to come.
The King's Gambit Scholarship of Rs.1,20,000 from Helpchess Foundation
A few months ago we received a mail from one of the followers of ChessBase India - Prabodh Prakash. Prabodh lives in Bangalore and he wrote to us, "I am a chess enthusiast and I have seen ChessBase India streams and your work/support for Indian chess - I would like to contribute. I started playing chess very late (like a couple of years back) and (while it is an excuse) - my job doesn't permit me enough time to learn chess - the less I am able to spend time on chess, the more emotionally I connect with the game. My daughter is 3 years old and we are already teaching her chess from a teacher. My aim is to make her one of the best chess players on the planet (only if she is also interested in doing so - absolutely no parental pressure)." Prabodh mentioned that he would like to institute the King's Gambit Scholarship via the HelpChess Foundation of Rs. 1,20,000 (Rs.10,000 every month) that would go to a talented young chess player.
There are a lot of people who love chess. But very rarely do we see people making such a sizeable investment. Why is Prabodh keen on helping young talents? What is his vision? Speaking to ChessBase India, he said, "I absolutely love chess and I think this is reason enough to help it grow. But having said this, I appreciate the effort that goes behind the work that ChessBase India team, Samay, Vidit et. al. are doing - this is something huge that we all are witnessing and a few years down the line, we would look back at this time and revisit all that it took to bring chess to people. I want to be part of the family that's doing it. I simply want to contribute in my own small ways in enabling chess to become a popular, loved sport in India. I'll contribute a lot more in the coming time."
The ambitious 18-year-old WIM Mounika Akshaya
Born in 2003, 18-year-old Mounika Akshaya, from Andhra Pradesh, recently became a WIM in January 2022. Her current Elo is 2145. Her short term goal is to become an IM before 2024 and her long term aim is to become India no.1 in women's chess. Due to Covid-19 pandemic, Mounika and her family is facing a financial crunch which made it difficult to sustain her chess career. Mounika says, "My parents are private school teachers, having a very small school with 50-60 students. Because of Covid, the school was closed for long time and my parents were unemployed. Recently the schools have reopened but children are not showing up. It has become very tough for me to keep my chess training going and take coaching frequently."
We consulted with Prabodh if he would be fine to give the King's Gambit Scholarship to Mounika and he readily agreed. Hence, the amount of Rs.10,000 per month and a total of Rs.1,20,000 will go to Mounika for her training and improving her game. When Mounika received this news, she was elated. She said, "Rs. 10,000 per month would help me a lot as I would use it to continue working with my trainers GM Swayams Mishra and GM Shyam Sundar. It will also help me to buy some chess material like books and softwares." Why does Mounika work with two grandmasters? "They are entirely different in chess styles. My style in chess is dynamic and before I started working with Swayams sir my positional knowledge used to be zero. So he helps me to improve my positional and decision making knowledge. On the other hand Shyam sir helps me to strengthen my dynamic style and works on my openings. So, my entire chess is improving by working with both and I am becoming a more rounded chess player."
Mounika's story
Mounika learnt chess at the age of six. Her parents used to teach chess to young kids in their school and Mounika would often watch the kids play. Although, she was never formally taught chess, one fine day, she started to suggest moves on the board. Seeing her interest in chess, Mounika's parents contacted a chess trainer named Sitapathi and Mounika began to work with him. Remembering her humble beginnings, Mounika recollects, "I got 10th place at National Under-7 2010 and got to know that I can participate in World Youth Chess Championship which was very exciting news for my parents. As Sitapathi sir had to move to Hyderabad, I began training with K.N Gopal and Gowtham.T who were rated around 2000 Elo. I played World Youth Under-8 very well and started off with 5.0/5, but after an unfortunate loss in the sixth round I got upset and lost the remaining three rounds too. However, this result made my parents realize that I had some talent in the sport. It was at that point that I started working on chess full time by sacrificing my academics."
In her bid to become a strong player Mounika was ably supported by her school - Bhashyam Institutions. The youngster could take as many leaves as she wanted and had to only give her final examinations. Also her entire schooling from 5th to the 12th grade was sponsored by her school. Mounika and her family were very ambitious about her chess career and always sought the best way for the girl to keep improving. It was with this intention that she began training with the very well-known trainer G. Muralikrishna.
While working with G. Muralikrishna was the right decision, the logistical difficulties involved in it were massive. Mounika lived in Guntur, while the training center was in Ponnur. That's a distance of 30 kilometres with not so great connection with regards to public transport. Mounika's mother would drop her daughter to the academy, come back home, then travel once again in the evening! Nearly five hours were spent on a daily basis and she did this for nearly five years.
"My mom is the biggest support in my career", says Mounika. "She sacrificed many job opportunities so that I could play in tournaments. While my mother accompanied me and took care of the logistics, my father ensured that we had he finances so that I could continue going to tournaments." Sometimes it would be difficult for the family to make their ends meet and they would seek support from friends in the USA and UK for Mounika's tournaments.
2019 started off with a bang for Mounika. First she scored her maiden WIM norm at the Delhi Open 2019 and then she won the Andhra Pradesh State Championship in the open section with a score of 8.0/8. "Becoming the State Open Champion was a memorable moment for me. Holding that trophy as a girl ahead of all the participants in an open tournament was surely a great experience."
The remainder of 2019 didn't go so well for the Mounika, as she missed several chances to score her WIM norms. In March 2020, Mounika finished her 12th grade exams. She had chosen Maths and Physics as her main subjects and she was glad that she could finally focus on her chess after the completion of her exams. But that's when the Covid-19 pandemic began. The lockdown was imposed and Mounika's dreams of improving her rating, scoring her norms and reaching the WIM title had come to a standstill.
Mounika could have simply wasted her time in the pandemic. After all there were no tournaments. But the girl has always been ambitious and she took this as an opportunity to improve her play. She started working with GM Swayams Mishra and in January 2021, she also began to train with Shyam Sundar. Swayam's positional lessons and Shyam's dynamic concepts helped Akshaya to become a very strong chess player. She also joined the KL University to pursue a course in Engineering. The University has been extremely supportive. Apart from being ready to give her leaves for her chess, they have also made Akshaya's entire education free. In July 2021 when things began to open up across the world, Mounika travelled to Europe and played in Serbian tournaments. Although, she missed some chances to make her second norm, she finally did achieve it at the Vezerkepzo tournament in September 2021.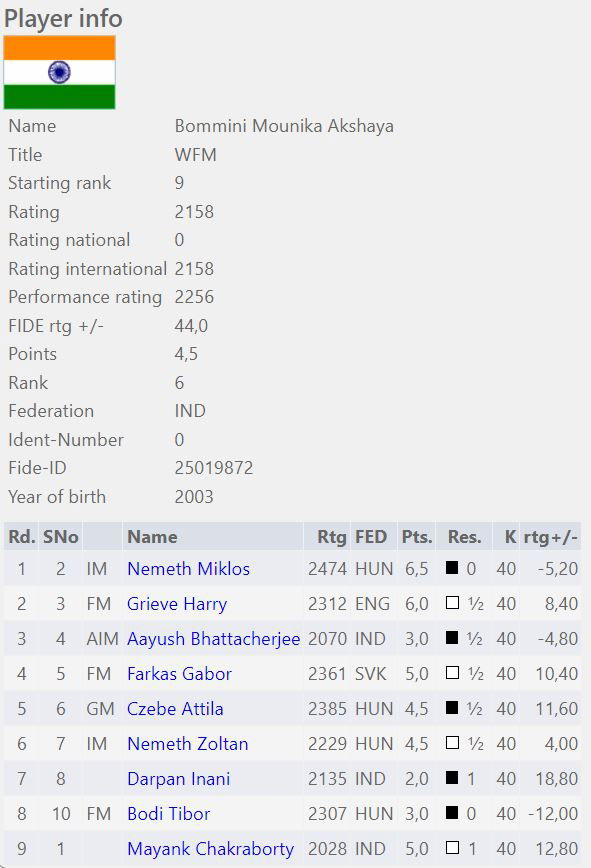 The pressure of scoring her 3rd WIM norm and getting the title, proved to be an impediment for Mounika to play freely in her next events. In her next European trip where she played a closed Round Robin event and also two tournaments in Armenia, she lost a massive 87 Elo points. The girl, did not give up hope and in her bid to achieve her aim, she planned another trip to Europe at the Sunway Sitges, Lorca and Roquetas De Mar, three tournaments in Spain. Mounika's father had spent a lot of his savings for this trip and there was quite a lot of pressure on the girl. She performed below par in both Sunway Sitges and Lorca Open and it seemed like another trip that was going to not bring her the results. But Mounika, kept her cool. She worked with her trainers in the three-day gap that she had before the Roquetas De Mar tournament began, and she tried to fix her weaknesses. The patience along with grit brought home the results, as Mounika scored 5.0/9 gaining 50 Elo points and her third WIM norm, making her a Woman International Master! "My first two tournaments in the trip didn't go well but my coaches kept saying to be patient and play cool in the last tournament and it worked!" says Mounika.

Mounika's journey towards the WIM title has been filled with so many ups and downs. But one thing is for sure, these experiences have made her battle hardened. "Now that I have achieved my WIM title, I am looking forward to playing in some of the upcoming tournaments and move towards my WGM title." Mounika is studying B. Tech second year right now. She was able to manage her first year as there were no tournaments in 2020 and scored a 8.6 CGPA. In the second year her college supported her and gave two months of leave for the Europe trip. " Whenever I plan tournaments, my university has agreed to give me 15 days leave prior to the tournament to practice. Other than this, every single day I practice 4 hours minimum after coming back from college."
Some of Mounika's major achievements
1. 2nd place in FIDE World Youth U-18 girls Grandprix Series Online and got selected to World Youth Super Finals cup but was unable to participate as it was clashing for Sitges Chess Festival.
2. 6th place in National Under 18 Girls Online Chess Championship 2021.
3. 10th place in World Youth Under 18 Girls Chess Championship 2019 at Mumbai.
4. 4th place in National Junior Girls Chess Championship 2019 at Gurgaon.
5. Bronze medal in Commonwealth Junior Girls Chess Championship 2019 at New Delhi.
6. 7th place in Asian Youth U-16 Girls Chess Championship held at Sri Lanka and got team Gold.
7. 1st WIM norm at Delhi Open 2019
8. 2nd WIM norm at Vezerkepzo IM RoundRobin 2021 in Hungary.
9. 3rd WIM norm at Roquetas Chess Open 2022 in Spain.
10. 12th place in Natinoal Women Senior Chess Championship 2018 at Jaipur.
11. 6th place in National Sub Junior girls Chess Championship 2017 at Ahmedabad.
12. 3 Gold, 1 Silver and 1 Bronze at Asean+Age group U12 girls Chess Championship 2015 held at Singapore.
13. Gold Medal in Asian Schools U-11 Girls Chess Championship held at Taipei.
Some of Akshaya's best games (annotations by the girl herself)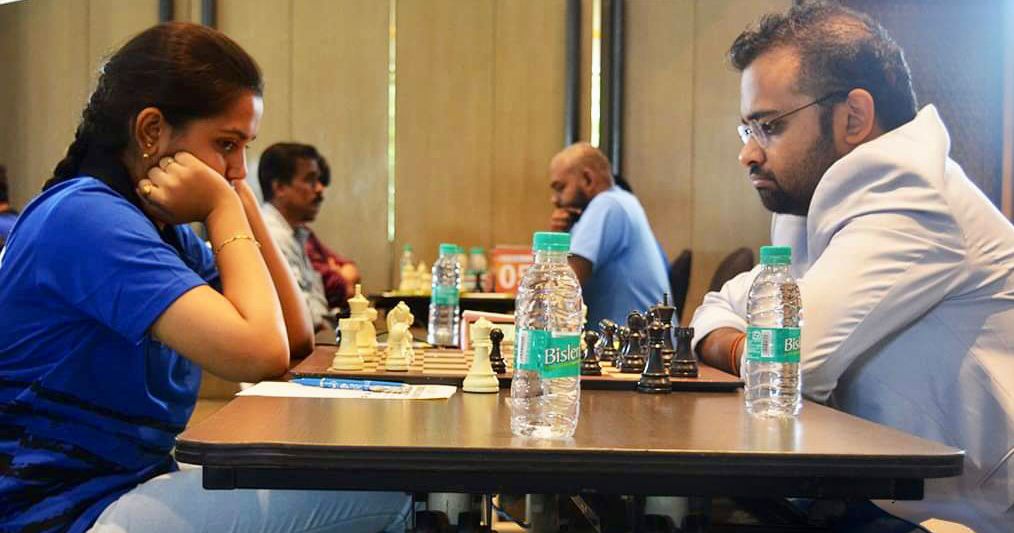 The HelpChess Foundation of ChessBase India is now an 80G recognized Charitable Trust. This means that if you contribute directly to it, you will get tax benefits. If you would like to help Pranesh or any other chess player, you can write to us at and we will respond immediately. chessbaseindia@gmail.com Here are a few details of the HelpChess Foundation:
A. Bank Details
Account Name: Helpchess Foundation
Account Number: 50200059926281
IFSC Code: HDFC0000118
B. UPI Details
UPI ID:helpchessfoundation.99750682@hdfcbank
Merchant Name: HELPCHESS FOUNDATION
C. Helpchess Foundation Details
Name: Helpchess Foundation
PAN number: AACTH4426K
12A Registration - AACTH4426KE20215 dated 23/09/2021
80G No - AACTH4426KF20213
(Donations are eligible for deduction under Sec. 80-G of Income Tax Act.)
Address: 301, Damji Shamji Trade Center, Kirol Road, Vidyavihar west Mumbai - 400086 Contact Number: 7304087464
We, at ChessBase India, can help you institute a scholarship and make sure that your money reaches the right talents. Write to us at chessbaseindiafoundation@gmail.com if you are interested to donate and support a talent in India. We believe that: "When many people come together and contribute, extraordinary things can happen to our chess society."
Work done by HelpChess Foundation since inception
---