Batumi Olympiad 2018 Round 6: The peaceful men, violent women
The sixth round of the Batumi Olympiad 2018 saw some extremely exciting chess from both the men and women's team of India. While in the men's section we were able to hold Russia to a draw, in the women's section USA managed to survive after we had a 2-0 lead. Anand was struggling against Nepomniachtchi, but he drew the game, Adhiban was pressing against Jakovenko, but couldn't breakthrough. Tania and Humpy played excellent games, while Harika and Eesha got outplayed by their opponents. We have Harika's loss annotated by GM Surya Sekhar Ganguly who explains how Harika could have maintained the equality and given India a win.
GM Surya Sekhar Ganguly analyzes Harika vs Krush:
India vs Russia
Russia made an excellent move before the start of the game. The top board player Sergey Karjakin was rested. This is a luxury which only a team like theirs can afford. The main idea was that Anand didn't really have a great score against Nepomniachtchi. But because of this change, their top player Vladimir Kramnik had to accept the black pieces. Well, you cannot get everything! Russia's surprise move almost worked when Nepo had a great position against Vishy, but towards the end, he made some errors and the game was drawn. All other boards also ended in draws, with Adhiban having good chances to press against Jakovenko.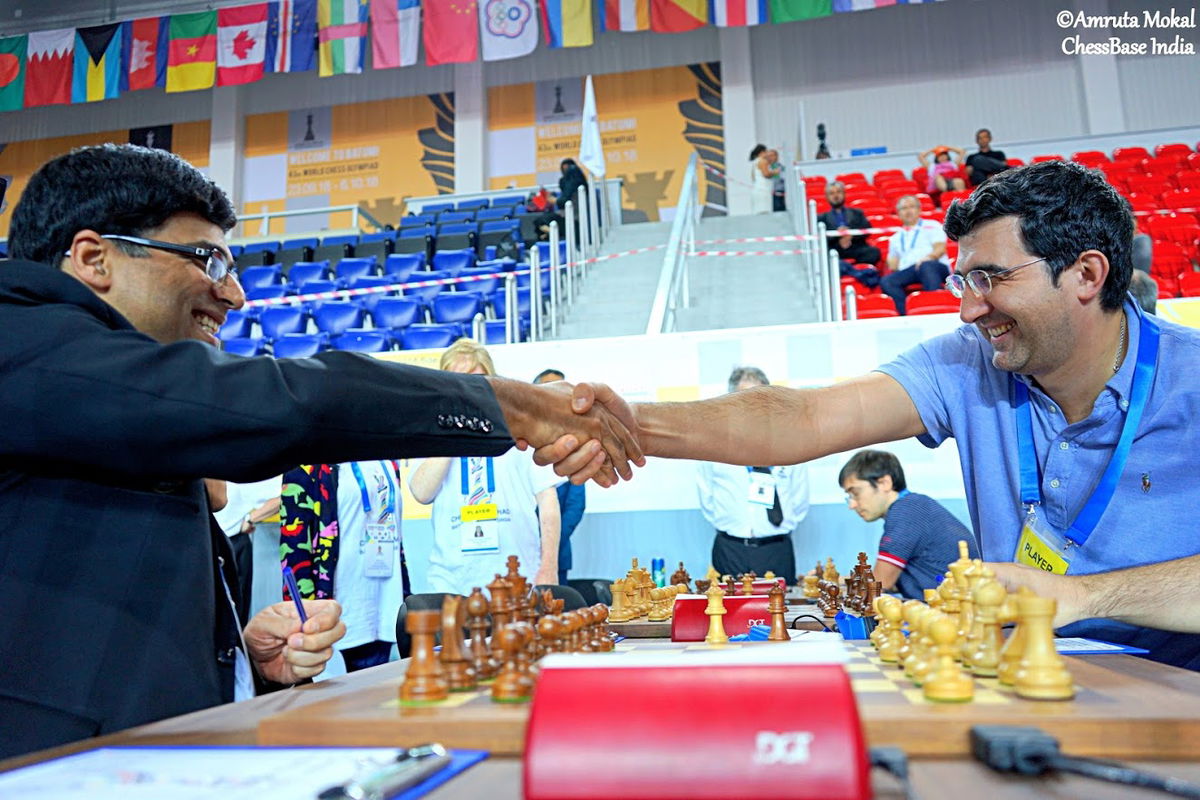 Vidit was surprised by Jakovenko in the opening, but he kept his cool and equalized without any difficulty.
Thus the match ended in a 2-2 draw. It might seem that with 9.0/12, India is lagging behind because there are teams on 12.0/12 at the event. However, I feel that we have done quite a big of hard work already by playing against the top two seeds of the tournament. In the seventh round, men's team play Egypt and the women's team is up against Georgia. It should be an easy outing for the men's team, but the women have their task cut out.
---