Olympiad round 2: The Madras Tiger roars after 12 years!
Round two was an excellent one for India at the Batumi Olympiad 2018. In the open section our boys were able to demolish the decently strong Austrian team 3.5-0.5 and in the women's section the girls were extremely clinical to beat Venezuela 4-0. The news of the day was Vishy Anand making a comeback to Olympiad and making his first move after a gap of 12 years! Anand played a nearly flawless game to beat the very strong Markus Ragger with the white pieces. In this report Surya Sekhar Ganguly analyzes that game in depth. Coach Jacob Aagaard provides us with an overview of the Indian women's team performance. We also have post game video interviews with Vishy Anand and Vidit Gujrathi. Don't miss this power packed report from Batumi, Georgia.
Open Section - India beats Austria 3.5-0.5
Very often the scoreline is not representative of the complex nature of the match. Sometimes the match is extremely tense and then in 10 to 15 minutes, everything goes your way and you end up with a score like 3.5-0.5. But this was not the case in the second round for Team India. The boys dominated the match right from the start and were never really in trouble. The win that boosted the morale and confidence of all the players was Vidit Gujrathi beating his opponent Andreas Diermair.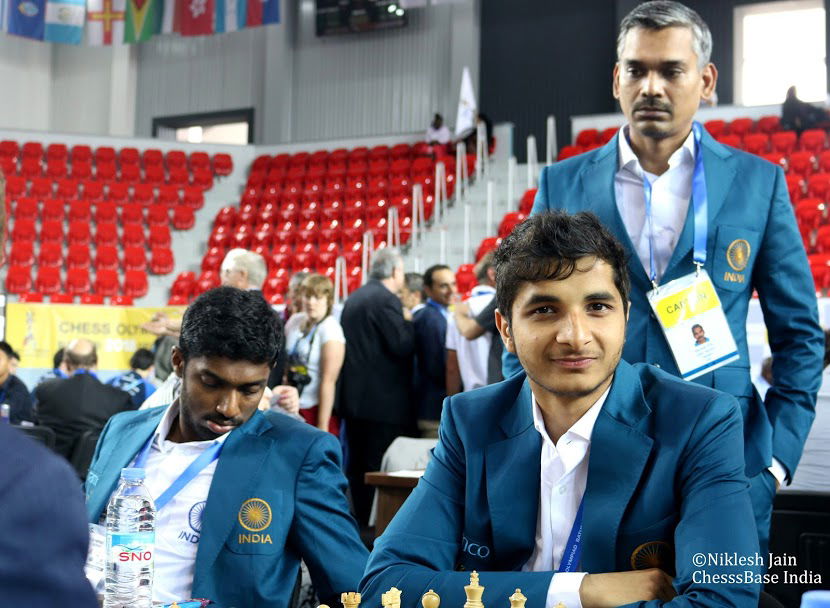 Vidit's victory boosted the morale of the team. In a way a win takes off a lot of pressure. You can be better on many boards, but having the point in the bag is a completely different feeling. Anand started to show his positional mastery against Markus Ragger.
For Anand it was a great pairing to be playing Austria because he could instantly pin down on the fact that he is playing Markus Ragger on board one, as he is the strongest player in the Austrian team and they couldn't afford to rest him. The board order comes four hours before the games begin, but in this case Anand had the time to prepare from the night. As he mentioned to ChessBase India after the game," The only glitch was that I started preparing with the black pieces, not realizing that we had a double white in the first two rounds."
Analysis and notes by GM Surya Sekhar Ganguly
The first point of interest in the game. This move had been played by Sethuraman with the white peices against Ernesto Inarkiev in the World Rapid Championships in Riyadh 2017.
Writes Surya Sekhar Ganguly, "Now the position is completely closed on the kingside. Both f4 and f5 squares are weak but white will get his knight faster towards f5 as compared to black knight getting to f4. Thus, black's knight must not jump and rather stay at e7 from where it controls both f5 and d5. White's bishop is also stronger than its counterpart. However black still has a solid control over center which compensate all other things. As long as he can maintain that there is nothing to be worried about."
Surya Ganguly: "A strategical error. Only way for white to make some progress is to open up the game but with queens on board it would have been very difficult to do so. Now it would be much easier to create play on queenside and suddenly the king on e2 becomes so much active."
For a player of Vishy's stature it is quite uncomfortable that he has to wait for nearly 10-15 minutes before the game to just get into the playing hall. The sheer number of participants has made it logistically impossible for the organizers to make the entry faster. Says Anand in the above interview, "To be honest, the Olympiad is a lot of inconvenience. But you have to understand that thousands of people are playing here, so it comes with its territory. But if you have to ask me, it is definitely very inconvenient. You cannot bring your watch, you cannot bring your pen, you cannot move, you cannot move, they take your badge immediately and so on. These are things you only do when you have so many participants. But that's life!"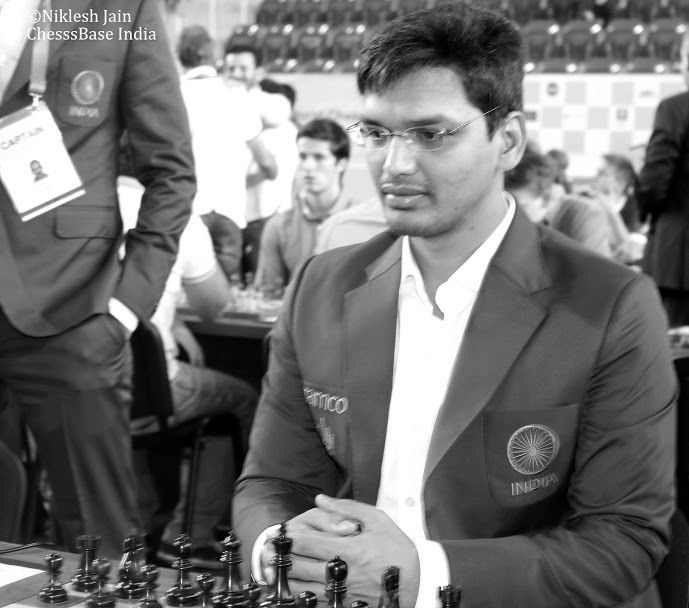 And thus India ended with a 3.5-0.5 victory. The Austrian team was not weak. They had three GMs and one IM. Ragger is close to 2700, the rest two above 2500. Yet, India made the match look completely one sided. This shows the strength of our team!
Indian women's team beats Venezuela 4-0
By Jacob Aagaard (After the match ended, I spoke to coach of the team GM Jacob Aagaard and this conversation written below is Aagaard's take on the match.)

It was another good win for India. For some it might seem like 4-0 is a natural score, but there is no such thing as a 4-0 natural score in chess. I would like to point out that Ukraine won on board one with a score of 2.5-1.5, but if you check the Muzychuk game on board one, you will see that she was lost. Also Anna Ushenina was completely lost. All that her opponent had to do was include the last piece into the attack and it was mate. Russia lost 2.5-1.5 to Uzbekistan. So a 4-0 result is by no means an easy thing to do even in any early round of this event. I have to say that my players made it look easy and I was very impressed. Let's look at Harika's game: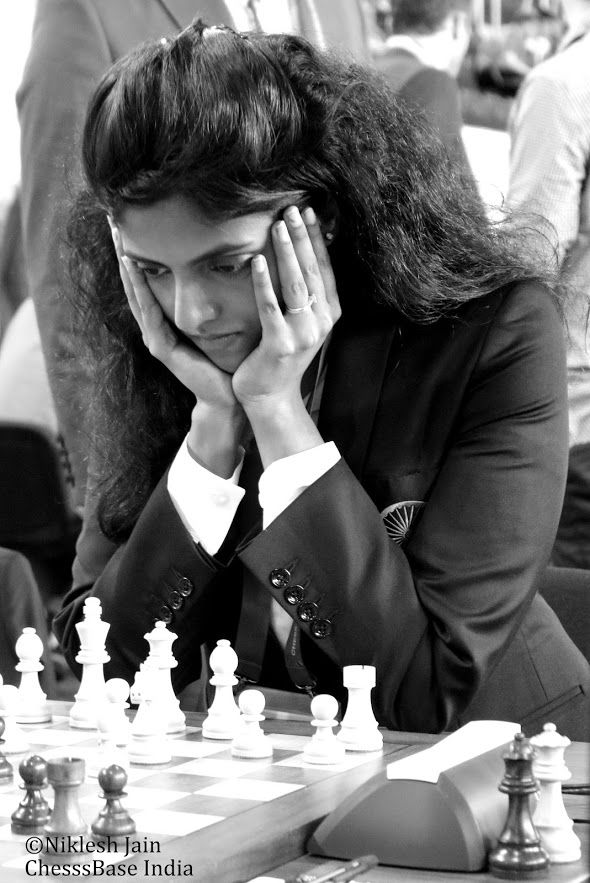 Tania on board two also played very well against the Colle:
Eesha Karavade's game was a perfect demonstration of the saying, "Don't disturb your opponents when they are busy making mistakes!" Old age from military thinking. Her opponent was playing quite slowly and putting her pieces on weird squares. Eesha just developed her pieces and got ready for the natural breaks.
In Padmini's game White had a normal position, but then the Venezuelan girl made an absolute horrific move
Round 3:
The women's team plays on board one against Serbia and the men's team will fight it out against Canada

---