Invitation to 1st Time2Chess Rapid Rating and Tamil Nadu State Blitz Open
Time2Chess is running their academy in nine different branches across Chennai, Tamil Nadu. However they do not want to restrict themselves only in inculcating knowledge through teaching. They want to expand their horizon by organizing the first edition of Time2Chess Rapid Rating Open on 21st and 22nd March 2020 and Tamil Nadu State Blitz Open on 22nd. Reigning National Triple Crown Champion Aravindh Chithambaram, Karthikeyan Murali among GMs, Nitin S and Shyam Nikhil P among IMs have confirmed their participation within a day after circular was published. Total Prize fund will be ₹190000 for Rapid and ₹25000 for Blitz. Photo: Tournament circular
Time2chess debuts with Rapid Rating and Tamil Nadu State Blitz Open
Time2chess organizes the first edition of Time2chess Rapid Rating Open on 21st and 22nd March 2020 at D G Vaishnav College, Arumbakkam, Chennai. Two GMs and two IMs have already confirmed their participation in this two-day event which has the total prize fund of ₹190000. They will also organize Tamil Nadu State Blitz Open on 22nd March.
When and Where
The tournament will take place on 21st and 22nd March 2020 at D G Vaishnav College, Arumbakkam, Chennai, Tamil Nadu.
Schedule
There are six rounds on Saturdayh 21st March and three rounds on Sunday 22nd March 2020. Blitz will start from 1:30 p.m. on 22nd March.
Prizes
There are various prizes in rating category, veteran, differently-abled, female players, unrated and age group prizes in five different age group category besides 30 main prizes. That's not all, there are prizes for Best Academy, Best School, Highest Rating increase. There is also a perk of free entry for the next Time2chess for those who will finish in top 25 (Main list) and first in each Rating category. Total prize fund is ₹190000 for Rapid and ₹25000 for Blitz. The first prize in Rapid is ₹45000 and a trophy. There is also a lucky draw prize of Sharp 32" LED tv.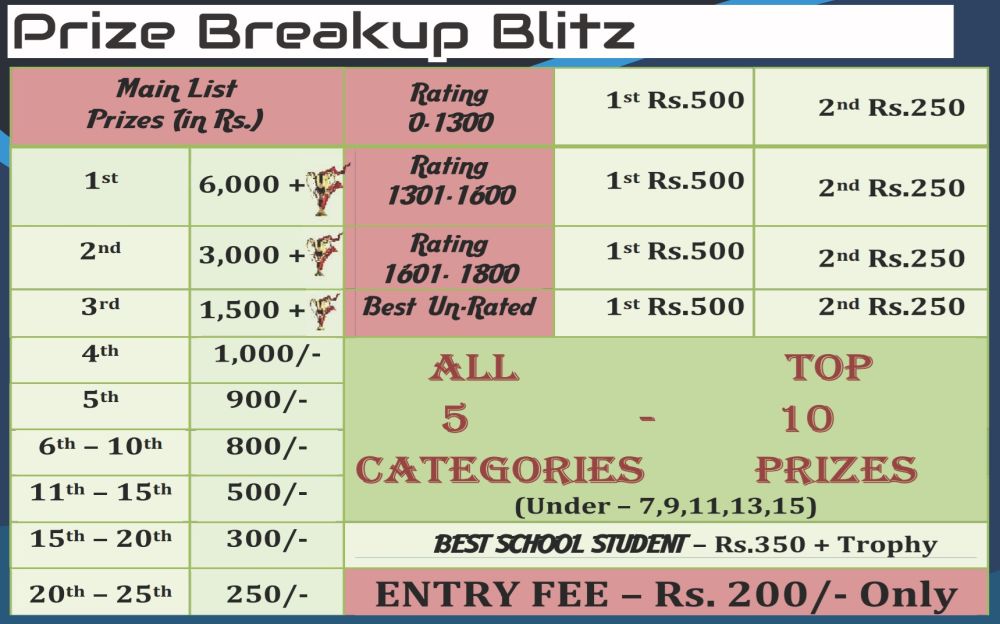 Rules and Regulations
The tournament will have nine rounds of Rapid with a time control of 20 minutes + 5 seconds increment from move no.1 and the time control for Blitz will be 3 minutes + 2 seconds. Chief Arbiter will be IA R Anantharam.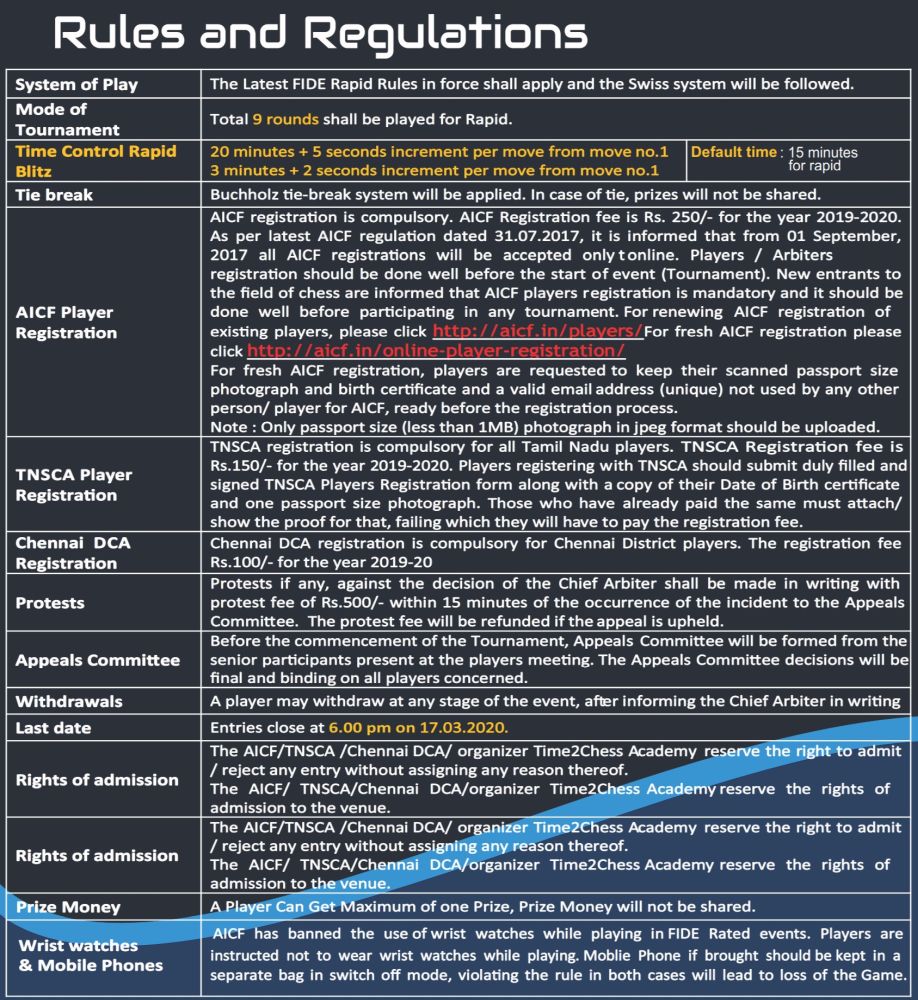 Entry fees
Entry is free for GMs, IMs, WGMs, WIMs and players rated above 2400 for both Rapid and Blitz. For all other rated and unrated players, the entry fee is ₹950 for Rapid and ₹200 for Blitz. Last date for submission of entry is on 17th March 2020 at 6 p.m.
Confirmed titled players
`
For more details, click here for Rapid and here for Blitz.
About Time2chess
A team of youngsters have joined hands to develop chess here in the Chess Capital of the country - Chennai. Time2Chess being a young and vibrant team, always wants to bring something which will be loved by all chess enthusiasts. Time2Chess started a year back with a small team and a small vision in mind but also with big ambitions. Slowly as the team grew so did the academy. Today they have tied-up with various venues including some of which are in Malls, with nine branches across the city. They always want chess to be reachable to the kids as well as quality coaching. Also not to forget this is a chess company completely for the players and by the players.
Starting rank in Rapid
Starting rank in Blitz
---