New technology in Chess: idChess, the platform for recognizing and broadcasting chess games
All around the globe in chess tournaments, tripods with smartphones attached to tables are starting to appear. This is idChess, an innovative product that allows you to broadcast chess games in real time using only a mobile phone with the app. For example, during the World Championship match, games of tournaments and sessions as part of side events of the match were broadcasted by idChess. What is this unique tech? How does it work? Is it free? What do you need? How to use it for the organizers, federations and what are the benefits of it? Get to know answers to all your queries answered by the team of idChess themselves. Photos: idChess
Offline chess is an exciting activity, but an actual problem of offline chess is the lack of opportunity for fans to support chess players. Imagine how hard it is for parents to wait agonizingly for two hours at the tournament, not even understanding what is happening in their child's game! idChess solves the problem of availability of broadcasting games for fans, enabling mass digitization and broadcasting of games for a wide audience.
For now idChess is used in Russia, India, Turkey, Kazakhstan, Armenia, Azerbaijan, African countries etc. Firstly, it was introduced to the world chess community at the blitz tournament during side events at the 44th Chess Olympiad in Chennai.
How it works
idChess is an AI-driven mobile application. It recognizes chess moves during a game, records them in the form of chess notation and saves them on the smartphone. idChess digitizes games in real time, so it can be used to broadcast games to a wide audience. Also, fans can get a link to the broadcast and open it on their phones.
idChess uses computer vision and machine learning technologies. idChess algorithms are able to take into account many complex factors that may arise during the game, e.g., the fall of a chess piece, players' hands blocking the board, or shadows produced by the hands.
Start recording
To record games, you need only a smartphone with the idChess app and a tripod for attaching the smartphone above the chessboard.
To start using the application, perform three simple steps:
1) Attach the tripod to the table where the chessboard is.
2) Fix the smartphone on the tripod with the screen facing up so that the camera is pointed at the chessboard, and the entire playing field falls into the lens.
3) Run the app and start recording.
After completing the game, it will be saved in the library in png or gif format, familiar to chess players. You can send the game to your coach or share it on social networks.
idChess for tournament organizers
idChess has a tournament version (live.idchess.com) specially developed for tournament organizers. Phones with the idChess app connect to the admin panel and form a tournament grid with online diagrams of players' boards. The tournament version of idChess allows you to:
• Create a tournament. All devices with the idChess app can connect to tournaments
• Share a link to the tournament (fans can use the link to watch the entire tournament or a specific board)
• Organize convenient fan zones at competitions (the broadcast can be displayed on screens, and fans can watch games in real time)
• Save tournament games in PGN format
• Save played games to your smartphone and share them in png and gif formats in messengers, by e-mail or on social networks.
The admin panel has a built-in function for editing PGN files, in which the organizer, where appropriate, can delete or add necessary moves. idChess allows you to integrate with specialized chess results servers (chess-results.com, Swiss-Manager) and a chess clock. Tournament organizers can upload the draw of the tournament, lists of participants with chess-results.com or chessresults.ru to the tournament version of idChess. This significantly speeds up the setup of the tournament grid for broadcast.
idChess for fans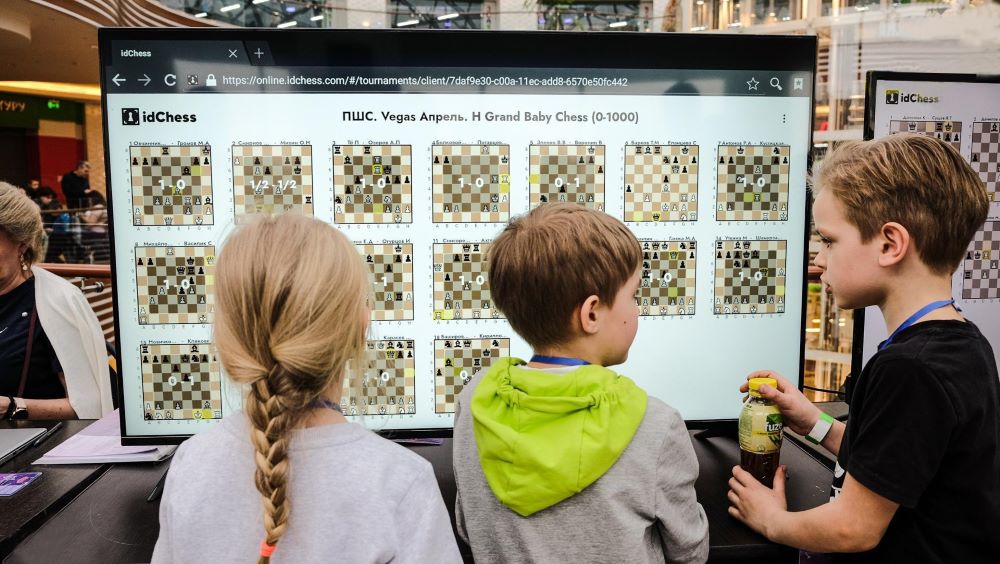 Before idChess, the only development that made it possible to create broadcasts of chess games approved by FIDE was DGT electronic boards. But due to their high cost and complexity of installation, not everyone could use even one DGT board. idChess became the first mass solution that allowed organizing broadcasts even at small children's tournaments in chess schools. For example, in the Botvinnik Team Cup in Moscow, games were broadcast from more than a hundred chess boards. Now we are witnessing how chess is becoming a sport accessible to fans. And active fans are the best support group for any sportsman! Since 2021, the Pedagogical Chess Union has been using idChess in mass tournaments with over 600 participants!
idChess for chess federations
idChess unites the chess community. For chess players, it is a great opportunity to see all the tournaments played with idChess in one place. There is a tournament page in the mobile app, which consists of all the games, the played ones, the current ones and the future ones. No matter in what particular city the tournament took place, users can find the right tournament and join in watching it. For the chess federation, idChess is opening the possibility of creating a common broadcast platform. None of all games from the tournaments will be lost. Even if the federation has several tournaments in one day in different areas, there is no problem. All games from tournaments could be integrated, for example on the chess federation's website.
Learn to play better with idChess
The best game analysis for a beginning player is to reconstruct the game on the board according to chess notation. idChess saves you from having to do double work and allows you to go straight to viewing the game on the chess diagram. It is convenient to track your progress in a single library of saved games. Records will not be lost there, and you can return to them any time. This is especially true for children's tournaments among participants of primary school age, as well as for blitz and rapid tournaments, where the recording of games by players is not provided by the rules. In addition, idChess is compact and convenient to take with you to the game.
idChess for you
idChess free subscription allows to recognize and save your games and watch tournament broadcasts using idChess.
idChess subscription allows to
• Analyze games using a chess engine
• View recorded games without restrictions
• Share games in pgn and gif formats
• Join idChess tournaments broadcasts
• Conduct single broadcasts
You can try idChess yourself! All you need to do is download the idChess app from Google Play or AppStore. The special promo code CHESSBASE10 will give you a 10% discount for the full access to all functions if you buy it on the website idchess.com.
If you have a question, please contact with idChess Team: hello@idchess.com
About idChess
idChess is an innovation in chess. It's a mobile app for recognizing and broadcasting chess games played on a real board. idChess recognizes chess moves through the smartphone camera during a game and allows broadcasting it. Tournaments around the world are broadcasted by idChess.
---