Gukesh and Nihal win Best Young Achiever and Spirit of Sports at Sportstar Aces Awards 2023
On 28th February 2023, Sportstar premiered the Sportstar Aces Awards 2023 on their youtube channel. D Gukesh was nominated for Best Young Achievers Male award along with Vishwanath Suresh (Boxing), Payas Jain (Table Tennis) and S Gurunaidu (Weightlifting). Nihal Sarin was nominated for Spirit of Sports award along with three other nominees. Both Gukesh and Nihal won the awards in their respective nominated categories. This was Nihal's second consecutive award at the Sportstar Aces Awards after he won the BYJU's Young Athlete of the Year (Male) award in 2022. Vishy Anand and Pravin Thipsay also attended this event. Photo: Sportstar
Nihal Sarin wins a Sportstar Aces award for the second consecutive year
Nominees for Best Young Achievers Male
Check out GM D Gukesh's message on winning the award here. He couldn't receive it in person as he was travelling to Hamburg from Dusseldorf in train at that time. Gukesh's mother received it on his behalf.
"...I am thankful to Sportstar for recognizing my efforts and giving me the award which is a great honor for me. 2022 was a very special year for me. I learned a lot of things, I won quite a few strong open tournaments also the Olympiad was a very memorable experience for me. I hope to keep learning and keep getting better. Hopefully 2023 will be even better. Thank you." - GM D Gukesh
Nominees for Spirit of Sports award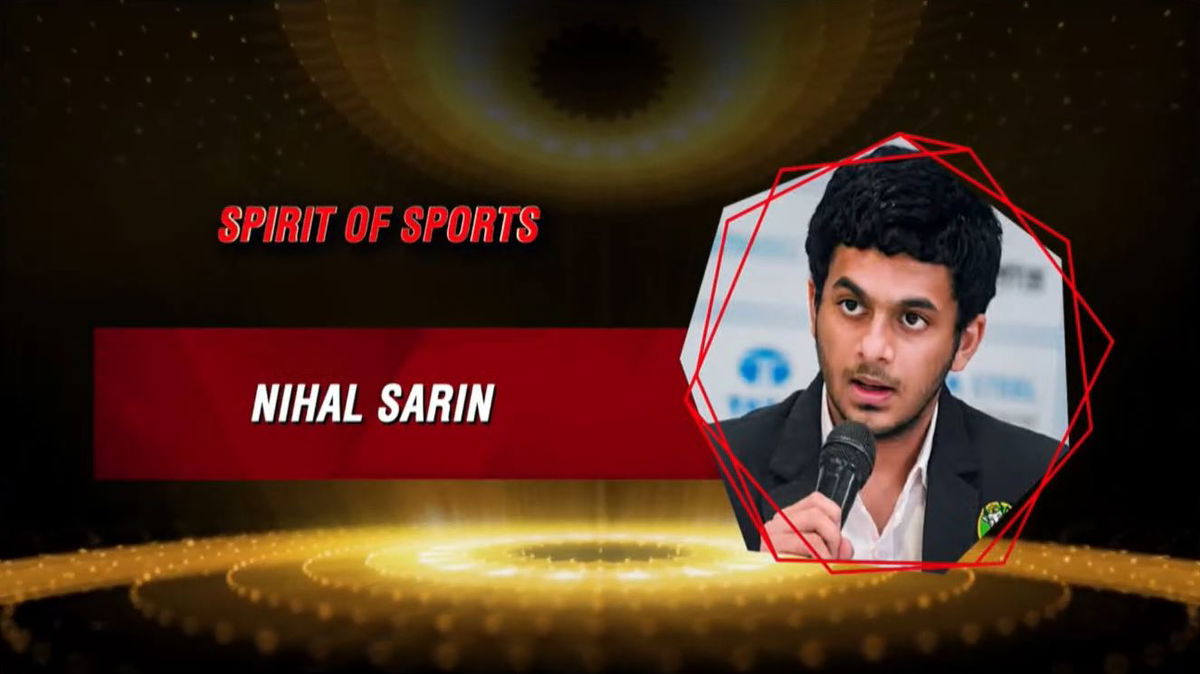 Check out GM Nihal Sarin's message on winning the award here.
"First of all, I would like to thank The Hindu group and Sportstar for nominating me for this award. I am not a very good speaker at all. So I really don't have much to say. Thank you very much." - GM Nihal Sarin.
If you have missed Nihal Sarin's great gesture of sportsmanship against the current world championship contender, Ding Liren (CHN), you can check out the video below
This is the second consecutive year when Nihal Sarin won a Sportstar Aces award. Last year he won - BYJU's Young Athlete of the Year (Male) award in Sportstar Aces Awards 2022.
Vishy Anand tweeted on Gukesh and Nihal winning the awards
Links
Sportstar Aces Awards 2023 winners list
Nihal Sarin wins Spirit of Sports award at Sportstar Aces 2023
---