Microsense Kramnik Gelfand Program Day 0: The syllabus of the training
Kramnik and Gelfand arrived in Chennai. Vladimir arrived a day earlier on 6th, Boris on the 7th. In the evening on 7th of January a press conference was held where over 20 reputed journalists from all across Chennai visited the venue. Questions were asked to Kramnik and Gelfand about their plans for the camp, what they were going to teach, how were the groups of 14 kids going to be made, what is the potential they see in these kids and much more. We bring you a complete summary of what happened on day zero, one day before the camp is about to begin. A pictorial report by Sagar Shah and Amruta Mokal from the Coastal Paradise, on East Coast Road (ECR) in Chennai.
Looking at Vladimir Kramnik and Boris Gelfand sitting next to each other on the inaugural day of the Microsense Kramnik Gelfand Training Program in Chennai, I couldn't really believe my eyes. There are times when you are planning the details along the way, and knowing how the entire story built up. Yet, when the final picture actual stands in front of you in full glory, you simply stare in awe as to how did everything really come together so beautifully!
Having Kramnik and Gelfand in Chennai to train 14 young talents of Indian chess is in itself a big achievement. But things do not end there. If you look at the place in which the camp is being held, you realize that every minute detail related to the camp is taken care of.
It's very interesting to note that the last time (and also the first) that Kramnik visited India was back in 1994 to play the Semi-finals of his Candidates. And guess, who was his opponent? None other than Boris Gelfand! Kramnik and Gelfand played an 8-game match against each other in Sanghi Nagar, Hyderabad. After seven games the scores were tied at 3.5-3.5. In the final decisive game of the match Kramnik had the black pieces and reached the following position:
Gelfand vs Kramnik, 1994
White has just played his bishop to g2 and Black must do something with his d5 knight. The most common responses are to play Nc7 or take on c3. Kramnik asked himself, what exactly is wrong with ...e6. He didn't see anything wrong and played it. Gelfand was quick to spot the loop hole. He took on d5 with his knight and after Nxd5 exd5 Qb3! there was absolutely no way to defend the d5 or the b7 pawn.
Every once in a while we have such games where we simply lose it out of the opening. Almost all your work on the middlegame and endgame is rendered useless when you are worse out of the opening against a strong opponent. The first camp in Chens Sur Leman revolved around the middlegame and endgame. Kramnik then followed the games of the youngsters closely for a few months and realized that it was important to speak about the openings to them. Not just show them lines and variations but to explain the entire concept to them related to opening preparation and how to build up a successful long term repertoire. Gelfand, who is the other trainer, is also a very deep thinker of the game. Over the years Boris has come up with opening ideas and concept which show what a class act he is. The 14 youngsters getting to learn from such experienced and qualified players is something that they will cherish for years to come.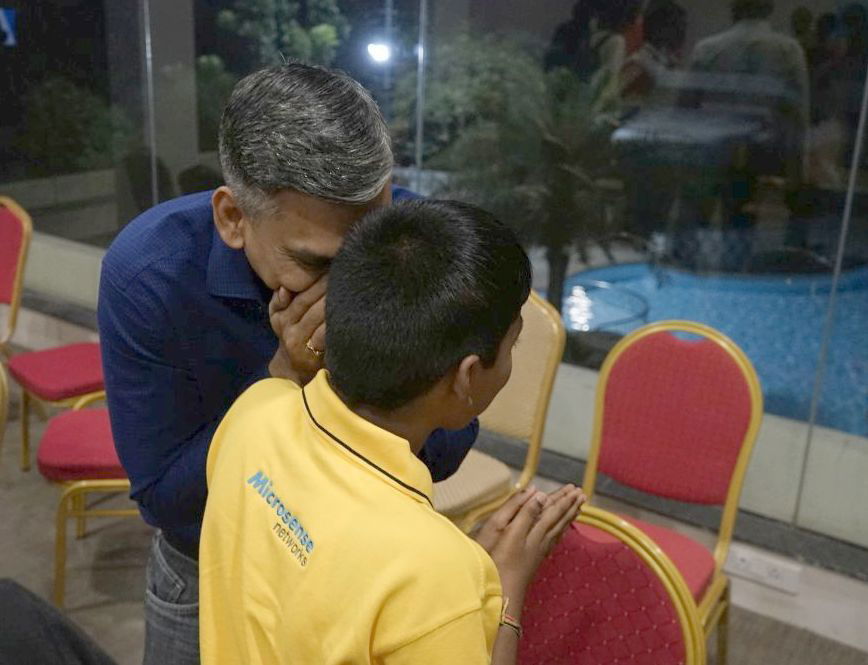 The most impressive thing about Kailasanathan is his attention to detail. He is the MD of a big company, yet he finds time to ask all the kids if they had food or if their room was comfortable for them. When I asked him as to how does he manage his time, he said, "The busy man always finds time and gets things done."
There are two groups that have been created:
Group A - Sreeshwan Maralakshikari, Aditya Mittal, Arjun Kalyan, Raahil Mullick, Sreeshwan Maralakshikari, R.Vaishali and Rakshitta Ravi
Group B - Praggnanandhaa, Gukesh, Arjun Erigaisi, Raunak Sadhwani, P. Iniyan, Prithu Gupta and Leon Mendonca
On a daily basis there will be two training sessions 11 a.m. to 2 p.m. and 3 p.m. to 6 p.m. Each trainer would be spending equal time with both the groups over a period of two days. The entire camp will revolve around the first phase of the game and we at ChessBase India will keep you in touch with the happenings. Stay tuned.
---