Vladimir Kramnik to train six Indian youngsters in a 10-day camp
A wonderful new development has taken place which will boost Indian chess beyond measure. Vladimir Kramnik, the 14th World Champion, has decided to train six talented Indian youngsters in a training camp that will be held in Chens-Sur-Leman, France from the 15th to the 24th of August 2019. The Kramnik - Microsense Chess India Program has been sponsored entirely by Microsense Private Limited. The six youngsters who would be attending the camp are Praggnanandhaa, Gukesh, Iniyan, Prithu Gupta, Raunak Sadhwani and Leon Mendonca. ChessBase India has played a pivotal role in bringing all of the elements of the camp together. IM Sagar Shah and Amruta Mokal will be accompanying the youngsters for this camp. Check out the article for more details.
Kramnik - Microsense India Chess Program
On 29th of January 2019, after the final round of Wijk Aan Zee, the 14th World Chess Champion Vladimir Kramnik decided retire from competitive chess. It was the end of an era. The end of a career of a genius who was able to dethrone Garry Kasparov. Kramnik was the world champion during the most tumultuous times in the chess world. When no one thought Kasparov could be beaten, he defeated the great Garry. When he was in a must-win situation against Leko in the last game of the World Championship match 2004, he won it. When the most intense match against Topalov took place in 2006, he managed to overcome all the mind games, and beat his opponent. With his experience and ability, Kramnik has a lot to offer to the chess world!
Frederic Friedel, the co-founder of ChessBase and Kramnik's good friend contacted him a few days after his retirement. Frederic had visited India in January 2019 and had seen first hand the chess boom in the country. Visiting the IIFLW tournament in Mumbai he interacted with youngsters like Gukesh, Savitha Shri, Aditya Mittal, Pranav.V and many others. The future of chess is here, was the opinion of the man who had over three decades of experience in the world of chess. Frederic felt that if Kramnik with all his knowledge, were to train some of these talents of Indian chess, it would really give these youngsters an edge to not just become world class players, but also future world champions!
When Frederic shared this idea with Kramnik, the 14th World Champion was quite forthcoming. Says Kramnik, "I think the current Indian chess crop is the strongest generation in the world now, maybe the strongest ever in one country. India has got some really very talented kids with a very big potential of being top players, maybe even World Champions in the future. I am now retired from chess and not playing competitively anymore, but it means a lot to me that I can share my knowledge with the most promising juniors who can achieve something big in the future."
Once Kramnik was on board with the idea the onus was now on my (Sagar Shah) shoulders to find a sponsor. Naturally, training with Kramnik is not inexpensive and one cannot expect these young talents to be able to spend such a huge sum of money. After scouting for a sponsor for many days, I was able to discuss this idea with Mr. S. Kailasanathan, the Managing Director of Microsense Private Limited, a global technology company. Microsense is not new to the field of chess. In fact the company has been sponsoring chess talents in the country for many years now which include GMs Adhiban, Vidit Gujarati, Sethuraman, Aravindh Chithambaram, Gukesh, Iniyan, Arjun Erigaisi, Praggnanandhaa, Prithu Gupta, IMs Leon Mendonca, Raunak Sadhwani, and Pranesh, Jubin Jimmy, Pranav Venkatesh, Rakshita Ravi, Savitha Shri, Om Kadam, and Sreeshwan Maralakshikari.
India has had many strong players in the past, however no one has been able to come close to the exploits of Vishy Anand. The current crop of talents which include GMs like Nihal Sarin, Praggnanandhaa, Gukesh, Prithu Gupta, Iniyan, Arjun Erigaisi, and many others have to nurtured and given the right exposure at the right moments to ensure that their chess improvement keeps happening at a rapid pace. Microsense's vision is also similar - we would like to have a galaxy of Indian Chess Stars in world top 10 and top 20, a world champion in Open/men category and women category and in world team events. Speaking to ChessBase India, Kailasanathan said, "The coaching camp by the legend Kramnik is an exciting development. It perfectly matches what we hope to achieve. 6 players in the age group of 12 to 16 will attend the camp from August 14th to 25th. If things go as expected, every intention is that this will be a long term association with Kramnik and the players will benefit from long term mentoring and coaching. We see this as a national program dedicated to the nation."
Kramnik was all praise for Microsense. "I would like to share my deepest respect for S. Kailasanathan, the Managing Director of Microsense Networks limited, who decided to make this happen as the sponsor. This is an extremely important service that they are doing for Indian chess by supporting the talented youngsters without expecting anything in return. Truly a generous gesture by him and the Microsense company."
Six players were selected for the Kramnik - Microsense India Chess Program based on Kramnik's recommendation. They were R. Praggnanandhaa, D.Gukesh, P. Iniyan, Prithu Gupta, Raunak Sadhwani and Leon Mendonca. Nihal Sarin was also approached to be a part of the camp, but the youngster had some other commitments during the time frame. Arjun Erigaisi was selected for the camp. However, just a week before the camp he met with an accident due to which he had to undergo a knee surgery. His unavailability meant that India's latest GM Prithu Gupta was added to the camp. "We decided to limit the number of participants to six", says Kramnik. "In India there are many more talents who can be the absolute best in the chess world in the years to come. But for the sake of making it as useful as possible and also to make sure that there is a personal connect, we kept the participants limited to six. I would surely consider some other participants as well in future."
It was decided that the camp would take place in Geneva where Kramnik lives. As parents accompanying each youngster was financially and logistically impractical, it was decided that Amruta and I would be going to Geneva with the six players. Our role is two fold - to ensure that the best facilities are given to the six youngsters and Kramnik so that they can focus completely on the camp and also to make sure that we are able to share updates of this unique camp with chess fans across India and the world. After all when was the last time you saw a former World Champion train future World champions!
So what will be the main aim of the camp? Says Kramnik, "In the first session I would like to get to know the players personally, to talk to them, to answer the questions that they have on their mind. We will be touching upon all the aspects of the game including opening, middlegame and the endgame. I am going to prepare very seriously for the camp. I will give my insights of how I prepare psychologically and professionally for chess tournaments and I would share with them my views on many issues of professional chess. I will also be sharing secrets which only top players are aware of because of their experience of playing chess at the highest level. I will also prepare some specific lectures for the camp and allow the kids to play with each other and then later analyse these games in detail."
This is not the first time that Kramnik would be a part of such a camp. Many years ago he was a student at the famous Botvinnik school. "I have good experience of training already as I was a part of the Kasparov Botvinnik school as a student and in the past I have been working with the most talented kids in Russia. That being said, I will be going through the games of the participants in detail before the camp, so that the camp can be extremely effective. I am pretty sure that this camp will be very useful for the young talents who will participate. If everyone would be happy after the camp – the sponsors, the kids and myself, then we will continue doing more such sessions in the future. My main aim with this is to make sure that I can help to realize the potential of young talents and help them reach the top in the chess world."
When Vishy Anand was told about the camp, he was very enthusiastic about it. It's no secret that Vishy and Vlady have been friends for quite some years now. As a part of a great gesture from Anand, he asked me to setup a group call with all the six participants. In it he spoke to them about how they can make the best use of the camp and learn from Kramnik in a more effective way by preparing for the camp beforehand. After the call Raunak Sadhwani said, "I really liked his question - How to choose lines according to your opponent - It's a very important question because if we choose wisely, prepare according to that and then we are confident, we will play well. Planning and preparing and implementing are the most important things. Its is a skill and if we learn that skill from Kramnik sir , it will be really good." Currently world's youngest GM D. Gukesh was playing at the Biel Masters 2019 and then went to play at the Riga Masters in Latvia. In between he had three days and he went over all of Kramnik's games to prepare for the camp. "In our group call with Vishy sir he had said that we should play out positions from Kramnik's games and then see where you think different from Kramnik. These deviations then if discussed with Kramnik sir will help us improving our understanding."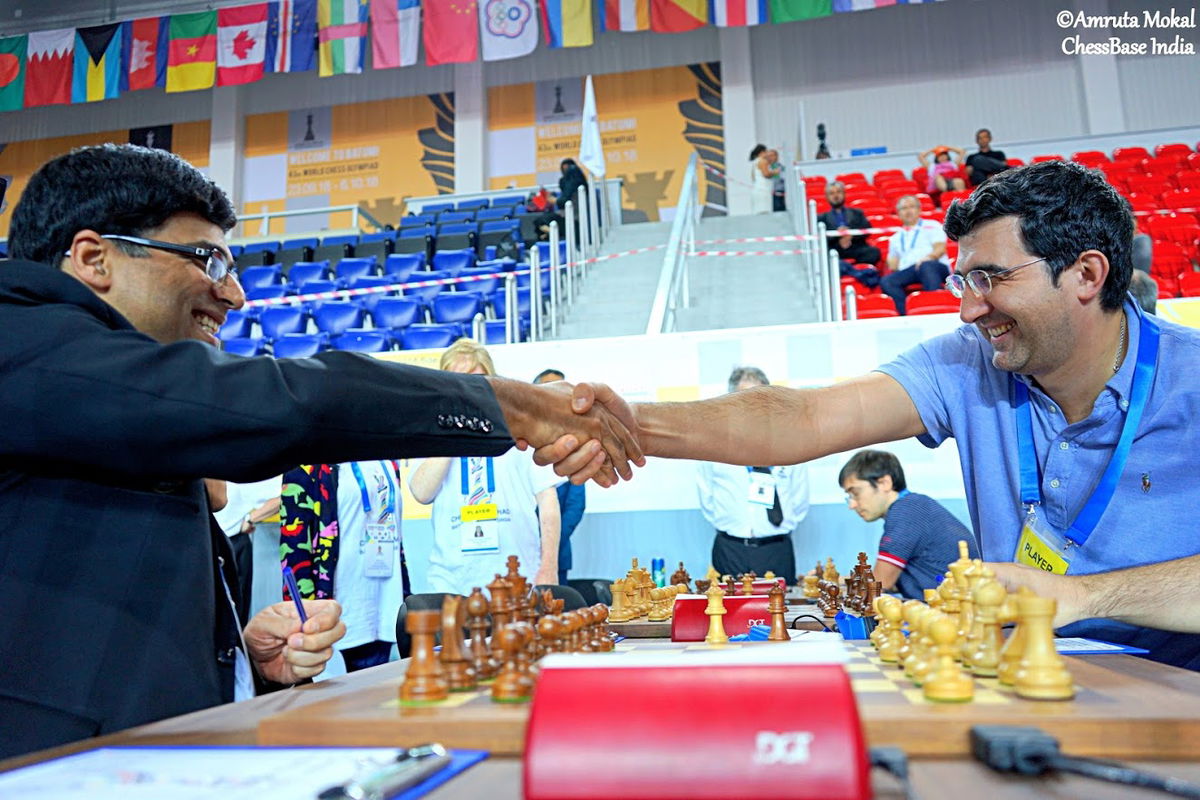 The 10 day training program begins from the 15th of August and will have a rest day in the middle. The players will travel from India on the 14th. At ChessBase India our aim has always been to power chess in India. We think that these training camps with Kramnik will play a pivotal role in helping to improve the overall chess level of these youngsters.
News coverage on the Kramnik - Microsense India Chess Program:
---