Kramnik Microsense India Chess Program Day 4: Learning the art of being
Day four of the Kramnik Microsense India Chess had three elements. Kramnik explained some of his endgame gems, but this time it was right from the start of the game to give the youngsters a feel of how he builds things up. He then shared two of his biggest blunders of his chess career, something that we have asked you in the "question for the day". And lastly he took the last one hour of the class in fresh open air, outside the villa, where he answered some of the questions from the games of the youngsters, addressing specific weaknesses in their play. We talk to you about the art of being in this article and also give you the solution of the mate in six puzzle with gxf8=N which was posed yesterday!
Before I begin my article today, I would like you to think about the following position. It's White to play.
Vladimir Kramnik vs Georg Meier, Dortmund 2011
At 8 a.m. the alarm rings and these youngsters are up from their beds getting ready. At 9.30 a.m. they come to the breakfast table and eat well so as to sustain through the first half of Kramnik's session. At 10.30 a.m. Kramnik arrives and the learning begins. At 1.30 p.m. we have the lunch break and everyone eats their food. At 2.30 we begin once again and the session goes on until 6.30 p.m. Once Kramnik leaves, the kids play some games in the backyard, we then have dinner, followed by some analytical sessions or blitz and somewhere around 10.30-11 p.m. the day comes to an end. If you look at it carefully, throughout the day, the kids are always doing something. And this is also true about our life! We are doing things most of the time. Because if we weren't doing something, we wouldn't be getting the work done! This constant nature of 'doing' something often conditions our mind that in order to make progress we must 'do' things.
But when it comes to the chess board, it is not always about doing something. Often it is only about just "being". I learnt about the art of doing and being from Jonathon Rowson's famous chess book "Chess for Zebras" and on day four of the camp with Vladimir Kramnik this concept was fortified further in my head. If you think about the position above, you realize that White doesn't have a clear cut plan in the position. And hence it is important to just wait. The right move is...
The engine may not agree with this move, but for Kramnik it was absolutely clear that for now he had to give his opponent a chance to go wrong. Kramnik explained, "When I was young and analyzing with Karpov, he would often make the moves a3 and h3. I would be suprised and asked him why he was doing that. And Karpov would reply, Vladimir give the opponent a chance to go wrong!" And this concept was quite new to the youngsters who are always so engrossed in doing things. A natural question was, "Sir, what if the opponent also does nothing and just waits!" Kramnik had this smile on this face, as if half expecting the question. "It is possible. But in general it is very difficult for your opponent to wait and do nothing in a position." Through all the years of experience of playing at the highest level, Kramnik has understood that chess is often a practical game. You can theoretically argue about his decision of playing h3. However, practically it has worked for him and he is now passing these tools over to the youngsters at the camp! To end this position, a final question was asked by Iniyan, "Sir, what if you were playing with the black pieces! What would you do?" "Well", said Kramnik, "I would also wait with the black pieces as well! But somehow it seems to me that White has more useful waiting moves in the position than Black!" Deep insights!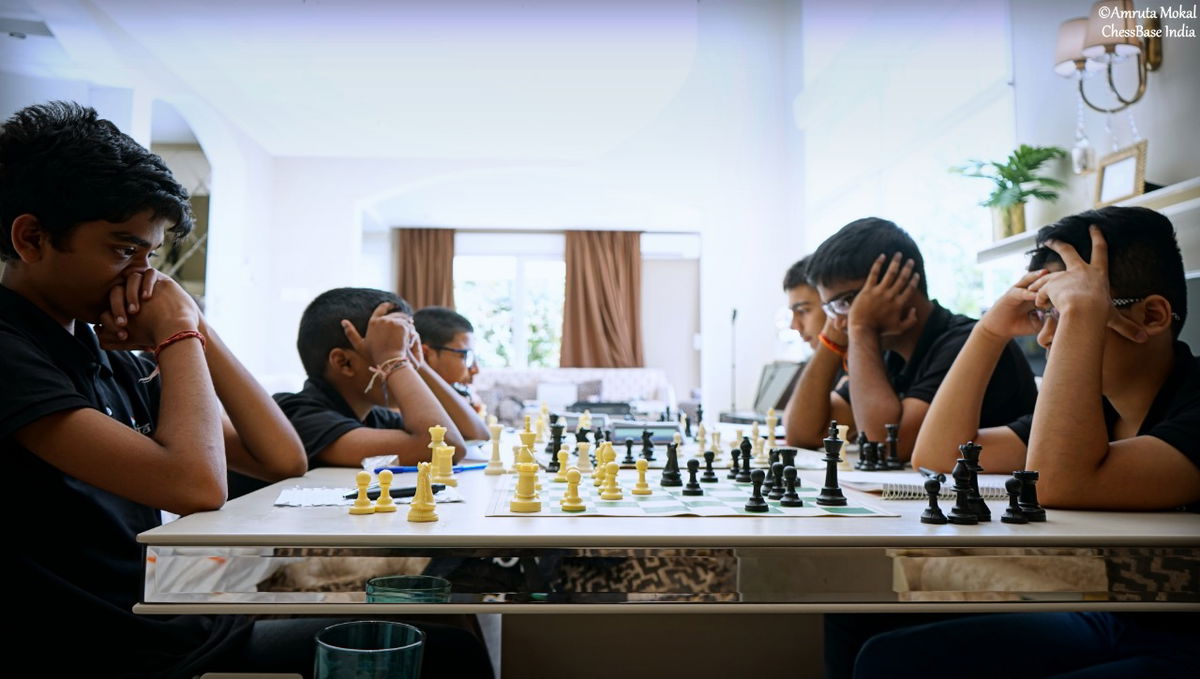 Question for the day
Deep Fritz 10 vs Vladimir Kramnik
We will tell you the interesting story about the above position in our next report!
Solution to the previous question
In our last article we had asked you a question - Construct a game from the initial position where white deliver gxf8=N# on the sixth move. After we posted the problem I had at least two solvers who told me that they got the answer between 15-25 minutes - one of them was our ChessBase India Juniors editor 11-year-old Arhan Anand and the other was WIM Rakshitta Ravi. We would like to congratulate both of them for finding the answer so quickly! Here's the solution:
Praggnanandhaa found the above solution while having his breakfast, while Gukesh couldn't solve it for over three months, right from the time he was given this puzzle by Frederic Friedel! But what is impressive to see is that Gukesh was readily a part of the above video and he tells the viewers how important it is to just try and solve the position. It is not importatn whether you find the answer or not! Quite impressive, especially when it comes from a 13-year-old.
---