Kramnik Microsense India Chess Program Day 3: Mastering the Grind
What are the ingredients to create a good endgame player? Witnessing three days of heavy endgame lectures of nearly six hours has convinced us that becoming a great endgame player like Kramnik requires many qualities to come together. What are those qualities? IM Sagar Shah explains in this article. We also bring you some of the most interesting pictures from day three of the Kramnik Microsense India Chess Program to give you a feel of what is happening in the Champions house in Chens Sur Leman, France. Lastly we have a puzzle for you to solve. Very interesting and perhaps slightly difficult! It took one participant around 30 minutes to solve, while one of the youngsters has been thinking about it for nearly 3 months, without success!
Who is an endgame master? After witnessing Kramnik's three days of intensive endgame grind, I have come to realize that an excellent endgame player is a synthesis of many qualities. Here are a few:
1. He is a patient person who waits for the right opportunity to strike.
2. He is always thinking about opponent's plans and is trying to stop them
3. Every move for him is a part of a bigger story unfolding. Nothing is useless.
4. He often lets the opponent go wrong and doesn't always think he is the one in charge
5. When required he can put his head down and calculate like a monster and finish off the game.
Do you see how many contrasting qualities lie in there? You have to be patient and at the same time have the killer instinct to calculate and finish off your opponent. You need to sometimes do nothing, yet often you have to make those little moves to improve your position! This is all quite confusing for youngsters attending the camp and you can often see them going wrong. When nothing has to be done, you can see them making a committal move. When it's time to finish off the game, they are trying to improve the position. Well, that's why Vladimir Kramnik is an amazing teacher. He has played hundreds of games rich in such endgame content where a student who is learning from him can slowly and steadily master the art. But then why not go through his games, or read his books? Why do you need to learn from him in person? Well, because he is present there, the youngsters can instantly ask questions to him and Vlad in return tells his opinion about their question. This often results in your thinking getting adjusted almost instantly and the learning process which might take months or years starts rolling almost instantaneously.
Just to show you how difficult endgame technique is at the highest level. Here's a position:
Kramnik vs Adams, Wijk Aan Zee, 2000
These are the types of difficult questions you need to solve if you want to become an endgame expert. And somehow there is no right or wrong answer. Because if you give this position to an engine, it will think that Qc3 is a good move and it will also give other positions without Qc3 as also fine. How do you decide what is good or not? This is where the experience of Kramnik comes into the picture. According to him, White hasn't really reached the stage in this endgame where he should be exchanging the queens. He still needs to improve his position and keep the option open with regards to exchange. And that's the reason why 27.b4! was played. One may argue that 27.Qc3 was also good, and Kramnik himself is quite cautious in putting down a move as bad, but when you see how the game progressed you will realize that keeping the queens was definitely a much better decision. That's how your intuition develops! Kramnik also makes an important point - If you remove the pawns on d3 and d5 then the queen exchange makes complete sense because the board is much more open and the chances of reaching an opposite couloured bishop endgame are much less.
So there you see, that's one difficult decision to think about. Imagine a day where you have 50 such decisions to make and each time you do it, you get feedback from Kramnik. This is definitely going to help you improve!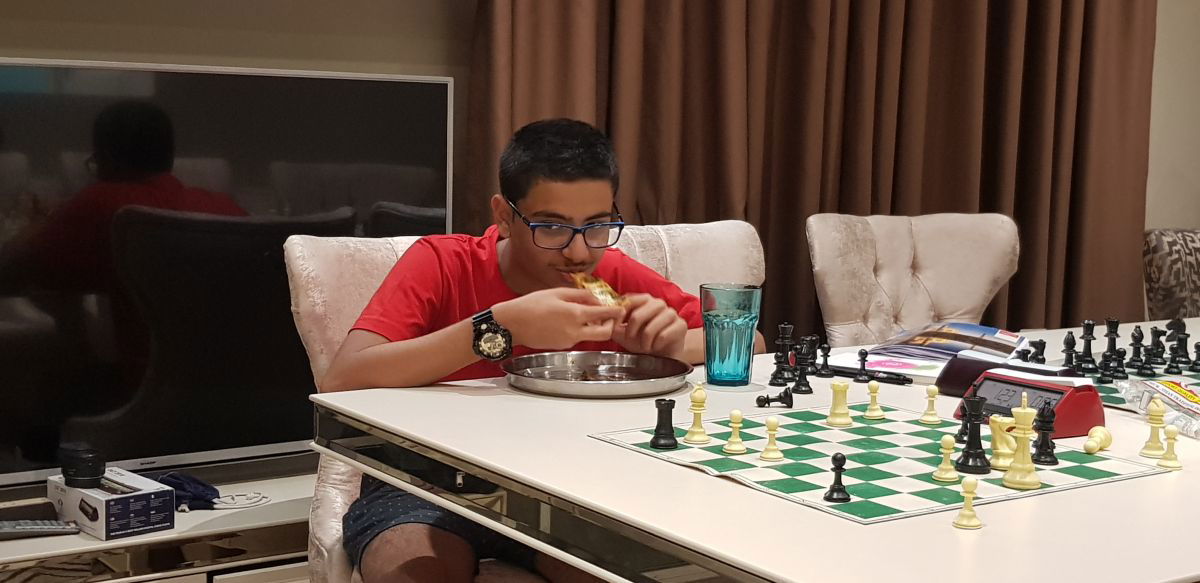 Question for the day:

Today's challenge is quite tricky and comes from the co-founder of ChessBase Frederic Friedel. After Kramnik's training on day two he spoke to all six participants via Skype and he gave them a simple problem. From the starting position (above) both sides make moves and the game ends with 6.gxf8=N# So, your task is pretty simple. You have to play moves from both the sides in such a way that the sixth white moves is gxf8=N and results in a mate! Easy?
Gukesh has been trying to get the answer to this position for over three months now! He was given this position by Frederic when he was in Hamburg and he was unable to find the answer till date. Raunak Sadhwani tried very hard for a couple of hours and even reached mate in seven moves, but wasn't able to get past the final barrier of making it happen in six moves. The nice thing about this problem is that you cannot use an engine nor can you find the answer on Google. So once you don't get it, either you give it up or keep trying!
Praggnanandhaa heard the challenge and thought about it for a few minutes. Next day at the breakfast table he stood there in a trance. I asked him to have his breakfast, but he didn't seem to be interested. After around ten minutes he shouted out loud! I have got it! And yes, he had got it! The answer to this will be revealed tomorrow!
Answer to yesterday's question:
Salem Saleh vs Vladimir Kramnik, Qatar 2014
Some of the readers replied saying that h5 was the best move. While this may not be bad, what Kramnik did was more aethestically pleasing. He tried to find the weakness in the position and thought about which was the most effective piece who could do the maximum damage. Turns out, it's the Black king!
Here's the entire annotated game:
Products in the ChessBase India shop
---