Incredible Arjun Erigaisi clinches MPL Indian Chess Tour 2022 leg 1
Arjun Erigaisi won his fourth consecutive individual tournament MPL Indian Chess Tour leg 1, fifth overall triumph of the year 2022. He qualified to the Tour finals and will also play at a Meltwater Champions Chess Tour stage. Arjun's ascension towards his golden stage started last summer at Goldmoney Asian Rapid. The runner-up Raunak Sadhwani was the only one who had the opportunity to break Arjun's streak. Both Arjun and Raunak drew their respective games in the last round and they secured the top two places. Gukesh and Surya scored identical points. They were placed third and fourth. Top eight finishers get an automatic invitation to the next leg which will take place in June. Photo: chess24
Arjun's fourth individual, fifth overall triumph in 2022
Abhimanyu Puranik's six game winning streak and Leon Luke Mendonca's early onslaught gave them a credible sixth and seventh place finish. Apart from Arjun, Narayanan S L was extremely solid in the tournament as he suffered only two losses and finished at fifth place. Karthikeyan Murali edged past Abhijeet Gupta and Harika Dronavalli on tie-breaks to finish at eighth place and guarantee their spot in the next leg. Abhijeet finished the tournament with a hat-trick. Harika after having a slow start, scored an intriguing 14.0/18 in her last six games. Once again showing her impeccable tenacity.
Round 13: Sankalp - Arjun: 0-3
Just like the first three days, Arjun Erigaisi once again started his day with a win. It was against Sankalp Gupta this time.
White made a couple of consecutive inaccuracies in a relatively equal knight endgame. 33.h3 e5 34.c4 turned things in Black's favor. Find out why the pawn pushes were incorrect for White.
Round 14: Karthikeyan - Raunak: 0-3
Karthikeyan Murali miscalculated his opponent Raunak Sadhwani's tactical ideas.
20.Rc5 makes no real threat on the fifth rank. In fact, it only puts White into trouble. 20...c6 would have been immediate finish. 20...a6 21.Qa5 allowed Black to do the same nevertheless. This win allowed Raunak to stay in the hunt which means if he won the last round game and Arjun lost, he would become the champion.
Both Arjun and Raunak drew their respective games in the final round, thus they were placed first and second respectively according to the scores.
Players' reaction on their performance
Winner Arjun Erigaisi 30.0/45
Runner-up Raunak Sadhwani 27.0/45
4th Surya Sekhar Ganguly 25.0/45
10th Harika Dronavalli 19.0/45
13th Sankalp Gupta 15.0/45
Scoring system
Win - 3 points, Draw - 1 point and Loss - 0.
Replay the live stream
Replay Round 13-15 games
Final standings after Round 15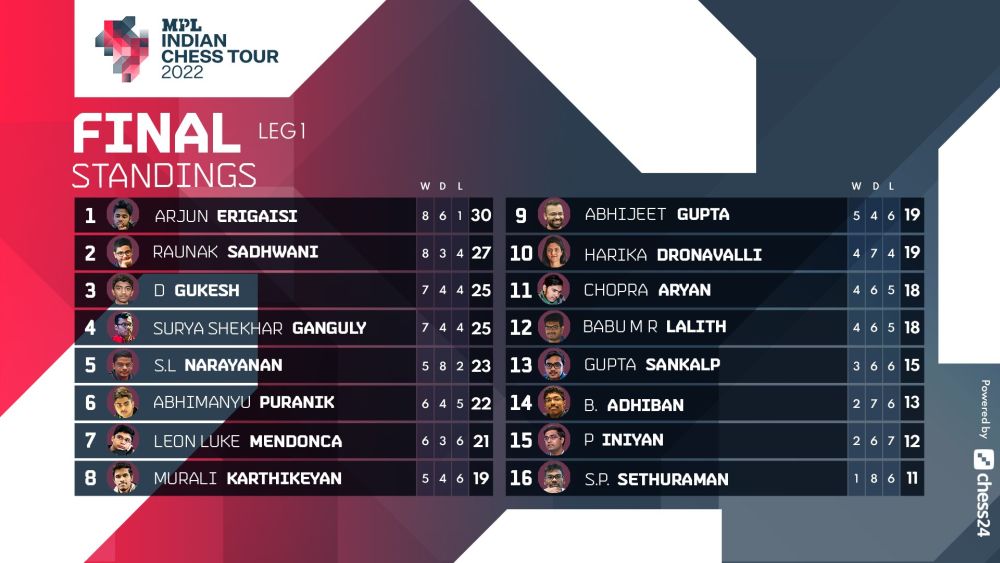 All games will start from 3:30 p.m. IST between 31st March and 3rd April 2022.
Links
---